---
It probably comes as no surprise, but there has been heavy options activity in Zoom Video Communications (ZM). The popular video communication platform has seen its usage skyrocket as people are forced to work from home. Everyone from school teachers to business executives are using ZM extensively for online meetings, lectures, and discussions.
Traders seem to be selling short-term puts in ZM, expecting it stay above $110 prior to Friday's expiration. A safer way to make this trade is by using put spreads, which cap the amount that can be lost if the trade doesn't work out as planned.
Does everything seem to go wrong right after you place an options trade?
You watch the stock and everything is going right.
Then you open the trade... and within an hour, you've lost money.
It's not your fault. You just simply weren't given the "behind the scenes" knowledge every options professional knows.

If you knew how they worked, already you could've booked gains of:
March 3rd VXZ call = 367%
March 4th XLY put spread = 170%
February 18th WMT put spread = 178%
January 14th DISH call = 109%
February 11th ETFC call = 1,421%
January 28th FAST put = 233%
January 21st GLD call butterfly = 156%
January 30th XLB put butterfly = 222%
January 2nd ARNC call spread = 70%
Just like I did.
The road to success for your first big, triple-digit options win is simple.

Have a checklist for every trade so you don't repeat rookie mistakes.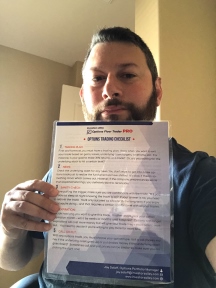 For the first time ever, after 20 years, I'm releasing my own personal options trading checklist for no charge.

Click here to get the checklist and stop losing money right now.

I'm only sharing it for a limited time, so claim your copy immediately even if you're not trading right now: CLICK HERE.