---
---
Looking at options block trades can be a useful way to see what big investors and funds are doing in the options market. Recently, a large trader bought 2 million shares of Bank of America (BAC) while selling 20,000 January calls at the same time.
This is likely a covered call trade and suggests that BAC could trade in a range until next year. It protects the stock holder to the downside to some extent, but also caps the upside potential for owning the stock. Most importantly, the trade allows the covered call buyer to generate income while holding the stock beyond what is only offered through the dividend.
Confessions Of An Ex-Wall Street Options Trader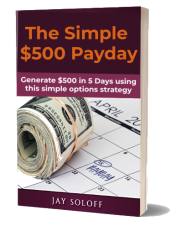 In a new special report, ex-Wall Street options trader Jay Soloff revealed his best secrets.
Jay reveals how to generate a steady +$500/mo income trading options...
... even if you're a complete beginner with little money to start.
And for a limited time only he's giving away the special report for free!
Click here now for free instant access.