On September 27, the healthcare data analytics firm Trilliant Health released a blockbuster report on the volume of prescriptions for GLP-1 weight loss drugs.
The report said that prescriptions for drugs like Ozempic—approved by the FDA in 2017 to treat patients with type 2 diabetes—and Wegovy (for weight loss) increased 300% from the start of 2020 to the end of 2022. U.S. healthcare providers wrote more than 9 million prescriptions for these GLP-1 drugs in the final quarter of 2022, as demand soared for the blockbuster treatments.
The report underscored how the drugs have skyrocketed in popularity since debuting a few years ago.
And one key company is reaping the benefits…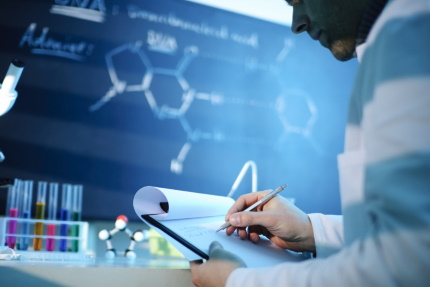 The Danish drugmaker Novo Nordisk (NVO) is the developer of semaglutide, branded as Ozempic for people with diabetes and Wegovy for weight loss. Since Ozempic was approved in the U.S., it has made up almost two-thirds of GLP-1 prescriptions!
The skyrocketing sales for these drugs comes despite many U.S. health insurers not covering the cost of the GLP-1 drugs. And despite monthly costs of more than $900 for uninsured users of semaglutide.
The GLP-1 Drugs Boom
For many decades, doctors approached obesity as an individual problem that was best treated with lifestyle modifications, such as diet and exercise. But now, there is a growing body of scientific research that supports the use of pharmaceuticals in weight management.
That's where drugs like semaglutide come in. It works by mimicking a hormone, known as GLP-1, that is made in the intestines when we eat and that helps to regulate appetite. GLP-1 medicines were originally developed to help people with type 2 diabetes better manage the disease. These medicines do so by increasing the release of insulin from the pancreas, which aids in the removal of excess sugar from the blood following a meal.
And the drugs do work: participants taking a weekly injection of semaglutide lost an average of about 15% of their body weight, according to Novo Nordisk's research.
In our social media world, the popularity of the drug class has been turbo-boosted by celebrities publicizing the drugs' effectiveness in producing dramatic and rapid weight loss, as well as numerous other social media testimonials fueling interest.
Morgan Stanley forecast that obesity treatments could soon be among the top-selling drugs globally, with sales growing from just $2.4 billion in 2022 before soaring to $54 billion by 2030. And for the overall GLP-1 drug market, analysts at Barclays expect the market to reach $100 billion in value by 2030.
These estimates could turn out to be too conservative.
Obesity treatments could bring down overall healthcare costs in the U.S.: medical research cited by the CDC said obesity-related healthcare accounts for more than $170 billion in excess medical costs on an annual basis.
Highlighting the possible impact on the U.S. healthcare system, in August, Novo Nordisk said studies showed Wegovy could cut the risk of serious events—such as heart attacks and strokes—by 20%. This type of data tells me that the rise in the shares of Novo Nordisk and Eli Lilly (LLY), which also produces weight loss drugs, of around 60% in the past 12 months is justified.
Let's take a closer look at Novo Nordisk.
Powerhouse Novo Nordisk
The company has three divisions: Diabetes Care (75% of 2023 first half sales); Obesity Care (17%); and Rare Disease (8%).
Novo Nordisk is the global powerhouse in diabetes treatment and is quickly becoming a powerhouse in the related area of obesity treatments, with its drug, Wegovy. While it has also developed treatments for rare blood and endocrine disorders, it's the company's GLP-1 portfolio that has propelled Novo Nordisk to become Europe's largest company, as measured by market capitalization. Its market cap is nearly $600 billion.
And Novo Nordisk is certainly not resting on its laurels. The company has a robust new product pipeline. The pipeline includes Phase 3 candidates, such as new formulations of its blockbuster GLP-1 treatment, semaglutide, for diabetes and obesity; combination obesity therapies (cagrisema) that include semaglutide; a new semaglutide indication for Alzheimer's disease; and new drugs for hemophilia, sickle cell disease, and cardiovascular disease.
Novo Nordisk has a record of impressive growth and profitability. Over the past five years, the company has generated 35% compound annual growth (CAGR) in sales, 58% growth in operating profit, and 65% growth in net profit. It has also increased its dividend at an 11% compound annual rate. The company's GLP-1 diabetes and obesity treatments—semaglutide, Victoza, and Rybelus—are driving this growth. In the first half of 2023, Ozempic sales grew 58% from the prior year to $5.9 billion, while Wegovy sales soared 363% to $1.7 billion.
Novo Nordisk accounts for 32% of the global diabetes market, including roughly half of both the $15 billion insulin therapy market and the more than $30 billion GLP-1 market.
While insulin accounts for 30% of Novo Nordisk's top line, its GLP-1 franchise is now more than 50% of sales and growing. Injectable Ozempic (patent expiry 2032) looks best-in-class over Lilly's Trulicity, and oral Rybelsus (patent expiry 2032) expands the reach into the oral diabetes treatment market. The obesity drug Wegovy is also protected through 2032 and has had stellar uptake seemingly limited only by supply.
Cardiovascular and weight loss benefits on top of blood sugar control position the GLP-1 market for continued double-digit growth. The global market for GLP-1 sales in diabetes and obesity could reach $100 billion by 2030.
Morningstar analyst Karen Andersen believes Novo Nordisk will have $46 billion of the $80 billion global GLP-1 market in diabetes and obesity by 2027, or a 57.5% share.
The prevalence of diabetes is expected to soar in the coming decades, as a result of an increasingly overweight and aging global population. That will only benefit Novo Nordisk as it continues to dominate in diabetes and obesity treatments.
With a solid portfolio of GLP-1 products, including Ozempic and Rybelsus, Novo Nordisk is well-positioned to defend its diabetes market share and even grow it. Keep in mind, the impact of soaring demand for its weight loss drugs is only beginning to be felt.
NVO stock is a buy in this current period of market weakness. Any purchase under $100 a share will seem like a bargain within 18 months.
It took me 18 years to figure out what I'm about to show you...
18 years of researching thousands of dividend stocks and testing countless different strategies...
At last, I've finally "hacked" dividend investing.
And now I'm comfortably collecting around 70 dividend checks every quarter...
Or about 1.1 dividend checks every single day.