I view liquefied natural gas (LNG) as the most critical energy source for the future. A recent report forecasts that LNG demand growth will continue to at least 2040 and double from current production levels. Several stocks let you participate in the attractive growth potential.
VettiFi recently interviewed Stifel managing director Ben Nolan to discuss the global LNG market. Nolan stated that he expects annual demand growth of 5% to 6%. Production of 400 million tonnes (metric tons) of LNG will double by the mid-2030s.
As luck would have it, there are two great stocks that will profit as this trend sets in. Let's take a look…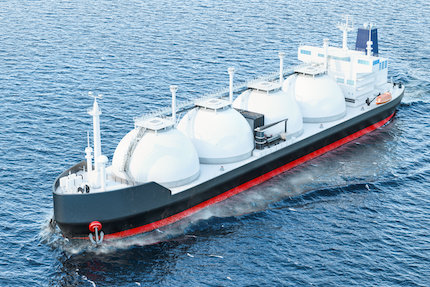 There are a handful of factors that will propel demand growth for LNG.
For starters, global economic growth requires ever greater amounts of energy. LNG can provide a clean source of energy anywhere in the world. LNG can also provide energy security. When Russian gas was cut off to Western Europe, the European countries could replace the lost supply by importing LNG. LNG provides diversification of a country's or region's natural gas supply.
LNG is a clean energy fuel that can replace dirtier energy sources such as coal, fuel oil, and diesel for power generation. It remains significantly cheaper than fuel oil or diesel. Making the switch from one of these fuel sources can save energy producers significant money.
The U.S. is the world's largest LNG producer. Qatar and Australia also have significant production capacity.
Cheniere Energy (LNG) produced 30 million metric tons in 2022. The company has more than 180 million tonnes of committed sales on long-term contracts. In 2010, Cheniere announced a plan to start a natural gas liquefaction project. The company began producing LNG in 2016. The thousandth LNG cargo from Cheniere was produced and exported in 2020. As of the first half of 2023, the company is shipping 600 cargo loads annually. Cheniere continues to build production capacity.
New Fortress Energy (NFE) initially focused on regasification facilities. Over the last couple of years, the company added LNG power generation services, LNG boiler conversion services, and its Fast LNG wellhead liquefaction projects. New Fortress operates in the Caribbean, Europe, Latin America, and the United States.
Either or both of these stocks would be an excellent place to get LNG exposure in your portfolio.
You don't need to live offshore to be in a tax haven. You can collect massive monthly dividends right here in the US and pay zero tax for them. Pay zero taxes when you collect your income. Pay zero taxes when you withdraw it. Pay zero taxes when you reinvest, compound, or save.