I think of my three main income focused services as legs of a stool, where each service provides unique support to an income focused investment strategy. Depending on your personal financial situation, you may get maximum benefit from just one service, two of the services, or all three. I have designed the three to be complementary, with each using a different cash flow focused strategy.
– Tim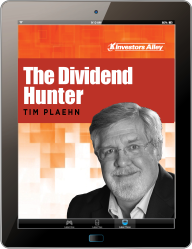 With my Dividend Hunter service, I provide research, discussion and a recommended list of high-yield stocks. Currently the stocks on my recommendations list have yields starting around 5% and going up from there. I keep the recommendations list at a manageable size of about 20 stocks.
The primary criterion for any stock on the list is the safety of the current dividend rate. Dividend growth and diversification into different business sectors are secondary features I factor into my decision process. The expected returns from these stocks are the current average yield with the possibility of a couple of percent per year in share price gains when dividends are increased.
I have added a secondary portfolio of preferred shares in light of the effects of the pandemic and dividend sustainability throughout the market. There are approximately 10 stocks in this preferred shares portfolio.
This service is for the investor who wants to earn an attractive cash yield for income now or the investor who wants to reinvest the dividends to build a growing income stream for later on.
The Dividend Hunter includes a monthly newsletter, weekly Stock of the Week notices, topical research reports, Weekly Mailbag video, a list of currently recommended high-yield stocks. Click here for more details.
Dividend Hunter INSIDERS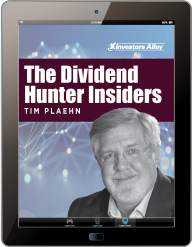 My INSIDERS add-on to the Dividend Hunter service provides a behind the scenes look at what I do to find, research and track the stocks that eventually become Dividend Hunter recommendations.
You need to be a Dividend Hunter subscriber to become a Dividend Hunter INSIDER.
With INSIDERS you get:
private conference calls
live training sessions
bonus research
my watch list
bi-weekly live video updates through a private video channel
my Daily Ticker messaging service
real-time text alerts
subscriber submitted stock research
While I work to make the Dividend Hunter the best income stock service you will find, a subscription to INSIDERS provides you with an extra edge in your income investing strategy: you get more information from me and you get it faster. And through the tools we use with the INSIDERS program you have greater direct access to me.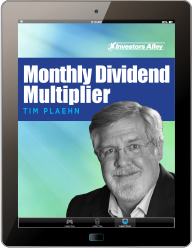 The Monthly Dividend Multiplier service is designed to help investors generate an above average total return through all market conditions using fairly conservative dividend stocks. Those returns will be from an attractive dividend yield plus share price gains driven by growing dividends. I have developed a unique (to the investment advice industry) strategy of finding stocks with high dividend growth rates. These levels of dividend growth propel the desired share price gains.
The primary goal is to provide guidance to grow a lump sum commitment over a period of five years or longer. It is targeted at investors who understand that the capital they have currently accumulated needs to grow by two to four times to meet their future financial goals and projected lifestyles.
With the Monthly Dividend Multiplier service I include a model portfolio of 15 to 20 dividend growth stocks. I send a monthly detailed newsletter, mid-month update and host a quarterly, live online session for subscribers for you to ask questions, as well as my personal email address. This is scheduled for right after most portfolio stocks have reported quarterly earnings.
To keep you updated I also host a weekly live online call with subscribers. We discuss any updates and changes with portfolio stocks, strategy adjustments, and market conditions.
I expect to generate low to mid-teens average returns over a multi-year holding period. Monthly Dividend Multiplier is for the investor starting with a lump sum of money and the desire to significantly grow the size of that portfolio amount over the next 5 years or longer. This is a wealth building service.
Note: Most Monthly Dividend Multiplier subscribers also have a subscription to The Dividend Hunter. They commit a portion of money to the Monthly Dividend Multiplier system for the total return growth and many also own some or all of the high yield stocks from the Dividend Hunter for current income. The two services are complementary to one another and use quite different stocks based on the investment goals.
Click here for more about Monthly Dividend Multiplier.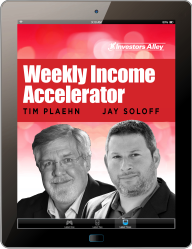 Earning additional income through the selling of stocks options is the third leg of my diversified portfolio income stool. Covered call selling and cash secured puts are the most conservative out of the dozens of option trading strategies. Option writing (another term for selling options) is an approach that can generate very attractive income in almost all stock market scenarios.
Weekly Income Accelerator includes my approach to selling covered call options. I have also partnered up with the Investors Alley options expert, Jay Soloff, to provide additional trade recommendations. We each have our own systems for selecting trade idea, so subscribers get twice the bang for their subscription bucks. With covered calls, cash flow income and stock market gains giving average annual returns of mid-teens or higher on the recommended stocks have been generated.
Weekly Income Accelerator is published monthly and includes periodic – about once a week, give or take – trade alerts, text message trade alerts, exclusive training videos, special research reports, and access to us via a dedicated email address. Click here for more.