My favorite among the major pharmaceutical companies remains AstraZeneca (AZN). One of the main reasons is that the company specializes in one of the areas where personalized medicine is making the greatest strides: oncology, in which AstraZeneca is the recognized leader.
AstraZeneca already has three blockbuster oncology drugs. Here's what Morningstar said about these drugs in 2022:
Overall, the company looks well positioned for growth with the recently launched cancer drugs carrying strong pricing power that should have an amplified impact on the bottom line. We expect the first-line lung cancer indication for Tagrisso combined with the likely gains in adjuvant lung cancer will drive peak sales above $9 billion annually. Also, cancer drug Imfinzi should gain share in Stage III lung cancer where treatment options are limited and the drug holds growing potential in other cancers. Additionally, BRCA-focused cancer drug Lynparza is well positioned to gain further market share in new indications.
And now, another of AstraZeneca's cancer treatments—Enhertu—is viewed as the next big thing in oncology and rightly so…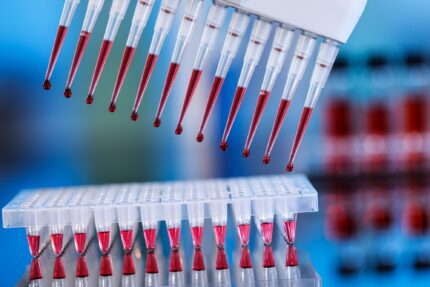 Enhertu: The Next Wonder Drug?
Enhertu is an antibody drug conjugate (ADC), a type of therapy designed to do minimal damage to healthy, non-cancerous cells. It works by attacking tumors that test positive for a protein called HER2, which is associated with worse disease outcomes.
Known as "biological missiles," ADCs are part of the new generation of personalized cancer treatments that target tumors with specific features, or biomarkers. Some dozen ADCs have received regulatory approval to date, while more than 100 others are in various stages of development.
The potential for Enhertu is incredible.
Breast cancer recently overtook lung cancer to become the world's most commonly diagnosed cancer. Every year more than 255,000 cases of breast cancer are diagnosed in the U.S. alone.
The reality is that one in eight women will get breast cancer in their lifetime—and Enhertu has the potential to change treatment for half of them!
David Fredrickson, executive vice-president of the oncology business at AstraZeneca, said the drug could become: "…one of the most important medicines ever." He also said Enhertu had the potential to become a "multi-blockbuster" medicine by being transformative in treating different types of breast cancer, as well as certain gastric, colon, and lung cancers.
Enhertu was first approved by the FDA in 2019 for a subset of patients with cancers that have high levels of HER2. About 15% to 20% of breast cancers are HER2-positive, but last June, a trial revealed the vast potential for Enhertu, showing the drug could double the time patients can live without their cancer progressing, even if they have low levels of this protein. About 20% of the participants in the trial (550 patients) with metastatic cancer—normally considered to be incurable—had complete responses: scans could not detect their tumors.
This was the first time such a targeted therapy had improved survival rates in patients suffering from HER2-low metastatic breast cancer, a category that covers up to half of all late-stage breast cancer patients.
The clinical trial found those using the drug had a 49% reduction in the risk of the cancer progressing and a 36% reduction in the risk of death compared to those who received the standard form of chemotherapy treatment. It recorded progression-free survival, the time during which the tumor was stable or shrank, of 10.1 months with Enhertu, compared with 5.4 months for those who received chemotherapy.
AstraZeneca's Bright Future
Wall Street analysts believe that Enhertu has the potential to become a key growth driver for AstraZeneca. Estimates are that sales could reach possibly as high as $10 billion, up from a negligible level now.
As far as sales of Enhertu go, it is split 50/50 with Japan's Daiichi Sankyo (DSNKY), which began work on the drug years ago. AstraZeneca struck a deal in 2019 worth up to $6.9 billion with Daiichi Sankyo to develop and sell Enhertu.
To make the most of Enhertu's vast potential, the two companies are planning 40 trials, one of the largest programs ever in the industry. These trials will attempt to answer questions such as: does Enhertu work in earlier stages of breast cancer? On how many more types of cancer could it be effective?
The partnership is deeper than just one oncology drug. In 2020, AstraZeneca agreed to pay Daiichi Sankyo up to $6 billion to develop and market a potential lung and breast cancer drug, the second large oncology megadeal between the companies.
These joint ventures are a win-win for both companies. It may send AstraZeneca to a whole new—and much higher—level in terms of growth potential, as well as boosting profit margins at Daiichi Sankyo.
The company is already doing very well. Morningstar said:
The oncology products continue to remain well positioned for future growth supported by new indications, including adjuvant lung cancer for Tagrisso, small cell lung cancer for Imfinzi, early-stage breast cancer for Lynparza, and earlier stages of breast cancer for Enhertu. Outside of cancer, key new drug launches are progressing well, including Saphnelo (for lupus)…Additionally, the recent approvals of Beyfortus (treatment for respiratory syncytial virus in infants), Imjudo (in combination with Imfinzi for liver cancer), and Enhertu (earlier line HER2-low breast cancer) set up significant new growth drivers.
The company has been aggressively investing in research and development over the past several years with its R&D spending as a percentage of sales ranging in the low to mid-20%, above the industry average of high teens. That has led to one of the best portfolios of drugs, supporting industry leading sales growth. Major investments in innovative new drugs (largely targeting areas of unmet medical need, especially in cancer) also helps fortify AstraZeneca's future.
In summary, AstraZeneca's drug pipeline is one of the strongest in the industry. That makes its stock a buy anywhere in the $65 to $75 range.
It's not REITs or blue chips like Disney. A small, little-talked about area of the dividend stock market is pumping out market-beating returns like no tomorrow. Over 22 years, they've handily beat the market… and I have the #1 stock of these to give you now.