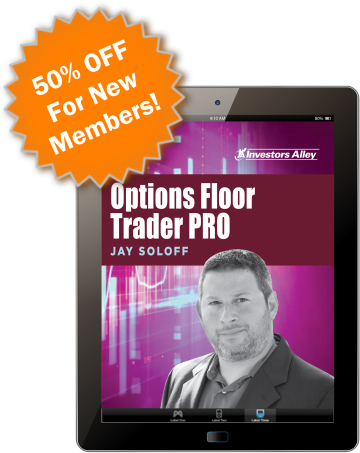 Options Floor Trader PRO is the entry point to your next profitable option trades.
You'll use the same strategies I used myself on the floor of the CBOE. In no time at all you'll feel like a pro yourself once you start.
The goal of Options Floor Trader PRO is simple: take you from a beginner option trader with a small account to a confident option trader with a larger account.
To help you get started and make sure there's nothing in the way I'm offering charter memberships at the lowest price you've likely ever seen an options trading service offered.
Breaking: Members just booked gains for 1,420% on ETFC, 178% on WMT, and 222% on XLB… in this volatile market. I'm sending out the next big winners soon but you have to be a member to get them.
Now accepting new members! Click here.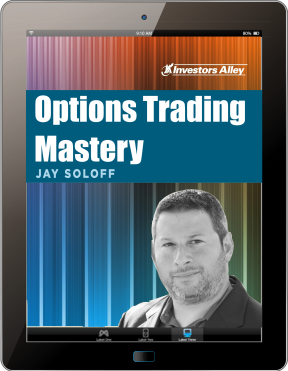 Volatility spiked…. meaning it's harvest time for options traders.
That's why Jay created the Options Trading Mastery.
Because after 20 years of trading options… for the first time anywhere….
He's releasing everything he know about options in one private course. All the intel he collected from his days working on the floor of the CBOE. All the Insiders tips picked up as an options Market Maker. All revealed in seven complete strategies with examples.
In total, to go through everything, he's clocked the course at five hours. With this complete course you can:
In as little as 5 hours, you could master options as well as a seasoned trader.
Have confidence to trade 7 new strategies right away.
If you're new to Options or you're looking to sharpen the saw… the seven strategies Jay shows you in the Options Trading Mastery can help.
Click here to view all seven strategies and all Jay's secrets right now.
Every 11 days, there is an opportunity in the market to collect 8-10% returns. Ex-investment banker and 20-year options trader, Serge Berger shows you how inside 11-Day Trader. Serge uses technical analysis to dig up stocks that are set to make a big move. Once he finds them, he places a special 11-day trade to capture gains while lowering risk. The goal is to win up to 82% of the time. You won't have to buy any stocks. A recent trade with Netflix ​net 10% in just 4 days. That's one of dozens examples you're about to see.
Click here to see the full strategy and learn more about 11-Day Trader.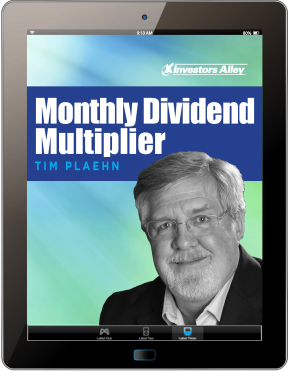 The Monthly Dividend Multiplier is a new kind of disciplined, step by step wealth-building system designed for serious investors.
The objective is to provide you with a realistic, proven way to grow a small amount of money into a decent-sized portfolio that can support you and those you love for the rest of your life.
Monthly Dividend Multiplier is specifically tailored to those investors who have already saved up at least $50,000 for retirement and now want to accelerate the growth of their next egg.
This is not an investing course, software system, or tip sheet.
Instead, think of it as a coaching program for creating wealth.
Click here for Tim's special wealth building system using dividend total returns.
Current subscribers to Monthly Dividend Multiplier click here to log in.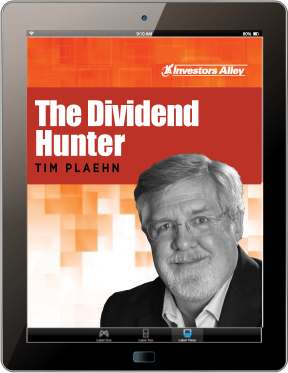 A high-yield income and dividend service dedicated to bringing you the very best dividend income opportunities available (current average yield of the portfolio is around 8%).
With each issue editor Tim Plaehn uses his unique cash flow analyzer system to bring you in-depth research on dividend investments for not only high yield but dividend growth as well. Anyone can find high yield stocks, but Tim goes the extra mile to find those that can sustain their dividend payments and have a management team with a commitment to increasing dividend payouts. These are the kinds of investments you can rely on for steady, reliable "Endless Income" month after month, quarter after quarter, and year after year.
Click here for details on Tim's Endless Income Strategy.
Current subscribers to The Dividend Hunter click here to log in.

Weekly Income Accelerator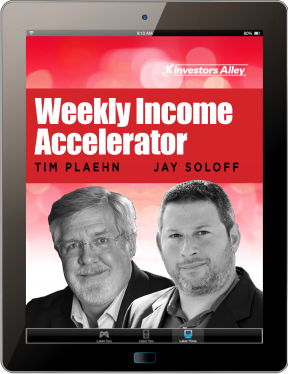 Tim Plaehn, from The Dividend Hunter, and Jay Soloff from his popular Options Floor Trader PRO join forces to show you how to generate instant extra cash income from stocks you already own.
Weekly Income Accelerator takes stocks you might already have in your portfolio and shows you how to profit an extra 3-7% every single week. And their track record for executing this strategy is second-to-none.
In 2018, they produced a 94% win rate with over 34 trades… in 2019, 87%….. and over 90% in 2020. The results are pouring in as we speak.
They do this successfully by combining their expertise = income + options. Even in you've never traded options before, you'll see how in 3-minutes it's possible to generate instant extra income starting today.
Click here to start earning instant extra cash income on stocks you own now.