The largest player in mortgage lending announced it has pulled its plans to dominate the home loan industry. That change is positive news for one of my favorite mortgage finance companies and its shares.
Let's take a look at the news, and how to get in…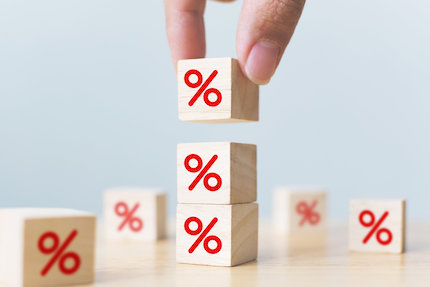 This excerpt comes from an email from Seeking Alpha:
Once one of the biggest mortgage lenders in the U.S., Wells Fargo (WFC) has unveiled plans to step back from the housing market. Instead of going after the entire industry (its previous goal was a 40%-50% market share), the bank is shrinking its mortgage portfolio by restricting loans to only bank clients and minority borrowers. While the business was one of the company's biggest profit generators over the years, things have gotten tougher amid regulatory pressure and higher interest rates.
That's not all: Wells Fargo is shuttering its Correspondent lending business, in which the bank lends capital to other firms that sell mortgages as distinct providers. It's a big deal, as the division accounted for nearly 40% of its mortgage volume as of Q3 2022. Wells Fargo is also reducing the size of its servicing portfolio by selling billions of dollars' worth of mortgage servicing rights to other players in the sector.
This news represents a tremendous shift of power in the mortgage world. Mortgage rates have already peaked, and recent (1/10/2023) news shows mortgage application numbers are on the way up.
The pullback by Wells Fargo opens the door for other mortgage companies to grow market share while the need for new mortgages expands. As an investor, you may want to look at pure-play mortgage companies. Here is a list of players in the space:
Finance of America Companies (FOA)
Guild Holdings Company (GHLD)
Home Point Capital (HMPT)
LoanDepot (LDI)
Mr. Cooper Group (COOP)
Ocwen Financial Corporation (OCN)
Pennymac Financial Services (PFSI)
Rithm Capital Corporation (RITM)
Rocket Companies (RKT)
UWM Holdings Corporation (UWMC)
Out of this list, Rithm Capital is unique and one of the recommendations for my Dividend Hunter portfolio.
Formerly known as New Residential Investments, Rithm Capital is structured as a REIT and started as a company focused on investing in mortgage-related securities. The company went public in 2013, and in 2018 Rithm started acquiring complementary operating businesses, expanding into mortgage origination and servicing.
As a result, Rithm Capital now manages both operating companies and a portfolio of mortgage-related investments. This graphic comes from a recent presentation: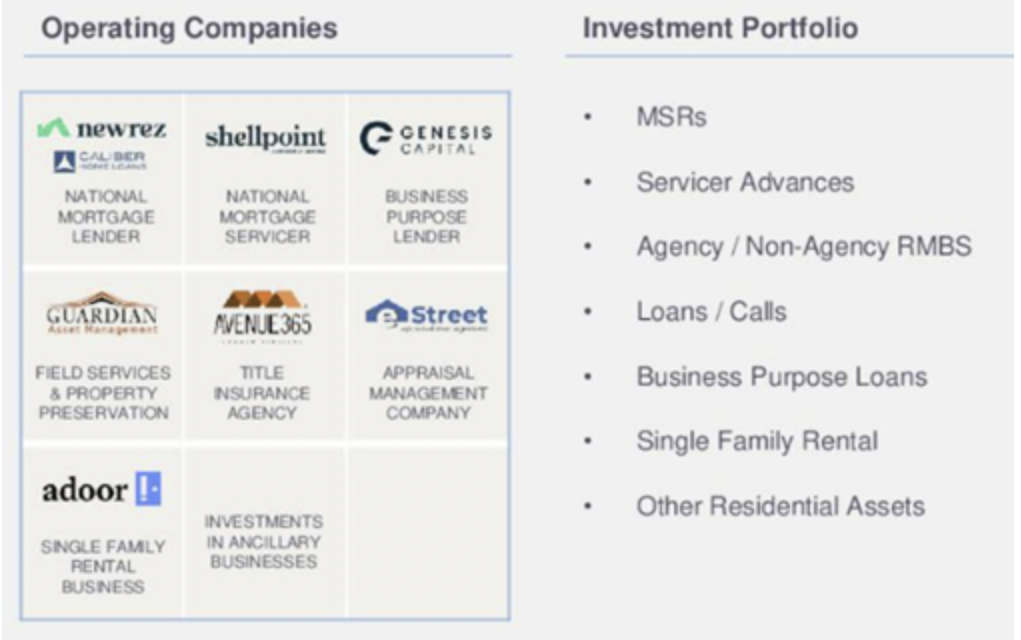 Rithm Capital has become a company that can grow no matter what happens with new mortgage activity or interest rates. If rates are low and activity high, origination and servicing profits grow. If rates increase and refinancing activity slows, MSR investments become more valuable.
The company slashed its dividend early in the pandemic by 90%, to $0.05 per share quarterly. Over the last three years, the dividend has been increased by 400%, to a current $0.25. I expect the dividend growth to continue at a much more moderate pace.
Even if the dividend doesn't grow, RITM currently yields 11.5%, which is reason enough for me to make it a top high-yield stock pick.
What's the one thing you need to stay retired? That's right... cash. Money to pay the bills. Money to weather any financial crisis like the one we're in now and whatever comes next. I've located three stocks that if you buy and hold them forever, they could serve as the backbone to your retirement. Click here for details.