Airlines have become perpetual motion machines. The global economy is weak, fuel prices are rising, yet there is an apparently relentless demand for flying around the world.
It's an air travel boom.
Here's how to invest to profit from it…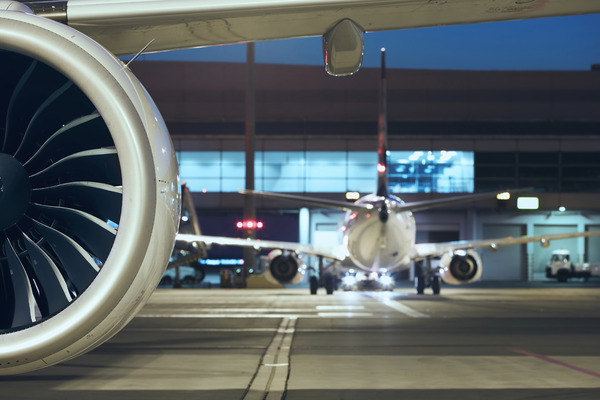 People all over the globe have flocked back to air travel as restrictions have ended over the past year (most recently in China). And there are few signs, if any, that worries about the economy will hold back demand in the coming months.
The world's biggest airlines reported $6.3 billion in net profit in 2022. That's quite a change in fortunes from the air pocket airlines hit over the prior two years, which resulted in a combined $40 billion in losses over that time period, according to data from FactSet and Capital IQ.
The figures cover eight of the 10 world's largest airlines by passenger numbers (excluding Chinese airlines, which were still subject to travel restrictions in 2022).
This trend is continuing into 2023, with global air traffic reaching 91% of its 2019 levels in February, according to data provider Cirium.
The recovery in air travel has been particularly noticeable here in the U.S., with some airlines returning to profitability as early as 2021. This was thanks to a large domestic market, few travel restrictions and generous subsidies from the U.S. government.
Can Airline Stocks Keep Flying?
This turnaround for the airline industry caught Wall Street, which believed its own hype about the so far non-existent recession, completely by surprise.
Analysts were saying "sell" when they should have said "buy." Wall Street was selling airline shares in the second half of 2022 year as the economic outlook was supposedly darkening. Airline shares have staged a strong recovery, with MSCI's global airlines index up 27% since September, although the index is still one-third below its pre-pandemic levels.
Analysts have been waiting for the cracks in demand to appear. Yet, there are no cracks; instead, there are signs air travel could actually have even more room to grow.
However, airlines have yet to fully rebuild their pre-pandemic flight schedules. That is due to constraints, including shortages of new planes, spare parts, and staff. This has kept profits well below 2019 levels for many airlines—but also contributed to higher and rising ticket prices, as limited supply runs straight into booming demand. This created favorable conditions for profits as the surge in demand allowed airlines to raise ticket prices, according to Brian Pearce, the former chief economist at airline trade body IATA (International Air Transport Association).
As United Airlines CEO Scott Kirby told the Financial Times: "The supply and demand dynamics are different than they've ever been in my career."
The good news is that the airlines are not just sitting on their profits.
As an investor, I like to see when a company invests in itself. It tells me that management is optimistic about the future and is positioning the company for growth.
That's exactly what airlines are doing right now. According to Airlines for America (A4A), U.S. air carriers are investing a record amount in new aircraft, equipment, technology and more. Capital expenditures are forecast to hit $27 billion this year, which would be significantly higher than the $21.2 billion airlines are estimated to have spent in 2022.
In the longer run, a return to pre-pandemic profitability will rely on increasing capacity—getting more fully-staffed planes in the air. Profitability, over the longer term, will be a function of how quickly airlines can get back their 2019 capacity.
However, at the moment, even though total passenger volume hasn't fully recovered to pre-pandemic levels, operating revenues are soaring to new record highs, according to Bureau of Transportation Statistics (BTS) data.
For now, there could be further room to fly for the airlines and their share prices. So let's look at one airline in particular: the aforementioned United Airlines Holdings (UAL), the most internationally-focused of the U.S. airlines.
United Airlines: Flying High
The company's stock has certainly been flying high, climbing by 66% over the past year and 44% year-to-date.
During the latest earnings call, United's CEO Scott Kirby sent an interesting message, saying that pandemic-era supply shortages would persist. Ultra-lean discount carriers would struggle to compete. So, what does that mean to travelers and shareholders?
Since 1995, the average U.S. domestic airfare has fallen from around $600 to less than $400, adjusted for inflation. United Airlines thinks that era is now coming to an end.
That message will put a frown on customers' faces, but should make shareholders smile. United hit its 9% operating margin target ahead of schedule (with earnings per share of $10 to $12). Previously, forecasts were that it would take the airline several years to achieve this level of profitability.
Even better, Kirby said the airline's earnings could soon reach a permanent cruising level above the pre-pandemic levels of 2019. Per Morningstar: "United's profitability substantially improved as 2022 progressed, with the fourth quarter marking the second consecutive quarter with over an 11% adjusted operating margin. Management sees a favorable operating environment over the midterm supported by strong demand and industrywide undercapacity."
The company is targeting an impressive 14% pre-tax margin by 2026. If achieved, that pre-tax margin would be an all-time record for the airline.
Wall Street has consistently underestimated travel demand post-pandemic, undervaluing UAL shares. I expect robust domestic leisure travel to continue, a strengthening business travel recovery as workers return to offices, and rebounding international travel thanks to more travel restrictions being removed.
This makes UAL a buy is the $48 to $57 range.
The tech industry is embracing AI at an amazing pace. It's already being trialed in search engines, coding apps, even in Windows 11.
And now, regular investors can finally use AI to boost their investment strategy. This new finance AI can help you personally with investments, research stocks and strategies for you, and even help you choose between investments.
This AI can do hours' worth of research in seconds - all you have to do is ask it. Click here to claim your 30-day free trial now.