ONE INFRASTRUCTURE COMPANY
Will Reap the Benefits of Trump's
$1 Trillion "New Deal"





Early investors could see gains up to 285%, but you must get in by June 15.

Dear Fellow Investor,
You may remember the tragic events on the evening of August 1, 2007, when a poorly maintained Minneapolis bridge collapsed during rush hour sending cars – and their drivers – plummeting into the Mississippi.
Thirteen people lost their lives that day.
This particular bridge carried nearly 140,000 cars and trucks daily.


And the thing is, this wasn't some old bridge from before the automobile age carrying traffic volumes and loads well beyond its capacity.
This bridge was completed in 1967. It was modern. It was dependable. It was safe.
Or so 13 people on August 1, 2007 thought.
You would think that such a tragedy would have triggered the government to start spending the money necessary to fix our failing infrastructure.
But sadly, the Washington Post reports that there are still "nearly 59,000 bridges [that] are officially classified as structurally deficient."
Meaning that the bridges you and your family cross every day to go to work, school, doctor visits, and vacation could collapse without warning.
Like in 2015 when a Maryland woman named Katherine Dean drove under the Capital Belyway bridge. As the New York Times reported…
"a large chunk of concrete fell from the structure, crushing the hood of her car and smashing the windshield."
Luckily she survived.
But, according to the New York Times,
"Every year, hundreds of deaths, illnesses and injuries can be attributed to the failure of bridges, dams, roads and other decaying structures."
And up until now, political bickering between the two major parties has stalled any significant government plan to fix America's failing infrastructure.
But that's about to change.
You see, Donald Trump's surprise win is expected to trigger a massive $1 trillion infrastructure boom.
Like Franklin D. Roosevelt's "New Deal" of the 1930s, when $250 billion (in today's dollars) was spent to upgrade America's infrastructure, Trump plans to move forward in 2017 with a Second "New Deal."
Spending $1 trillion to rebuild and replace our failing dams, bridges, roadways, airports, water treatment plants, and railways.
Many haven't been upgraded since they were built shortly after World War II.
But today, with strong bipartisan support from elected officials from both parties and popular public support, Trump's $1 trillion infrastructure plan is set to get the funding necessary. And contracts could start getting signed as soon as June 15.
The Hill reports that Congress will focus on finding ways to pay for Trump's infrastructure proposal in the first 100 days of his presidency, with a broader package likely to come together later in the spring.
Positioning yourself by June 15 is crucial.
Many companies – likely hundreds of all sizes – will compete for the contracts for the $1 trillion unleashed from the infrastructure package, but only a select few will ever win them.
And they're not the most obvious ones either.
You just need to know where to look…
That's where I come in.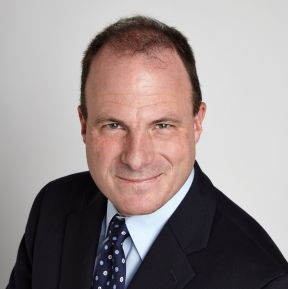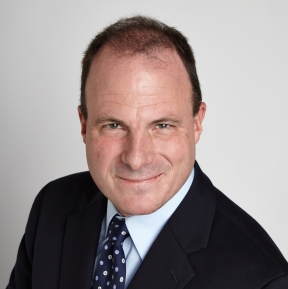 I'm Bret Jensen.
I have been investing for over three decades and have been obsessed with the markets and equities for as long as I can remember.
In the past decade, I have been a hedge fund manager, a trader and a professional financial journalist.
You may already know me if you're one of my 28,000 loyal readers on Seeking Alpha – one of the most highly trafficked sites in the investor community.
Or read my regular columns with Investors Alley.
The fact is, for many years I've been providing readers with firsthand, unbiased research on stocks that could double, triple, and even quadruple their money.
During my time as a Chief Investment Strategist at Simplified Asset Management, a hedge fund based in Miami, my fund was in the top 5% of long/short hedge funds for total return in its first year (and there were over 450 funds in this category).
I'm proud of the fact that my extensive financial experience over the years has led an independent audit agency to rank me alongside the top 1% of investment analysts from investment houses like Piper Jaffray, Deutsch Bank, and JP Morgan.
Now, I'm not saying this to brag…
But to show you that I have a proven track record of success and decades of experience bringing my readers the best investment opportunities available worldwide.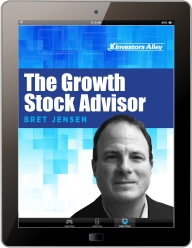 Today I'm Editor and Chief Investment Advisor of Growth Stock Advisor, an exciting new monthly communiqué that brings you independent, detailed research on the kinds of stocks you'll want to hold in your portfolio for a very long time.
This service features information covering both large cap stocks for steady and long-term growth…
Plus smaller early-stage growth stocks to take advantage of fast sector moves and social or economic trends that could deliver quick double or triple-digit gains.
I cover all kinds of sectors, from companies involved in construction… finance… real estate… hospitality… automotive… advertising… technology… health care… and so on.
So while I'm writing you today about infrastructure opportunities, that's only one of many sectors I cover in the Growth Stock Advisor service.
(I don't care where my profits come from, and I don't think you do either).
And by using the same proven strategy that propelled me to the top 1% of analysts, I have uncovered a "one-shop-stop" infrastructure-related stock that is set for explosive growth with Trump's $1 trillion American build-out.
Also, with each recommendation I make, I'm putting not just my reputation as an analyst on the line, but my very own personal funds.
Let me explain…
Every position I research and recommend to readers I also hold in my own personal portfolio with my own funds.
Not some model portfolio like some editors use or even company funds in a company account.
No, my money is on the line too.
As the old saying goes, "I have skin in the game." Which means I'm extra careful and conservative in making recommendations.
I do this because I firmly believe in my stock recommendations potential and like you, I'm investing in the market to make money.
BOTTOM LINE: WE'RE IN THIS TOGETHER.
So when I get to cheer about a huge 225% gain – like I recently did on my stock pick Exelixis – so do you!
Take a Ride on the "House's Money"…
Discovering opportunities like these doesn't come easy.
My investment process includes a lot of research, where I go through the top-tier analysts' reports,
then move on to experts in the specific industries to get good starting points for possible new investments.
And then once I've winnowed down the stocks worth pursuing I shut off the distractions of the rest of the world and pour through the company's latest conference call transcripts, press releases, financial data, and investor presentations to get familiar with the company's businesses and strategies.
And I even dig deep into the financial data on that company's competitors. Just to be sure.
This tells me whether I should pursue the stock further or toss it aside.
And only then does the deeper research start.
I look for two things when searching for a possible stock recommendation for my readers…
First, I determine if the value of the company's businesses are undervalued significantly by the market, either through ignorance or because sentiment on the stock or sector has become too negative.
Often companies have assets I call "hidden gems" that most investors are not aware of.
One of the best indicators is net cash on the balance sheet which can be overly discounted even on the largest of companies.
Other hidden gems are not so obvious.
Sometimes they consist of unrecognized but lucrative patents, property acquired decades ago severely undervalued by book value, or upcoming litigation awards.
For example, a home builder I added to the portfolio in March of 2015 had been quietly scooping up valuable land in fast-growing Sunbelt states not too long after the financial crisis. They didn't get the land for pennies on the dollar, but it was pretty close.
Then as we came out of the crisis the company started building on that land and growing profits significantly.
Had I not put in the extra effort to look back into the company's activity in the years earlier I might have completely missed their wise investment in acreage and expansion into some of the fastest-growing states in the nation.
And it seems most of the market didn't take the time to see this until it was too late… for them.
My Growth Stock Advisor readers bagged a 78% gain in a matter of 16 short months.
The second thing I look for are upcoming catalysts to unlock the true value of these hidden assets.
This can come in the form of new management or a different strategic direction at the company.
Often it is driven by an activist fund that comes on board and pushes hard to make moves that will increase shareholder value.
Although this seems a simple investment philosophy – it takes discipline, lots of research and years of experience to execute successfully over and over again.
Luckily the market has always been my passion and uncovering an overlooked equity that then provides outsized returns for you over time is a thrill that never gets old to me.
Remember, I deal exclusively in plain old stock buys. No tricky options… complicated trade setups… or timing maneuvers that require a Ph. D to execute properly.
My picks may be SIMPLE to get into – but they can be downright EXPLOSIVE when my gut instinct is correct. Like the potential double- or triple-digit gain from the tiny infrastructure-related company I'm going to share with you today.
So let me ask you… are you tired of waiting years for paydays that never come?
Or would you rather invest your hard earned money in a few promising growth stock opportunities with plenty of potential for double- and TRIPLE-digit gains in coming months?
If You Only Own One Stock This Year
After spending countless hours doing research and scanning the country to find the most promising infrastructure-related companies, I've uncovered the ONE infrastructure-related company that could add thousands of dollars – or more – this year to your pocket as America rebuilds…
And now I've discovered what could be the greatest opportunity for investors in all my years of research.
This infrastructure innovator is an experienced "one-stop-shop" for rebuilding America and is set to shoot upwards of 285% from the $1 trillion Trump bump in infrastructure spending.
Unlike some construction companies that either specialize in transportation or water infrastructure… this leading construction company does it all.
From transportation infrastructure like building and repairing highways, roads, bridges, ports and airfields…
To water infrastructure projects like building and repairing wastewater and storm drainage systems.
Exactly the type of repairs and reconstruction called for in Trump's $1 trillion infrastructure plan.
And with its 60-plus years of expertise in providing both water and transportation infrastructure improvements, this deeply capable construction company is a leading candidate to get a significant chunk of the infrastructure deals that emerge from this massive undertaking.
But there's even more good news for this infrastructure powerhouse…
One trillion dollars is just the start of what is needed to be rebuild and replace America's crumbling infrastructure… and it could mean 285% gains for one small company.
According to the American Society of Civil Engineers, the total cost to restore all of the nation's infrastructure is over $3.6 trillion by 2020.
So the gravy train for this fast-growing infrastructure company is just beginning…
That's why I was eager to put together a timely new report giving you the full details on this blossoming company, which could bring you tremendous gains as Trump's infrastructure plan moves forward…
Big money that could filter its way down into the pockets of the explosive infrastructure-related company that I'm going to share with you today.
And you can get the full details on this company in my timely new report, The One Stock You Want to Own to Cash in on Trump's $1 Trillion Infrastructure Boom.
But before I tell you how to secure your copy of my new report, let's talk a bit more about this relatively unknown infrastructure company that could give you enormous gains as Trump's $1 trillion build-out gets underway…
"Our Country is Literally Falling Apart"
~ Time Magazine
Broadly speaking, infrastructure refers to all the physical facilities and systems that serve the public at large, like the highway and freeway systems you drive on…
Or the runway an airplane lands on…
Or the bridge you drive across to get to the grocery store…
Or the energy you use when switching on your lamp or computer or tablet…
All the important things that make our economy function, like: airports, seaports, electric grid, hospitals, and rail systems. The kinds of functions that well, make our modern lifestyle possible.
But the sad fact is we've been under spending on our infrastructure for years.
And now we're paying the price…
From the crumbling bridges of California to the overflowing sewage drains of Houston and the rusting railroad tracks in the Northeast Corridor, decaying infrastructure is all around us." ~ The New Yorker
The facts tell the story…
One-third of our roads are in poor condition…
One in every nine bridges is structurally deficient…
And we just have to look at the recent water crisis in Flint, Michigan, with potentially toxic levels of lead in the city's water, to serve as a reminder that our aging water infrastructure is in desperate need of an overhaul.
The bottom line is this, many of our infrastructure projects were built over 50 years ago during post-World War II years and are in need of an immediate upgrade or even outright replacement.
It's no wonder Kiplinger recently wrote, "America's Failing Infrastructure: A Scary Picture."
And the cost of poor infrastructure is enormous…
According to the American Society of Engineers, over the next nine years, our crumbling infrastructure will cost us…
$3.9 trillion in Gross Domestic Product
$7 billion in lost business sales
5 million jobs
$3,400 per person in disposable income each year due to infrastructure deficiencies
It's no wonder Trump and Congress are putting a high priority on implementing a massive infrastructure plan in the next few months.
For you, it's a rare opportunity to get in early on the "one-stop-shop" infrastructure company that's set to soar as America rebuilds…
And in just a moment, I'll show you how you can score huge gains off this tiny company in my timely new report, The One Stock You Want to Own to Cash in on Trump's $1 Trillion Infrastructure Boom.
By subscribing to the Growth Stock Advisor, you're coming along with me… investing in my highest confidence stocks… the ones where I've put my own money too.
And my stock recommendations are paying off…
Just look at some of the great feedback I've been getting from my readers lately…
I will pocket just about $100,000 profit (invested in Relypsa across multiple accounts).  Sweet victory! Many thanks.  LOVE your service/newsletters — I subscribe to ALL you offer.     ~Brent H.
I can happily share that I'm up roughly $32,000 on this stock [PGNX] since your call. A great week, indeed.     ~Gary K.
Small investor, 300 shares up 185%. Great appreciation for me and very first double-bagger!! Enjoying the newsletter subscription very much.     ~Paul W.
The same day the RLYP announcement hit the street, my wife saw the recurring subscription charge on our credit card that I pay you and was questioning the value of that. I said, "let me show you." I pulled up my brokerage account and showed her the $14,000 "profit" I made with just RLYP in one day. I said, "that's why." She smiled and I'm guessing she'll never ask that question again.  Thank you Bret and team!     ~David G.
Bret takes time to respond to all the emails and he is very thorough with his work.     ~Alkesh P.
There's a lot more to say about Growth Stock Advisor, but before I get into that, I want to tell you more about the one infrastructure-related stock you should own as America rebuilds.
The One-Stop Shop for Infrastructure Repairs
As I've said, if you own just one infrastructure-related stock during Trump's coming $1 trillion building boom, this is it.
It's a turnaround story on the verge of greatness, driven by new management and rising margins.
The new CEO has years of experience with a heavy infrastructure and construction giant and has implemented pricing discipline and operational processes.
These include collaboration across business units, including around the areas of procurement, equipment utilization, leveraging technical experts and sharing best practices.
And since the new management came on board in 2015, new business has boomed…
In fact, this company now has current signed contracts worth over $815 million, including a…
$60 million-plus airport project in Utah
$20 million-plus bridge project in Colorado
$21 million-plus wastewater project in California
$55 million-plus roadway project in Texas
$14 million-plus taxiway project in Arizona
Plus… there's an additional $90 million worth of projects where the company appears to be the low bidder and the contract is just waiting to be signed.
Fact is, with new management, this burgeoning construction company is exploding in growth with over 140 projects currently underway throughout the United States.
Already, in geographic growth areas where infrastructure spending is on the rise – like Texas and California, this company has seen a huge 30%-plus increase in project activity.
No wonder its recent quarterly results show a powerful double-digit gain in revenue over the same period last year. .
Even management is showing a major vote of confidence in this fast-growing company, with the CEO buying $500,000 worth of new stock in 2016.
Add in the profit potential of becoming a major player in the $1 trillion infrastructure build-out proposed by Trump and you have a company that is set for explosive growth.
It's no wonder that the number of prominent hedge fund managers who have purchased a stake in this company has more than doubled in the last year.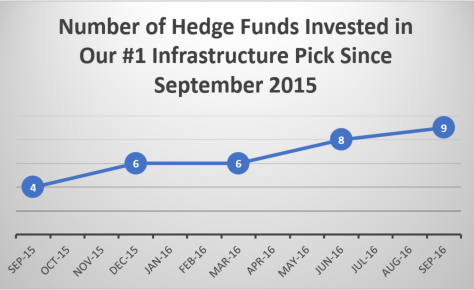 The smart money is betting on this stock… and so should you.
Even if you take off the enormous future profits that Trump's infrastructure plan could bring to this company's bottom line, you're already looking at a booming construction firm that's had an enormously successful turnaround in the last few years.
And right now, you have the perfect opportunity to get in early. And you should definitely be in before June 15th.
You can get all the details on this stock today, including its name, in my blockbuster new free report, The One Stock You Want to Own to Cash in on Trump's $1 Trillion Infrastructure Boom.
All you've got to do to get this exclusive report is say "Yes" to a risk-free trial subscription to my new advisory service, Growth Stock Advisor.
With Growth Stock Advisor you'll get firsthand, unbiased research on stocks for long-term, steady growth with a few fun plays sprinkled in that could double, triple, even quadruple your money fast.
You'll get a portfolio that is solely focused on finding growth at a reasonable price regardless of market capitalization.
With around 20 stocks, 5 core positions that are much more stable large cap companies and 15 companies of any capitalization we're focused on fast growth and quick profits.
In this way, you have a balanced risk/reward ratio and a variety of stocks to choose from to fit your individual investing needs and goals.
And you'll be diversified with strong growth companies that are spread out over a variety of sectors, including the construction, finance, hospitality, technology and automotive industries among others.
I set the portfolio up like this to ensure you don't have all your eggs in one basket and you're getting profits from all sectors of the economy.
In Just 2 Months, Growth Stock Advisor Has Already Closed Out 2 Triple-Digit Winners
Growth Stock Advisor is off to a strong start…
Since its start in November 2016, Growth Stock Advisor has already closed out two stock recommendations that have brought readers incredible gains of 191% on a health insurance company and a 225% gain on a pharmaceutical company.
Had you invested $10,000 in each one of these stock picks, you could have walked away with $41,600 profits in your pocket…
But that's just the beginning…
Currently there are over a dozen open stock recommendations that are poised to bring you a windfall of cash in coming months, including a…
Pharmaceutical Company that's up 82% …
Biopharmaceutical Company that's up 42% …
Financial Company that's up 30%…
Homebuilder that's up 26%…
And that's just a sampling of the winning portfolio at Growth Stock Advisor.
Growth Stock Advisor will put your investing on auto-pilot, telling you when to buy, what to pay, and when to sell.
Normally investment research like Growth Stock Advisor's runs $299 or more for a 12-month membership.
And that's a bargain when you consider the gains I've been churning out for my subscribers.
But today, I'm putting most of that cash right back in your pocket to make it the easiest investment decision you'll make all year.
For new subscribers like you I'm offering a deep discount rate of only $49 every three months.
Subscribing this way puts you on board with the easy quarterly installment plan, so there's no long-term commitment on your part. You just pay as you go.
Once your first quarter is over, your subscription will conveniently renew automatically – you won't have to lift a finger to continue receiving monthly issues with all the new profit opportunities and weekly updates.
Stated another way, your subscription is a mere 53 cents per day!
Which is much less than you would spend on a daily cup of coffee or even a copy of the local newspaper these days!
Just 53 cents gets you a wealth-building tool that could bring you fast gains of 83%, 191%, even 225% or above.
When you start today – right now – for the next 3 months enjoy 3 monthly issues, monthly updates, urgent buy and sell notices, and unbiased research for the special price of just $49.
Think about this…
With the $41,600 gains you could have made off the two winning stock recommendations I just closed out in Growth Stock Advisor, you could have paid the quarterly subscription price 848 times over.
Pretty amazing isn't it!
And that $49 quarterly rate ($196 per year) is locked in for you as long as you're a subscriber in good standing… meaning if my publisher ever raises the cost for new subscribers, you'll still be getting the $49 quarterly rate. Period.
So hit the order button below to start your risk-free trial of Growth Stock Advisor today and get immediate access to your FREE report, Cashing In on Trump's $1 Trillion Infrastructure Boom.
Here's What You Get When You Sign Up for Growth Stock Advisor Today…
My NEWEST research report The One Stock You Want to Own to Cash in on Trump's $1 Trillion Infrastructure Boom. Inside, I'll reveal the one infrastructure-related stock that could add thousands – or more – to your pocket from the coming $1 trillion Trump build-out.
Remember, from just the two winning recommended stocks I've already closed out in the last two months, you could have walked away with $41,600 profits in your pocket…
12 Monthly Issues of Growth Stock Advisor delivered to inbox at the start of every month.
My personal email address… While many publishers actively discourage their editors from interacting with subscribers, my publisher encourages me to provide you with my personal email address. Should you ever have a question you can contact me directly and you'll receive a prompt reply. You can take comfort knowing that I'm only an email away if you ever need me. You never have to feel like you're going this alone.
Full access to the complete portfolio… and access to unbiased research on every recommendation we're holding. This portfolio is filled with stocks that are poised for long-term, steady growth for years to come (as well as a few that could get you lightning fast gains).
Monthly Growth Stock Advisor email updates so you're never left wondering what's going on with our portfolio holdings (that way you'll be in prime position for the next profit opportunity).
Instant email alerts from me… I'm invested in the same stocks you are, so I'm always monitoring our investments. For example, should one of our investments take off, I'll send you instructions on how to lock in and maximize your profits even further.
The monthly market briefing. As part of your membership, I'll keep you updated on what's happening at a macro level and how that affects our investments. That way you'll be a more informed investor (and don't be surprised if you start spotting profit opportunities on your own as a result).
Clear buy and sell instructions… Whenever I recommend a play, you'll know exactly what to do to collect maximum profit. No more guessing or being left in the dark wondering when to collect your profits, or whether you should add to your position.
Live customer service for any time you have a question about your subscription. Of course you can always contact me directly for your investing questions, but sometimes you need immediate answers about your subscription instead. That's why we have live, U.S.-based customer service for you during normal business hours. No complicated calling trees with Press 1 for this and 2 for that, no time zone issues half a world away… just reliable, friendly help when you need it.
If you're not completely satisfied at any point during the first 60 days, just call or email and you'll get a full 100% refund of your money (and you get to keep your report with my compliments).
Take the first two full months to test-drive Growth Stock Advisor….
And if at any point during your first 60 days you don't see clear and convincing evidence that I can transform your portfolio into a growth machine that supercharges your retirement dreams…
Then just give us a call or shoot me an email, and I'll make sure you get every penny of your subscription refunded.
You have absolutely nothing to risk here — and everything to gain.
I'm 100% committed to seeing your portfolio take off.
Just click below to get started.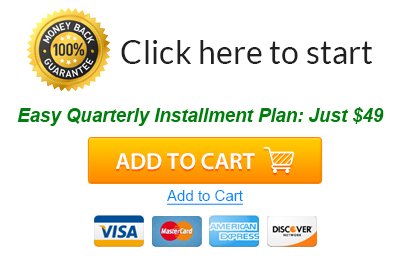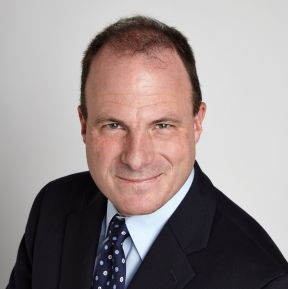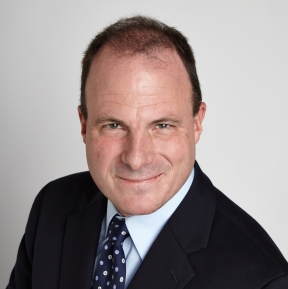 To your financial health,
Bret Jensen
Editor
Growth Stock Advisor
P.S. With Congress set to act on Trump's $1 trillion infrastructure plan in the next 100 days, now is the perfect time to get an early-in on a relatively unknown infrastructure-related company I uncovered that is set to boom with America's new build-out. Click here to secure a copy of my FREE report, The One Stock You Want to Own to Cash in on Trump's $1 Trillion Infrastructure Boom and learn how this explosive company could make you huge gains in coming months.