Imagine a company whose stock that hit an all-time in December 2021, after soaring 50% that year. And that company's sales doubled in the two years leading up to 2022. And its operating profits quadrupled.
Also imagine a company whose biggest product is set to see its sales collapse in the next three years from about $38 billion in 2022 to $10 billion in 2025.
Guess what? These two companies are actually one and the same: the pharmaceutical giant, Pfizer (PFE).
Pfizer's fortunes soared during the pandemic, thanks to its partnership with BioNTech (BNTX) on the highly successful BNT162b2 COVID vaccine.
But what about post-pandemic Pfizer?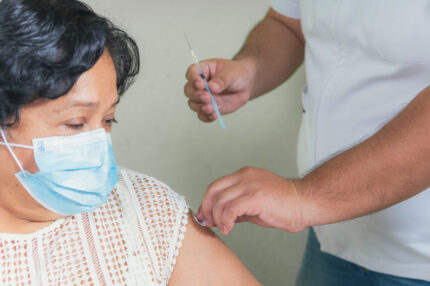 I believe this company is a perfect candidate for an equity income fund…or for an individual investor looking for a stock with rock-solid fundamentals and a nice dividend yield, which currently stands at nearly 4%.
Pfizer's Fundamentals
Sure, Pfizer's earnings are forecast to fall sharply in the current year—from $6.58 per share to about $3.62 a share. But that will still allow the dividend to move upwards with an acceptable level of cover. The payout ratio would rise to 46%, still well below Pfizer's 10-year average ratio of 67%.
Other measures of Pfizer's operating performance also show the company is quite healthy.
Sure, Pfizer's 37% profit margin will no doubt shrink as demand for the COVID fades. But, if you take the longer-term view of Pfizer, you will see its profit margin has averaged 27% for the 10 years leading up to 2022. In that same period, Pfizer grew its revenue by a compounded 6.3% per year, and operating profits rose by 7.6% a year.
In the next year or so those long-term growth rates will slow a bit; however, they will still remain darn good. Wall Street forecasts are for Pfizer's 2025 operating profit to be almost $24 billion (versus a peak of about $40 billion in 2022). That implies a nice, steady 10-year growth rate of 6.0% from 2015's $13.3 billion.
If we peer ahead to 2025, Pfizer's vaccine, BNT162b2, is likely to remain its biggest single revenue source. But Pfizer is much more than the vaccine, thanks to a portfolio of drugs that are either already approved by the FDA or are in the approval pipeline.
One such drug is Eliquis. This anticoagulant, which is a vast improvement on the older, more common warfarin, had sales of $6.5 billion in 2022. It may exceed $8 billion in sales by 2025. There is also Pfizer's Prevnar group of vaccines, which protect against streptococcus bacteria.
Pfizer Refilling the Drug Pipeline
There is little doubt that Pfizer must refill its "medicine cabinet"—and quickly.
In addition to slowing COVID vaccine sales, Pfizer faces the loss of market exclusivity for several blockbuster drugs—including cancer medicines Xtandi and Ibrance—known as a "patent cliff." This is expected to blow an additional $17 billion hole in Pfizer's annual revenues by 2030.
So, Pfizer management is undertaking several moves…
First, the company is jumping into the weight loss drug sector. On December 12, it laid out plans to push ahead with a late-stage trial of an oral GLP-1 drug with potential to treat diabetes and obesity. At an investor event, the company touted the potential to claim $10 billion in annual sales by 2030. This once-a-day pill could gain a competitive advantage over weekly or monthly injections.
Pfizer has also agreed recently to acquire oncology-focused biotech firm Seagen (SGEN), for a total enterprise value of $43 billion. Seagen is a pioneer in antibody-drug conjugates (ADC), a class of drugs designed as a targeted therapy for cancer cells. They work by seeking and killing tumors without hurting healthy cells. Seagen's four approved ADC drugs generated $4 billion in sales in 2022 and are considered first or best in class for the conditions they treat.
Complex manufacturing of these ADCs should reduce rivalry from generics. Pfizer believes the business could contribute more than $10 billion in risk-adjusted revenues by 2030, or about a seventh of today's sales.
Pfizer CEO Albert Bourla said that oncology continues to be "the largest growth driver in global medicine," so the deal contributed to the company's near- and long-term financial goals. Pfizer already has 24 approved cancer medicines, and 33 others are in clinical development.
Add this all up and Pfizer looks like a good long-term investment for more conservative investors—despite Wall Street doubts. It's especially promising since it is trading very near its 52-week low and back to levels not seen since 2021.
PFE can be bought anywhere around $40 a share, locking in that 4% dividend yield.