Remember Lehman Brothers? MF Global? Washington Mutual? Investors must have a short-term memory with the stock market nearing all-time highs again. Warning signs are all over the place, and these five companies on our Bankruptcy Watchlist might not exist by this time next year. Sell while you still can!
With the stock market trading near all-time highs, investors are complacent yet again. Retail investors are asleep at the wheel and are set up to take the fall for Wall Street yet again.
Ernest Hemingway famously wrote: Bankruptcy happens two ways, "gradually and then suddenly."
Often times it's more sudden than anyone ever imagined.
Lehman Brothers' stock price fell from $16.25 to $0.01 in under 10 days back in 2008.
Poof! $691 billion in market value gone in mere days.
This couldn't possibly happen again, right?
The market has a short-term memory. In 2011, MF Global wiped out $41 billion in equity with its bankruptcy filing.
Over the last half decade, we saw five of the largest bankruptcies in history. All of which can be, in part, blamed on the financial crisis, including the likes of MF Global, CIT Group, General Motors, Washington Mutual and of course Lehman Brothers.
Even massive multi-billion dollar companies aren't immune to bankruptcy. With the financial crisis in the rearview mirror, bankruptcies have become a foreign concept.
Don't be fooled.
For investors that have fallen asleep at the wheel, 2015 will be a very painful year. Bankruptcies are a foreign concept to the market these days. That means individual investors will be left holding the bag again when the next round of bankruptcies start.
But retail investors don't have to be Wall Street's fall guy.
Granted many bankruptcies take the market by surprise, leaving investors with pennies of their initial investment.
But going back to Hemingway's quote, bankruptcy starts out gradual. There are many bankruptcies that savvy investors should have seen coming from a mile away.
The key is that bankruptcies come in all shapes and sizes. There's no prerequisite. A company doesn't have to have lost money for several years, or even be losing money, to be forced into bankruptcy.
While balance sheet weakness is always a strong sign of potential bankruptcy, many bankruptcies are intuitive and easy to spot. When's the last time you actually used a phone book to look up a phone number? Exactly! So it's no surprise Yellow Pages' parent company Dex One went bankrupt in 2013.
Some investors just don't want to see their beloved store or product become obsolete. Investors have to set emotions aside. Thankfully, we're here to help with providing clear thinking and due diligence.
Here are the top 5 stocks that are on the verge on the bankruptcy:
No. 1 Company On The Verge Of Bankruptcy: Dendreon Corporation (NASDAQ: DNDN)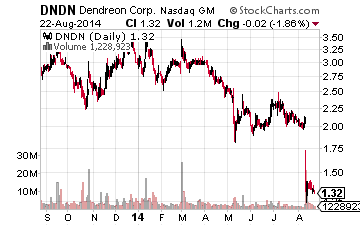 Shares of this biotech company have already been cut in half year-to-date. The company came out and said that it won't be able to repay its 2016 debt. While it's considering alternatives to the 2016 repayment, these alternatives will likely leave its shareholders with little to no ownership of the company.
Dendreon's sole product is Provenge, which is a vaccine for prostate cancer. Sales continue to come in below expectations. This is a trend that's set to continue with s couple competing products already in the market, including Sanofis' Taxotere and Johnson & Johnson's Zytiga. This is especially a problem considering Dendreon has no drug pipeline to speak of.
The company has over $460 million in net debt (debt less cash), compared to its market cap of just $208 million. It continues to lose money, losing over $200 million over the last twelve months.
Its $620 million in notes due 2016 has a conversion price of $51.24, which is well above the company's current price. There's virtually no likelihood of debt-holders excising, ultimately pushing Dendreon into default.
No. 2 Company On The Verge Of Bankruptcy: Walter Energy, Inc. (NYSE: WLT)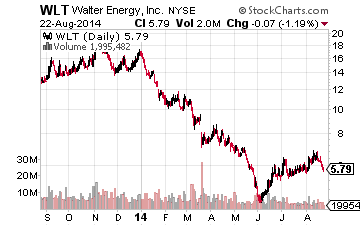 The entire coal industry has taken a beating this year. Over the last few years we've already seen James River and Patriot Coal file for bankruptcy. Walter Energy could be up next.
Restructuring will be tough given the company's long-term debt profile. Its debt-to-book value is 5 times. Meanwhile, two other major coal companies that are struggling, Arch Coal and Alpha Natural Resources, trade at 2.5 and 1 times, respectively. There appears to be virtually no way Walter Energy to pay its $1 billion due in 2018.
Its interest burden is also very large. Cash interest expense is expected to be upwards of $285 million this year. That's roughly 17% of its annual revenues. The weak demand for met and thermal coal will continue to put pressure on Walter Energy's revenues, making interest payments even more difficult and potentially forcing Walter Energy into default sooner than expected.
No. 3 Company On The Verge Of Bankruptcy: The Bon-Ton Stores, Inc. (NASDAQ: BONT)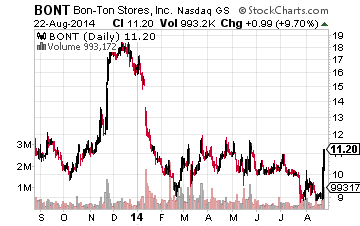 The Bon-Ton Stores operates in what has become the overly competitive retail industry. It sells various apparel products, home furnishings and accessories. But it's a second tier store in many of its major markets, competing with more well-known operators.
Structural problems are alive and well at the company. Shoppers aren't buying the inventory. Its days of inventory — the theoretical number of days its takes to sale inventory — is up to 151 days, well above the likes of J.C. Penney's 115 days and Sears Holdings' 97 days.
The retailer has upwards of $900 million and a weak cash position, against a market cap that's just $216 million. It's managed to lose money in four of its last five fiscal years and its cash balance has declined in each of the last five years. The high interest debt will continue to lead to a further decline in cash, making debt repayment increasingly difficult and eventually impossible.
No. 4 Company On The Verge Of Bankruptcy: GameStop Corp. (NYSE: GME)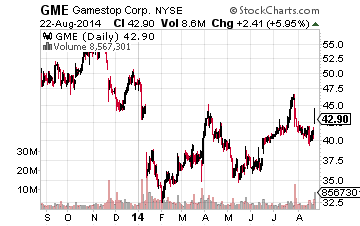 Electronic Arts could single handily lead to the demise of GameStop. EA is close to generating half of its revenues from digital downloads, but has big plans to get that closer to 100%. Helping drive that? Full game downloads.
EA is already starting to release games that can be downloaded the same day you can purchase them at GameStop. That's bad news for a company like GameStop, which generates nearly three-quarters of its profits from physical game discs.
But it's not just full-game downloads, EA is also working with the likes of Comcast to offer cable subscribers "on-demand video games."
And GameStop's push into new markets appears rather futile. The company is opening mobile-phone focused stores, a part of the market that Best Buy has already ventured into. The margins on this business are much lower than the video game business. GameStop will become just another victim of the digital world.
Although GameStop's demise will be a surprise to many, it shouldn't be, given digital has been killing companies for a number of years. The bookstore giant, Borders Group, spiraled into bankruptcy in 2012 after digital e-books made its business model obsolete. Netflix's digital model ultimately crushed the nation's largest video rental company, forcing Blockbuster to file bankruptcy in 2010.
GameStop's industries are getting increasingly competitive. For GameStop, it really might be a slow death. But the slow rise and adoption of digitally downloaded games will push GameStop to the wayside — following the path of Circuit City and the soon to be defunct RadioShack.
No. 5 Company On The Verge Of Bankruptcy: Sirius XM Holdings Inc. (NASDAQ: SIRI)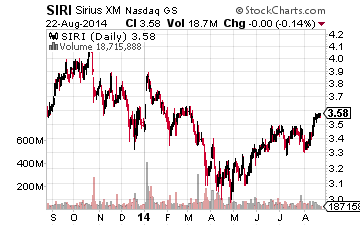 When the auto industry took a hit during the financial crisis, so did Sirius. Sirius came close to bankruptcy back in 2009, ultimately being bailed out by John Malone's Liberty Media. Malone loaned Sirius around a half billion dollars, giving the company a lifeline until auto sales started to turn the corner.
Sirius is highly dependent on the automakers. The sale and lease of cars with satellite radios is the crux of Sirius' business model. And so, the recent success for Sirius has been the rise in auto sales.
Behind the rise in auto sales has been easy credit and a rebounding economy. During these initial years Sirius was just competing with traditional radio, which isn't too hard to beat. Now the competition is more robust and it includes deep pocket tech companies.
Google has snatched up Songza, and the everything store, Amazon, is in the market with Amazon Prime Music. Don't forget the behemoth, Apple, which bought Beats — adding a streaming service to the largest music retailer in the United State, iTunes.
The news gets even worse. One of the top car info system makers, Pioneer, is already offering a stereo that auto detects Pandora from iPhone and iPods. Pandora already has a large and growing user base. It's the number two most used app across nearly all demographics — behind Facebook of course.
There's a perfect storm brewing of peaking auto sales and increasing competition that could make Sirius the biggest bankruptcy since the financial crisis. Its synergies from the Sirius and XM merger are wearing off.
The ultimate rise in interest rates will curb the appetite for new cars. Then, we have the younger generation that's showing a decline in the willingness to buy cars.
Sirius barely escaped bankruptcy back in 2009, but the company won't be so lucky next time. It's not a small company either, with a $20 billion plus market. This one might take some time to play out, but the decline is inevitable.
BONUS: Why These 2 Struggling, Famous Brands Won't Avoid Bankruptcy
1) RadioShack Corp. (NYSE: RSH): At a time when more Americans are doing more of their shopping online, RSH clings to its traditional, brick-and-mortar retail store model. But think about when the last time you set foot in a RadioShack store was?
With about 4,700 stores and dropping quickly (the company recently announced plans to shutter 1,100 locations), RadioShack is especially vulnerable because it focuses on the electronics industry, where consumers have easily adapted to online shopping.
Predictably, RSH has been clobbered in its efforts to compete with larger rival Best Buy and giant online retailer Amazon.com.
Just like with Sears above, a look at the numbers only makes things worse.
The company has lost money for eight straight quarters (and counting), including a loss of $191 million (you read that right) during the holidays – typically the strongest quarter of the year for retailers.
Same-store sales in the fourth quarter sank 19%.
To add insult to injury, Goldman Sachs recently slapped a $1 price target on RadioShack shares, which is about half of the current price of RSH stock.
2) Sears Holdings Corp. (NASDAQ: SHLD): Sears has a proud history of pioneering markets and once dominated retail with its catalogs.
But in 2005, a buyout of Sears and discount retailer Kmart by fund manager Eddie Lampert spawned a spate of management missteps.
Sears and Kmart, with more than 3,000 stores in the United States, have been unable to compete against other low-cost retail chains like Wal-Mart and Target.
Sears sales have been on a downward spiral for years. In fact, Sears has posted 27 straight quarters of declining same-store sales.
Meanwhile, Lampert has shown himself to be remarkably tone-deaf.
In 2012 he bought a $40 million home north of Miami at about the same time Sears decided to sell 1,200 stores and close another 173. And Sears recently announced plans to close another 300 stores this year.
In 2011, Sears' American Customer Satisfaction Index score was 76 out of 100. Only Wal-Mart received a lower score.
One of the final nails in the coffin for Sears could be the purchase of Lands' End in 2002 for a whopping $1.9 billion. Sears just spun off the clothing manufacturer with a market value of less than $840 million.
Sears shareholders received shares of Lands' End, and some had to be excited to have a stake in a company that was actually making money. Lands' End reported a profit of nearly $79 million last year, while Sears lost $1.4 billion in 2013 (fiscal year actually ended Feb. 1 for Sears).
Same-store sales declined 5.1% from 2012 in the all-important fourth quarter.
A look at the balance sheet doesn't provide much hope either. The company has a total debt of $3.7 billion and liabilities totaling $16.9 billion with a market capitalization of about $6.3 billion.
Bankruptcy is driven almost wholly by lenders who think it's the only way to get paid. With CCC+ (Sears) and CCC (RadioShack) credit ratings from S&P, deep in junk territory and described as "currently vulnerable and dependent on favorable business, financial, and economic conditions to meet financial commitments," neither company inspires confidence while bleeding cash. For RadioShack in particular, S&P recently warned "a default could occur within 12 months, absent a major business turnaround."
DOUBLE BONUS: A shocking U.S. bankruptcy that could rattle the markets
As a bonus, here's one company that might take you by surprise. When it was founded over 100 years ago, this company was the largest business ever launched.
The key to remember is that just because a company has been around for over a century doesn't make it immune to bankruptcy. Eastman Kodak was a 131 year old company when it went bankrupt in 2012.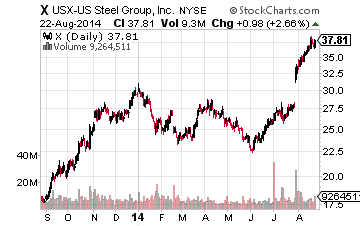 What will be one of the biggest bankruptcy surprises in the next year or so, although it won't be for savvy investors, will be U.S. Steel (NYSE: X).
Let's face it, the steel industry is in trouble. There's an oversupply in the industry that's crippled steel prices. U.S. Steel lost a cool $1.6 billion last year and it has $3.6 billion in debt — versus its market cap of $5.5 billion.
But that $3.6 billion in debt doesn't include the company's pension fund obligations. U.S. Steel's pension funds were underfunded by $1.1 billion at the end of last year, not to mention its $1.4 billion in underfunded retiree and medical life insurance plans. This is often overlooked, but its still a liability that's effectively debt.
There's not much hope on the horizon either. The Chinese steel producers control prices. They produce nearly half of the world's steel. Their low costs of production in China allow producers to sell at prices well below U.S. producers. Margins at U.S. Steel will only to remain under pressure. With profits in decline, it's hard to see how one of the nation's most prestigious companies will be able to satisfy both its debt holders and former employees.
Not all companies falling on rough times are heading for bankruptcy. But how do you tell which stocks to avoid and which stocks are primed for a rebound?
Our turnaround specialist Bret Jensen has a knack for finding stocks that have been oversold on bad news or suffered poor management and are now just starting to rebound. His two newest turnaround picks are in the booming domestic energy sector. Click here for more on how Bret's turnaround strategy can have you pocketing a nice tidy profit when others are too afraid to get off their hands.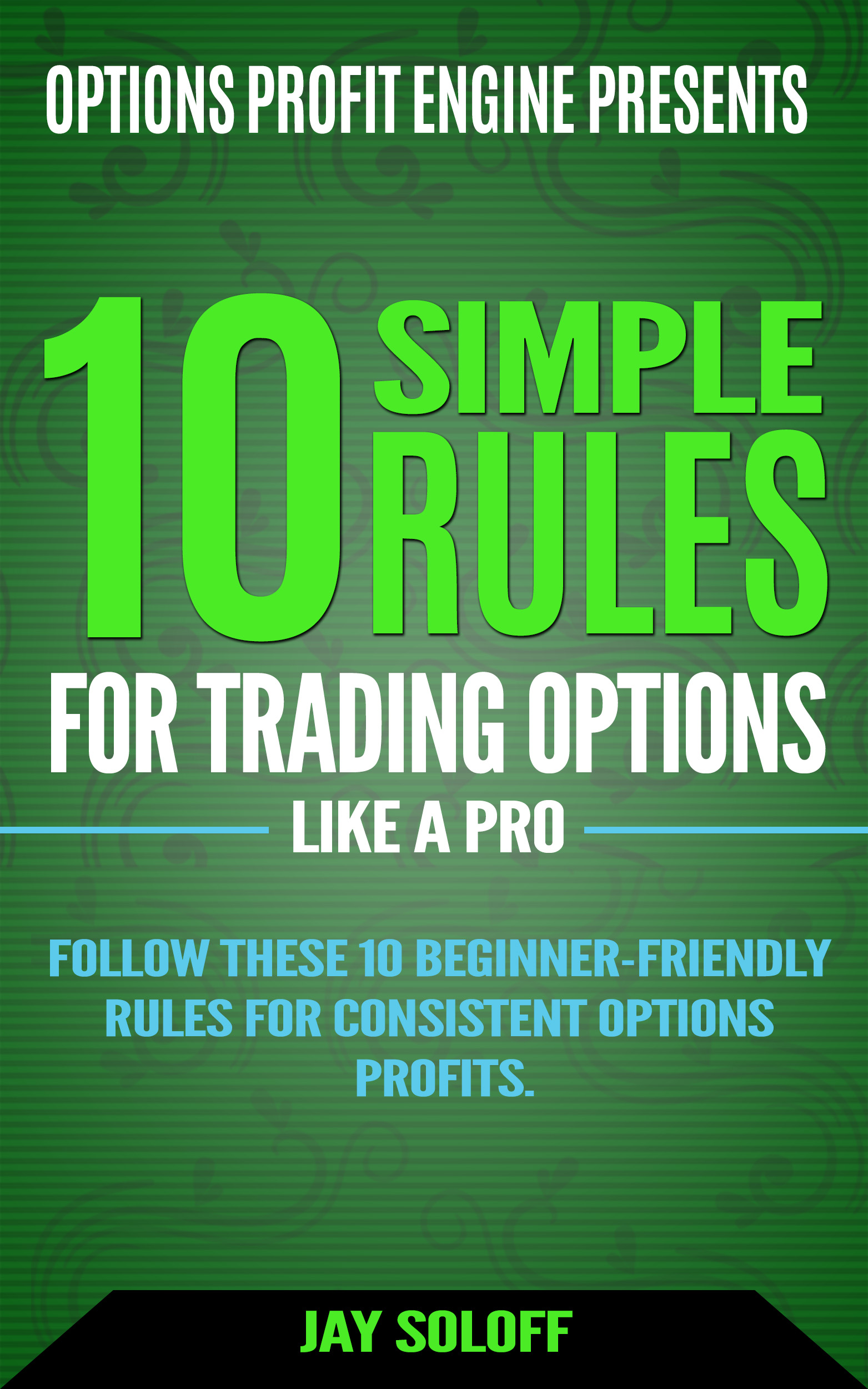 [FREE DOWNLOAD] 10 Simple Rules for Trading Options Like a Pro
Follow these 10 simple rules from 20-year professional options trading veteran, Jay Soloff and start earning a reliable extra income from options.
NO prior experience needed to master these 10 simple options trading rules. 
Enter your email below and receive access to this FREE guide...