Options are better than stocks because there are so many different things you can do with them.
Let's compare:

This flexibility is why I've solely traded options professionally for over 21 years.
One huge reason I believe options are potentially better than stocks is being able to generate monthly…even weekly profits like clockwork.
In fact, I'll show you it's entirely possible to generate $2,000…$2,400…$1,400…
maybe even $1,700 dollars in as little as 10 days using options.
And I'll even show you the trades to make each week.
They'll be sent right to your phone if you wish.
You'd be hard pressed to find this opportunity with stocks.
That's why this is such an incredible opportunity.
Only with options, can you create income over and over again without waiting for a specific date.
It can happen right away and fast.
And it's potentially life-changing.
After all…
An extra $2,000 next week could knock out that small renovation in the bathroom…
Pocketing $2,400 next week could pay for an intercontinental flight to anywhere in the world.
Banking another $1,400 next week could pay for 8-10 nice dinners this month.
Maybe another $1,700 could pay for a few nights at a nice resort on the beach.
That's the power of quick income.
What you're about to see on this page is for someone who is serious about trading options more frequently.
If you're still on the fence about options in general…I'm not here to convince you otherwise.
I'm only talking to traders who has been searching for how to profit from options…meaning, you're already serious.
And not just serious about trading…but serious about making even more money from options week-in and week-out.
You won't be alone either…I'll be in almost daily contact with you.
You'll have to be dedicated…
You'll have to be driven…
You'll have to be willing to turn on a dime when the market moves.
This year, with how the market is, I'm focusing my attention on one particular strategy.
I use this trading strategy to stockpile cash every month
These trades are called "spreads."
They allow you to collect profits on those making huge bets in the market.
Meaning, if someone bets big against the trend in the market — right now the main trend is upward despite what happened in 2018 — we know 9 times out of 10 they will be wrong.
There's a way to make money on that 9 times you're right.
It's an amazing strategy because:
It costs little money to do

You don't have to buy or own any stocks

You can make nice double-digit returns every single month
For 'spreads', I recommend at minimum, $5,000 to have on hand for this.
That's not too much. Just 5% of a $100,000 portfolio.
My 'spread' strategy is designed for you to collect cash as little as every 10 days.
Check out 'spread' trades made over 18 months: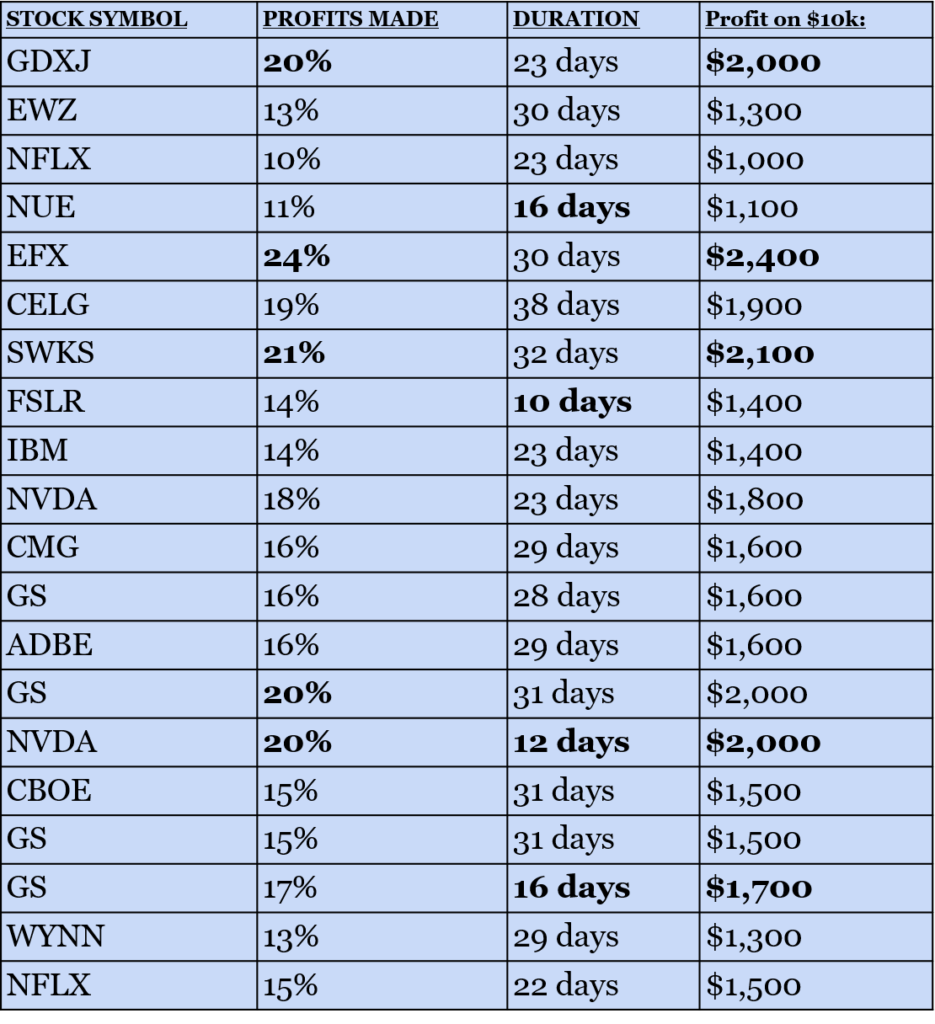 There are some popular stocks up there: Netflix, Goldman Sachs, IBM, Adobe.
I got an email from one happy subscriber I sent a recommendation to:
I want to thank you for the winning trade (my first since I'm just starting out) with the GS May 25th 230-235 put spread. So after just one month, my % return on this GS trade was 22%! Excellent trade!
– Billy Steinberg
The kicker here is you don't need to own any of these stocks to milk profit out of them.
You simply make money on those betting the stock will dramatically drop in the next 30 days.
Most of the time, it won't happen.
Over 18 months, we made 35 of these 'spread' trades and won 29 of them. An 83% win rate.
As you can imagine, 3-4 of the losing trades happened during the highly volatile October and December months. However, during that time frame, remember, we banked 117% and 96% on our SPX and QQQ trades to mitigate the losses.
Options give us that flexibility when the markets go off the rails.
However, in this market uptrend, we will win most of our 'spread' trades and collect a nice side income.
Take a look at a few of these trades again: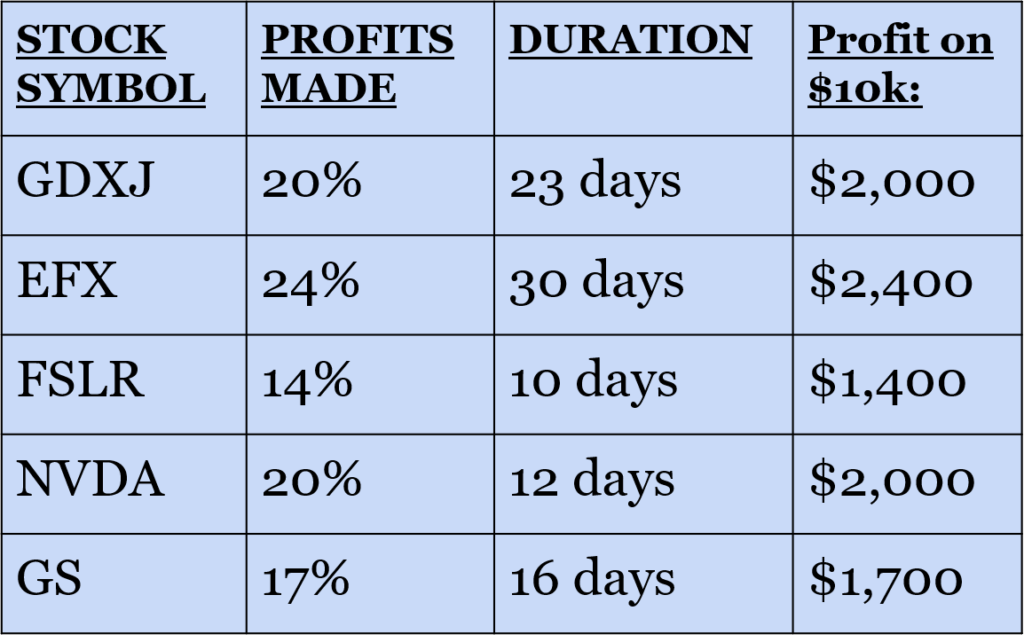 All five of these 'spread' trades all made money within 30 days.
Three of them within 16 days.
When you think about banking more profit during a bull market, this is what I'm talking about.
Look:
The GDXJ 'spread' trade gained 20% in 23 days. During that time frame, the market was still climbing. In that 23 days, the S&P 500 earned 2%. Your portfolio did well.
With a mere $10,000 investment in this option, you could've earned $2,000 in 23 days.
All:
Without owning the stock

Without taking a big risk

Without needing to read an SEC filing or earnings report
Do that every month, that's an extra $24,000 profit on top of the profits you're making in a bull market.
And that's not the only trade you could've made.
…with EFX, it could've been a $2,400 windfall in 30 days
…with FSLR, it could've been $1,400 in just 10 days
…with NVDA, it could've been another $2,000 in 12 days
…with GS, it could've been $1,700 in just 16 days
These profits add to your war chest. You're stockpiling wealth in case another correction hits at any moment.
Here's How Our Profit-Making "Spread" Options Strategy Works 83% of the Time
Every day, there are thousands of investors around the world placing huge bets on the market.
Maybe they believe a crash is coming…
They may have a feeling a specific stock will lose money…
Or maybe they're desperately looking for a big winner and willing to gamble…
All of these scenarios and more play out starting at the opening bell each business day.
Now, if you don't know me, my name is Jay Soloff.
I was a Market Maker for eight years plus traded on floor of the CBOE (the largest option exchange in the world).
For over 21 years I've focused on options as my career. This was never a side hustle or hobby for me. Career only.
I watched during my first few years the hubris and risky money splashing the markets during the build-up to the DotCom Bubble burst in 2000.
If you think investors learn their lesson ever, I respectfully disagree. Because I watched after the bubble burst traders go right back to how they traded before.
They not only are happy and comfortable to take big risks…
They're addicted to it.
I am not one of those traders. I trade conservatively with strategies I test again and again.
It's how during 2018, I was able to recommend winners of:
127% in 23 days on GLD

148% in 28 days on SQ

229% in 36 days on SMH

213% in 13 days on Netflix

79% in 22 days on SPY

63% in 24 days on SPY

117% in 21 days on SPY

96% in 36 days on QQQ

114% in 42 days on MRVL
All while others lost their shirt.
My "Spread" options strategy takes advantage of those gambling on the markets. "Takes advantage" has a negative tone to it.
I think of it more as 'giving these traders what they want.'
Because for them to make these lofty bets, they need someone willing to sell them the option.
That's where our 'spread' strategy comes into play.
Let's look at our 20% winner on Nvidia (NVDA) in 12 days.
At the time, it was April 2018. The market was recovering from a panic drop in February and hesitation in March.
By the end of April, volatility was sinking meaning the markets were going back to normal.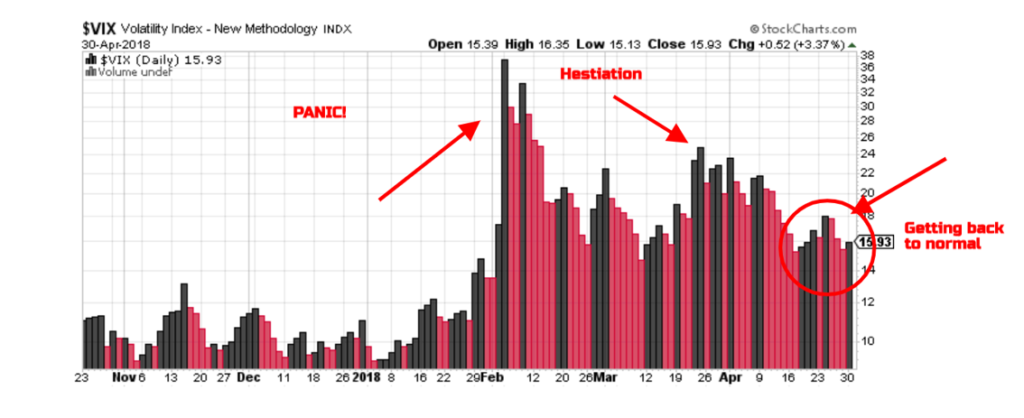 At the time, AMD — Nvidia's main competitor — just released strong earnings. We then can safely project Nvidia will have decent earnings as well.
However, there were still option gamblers placing bets that Nvidia was still going to crater below $205.
On April 30th, it traded at $224. That'd be a 10% drop.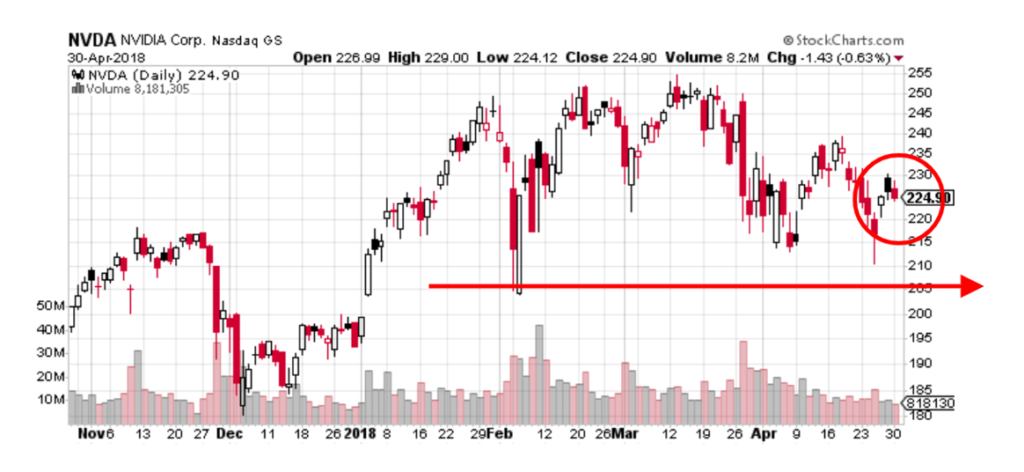 Meaning, they expected the stock to drop to the level it did on February 5th when the Dow lost 1,175 points (the most ever in history).
That seemed unlikely.
Plus, if you'll notice, the stock has a double bottom support at around $215. That's $10 away from their projected drop.
Positive points:
AMD earnings were strong

$205 was the price NVDA dropped on the worst point drop day in history

Double bottom at $215 is an invisible support propping the price above that price
Here's the kicker…
These gamblers thought this 10% drop to $205 would happen in 12 days (by May 11th)!
What do you think?
Would you be happy to pocket an easy 20% gain in 12 days on a scenario that is unlikely to happen?
You don't even need to own Nvidia stock.
You can imagine what happened: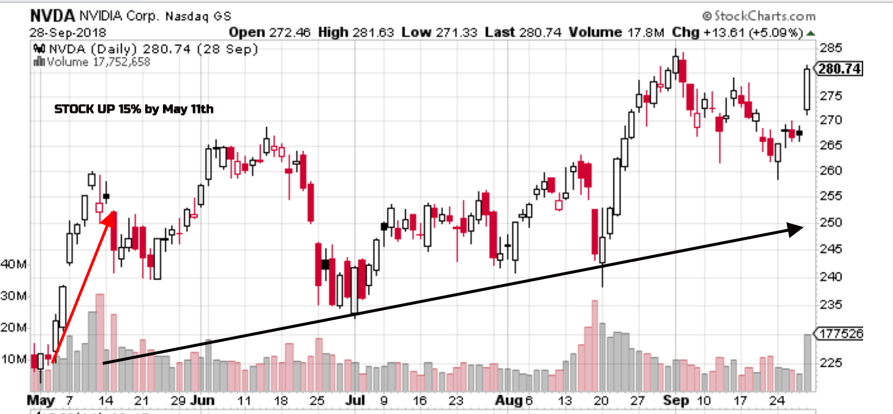 The stock shot up 15% after their own earnings and keep climbing as high as $280.
That's a simple example, but you can see how all the factors played in your favor.
Sure, sometimes the unthinkable happens and the stock would crater.
But, it's a shot in the dark.
Over 18 months, the unthinkable happened only 17% of the time to us. That's a pretty conservative trade to make, right?
And these type of opportunities happen almost everyday.
It feels like free money.
Much like when I was a Market Maker providing liquidity to the marketplace, you're doing the same for those making the big gambles. You're helping them make the trade.
Most of the time, you'll win, and that's profit for you.
For this Nvidia trade, you pocketed 20% in under 2 weeks. That could've been the easiest $2,000 you ever made in your life.
If you annualized out your 20% windfall, it's like you earned an eye-popping 608% on your money.
$10,000 would become $70,800 in that case.
Pretty remarkable. And with 83% accuracy.
I'll show you how to trade this simple 'Spread' strategy inside my private video training channel for free.
It's available right now.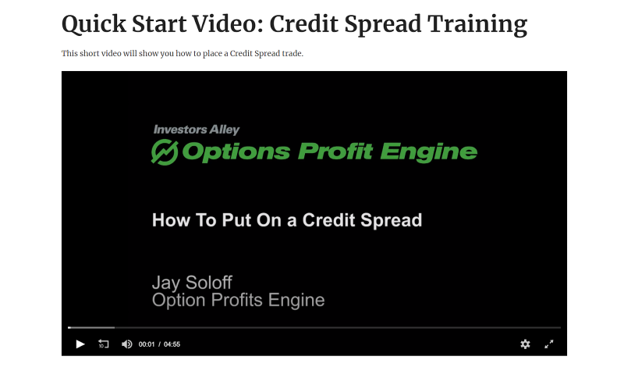 The video only runs five minutes but in it, I walk you thru:
How to place the trade

What buttons to push

Explanation of what the 'spread' strategy is

Tips after 21 years of trading this opportunity
This video is housed inside my most exclusive premium product on the market, Options Profit Engine.
Options Profit Engine is my advanced options service built to partner with you every week as you trade.
If you aren't serious about creating another profit stream every week, then this isn't for you.
As a member of Options Profit Engine (OPE), you will receive weekly trades, updates on my thoughts and what I see, videos on how to make the trades and much more.
Here's everything you get right away when you join:
WEEKLY ISSUES of Options Profit Engine: These issues are quick and right to the point. Each issue breaks down any new trades, my analysis on why we're making the trade, updates on our portfolio positions, comments needed on our open positions, a look at the VIX (volatility which helps price options) and the type of market we're in. [BONUS]: Many times I'll shoot a video showing you how to make the trade from start to finish. That way you don't have to guess.
Here's a glimpse at one issue: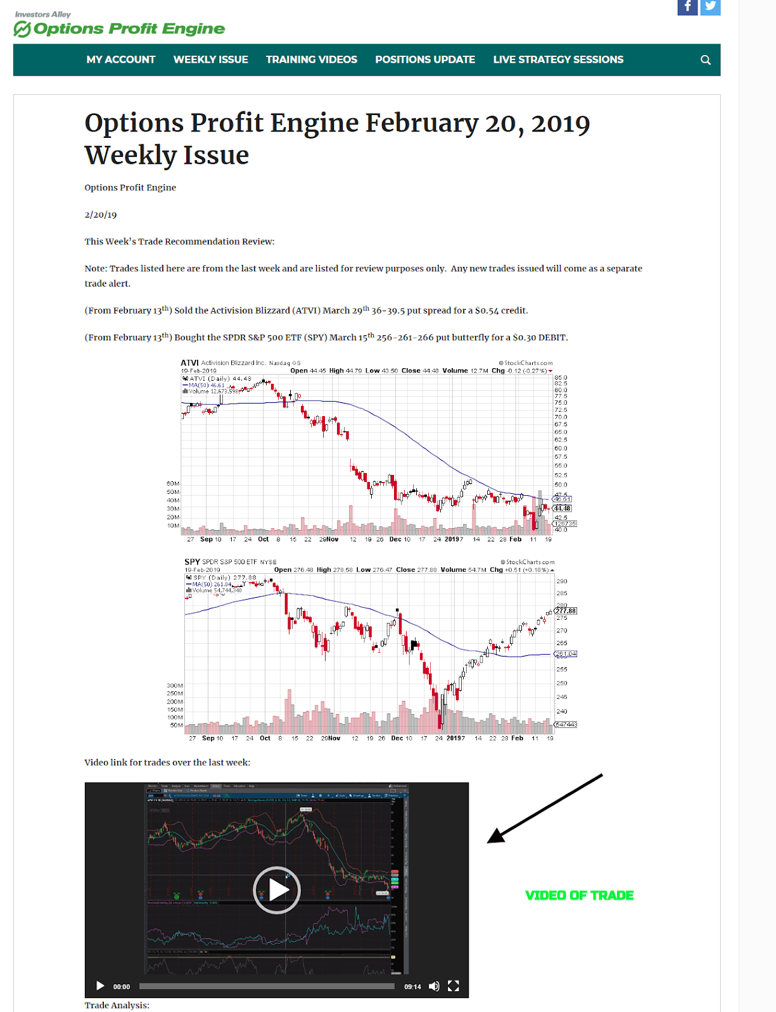 4-6 TRADES PER MONTH: This isn't your lazy-man service. You will have your pick of what trades to make. The options are there and you're never bored. Once you get the hang of things, your favorite day of the week will be when a trade alert comes in.
PRIVATE TRAINING VIDEO CHANNEL: I already showed you one video you'll earn access to. (the "spread" strategy). But I have two other strategies you'll find inside my private training channel. I plan to add more as we execute new strategies.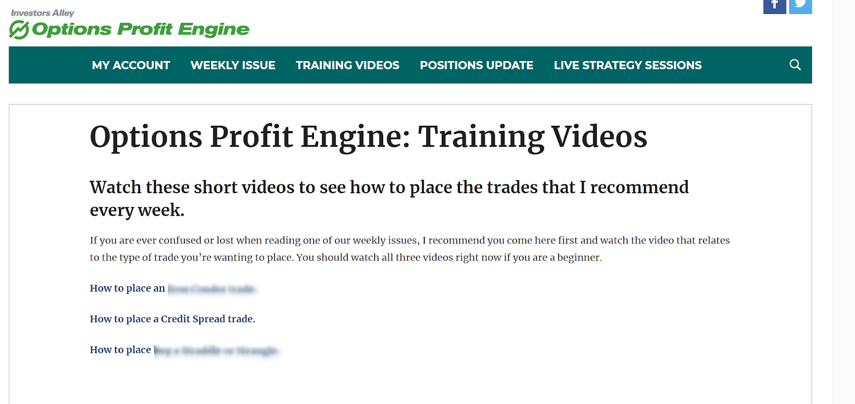 MONTHLY STRATEGY SESSIONS (with Q&A): Every month, you'll be invited to a private call with only myself and other Options Profit Engine members. It's online so you don't need to leave your home. On the call, I'll talk about new strategies, the market outlook, stories from my trading days, lessons I've learned the hard way as a trader, and more. At the end there is always questions and I answer them all. [BONUS: You get access to all the past strategy sessions as well as there is something to learn in each].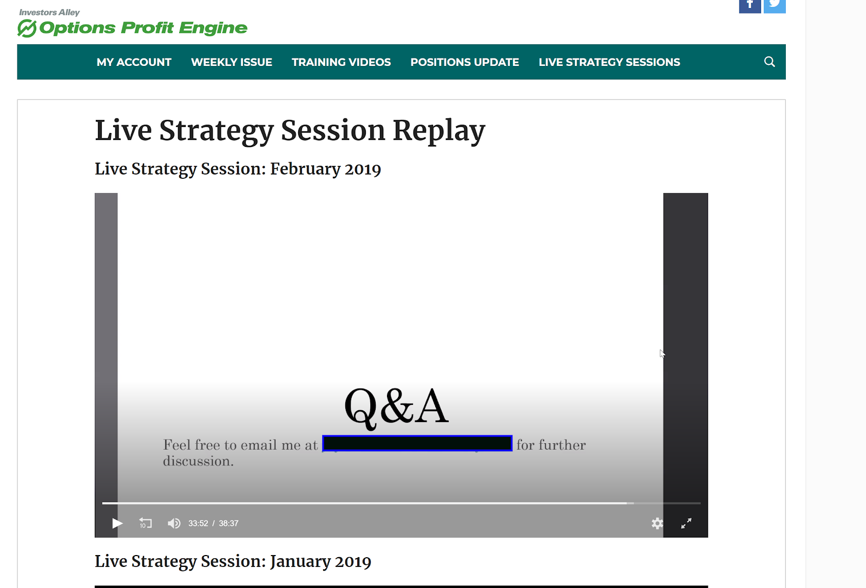 OPTIONS TICKER: Follow along with me throughout the trading day as I typically send out 1-3 'daily ticker' notices each day. Perhaps I warn you about something in the markets, I remind you of my newest trade alert, or I comment on what I see going on in options that day. This allows you and I to stay in contact each day.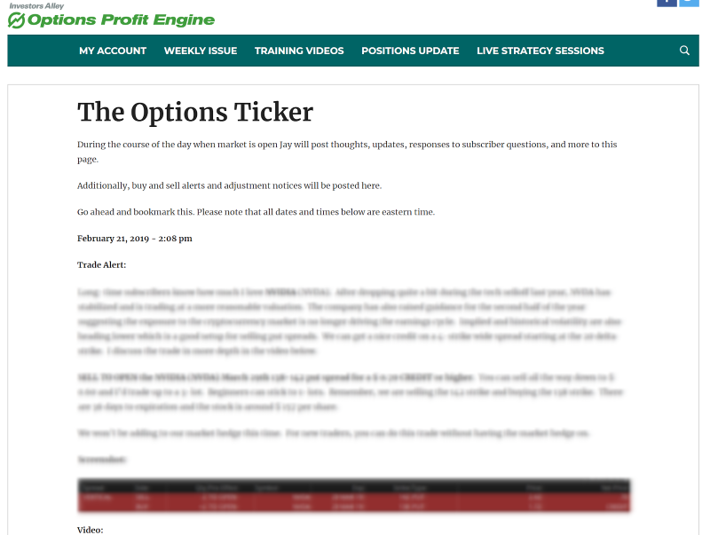 ONGOING PORTFOLIO UPDATE PAGE: Here, see all my past trades, the strategies we used, the profits, and more. You'll verify yourself why this is one of the top option products on the marketplace.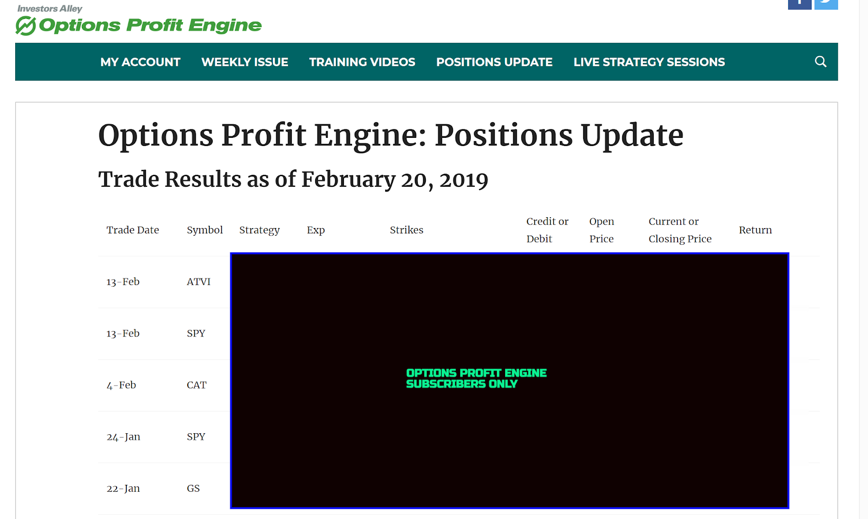 MOBILE ALERTS (optional): If you wish, you can type in your phone number and I'll shoot you texts when I post a daily ticker alert, we have a live strategy session coming up, new weekly issues and more. This means you won't have to check your email for updates. It's up to you.
The retail price for Options Profit Engine is $2,995.
That's pretty spot on to what most option trading services go for which is $3,000 – $5,000. I'm at the low end of that.
However, I'll be honest.
I'm trying to build this service up.
The more early traders I can bring into the service, the more success can be had, and the more testimonials we will see.
So, in order to help you and to help myself, I'm willing to offer you a premier, options trading service for a very low price.
I'm not talking $500 off…
Or, $1,000 off….
I'm talking more than $2,000 off its retail price.
On this page only, you can claim $2,500 OFF (that's 83%) when you become the newest member of Options Profit Engine.
That means your investment today for a 1-year subscription will equal only $495.
Most option products with trade alerts go for $3,000 – $5,000.
I'm giving you up to six trade alerts per month for $4,500 less than what others charge.
That's quite the steal.
When you click the button below, you'll be sent to a secure page to complete your information and gain access.
Immediately after you put in your information, you'll receive a login to access the Options Profit Engine portal on the Investors Alley website.
That means, you get:
Options Profit Engine

weekly issues — you'll receive in-depth analysis on trades so you feel more comfortable and familiar with options

Options Profit Engine

trade alerts (4-6 trades per month) — you'll save time simply waiting for alerts on trades, plus I break down how to actually make the trade so you know exactly what buttons to push in your brokerage

Private Video Channel

— here I break down the spread strategy so you know it like the back of your hand. Plus, as a bonus, I have two other strategies to show you at no extra charge.

Monthly Strategy Sessions

— this is your opportunity to ask your questions and have them answered on video. These sessions are important because I'll touch on new strategies, the market outlook overall, and analyze our past trades.

The Daily Ticker

— perhaps the most powerful, underground tool we have here. This

Ticker

allows you and I to stay in contact throughout the trading day. Because I use the

Ticker

to release thoughts about that day in real-time and if we need to make any changes in our trades. You won't have to wait for the next weekly issue to get an update on our positions.

Portfolio Update page

— Here you'll see all our open and past positions so you can monitor our track record, and that'll give you confidence to stick with the service
Again, this retails for $2,995.
But, because I want as many new members as possible as the service grows, I'm chopping the price $2,500…
Down to just $495 for a 1-year subscription.