Dear Future Masterclass Attendee, 
You're about to experience something not ever seen or done before inside the financial education space. 
Rather than simply give you a newsletter or alert service and leave you to learn on your own…
I'm flipping the entire industry on its head, and you can be a part of it. 
See, I'm going to take you by the hand, and over the next 29 days, you'll discover how to go from having virtually no brokerage account…to an income-producing machine throwing off dividends every single month like clockwork. 
It might be my most popular product yet in 7 years. 
As last time we offered the Forever Dividends Masterclass, it sold out fast and we received dozens of people thanking me for taking the time to walk them through everything about how to dividend invest. 
I'll be going LIVE to show you everything step-by-step. 
I'm talking about showing you how to set up your account on day 1…
…to buying my top 5 buy-and-hold-forever dividend stocks by day 8…
…all the way to using advanced strategies to pile on income on top of your dividend payments by day 29.
I'll share the specific details in a minute…
And all of this will only take a minimum of 4 hours over the next month.
I've never seen another editor dare to do this.
Because it's 29 days to a dream income portfolio. 
Here's what to do right now…
Block out at minimum of four hours over the next four weeks.
You won't have to travel anywhere…no kissing your kids goodbye…or getting an earful from your spouse for taking off…
Instead, 3-4 times per week, I'll be releasing content to you LIVE starting with setting up your account on the 1st.
Then by the 29th, your portfolio will be running like a well-oiled machine paying you multiple checks already by then. 
That's right…
By the time we call it a wrap on the 29th, you'll have pocketed dividends…and you'll be set to continue collecting these dividends for life. 
Now, let me show you quickly what we'll cover:
WEEK ONE OF FOREVER DIVIDENDS MASTERCLASS
We're talking about laying the foundation here…from scratch. 
Meaning, if you have cash just in your checking account earning 0.05%…
…plus, literally zero knowledge of the stock market…
That is perfectly okay. 
In Week One, we'll dive into: 
What brokerages make the most sense

for your money today (yes, some are better than others)

The exact steps we will take to turn any newbie investor into a full-fledged dividend investor

cashing 3 checks per month, plus,

 

A secret "trick" that will make sure you make your money work for you until the very end

…this one 'trick' is simple and is proven by scientists to make you successful at any endeavour you take on
Of course, we aren't just setting the foundation…
We'll get our hands dirty right away…
Which is why, by the END of Week ONE,: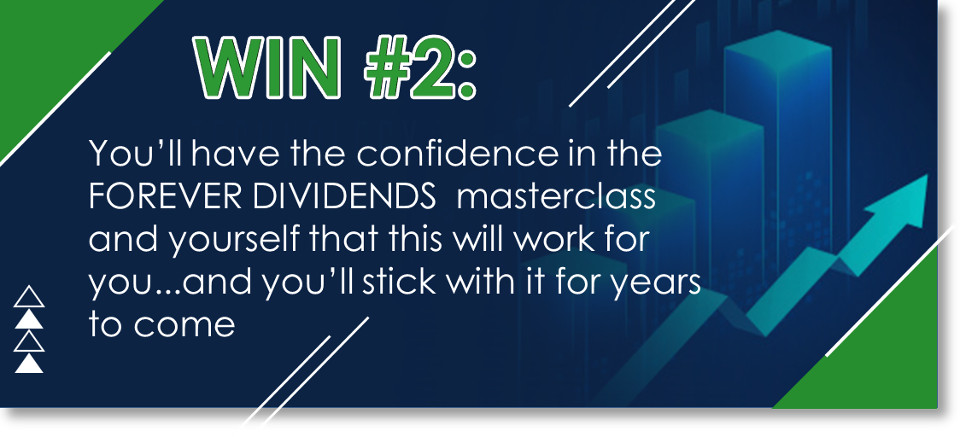 Meaning, in just 7 days, you go from cash in your personal account…to holding 5 dividend-paying cash machines…
That's a lot for Week One…yet, we're just getting started. 
WEEK TWO OF FOREVER DIVIDENDS MASTERCLASS
In Week Two…we go much, much deeper. 
You're already armed with a portfolio of 5 stocks…now, let's start building our 'forever' income stream…
The stream to pay your bills for life. If that's what you're interested in doing…Week Two is a must to show up for. 
During the 7 days of Week two…you'll uncover: 
Why I've dedicated my entire career to high-yield dividend stocks

(and why you should dedicate your portfolio them too)

My 3 ironclad rules for when to buy and sell your shares

…especially during up and down markets, plus

My "magic bullets" to spotting dividend stocks you just gotta own in 15 minutes

…you'll have the power to look at any dividend-paying company and determine whether you should buy or not. 
Again, picture it like building a house. You're layering on one piece after another. 
Here, we're now digging into the nitty gritty details on what makes a great dividend stock for your portfolio….but we're still laying the foundation.
After 7 days, you'll be armed with the knowledge to sift through the thousands and thousands of stocks out there to shine on a light on the ones that work for you. 
But we won't stop there…
We only have 29 days dang it!
During Week Two, I'll reveal an easy way to quickly increase your dividends virtually overnight. 
It's cheap to do…and it can be done automatically again and again. 
You click a couple buttons in your brokerage account…sign a quick contract…and you're done. 
By the end of Week Two, you'll have successfully: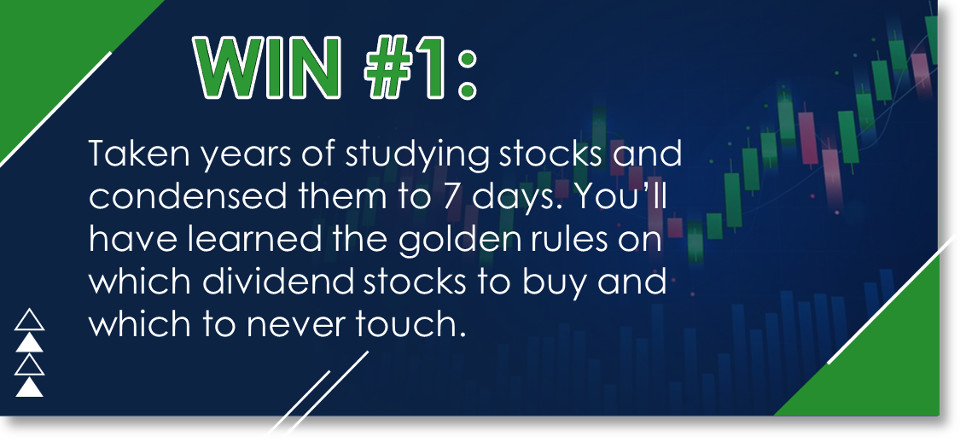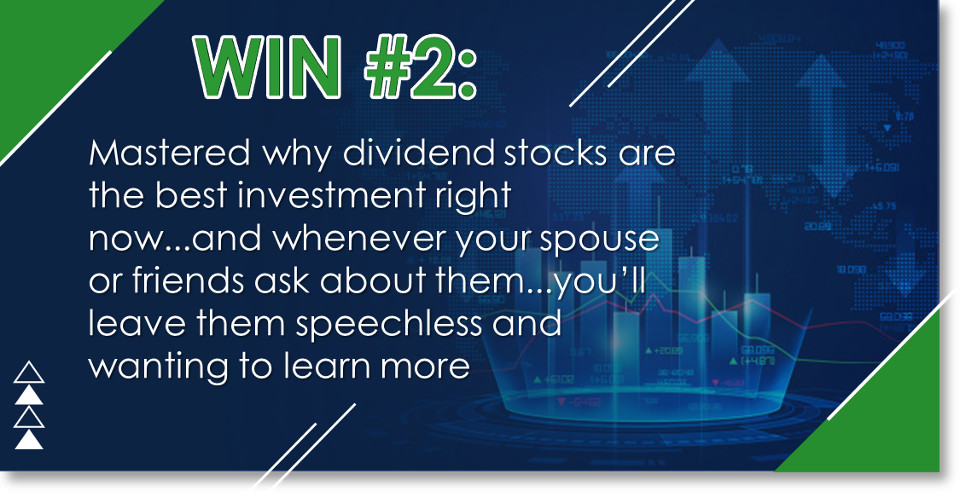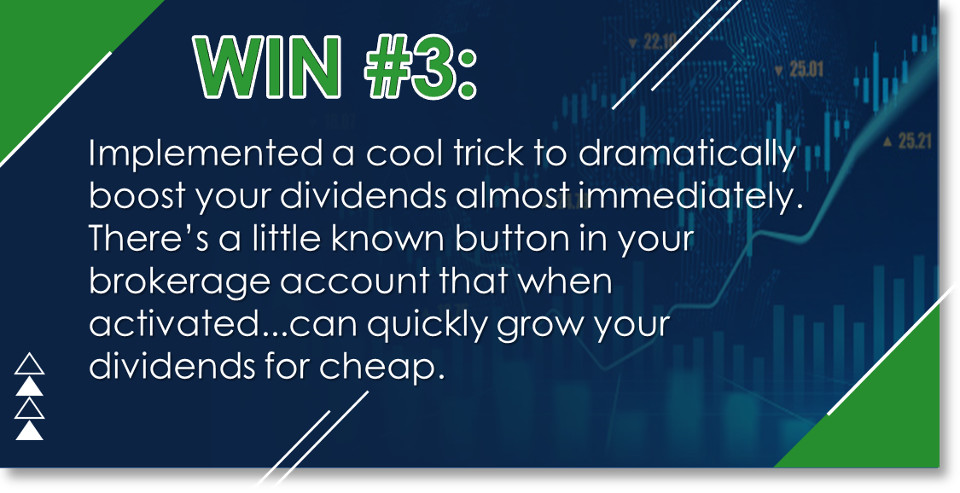 At this point, you have a portfolio that's ready to churn out your first dividends…
And you've activated a secret weapon to start growing your dividends faster. 
That's a lot…but we're only halfway done!
WEEK THREE OF FOREVER DIVIDENDS MASTERCLASS
 I'm in my 60's…I don't got time to wait around. 
Let's boost our dividends even more…and Week Three may be your favorite if that's what you're wanting. 
I'm even providing you a free tool to use…and will demo it for you…so you can get even more than 3 checks per month. Maybe you want 5, 6 or 7…that's all packed into this next 7 days. 
In Week Three, you'll discover: 
My popular "Monthly Dividend Paycheck Calendar" where you can see down to the day

when to buy a stock so you can start collecting more checks this month. I update this calendar every single month, and you get access for free. 

How to forecast what your dividends will be 5 years from now.

I'm excited about this, because nowhere else can you get these forecasts. You want certainty about your income? These forecasts will put you at ease about your money.

A free software you receive exclusive access to where you put in any stock

and you can see what dividends are being paid…how much the dividends have grown in the past…and more. I love this software, and I'm giving you access

FOR FREE. 
Our goal this week is to rapidly increase the amount of checks you're receiving…
…and, of course…the size of said checks. 
That's why, at the end, I have another secret 'trick' to show you. 
This 'trick' increases both the amount of shares you own…which in turn automatically increases your dividends you receive. 
The best part? 
There's no extra money out of your pocket. 
Again, it's just another small contract you sign and ship off to your brokerage…after that, as early as next month, you'll see even more dividends than the prior month. 
And you won't get bored…because every month the checks will get bigger and bigger. 
By the end of Week Three, you'll successfully: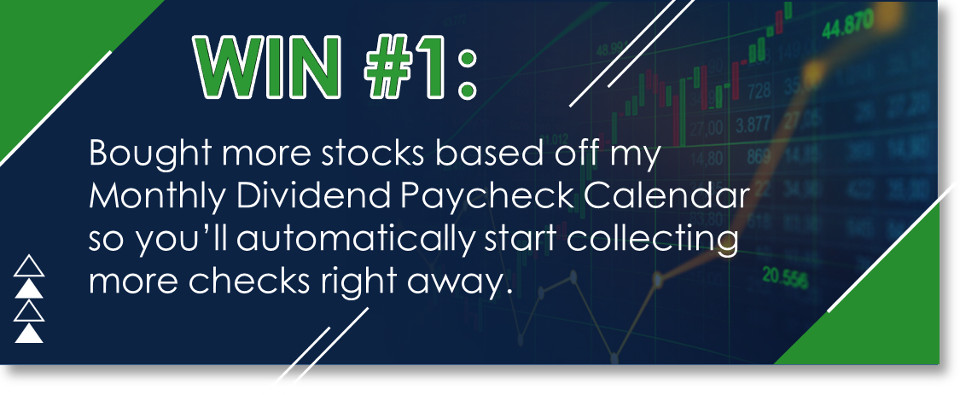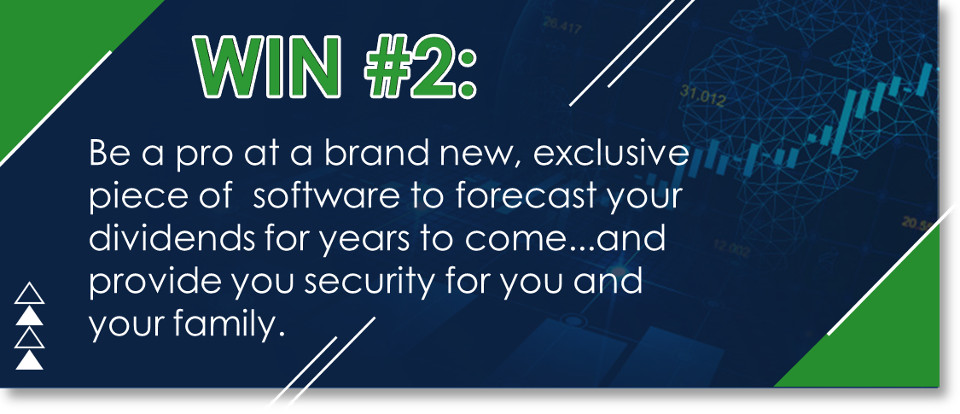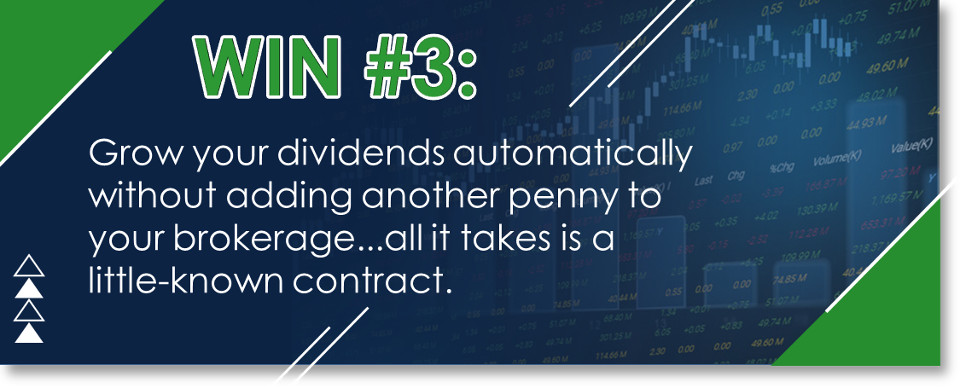 By the end of 21 days…
Your portfolio will now be growing…
You'll have more stocks in it…and likely even cashed your first dividend checks. On top of that, you'll have the map to forecast where your income will be in the future. 
But we're not done. One more week to go. 
WEEK FOUR OF FOREVER DIVIDENDS MASTERCLASS
The final week has one main goal…
Accelerate your income so you can triple it within the following 30 days. 
It's a consistent theme you'll hear every week…
Build the foundation to start collecting checks…
Grow more using some simple tricks I'll show you…
Now, in the final week…we pour the fuel on the fire. 
Week Four is if you don't want to wait months and months for your dividends to accelerate…
That's why, in Week Four, you'll uncover: 
My #1 strategy to triple your income in the next 10 minutes

…this is my go-to for quick cash…and honestly, you can use it as much as you want. It's amazing. 

Where to find the top dividend growth stocks in this wild market.

Dividend growth stocks can go from paying $1 per share to $3 per share fast…when that happens, the share price grows as well. This is an advanced strategy I normally reserve for those paying up to $2,000 per year. 

Dead simple ways to dip your toes into options for income with less than 10 clicks of your mouse

…and I'll bring in a rockstar options trader to give you professional tips you can easily use. 
By the end of Week Four, you'll be armed with two more explosive ways to grow your income. 
Like I said, others have paid up to $2,000 per year for this kind of information…
Thanks to this special LIVE 29-day masterclass…I'll show it all to you. All-inclusive. 
By the end of the week, you'll successfully: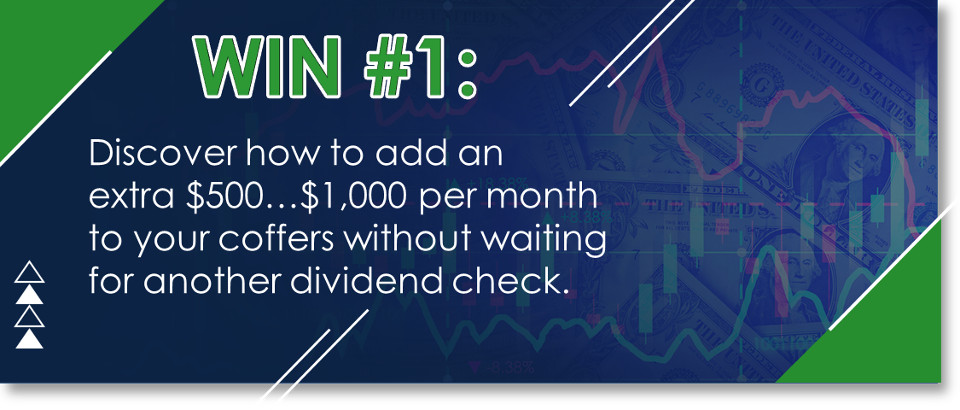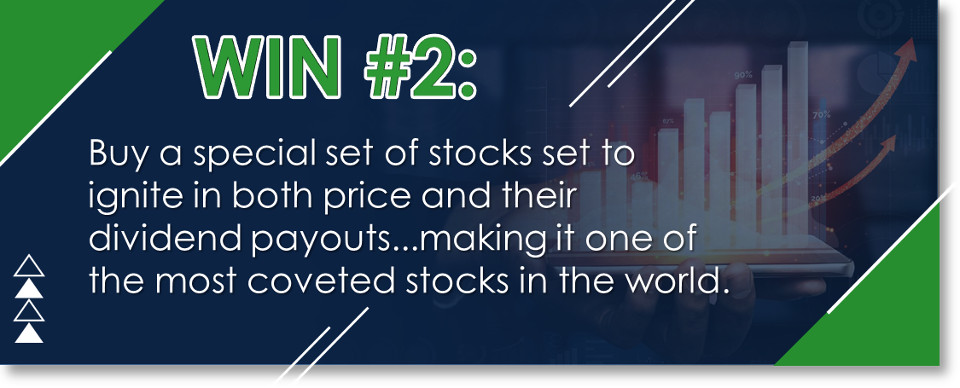 And there it is. 
Four weeks…a total of 29 days. 
Time cost? Minimum of an hour per week.
Every single one of the four weeks includes: 
Bonus PDFs

I've written that you can download and read whenever you want. These are our 'classroom notes' for you to keep handy when you're investing. 

A LIVE session

—> I'll walk you through the strategies and stocks for the week…plus, answer any and all questions you have. Ask about the current market climate, ask me about specific stocks, the floor is yours. 

Actions to take –

–> This is not a passive class to doodle in like your old high school days. Every week there will be action steps for you to take to progress your portfolio and your income. Don't worry, these steps only take 30 minutes or so to complete. The other actions are to be consuming the content…that's how you'll learn and follow with what I'm talking about. Again, we're building upon the prior week each time. 
This is a packed schedule…
But if you miss a session or two, it's okay. 
The key is for you to get all this information as soon as possible. 
Once we start on April 1st…you're locked out. 
Once we hit max capacity (even before April 1st)…you're locked out. 
Imagine the income possibilities going forward. 
Click the button below to secure your spot on the next page. 
Only 500 seats are open…and some are already gone as you read this. 
Masterclass starts April 1st. 
No late entries. Click the button below and start now. 
To your income, 
Tim Plaehn
Forever Dividends Masterclass.