One day I was looking at my brokerage screen, and I thought to myself….
How safe is my dividend income stream?
Is it growing every year?
And do I know how much dividend income I'll make in the next 12 months? 36 months? 60 months?
Maybe a more pressing question…
How much income am I leaving on the table?
That question started me on a mission to discover the best, easiest to use, and profitable service that answers those questions for me.
My results? I couldn't find anything.
The options were scant and undesirable. Create my own excel sheet and spend hours updating it? Blech!
Use a pen, paper, and calculator writing down my dividends earned and adding them all up? Double blech!
So I decided to take matters into my own hand and develop a solution that simplified the process.
One that gave me the answers I needed…
On this page, I'm sharing my solution to discovering exactly how much income I've been missing out on.
My tool for knowing how much income I'll be earning over the next 12 months.
An automated software that keeps me on track and shows me exactly how much my income is growing from my investments.
I know many investors ask themselves these questions, too.
Watching the demo video below holds all the answers. 
Questions like —> what dividend stocks are causing a portfolio to lag?
Which stocks are sending the biggest checks?
Everything answers is found inside a simple, one-of-a-kind, never-before-seen software.
If I sound excited about this software, it's because I am.
Because this software — it's called Divcaster — solves the #1 problem of dividend investing.
This #1 problem causes missed income opportunities and dividend income lying on the floor.
I'm absolutely shocked no one's created a software like Divcaster before.
Not the massive banks…
Wall Street…
Other financial research firms…
And, today — only on this page too — I'm sharing a free demonstration I recorded for a select group of my paying customers.
Because, like I said, when I uploaded my portfolio, in just a few clicks, I discovered exactly how much dividend income I was missing out on.
I've calculated you I could be missing out on as much as $125,376 PER YEAR in dividend income*.
Take a look: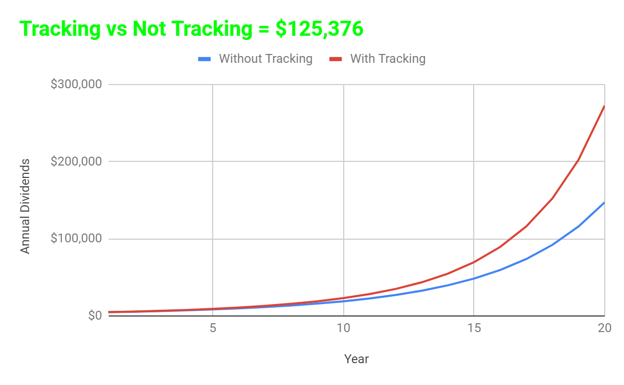 By using Divcaster, I know exactly which stocks I should sell and which I should buy to add $125,376 PER YEAR in annual income.
Without Divcaster, it's money lost.
Take a peek inside Divcaster by viewing the video below.