Open up your portfolio & do this now
5 clicks in your portfolio TODAY can lead to an extra $2,037 in income THIS MONTH
You're "leaving money on the table" not collecting this cash, according to Kiplinger.
My colleague, Joe, took just 5 clicks…
And secured himself potentially $1,040 in extra income this month. 
That's an extra $12,480 in income this year potentially as he can collect this cash every single month.
You'll be able to do this too. 
But it takes a little work. 
5 clicks in your portfolio.
Click one.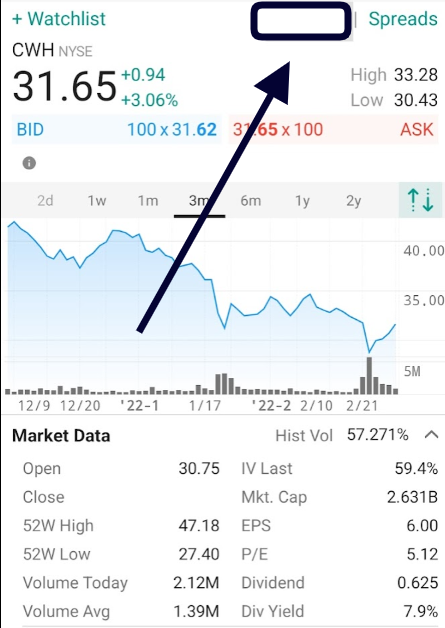 Click two.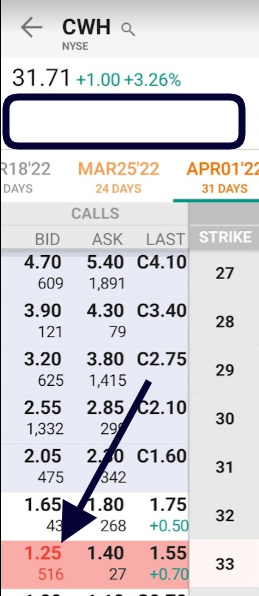 Clicks 3, 4, and 5: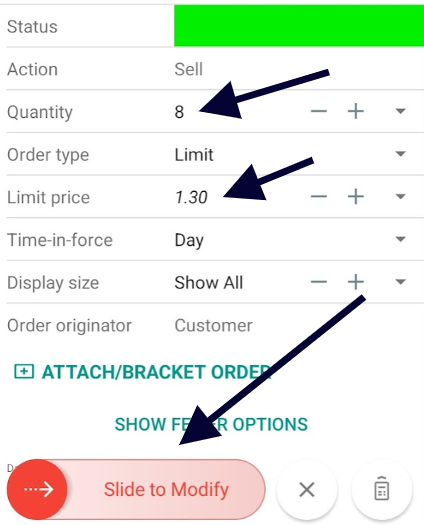 Done: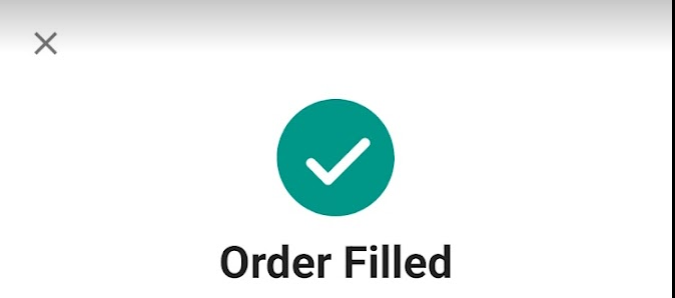 $1,040 in extra income deposited. 
That's it. 
Joe can go on about his day with that extra few clicks. 
See… Joe owns 800 shares of Camping World (CWH). A play on recreational vehicles… and it pays a nice 7.9% dividend. I like it. 
That 7.9% dividend is great…
But I showed him how to make 47.4% extra on top of his dividends. That's nearly 6X more income.
All it took was 5 clicks. 
And $1,040 was deposited. 
He was going to check
his portfolio anyway. 
Why would he NOT generate
this extra income in 5 clicks? 
If he doesn't, he's "leaving money on the table", according to Kiplinger's. And I agree. 
You are possibly leaving cash on the table yourself as Joe was.
Joe also has the potential to add another $1,120 if the opportunity works out perfectly. 
That's a total of $2,160 of profit over the next 31 days.
But even just the $1,040 is outpacing his dividends.
Over the next month, Joe is generating close to a 4% total return on his $26,300 portfolio. 
That's a 47% annualized return over 12 months. 
That return alone would beat the S&P 500 in 2021 by almost 2-to-1.
And he can do this every month if he wants. 
All with 5 simple clicks. 
That's it. 
1, 
2,
3,
4,
5 clicks. 
I showed them all to you on screen.
And I'm proud of him. 
However, afterwards, I showed him…
as I'll show you…
How he's missing out on
double that income right now.
In 2021, he could've been generating $2,037 per month with those same 5 clicks. 
That's almost double what he's collecting now.
What could he do differently? 
That's what I'm showing you today. 
The potential is massive especially if you already love income as I do.
If you're checking your dividend portfolio every week like me…
You likely pull up a chair, power up the computer at work or at the kitchen table…
And check in on your stocks. 
You take a quick glance at the prices, scan the dates for your next payout, then you close up your screen and go about your day. 
Well…
I want to stop you right there. 
Because if you took just 5 more minutes… and made 5 clicks of your mouse…
You could add hundreds of extra dollars to your bank account in a snap. Just like Joe just did. 
Actually, it happens instantly, if I may be so bold. 
Based on some back-of-the-napkin math… I estimate you could add an extra $2,037 to your account every single month if you have $25,000+ of stocks in your account. 
You don't have to add any more cash to your account. 
Just have a $25,000+ account balance…
5 clicks of your mouse…
5 extra minutes at the kitchen table…
And you're potentially adding an extra $2,037 in income to your bank account.
Over the long haul… if this pace continues, you could be collecting up to $12,344 per month.
That's money you can buy more dividend shares with. Buy more high-yield plays like NRZ or MAIN…
Stack up more income on top of income. 
Or, as some of my followers do… pull it out to pay for expenses. 
I like to think of this as my
8% Monthly "Dividend"
That's an annualized 96% per year in income you won't find
from dividend stocks
Because over the entire 2021 year…
Out of all the trades I recommended… winners and losers…
The average trade returned a hypothetical 8.15% if you had followed every single trade from buy to sell.! 
Take a look: 
Our trades have gotten better each year. 
In 2020, our hypothetical win rate was around 83%.
In 2021, we hit a whopping 94%!
Let me share with you our entire 2021 track record of buy and sell alerts right here. 
It's a bit boring to look at all the numbers, but it's important you see how transparent we are with all our covered call opportunities. 
I'll show you all the wins and losses. 
Here are my trades from 2021: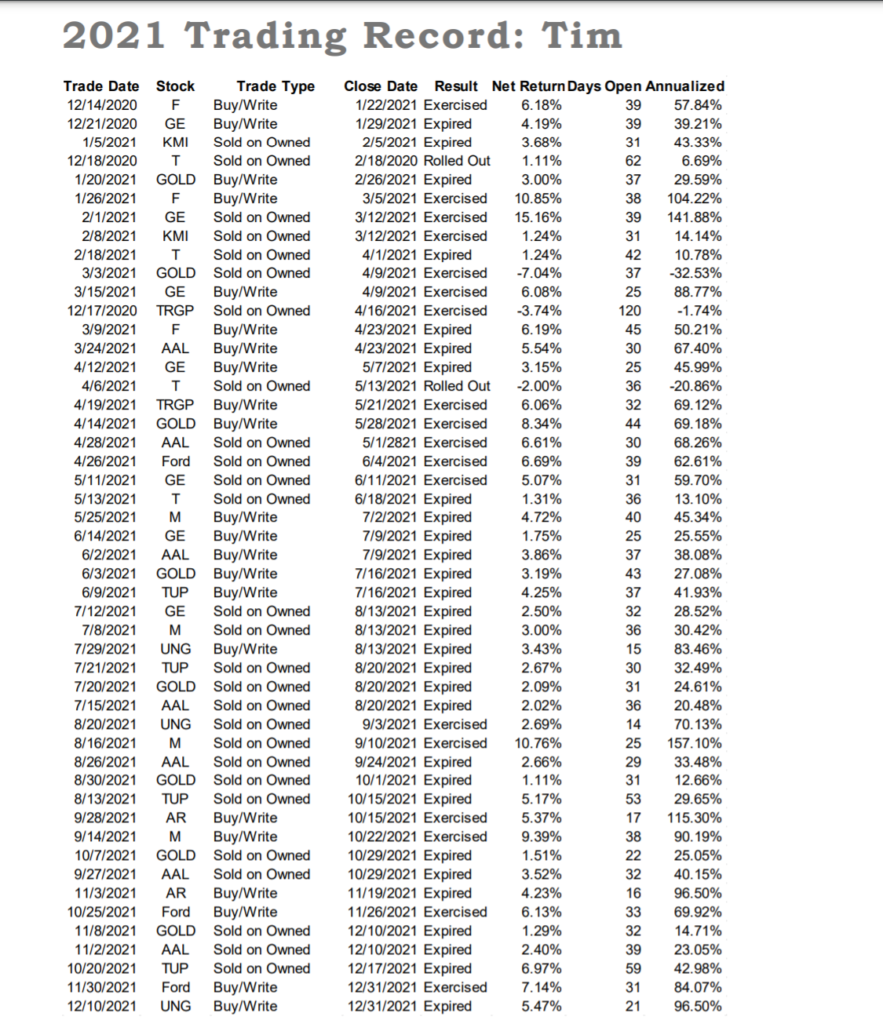 Stats: 
49 trades

46 winners

3 losers

A 93% win rate. 

Average open trade time = 36 days. 

Average gain per trade = 11.48%. 
Jay Soloff is my partner. He recommends opportunities right along with me. 
He usually has a higher gain per trade as my stocks don't move as much… but 2021 was a bit of a volatile year. 
See, I trade more stable stocks like Ford, American Airlines, AT&T. 
Jay trades more dynamic stocks with higher potential profits. 
Jay actually had a better hypothetical win rate than me in 2021!
Take a look: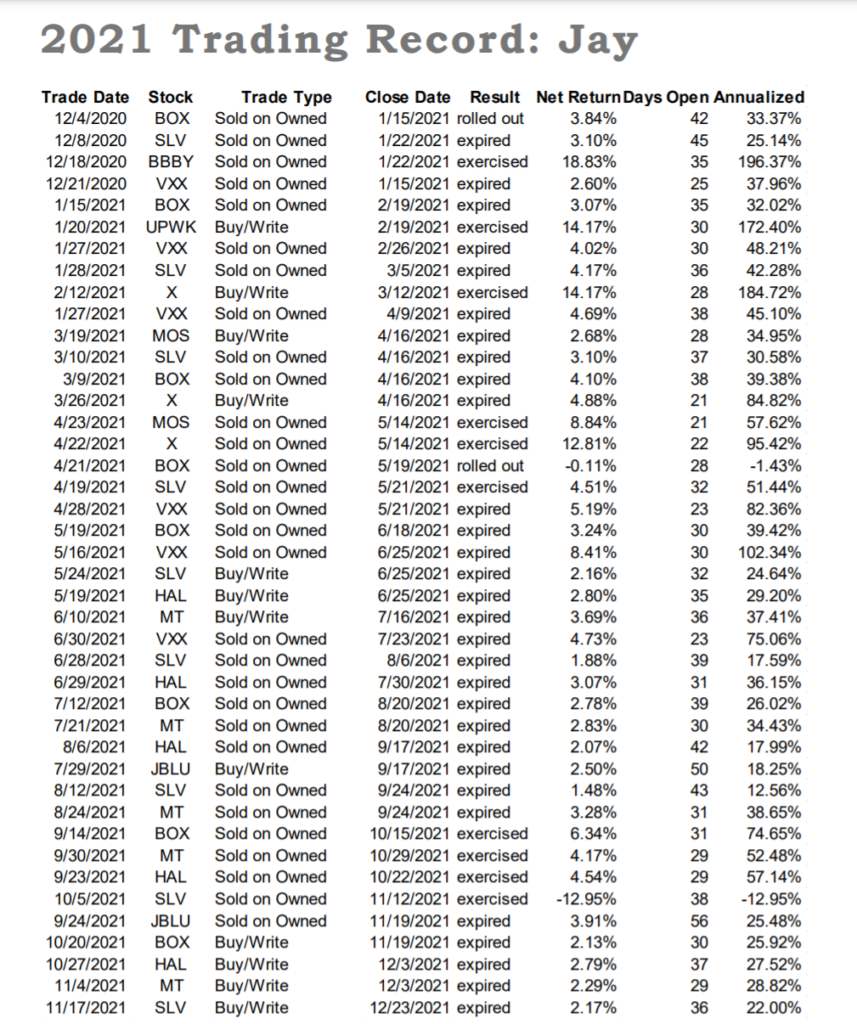 Stats here: 
42 trades

40 winners

2 losers

95% win rate!

Average hold time for trade was only 33 days!

Average gain per trade was 4.26%. 
Overall… combined. 
Out of 91 trades Jay and I sent out… the average trade earned an 8.15% gain. 
With an average hold time of 35 days…
8.15% annualized over 12 months is an incredible 97.8% gain. 
I can't guarantee that will be the same going forward, and this doesn't take into account fill prices and broker commissions… 
But compare that "extra yield" to the yield of top stocks like Disney, Coca-Cola, Exxon. Even to some of my favorite dividend stocks like MAIN and NRZ.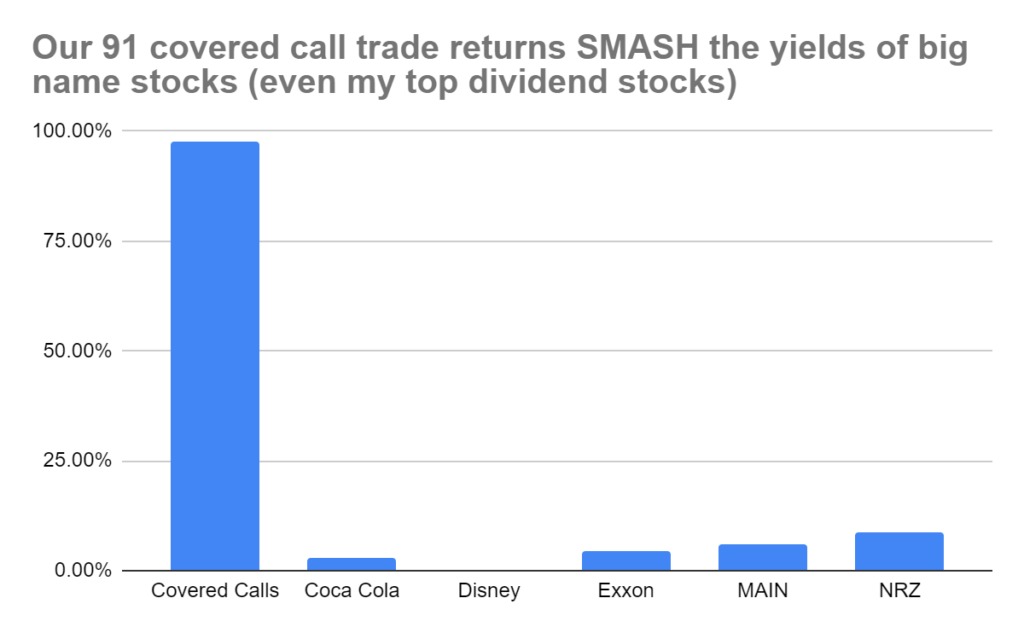 You're looking at up to 45x more income than big-name stocks
97% annualized gains would be better than some of the biggest name stocks in the world. 
At 97% annualized gains…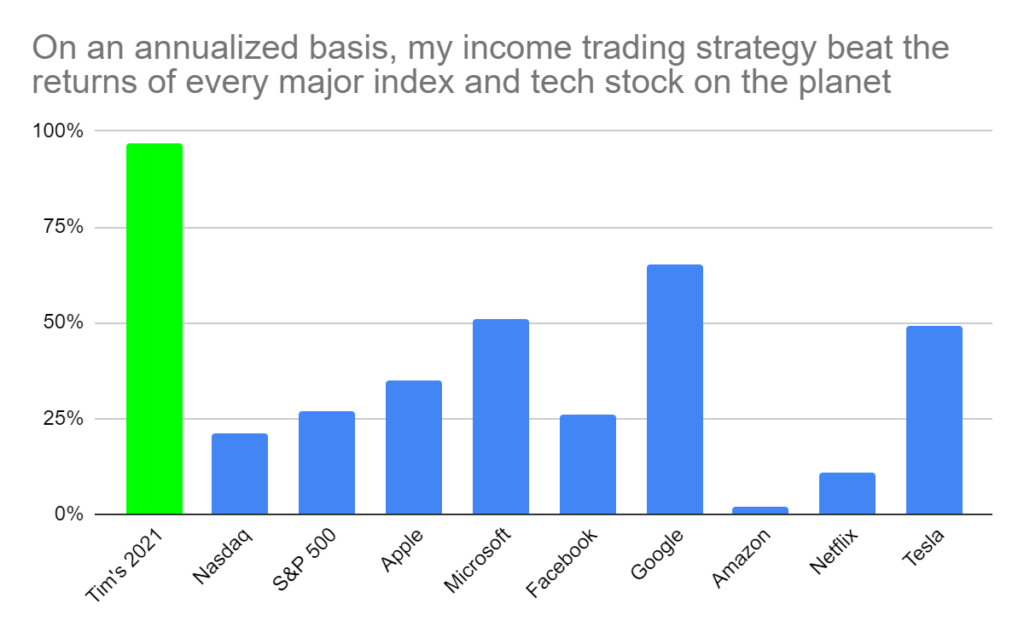 My returns beat: 
Tesla

Amazon

Apple

Facebook

Google

Netflix

The entire Nasdaq 

The entire S&P 500
And that was in a volatile year where some tech stocks like Peloton dropped 50%+. 
This would require trading all my recommendations…
But the win rate is there!
I traded my own recommendations
with real cash
Check out my portfolio
I put on a few of my recommendations…
Here's what my portfolio did in 14 months.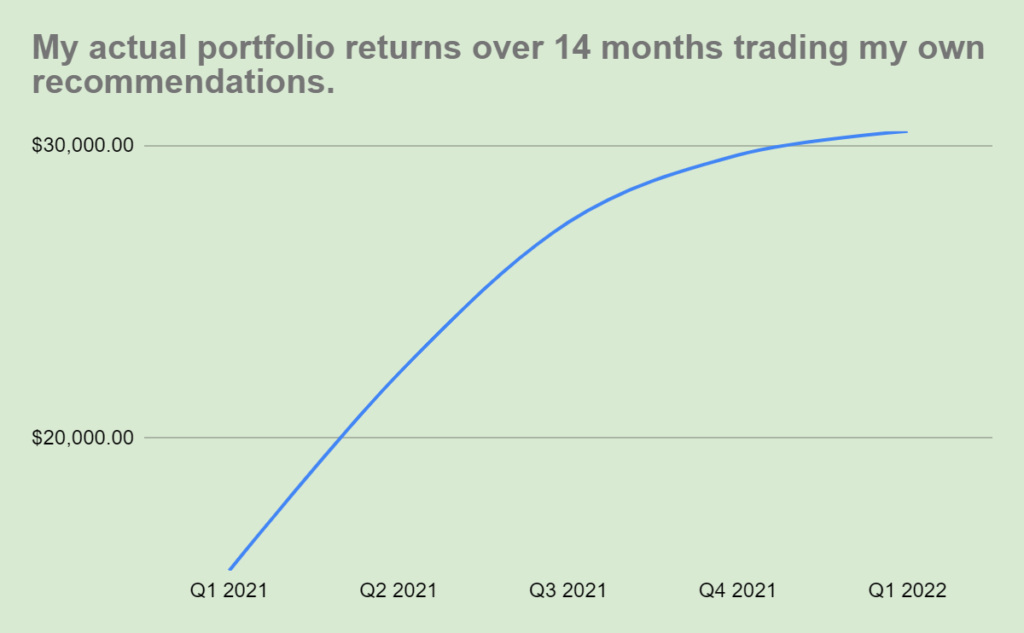 Now, I added $2,568 in funds… an average of $642 per quarter… to further grow the portfolio. 
I recommend everyone should be adding in more funds each quarter. 
I also reinvested all the income I earned with this 5-click method. 
But my real money portfolio went from $16,646 to $30,623. An 83% bump in my portfolio. 
That's pretty incredible. 
And, like I said, I didn't trade all mine and Jay's recommendations. 
However, these results are from my own brokerage. 
Because I trade my own recommendations.
If I had followed every single recommendation, I likely would've gotten closer to the 97% annualized mark. 
These returns… with a
94% success rate…
Are UNMATCHED anywhere
else on the market
Where else can you click your mouse 5 extra times and see this kind of success? 
In December 2021… 
A boring stock like Ford brought in a 7.14% gain in one month…
While the Nasdaq and tech stocks produced a paltry 1.02% return.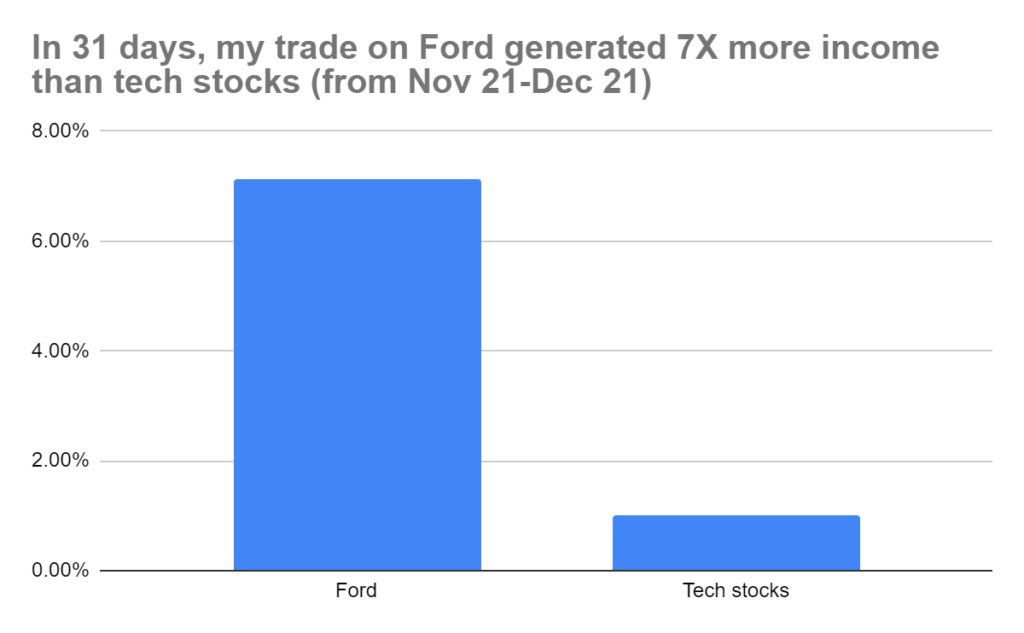 That was in just 31 days. 
Over 12 months, that's an annualized 84% gain!
That's tripling most index investors. 
What I like about taking the extra minute to click 5 buttons is you can do better returns than even other stocks in the sector. 
Nothing is guaranteed, of course and some wins are smaller… but take a look:
For example — in January 2021, I recommended an income trade on Upwork. In 30 days, it generated over 14% returns if someone had followed my buy and sell alerts. 
Annualized? 
That's a 172% winner if someone bought and sold when I recommended!
A near triple-bagger at that pace.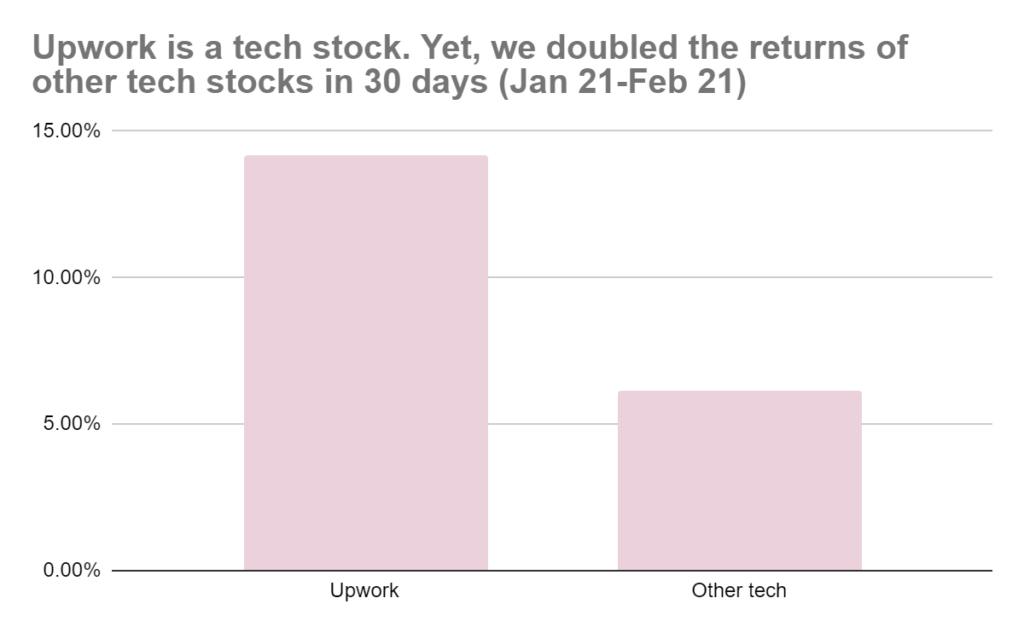 That's one of our best examples from 2021.
I've mentioned tech a few times. 
I like the boring industries myself. Those seem to print more money over the long haul without the volatile. 
In February 2021, we opened an opportunity in United States Steel (X).
In 28 days… under a month…anyone who bought and sold when I recommended enjoyed another 14% return on my recommendation. 
Other industrial stocks only hit 7%. 
My recommendation potentially doubled the return if you invested in the same asset class.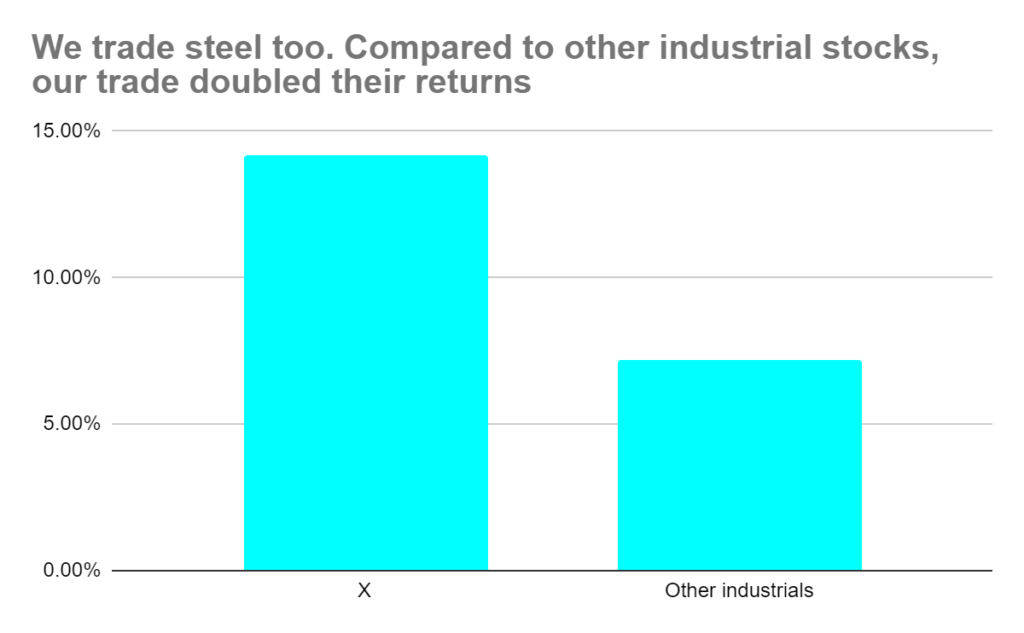 Sometimes, there are opportunities to even trade volatility. 
You can do that collecting income from the VIX (VXX).
In May 2021, over 30 days, my recommendation returned a 8.17% gain for anyone who followed it. Annualized that's a potential 102.34% winner. 
The S&P 500, over the same 30 days, only produced a 2% return on your money.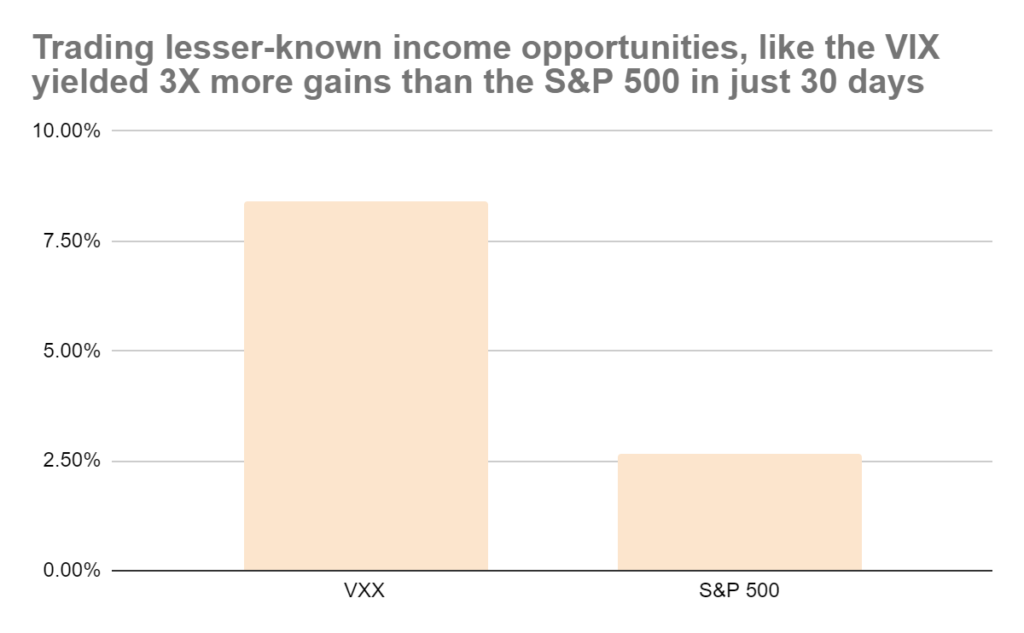 Meaning, you could've taken the "easy" road. Bought the stock and held. 
That's what you're taught to do. 
I'm not disagreeing buy and hold isn't the way to go. 
All I'm telling you is they're opportunities to boost your returns. 
On yields alone, you can see 45X more income. 
Just 5 clicks on your mouse. While you're checking your stocks for the day.
Let me show you how to pull off this amazing, simple, 5-click trick. 
First, let me introduce myself if
you've never met me.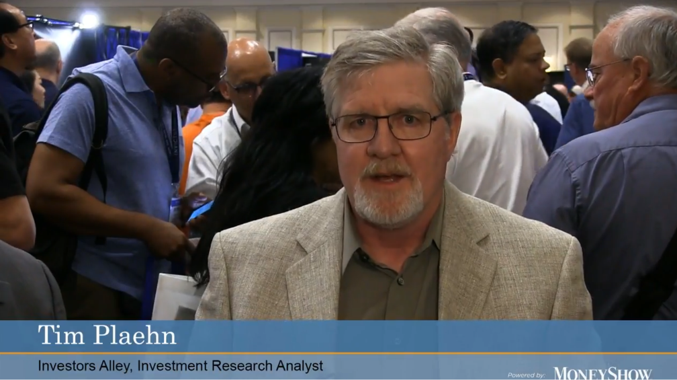 My name is Tim Plaehn. 
I've been investing for over 30 years. 
I spent years as a stockbroker and as a Certified Financial Planner.
My sole focus over the last 30 years in the investing world has been income. 
"Where can I find income and maximize it?" is the question I wrestle with. 
Every single day, over 300,000+ people read my free and paid research all centered around how you put more cash in your pocket. 
During the 2020 Covid crash, I made the income call of my career. 
I moved my readers partially out of our dividend stocks and into preferred dividend stocks. As my research told me those stocks would keep paying dividends and they would recover. 
Sure enough… they did.

The boldest call of my career in 2020 saved portfolios… The returns if you followed my picks exactly were huge.
I've helped thousands retire on income. 
That's my specialty.
Don't come to me for the latest and greatest tech innovation. 
That's not what I'm interested in.
Instead, if you need cash every month or quarter, I'm your man. 
Take a look at a few good things folks have told me.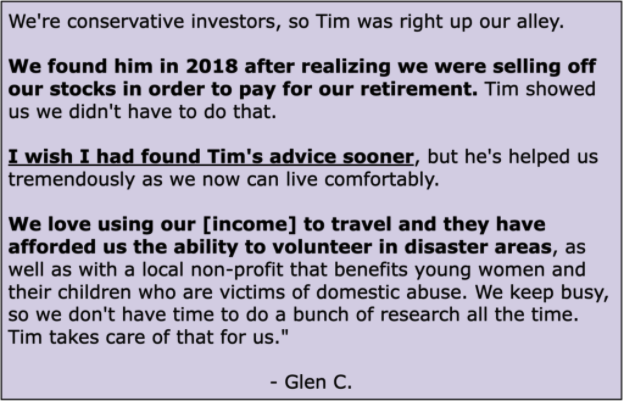 *we offer compensation for readers like these who provide honest feedback
You won't find me dressed up to go on CNBC or Fox Business. 
I'd rather spend the time researching my next dividend pick or stock to trade for extra income. 
My philosophy is simple: "Cash is King." 
Cash NOW is even better.
ABC News is alerting readers to "build up some cash. Cash remains one of your best investments." 
If you can generate cash instantly, at will, you'd feel happier, less stressed… like the weight of the world was lifted from your shoulders.Sergio Paz, who oversees a $1.6 billion dollar fund for Blackrock, told Bloomberg to get cash now.

With rising uncertainty in: 
The stock market

Inflation

Supply chains

Interest rates

International politics
I don't need to tell you that having cash on hand is extremely important during times of uncertainty. 
I'm going to show you how to collect cash up to $2,037 per month using just 5 clicks of your button. 
Keep investing and holding your dividend stocks. 
Except: 
It's time to UPGRADE your 
"buy and hold" portfolio for good
I told this to Joe, my colleague.  I shared you his trade at the very beginning…
Buying and holding stocks is excellent. 
I recommend it regularly inside The Dividend Hunter. (my flagship high-yield newsletter).
With The Dividend Hunter — our goal is to hit annual returns of 8% with high yield dividend stocks. 
Keep investing in your dividend plays. Those are passive income vehicles you can reinvest, pull cash out to live and more. 
STEP ONE to retirement income = own dividend stocks.
STEP TWO is happening right now.
(You DO NOT need to be a part of Dividend Hunter to collect this instant income. But many readers start with collecting dividend income first. You don't have to).
It's time to upgrade your 'buy and hold' experience. 
Collect your dividends. Joe is collecting 7.9% from Camping World. 
He generated an extra 4%+ every single month on top of his dividends with a few simple clicks from the trade he shared with me. 
When he starts following my recommendations… he'll have a shot at 8.15% every month. 
5 clicks and he's done. 
He goes on about his day. 
The secret I shared with him and YOU is simple: 
7X your income in 5 clicks starting
today
With covered calls
Covered calls is a tool used by the wealthiest… and the clever. 
I showed you our win rate is 94% with covered calls. 
That's because covered calls are built for YOU to win. 
Consider it a loophole in the market. 
You'd be smart to take advantage of it. 
I'd go as far to say you're a darn fool for not using covered calls because: 
They cost $0 in added capital. I recommend starting with $25k.

They can produce 7X more income than actual dividend stocks. Up to 45X more.

They take just 5 clicks of your mouse to execute

They require

almost zero knowledge of options

to trade

. 
Yes, I said 'covered call' options. 
Now, whenever I mention "options" to dividend investors, there's always backlash. 
And for the way you see options traded on TV, you'd be right. 
Trading options is one of the most misunderstood tools in all of investing. 
Most people use them to gamble. 
We're not gambling. We're accelerating our income and building wealth. 
I admit, when I first heard about this opportunity, I thought it was too good to be true too. 
After all, I understand your hang-ups about options. 
…options are confusing and complicated…
…options "take too much time"…
…options are super risky…
We're going to touch all of these points today. 
I had these same thoughts for years. Until I found covered calls could supplement my dividend checks…
Even better, you don't need to stop what you're doing with your dividend portfolio.
I still collect payouts — some monthly, some quarterly — from my dividend stocks. 
But, that's only the beginning.
Now, there's a brand new way to squeeze even more income from these same stocks without selling them. 
Frankly, you may not have to touch your dividend stock portfolio at all.
Just click your mouse 5 times to put on a covered call trade.
Don't invest another penny if you don't want to. Continue to collect your income as you've been doing.
But here's a way to make more. 
Much more.
And it's virtually FREE to do. 
I like to think covered calls are a simple and quick way to 'juice' your dividend payouts. 
How covered calls work so well
94% of the time
When you hear 'options', you likely think of a losing proposition. 
That's because most options traders are on the WRONG side of the trade.
There are two ways to trade options. 
You can buy them. 
Or, you can write them. (also known as 'sell options'). 
A buyer of options buys like a stock. But someone has to write the option for them to buy. 
When you BUY an option, there's only one way to win: 
Meaning, you need to get the direction, timing, and magnitude of a stock move ALL correct. 
In other words… it's very hard to win.
Out of our 91 trades we wrote options on… 62 expired worthless. 
Meaning, 62 other traders bought our options and made -100%. They lost all their money. 
Doing the math…
That is a 32% win rate trading options. 
Compare that to 94% win rate. 
We're winning 3X more than
regular options trades
Here's how it works. 
Let's go back to the 5-click method and the screenshots my colleague, Joe sent. 
Click one. 
Joe owns 800 shares of Camping World (CWH).
Rather than sit on them waiting for his dividend…
He's clicking over to the options chain to see the demand for buying options on CWH.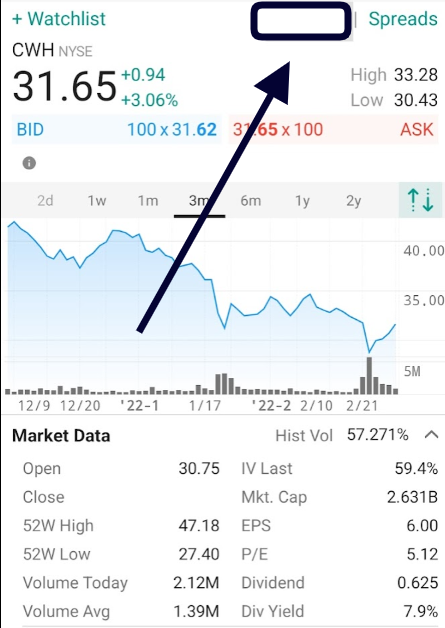 Click two. 
The stock, when he sent me this screenshot, is trading for $31.71. 
He looks at an option expiring in 31 days at the $33 strike price. 
Someone buying an option at the $33 strike is saying, "Joe, we believe the stock will explode past $33 in the next 31 days." 
Joe says "I'll take that offer. I'll write 8 contracts to whoever wants to buy them."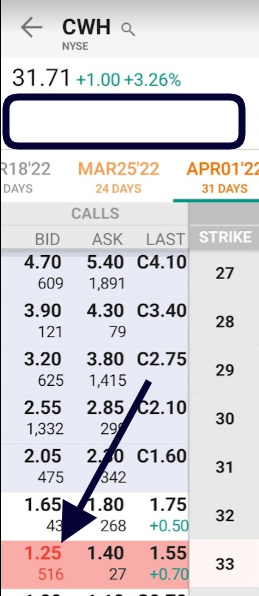 Clicks 3, 4, and 5.
Joe first tries selling the options for $1.40 each (that's $140 per contract or $1,120 in income for all 8). 
However, there are no fills… meaning, no one is buying at $1.40. 
He tries again at $1.30 ($130 per contract or $1,040 for all 8 contracts).
He submits…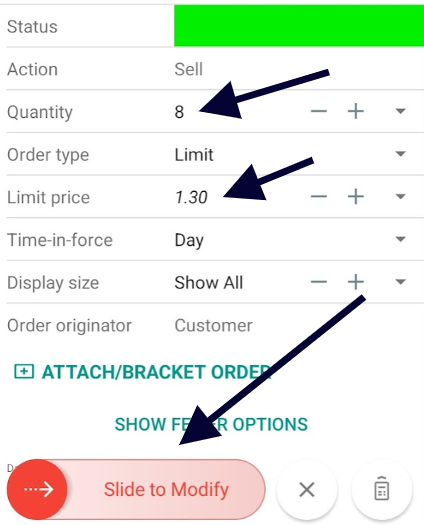 Done! Filled!
Meaning, a trader (or two) believe CWH will be trading beyond $33 in the next 31 days.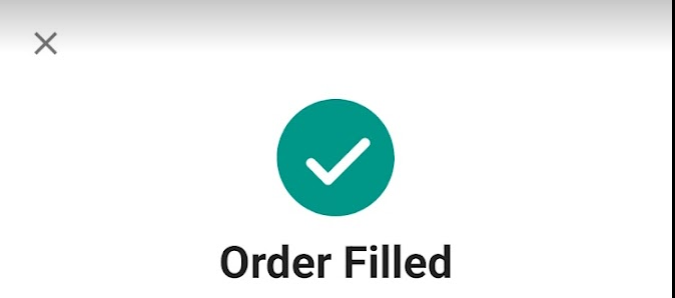 Here's the catch for them…
In order to just break even on their options bet… the stock needs to get to $34.30. 
They don't actually make a profit until the stock hits $34.31 and beyond. 
That's a small window to profit. 
HERE'S HOW WE WIN: 
Stock trades sideways under $33. Joe keeps his $1,040. 

Stock trades above $33. Joe keeps his $1,040 PLUS enjoys capital gains of $1,140 on top of his covered call income. 

Stock goes down. Joe keeps his $1,040 and lowers his cost basis in his shares. 
Meaning… if he bought shares at $31.71, when he sent this screenshot…
His NEW cost basis is $30.41. He will only lose money once the stock goes below $30.41. 
If it does, he can write MORE covered calls to lower his cost basis even more. 
We win 3X more. 
We have 3X more ways to win. 
That's how you use options.

*we offer compensation for readers like these who provide honest feedback
Let me show you a quick example from my trades on the income potential. 
You'll see this is a no-brainer if you already own stocks
I recommended a covered call income trade on General Electric (GE) in February 2021. It lasted 39 days. 
Over that span, it returned 15.16% for the recommendation for someone who bought and sold the alerts. 
Meaning, a $25,000 investment in GE would throw off $3,790. That's a ton of cash to generate in just over a month. 
Annualized that's $35,470 in cash if that happened every month over 12 months. 
It's highly unlikely it would… but let's see. 
$35,470 is a 141% annual "yield" from trading covered calls. 
To put that into perspective…
GE pays out a 0.35% dividend. On a $25k portfolio, you're collecting a mere $87.50 per year. 
Here's where covered calls make the most sense… this is where the light bulb comes on: 
If you simply bought GE stock, it would take you until the year 2427 for you to collect $35,470 in income. 
That's 405 YEARS by simply buying the dividend vs. trading a covered call every month for year. 
This is why covered calls is a no-brainer. You're already checking your portfolio. 5 extra clicks and you're collecting extra cash.
To execute the 5-click covered call is simple. 
I'll show you using my colleague, Joe's, screen again. 
Click one. Open the options chain.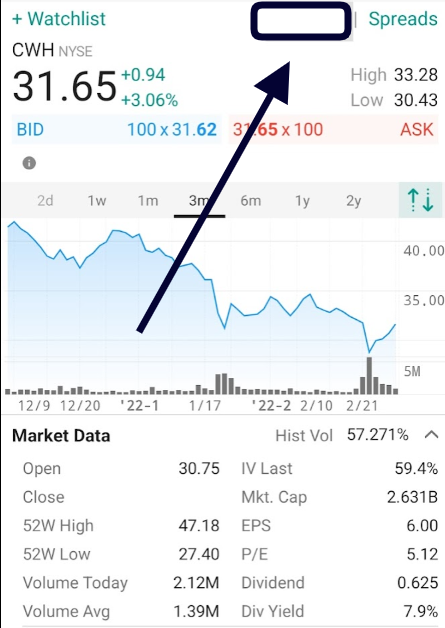 Click two. Select the correct option to sell a covered call on.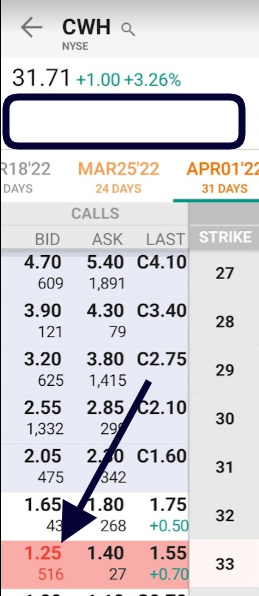 Clicks 3, 4, and 5: 
Input quantity to sell. 
The price. 
Then, execute the trade.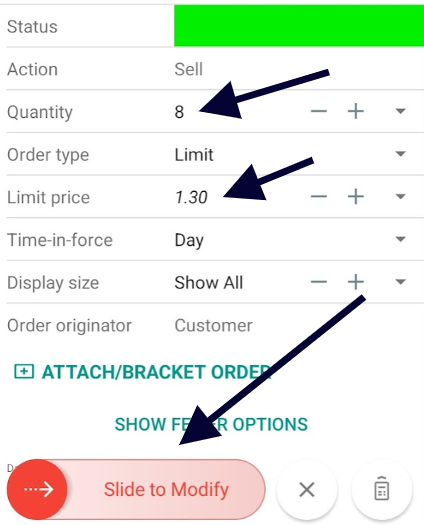 Done: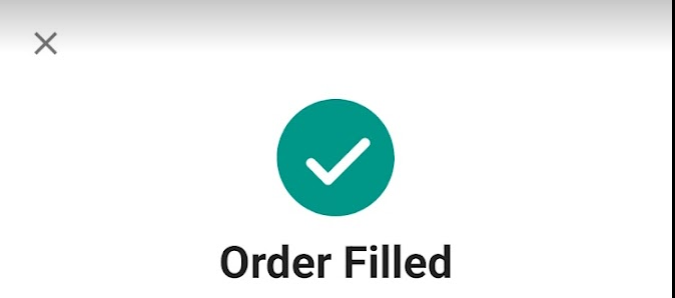 It's really that easy. 
"No Lose Situation" Collecting this Income
That's what a reader told me.
You make money no matter what. 
If you can collect cash every single week… see how fast it can add up.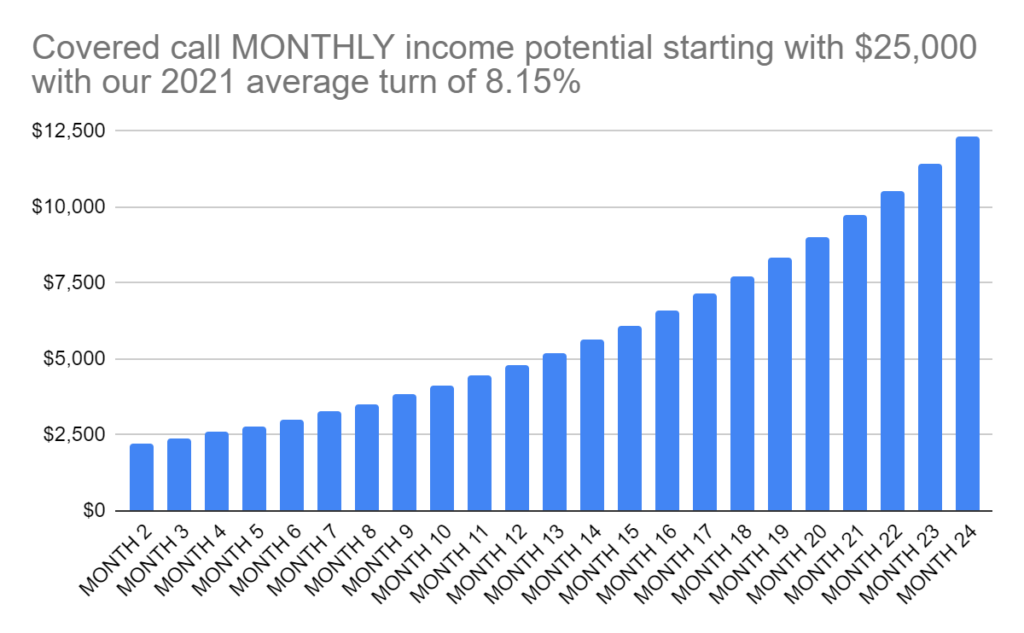 Imagine all this income in your account every single month. 
Imagine if you decide today NOT to trade covered calls again. 
Can you wake up… not collect this cash, and be okay with it? Will your spouse be okay with it?
By Month 24 (just 2 years in)… you could be collecting an amazing $12,344 per month. 
This is based off our 2021 hypothetical track record of winners and losers. 
Our average return per trade was 8.15%. 
Starting with just $25,000… that means within the first month, you could be looking at collecting $2,037. 
Over 24 months… compounding the income and adding it to your trades… you saw the potential returns. 
Up to $12,344/per month after 24 months. 
Of course — past results from 2021 don't guarantee the future. And these numbers are just speculating and projecting. Obviously, returns will be different based on a variety of factors including filled price.
The richest in the world are doing this!
Warren Buffett and his firm Berkshire Hathaway make an estimated $37.1 billion from covered calls options strategy.
Carl Icahn has done the same for his $13 billion dollar firm, Icahn Enterprises. 
I told you we had a 94% success rate in 2021. I showed you our entire track record. 
We've thrown off 20 wins in a row before.
Nasdaq produces research from the Chicago Mercantile Exchange that looked at mountains of option data and says up to  "94% of covered call options" were winners. 
That's dead on what we did in 2021.
I'll show you exactly how to start trading these options and winning 94% of the time or more today. 
With the covered call strategy, you could be collecting not one, but two streams of income. 
Dividend income. 
And…
Supplemental income.
All at the same time. 
Now, whenever I mention options to some dividend investors, they stand their ground saying "They will never trade options." 
I'm not here to tell you that dividend stocks aren't good enough. 
They are. I invest much of my own money in the high-yield dividends featured in The Dividend Hunter. 
Option income is simply a way to amplify your income.
In fact, this entire strategy may not be for you if: 
…You aren't comfortable trying something different than just buying and selling stock. I'm telling you, if you've bought a house before, trading the covered call options strategy will be like shooting fish in a barrel. 
…It's also not for you if you're already comfortable with the dividend income you make now. I can't speak for you, so that's a personal decision you can discuss with your family. 
…Finally, if you don't have the time. I believe it will take you only 10 minutes per month and 5 clicks, but perhaps you aren't near an internet connection enough. That's okay as well.
If that's the case, close this presentation now.
You'll forever be left out.
Kiplinger says by not trading
covered calls you're
"leaving money on the table."
The Street said covered calls are "very helpful in maximizing the returns on your investment." 
Marketwatch claims it's the perfect solution to "boost retirement income." 
And I agree. 
With just a few minutes per week
A few clicks of your mouse…
This instant income strategy can add an avalanche of extra cash to your checking account in record time.
Take stocks you already own…
And use those stocks like an ATM to collect extra income on top of any gains and dividends. 
Jaime Darcey, a 48-year old investor who owns a Little Caesars pizzeria, says "I call it creating it my own dividend. I shoot to make 1.5% per month."
That's the same as earning an extra 18% cash payment on top of her regular dividends.
She's taking home 2-3X more annualized return than many high-yield stocks with her approach.
If you can make 2X more income on top of your dividend, that can go a long way. 
Say you're taking home $30,000 in dividend income. Keep that. But you could also collect potentially another $75,000 on top of that. That's 2.5X more. 
Together, that's $105,000. 
The difference between $30,000 and $105,000 is massive. 
Compare a soccer mom's Honda Odyssey…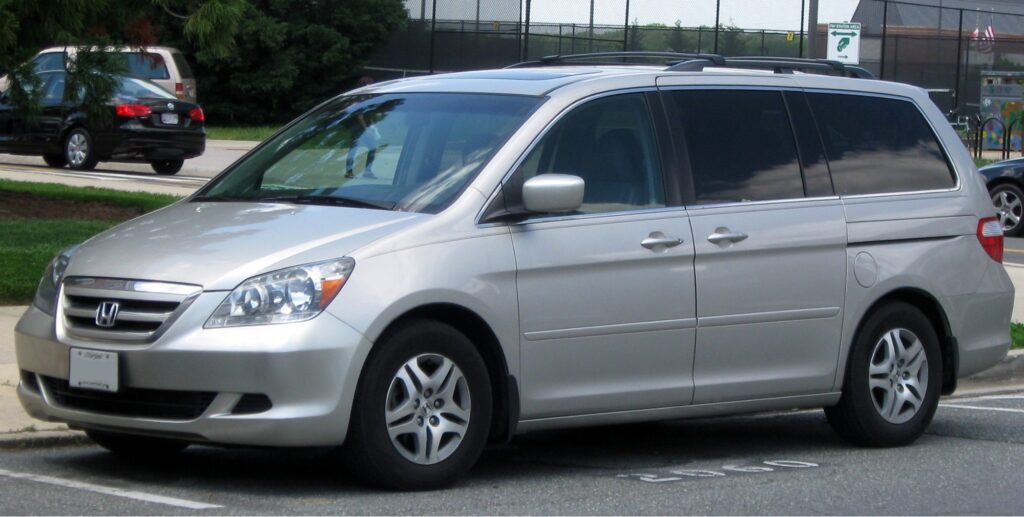 VS.
The playboy's Tesla Model S…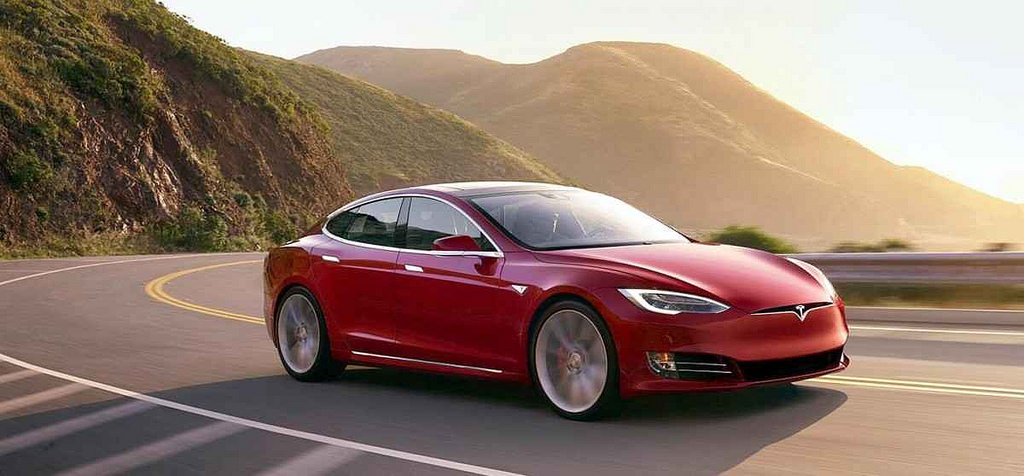 You'd take the Tesla, I'm guessing.
The difference is night and day.
The Nasdaq said it best
in a recent statement:
Selling options is a "low-risk income strategy, and one of the lowest risk strategies an investor can use."
That's why covered calls are recommended by Ally Bank, Vanguard, and Charles Schwab.
Bloomberg gives you the perfect reason to start using this strategy right now. 
They wrote this strategy does best "in an environment characterized by low interest rates." 
That's the world we're living in now… historically low interest rates (at almost 0%) and dividend cuts from the virus on top of that.
That's why you need to keep generating extra cash.
If you're sitting on any amount of cash or money in a retirement or brokerage account… you're losing money not utilizing this now. 
With covered calls, it's easy to put that money to use… and it's quite safe. 
Covered calls work in
any market condition 
In fact, it can do even better than just sitting on your hands and doing nothing. 
A 23-year study done by the Asset Consulting Group looked at buy-and-hold investors of the S&P 500 through the DotCom bubble burst, the Great Recession, and beyond. 
During the 23-year study, the S&P 500 grew 360% in that timeframe. That's quadrupling your money and some. 
However, covered calls BEAT the S&P 500, sometimes as much as 188% in some years. 
Actually, whether you compared the 1-year, 5-year, 10-year, or 20-year performance head-to-head, covered calls steamrolled the S&P 500's performance.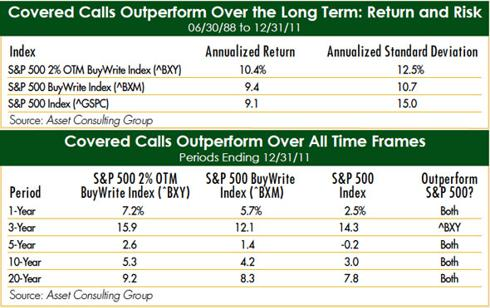 It trucked through some of the worst stock market crashes of all-time. 
And it can work for you.
But you must start today. 
Every day you aren't collecting income is a lost day for good. 
Even better
You collect income multiple times per year from the same stock!
I love buy and hold stocks. 
You can collect dividends. 
You also, obviously, enjoy capital gains. 
But what if you could 'juice' some of those returns. Not just once or twice. But again and again all year? 
American Airlines handed buy and hold investors 13% gains in 2021. That underperformed the S&P 500 by about 52%. 
Hold that thought a moment…
Many of my recommendations are multiple shots on goal with the same stock. 
With American Airlines, I was 7 for 7 trading covered calls on the stock in 2021.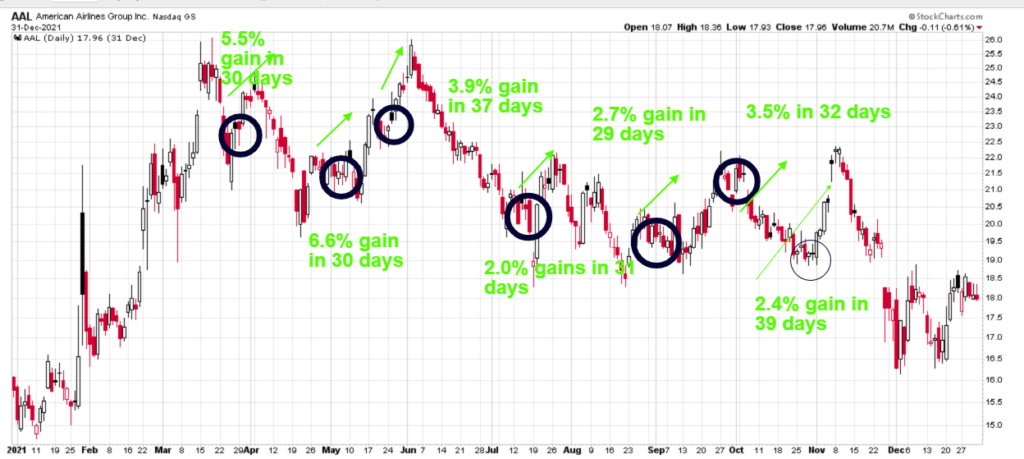 Here's where it gets interesting…
If you started with $25,000 in American Airlines January 1st and held until December 31st… you earned around $3,250. 
But…
When I layered on covered call wins of 
…5.5% in 30 days
…6.6% gains in 30 days
…3.5% in 32 days
And four others… the balance would have changed. 
Suddenly, with $25,000, you're earning: 
$1,375

$1,650

$975

$500

$675

$875

$600
Total: $6,650
That is nearly double what you could've earned just buying and holding the stock!
You could've earned nearly double the amount in profits by making a few extra clicks inside your brokerage. 
It's that easy and consistent.
One stock = 7 opportunities to make potentially double what buy-and-hold investors did
On this one stock, we had 100% accuracy. 
Here's another: 
General Electric again with its paltry 0.35% dividend. 
We traded covered calls on it 6 times. 
6 wins. Another hypothetical 100% hit rate.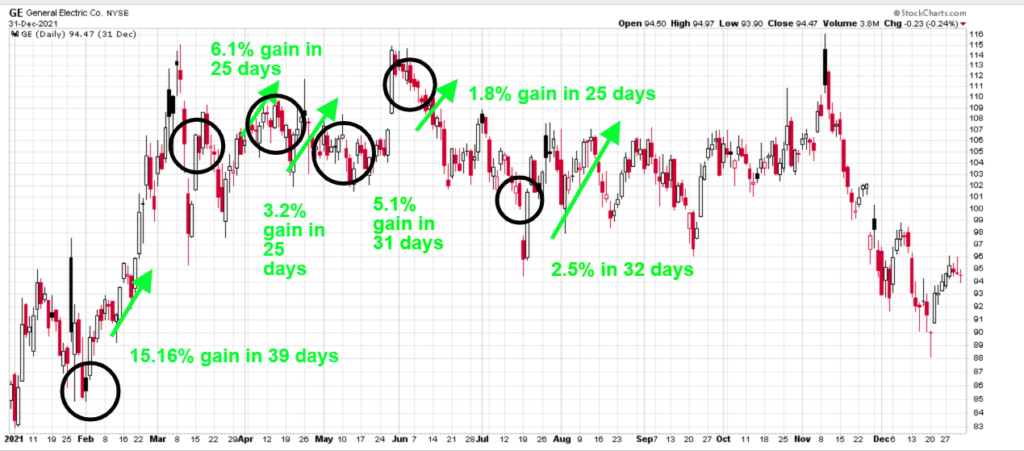 General Electric returned 9.3% to buy-and-hold investors. For a $25k portfolio, that's around $2,325 in profits.
Again… under-performing the market by about 67%. 
Those trading covered calls did much better…
…15.16% gains in 39 days
… 5.1% gains in 31 days
… 6.1% gains in 25 days
(if someone had followed my buy and sell recommendations)
Meaning, these 6 trades could've produced this amount of income on a $25,000 portfolio: 
$3,790

$800

$1,525

$1,275

$450

$625
TOTAL: $8,465!
That's nearly 264% more income than those who simply bought and held the stock.
This past performance doesn't guarantee it'll happen in the future…
But — It's pretty clear covered calls amplify buy and hold investor gains. 
Not only can they amplify… but covered calls can rescue a portfolio. 
With a 94% win rate, there were few losses to speak about in 2021. 
However, one of the losing trades was in Barrick Gold (GOLD). 
We traded covered calls on this EIGHT times in 2021. 
Watch how covered calls protected the loss the stock generated.
In 2021, GOLD shareholders lost -16.5% on their shares. Not great especially with the market up over 27% the other way. 
I don't promise I can pick winners each time. 
This time, GOLD didn't show up for us. 
But the covered call income made up some of the losses. 
Take a look: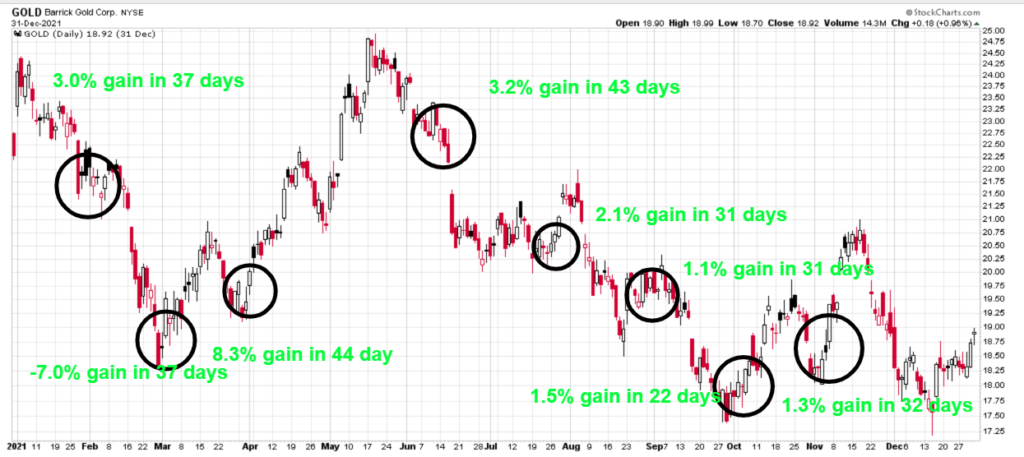 7 of 8 trades were a winner. An 88% win rate. 
While buy and hold investors with $25k would lose -$4,125…
Here's the income you could've generated: 
$750

-$1,750

$2,075

$800

$525

$275

$375

$325
TOTAL: $3,375 (profit)
Can you believe this? 
While buy-and-hold investors LOST -$4,125…
Covered call sellers on the same stock, made back $3,375. 
Covered calls would've turned a large loss in this portfolio and kept it much, much smaller. 
With just 5 clicks of the mouse over 8 trades…
It's that simple. 
Right now…
I have 8 open covered call trades TODAY
That doesn't mean you're too late to jump in…
My goal is for you to tap into my 30+ years experience to save you time, struggle, frustration, and money. 
Again, though…
Covered call income is active. It takes time. It's like a paycheck. You stop trading for income, you stop collecting the income. 
I preach buying and holding dividends. Those are truly passive vehicles. 
Keep investing in dividends, if you already do. 
This cash you generate can be a supplement to your dividends. 
Supplement enough to live off the income… or reinvest it. 
Some of my covered call premium subscribers have this to say:



*we offer compensation for readers like these who provide honest feedback
There's no telling what can happen in this shaky economic environment.
Generating extra cash will make you a lot of money in the next 2-3 years.
After the market dropped over 30% in March 2020… it snapped back almost in the following weeks.
Did you have extra cash to invest and take advantage of those swings? 
Do you have extra cash available right now to invest in the dividend stocks trading at rock bottom prices? Many stocks still trade at heavy discounts. 
These types of discounts only come around every 10 years or so. 
Imagine what your portfolio could look like when the stock market returns.
This is the time to have cash for those opportunities. 
Generating extra cash means two things: One, you have a cash cushion to live on. 
And two: have extra cash to take advantage of great investment opportunities when they come.
Nothing is worse as an investor than to be caught watching an opportunity slip through your fingers because you don't have the cash on hand to take advantage.
From now on, you will have cash every month… maybe even $2,037 this month
(based on our 2021
hypothetical track record)
You can get all our trades right now
Here's how:
To get in you must be a member of my new service called Weekly Income Accelerator.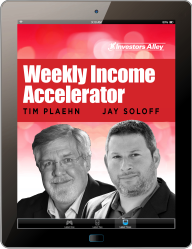 Weekly Income Accelerator members have one mission: generate 3-8% cash returns every single week from stocks we already own in as little as 3 minutes.
It's that simple. 
Weekly Income Accelerator upgrades the traditional buy and hold dividend strategy you might be following. 
Rather than waiting a month, a quarter or even a year to collect your dividend…
You can generate extra cash every single week. Sometimes as much cash as an entire year's worth of dividend payments. 
Take a look at these annualized payouts… 
(Compare them to the 1-8% dividends available today)
102% on VXX

185% on X 

172% on UPWK 

196% on BBBY

142% on GE 

157% on M 

115% on AR 

104% on F
Of course, we have losing trades. But I already told you. In 2021, we had a 94% win rate out of 91 trades. 
91 trades = almost 2 active trades per week. Almost 8 open per month. 
There's a ton going on…
And I'm here to help you every step of the way to make your first covered call trades. 
5 clicks is all it takes.
This is the next step in your investing journey.

*we offer compensation for readers like these who provide honest feedback
I've shown you screenshots on how to make the trades.
It's time to put your newfound skills into practice. 
You need more cash in your hands right now. That is most important. 
Weekly Income Accelerator is all about you getting extra cash from stocks you already own every single week.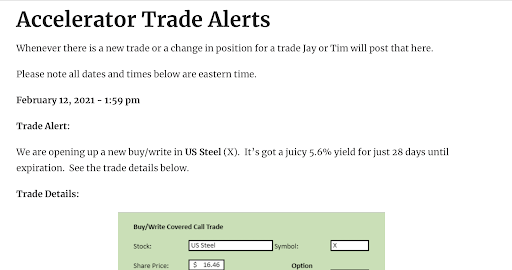 The trades are only the beginning.
You also get a ton of lessons, coaching, and education. 
We want to teach you how to fish AND send you fish to eat.
Fourth: Every month, you'll get the Weekly Income Accelerator Monthly Newsletter. Each issue is filled with updates on the trades, what's working, what's not, and analysis on the market.

After 12 months of these issues, you'll be an expert at earning extra income using options. 
Fifth: Every month, we hold a LIVE Strategy Session. I'll hop on a call with all my subscribers and go through our trades, do some teaching, and plan for the month ahead.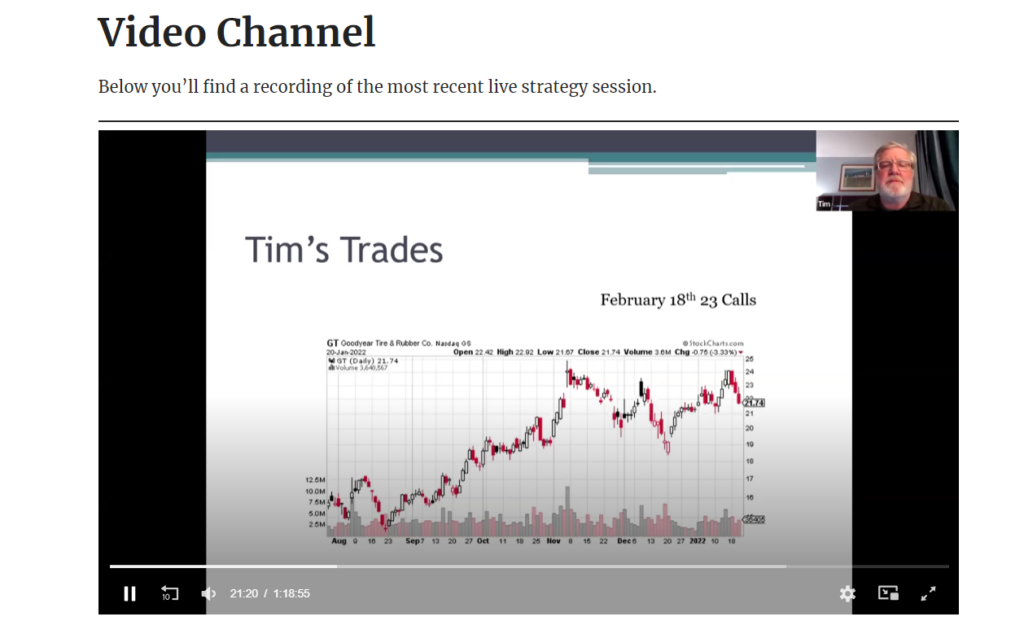 We discuss our trades and we answer your questions. The Q&A sessions sometimes go 30-45 minutes alone. 
I'm an open book, so feel free to ask away.

*we offer compensation for readers like these who provide honest feedback
[A SURPRISE BONUS] The Instant Income Options Masterclass
: 
This 3-part video series walking you through the Weekly Income Accelerator strategy and how to place the trades. ($397 value)
This isn't some flimsy ebook. 
These are full length videos. Many of my subscribers say they come back and rewatch them to 'refresh.'
PART #1: 
Intro to Covered Calls & When to Use Them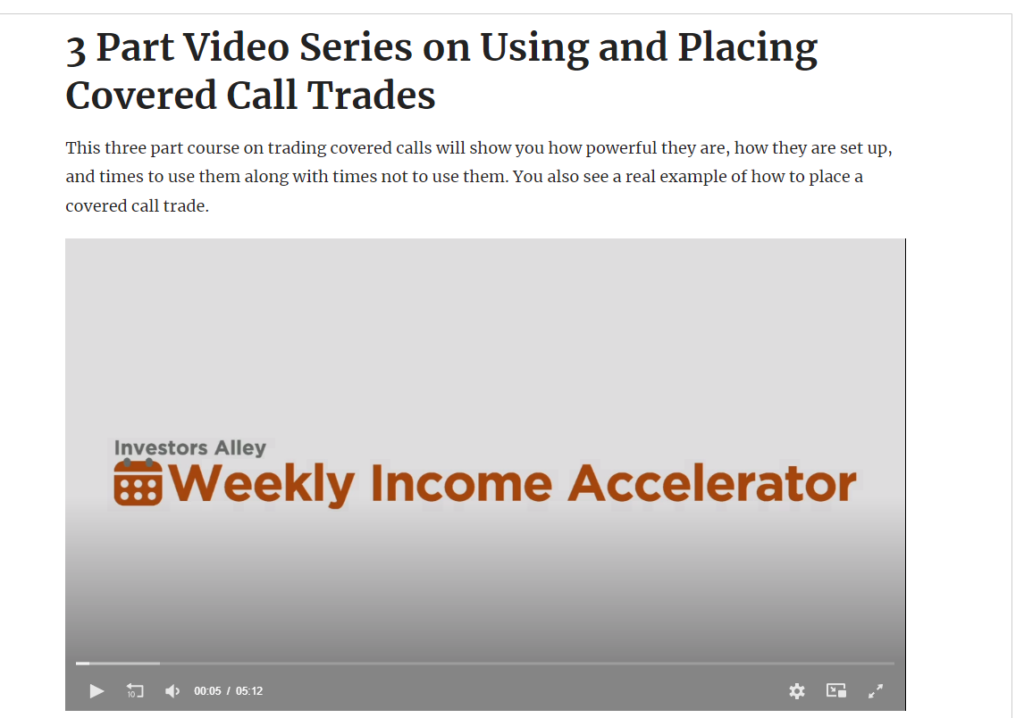 There are 3 videos in Part 1. Each about 5-15 minutes long. 
Here's what you'll learn: 
A more detailed breakdown of "what" covered calls

are and WHY they're popular among the rich

"When" covered calls make sense… including the very best market environment to use them in. 

2 instances when I say "stay away"

from covered calls

"What" option makes sense to trade (there are dozens you can choose from… don't choose wrong)

An "inside look" on the 5 clicks

to make in your portfolio to start extracting income. We'll do on video. 
That's just the appetizer. 
PART #2: 
71-minute masterclass on the 'ins and outs' of covered calls & our strategy inside Weekly Income Accelerator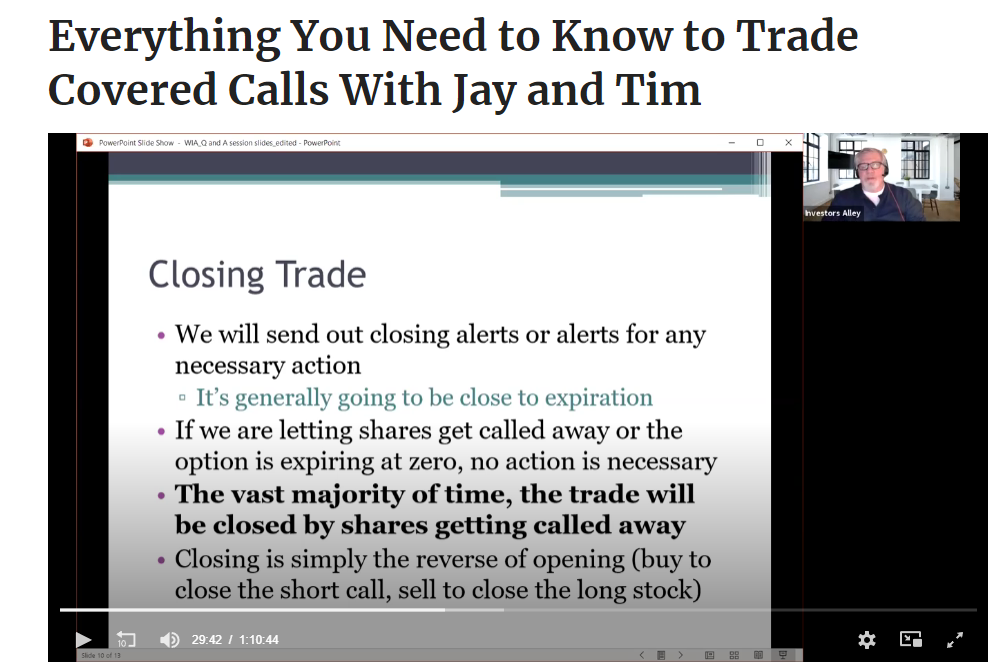 Weekly Income Accelerator is an active trading service, like I said. There's no buying and hitting the snooze button. 
We will be regularly sending out opportunities. 
It's important you understand what's going on… and why we're doing what we're doing. 
In this 71-minute masterclass, discover: 
The #1 private email address

to send questions about covered calls and receive lightning fast responses

7 terms you

must know

before ever putting on a covered call trade

A secret to maximize your income on each trade.

DO NOT take the lazy approach else miss out on thousands. 

Can you trade covered calls on high-yield stocks? I'll give the answer. 

Two 'choose your own adventure' paths to trade covered calls.

My way is a bit more conservative. Jay's shoots for more returns. It's your choice. We each share our 4 steps to picking trades. 

The important process to close out your trades and lock in your income

30 minutes of questions asked by new covered call traders

like yourself. I bet all your questions get answered!
This should cover all the bases on how to make the trades and why we pick certain stocks over others. 
Picking the right stocks is the difference between a mediocre covered call return and generating 8.15% per trade. 
PART #3:
Making Covered Call Trades in Various Brokerages
I showed you screenshots from Interactive Brokers. 
You might've thought…"Well, I use a different brokerage account!"
That's ok. 
It still is only around 5 clicks to put on covered call trades. 
We walk you through all the major brokerages in part 3 of this surprise income masterclass.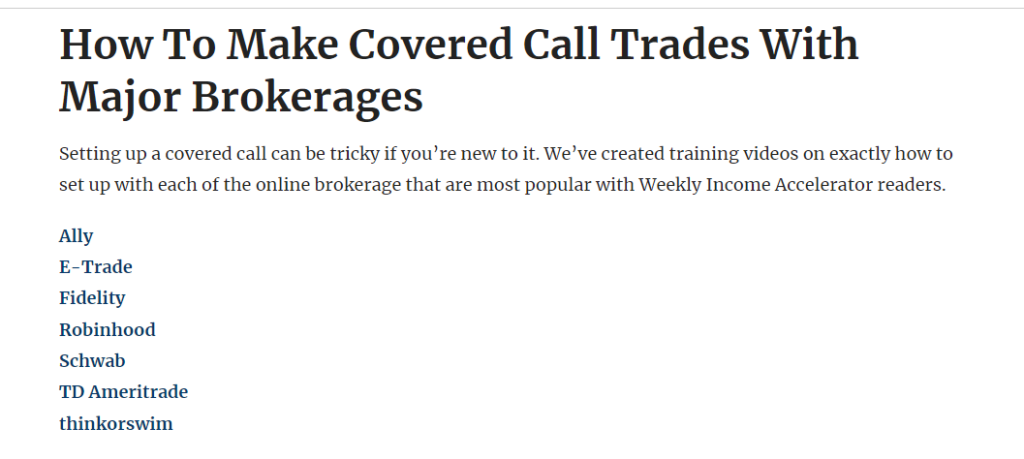 Of course, if your brokerage isn't on here… send me an email and we'll put up a new video with yours. 
This will be an ongoing library for all. 
This Masterclass is easily worth $397… if not more!
In total, you're getting $5,000 of value today when you join the Weekly Income Accelerator.
Other options trading services can sell for as high as $5,000. And that's for only one editor on staff.
You get two editors for the price of one.
Meet Jay Soloff.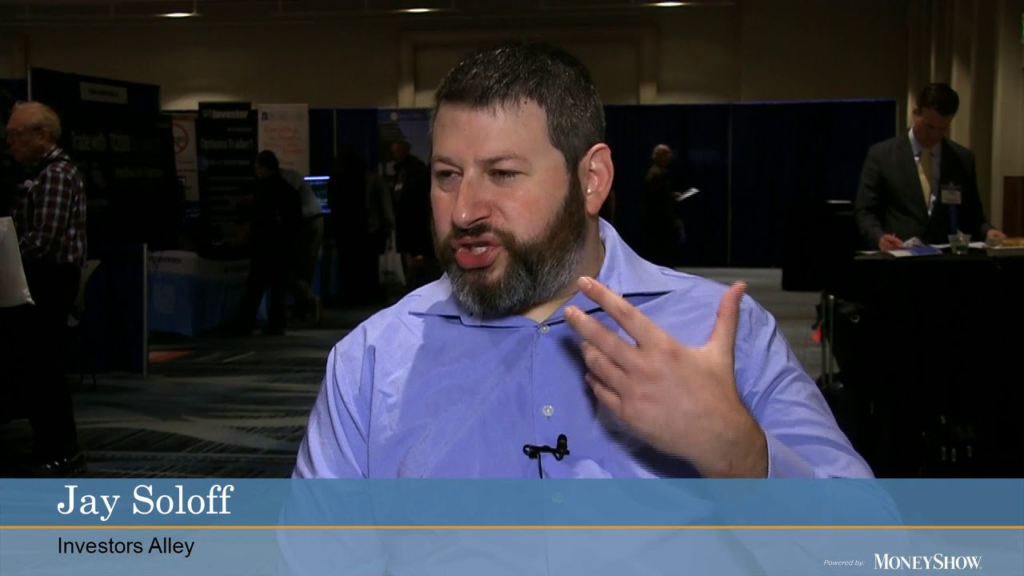 I talked about Jay a bit before… I showed you his track record. Jay will also lead some of the videos in the "Instant Income Masterclass" I talked about 2 minutes ago. 
Because we're using options to leverage our assets safely and successfully…it only makes sense to bring an options expert aboard.
That's why I've invited our in-house options pro, Jay Soloff, to join me as a partner for Weekly Income Accelerator. 
Jay's traded options for over 21 years. 
Not only that, he traded on the floor of the largest Option Exchange in the world — the CBOE.
There's something unique about Jay.
Not only was he a trader on the floor…he was a Market Maker.
The Market Maker is the 'invisible hand' in the market. They provide liquidity to keep traders buying and selling.
This is important because the Market Makers see the ebb and flow of the market. Jay's experience behind the scenes has provided him with insight into the options market other folks simply don't have.
Take a look at some of his trades the past few years:
VXZ = 367% gain. 

XLY = 170% in just a few days. 

WMT = a 178% score. 

DISH = 109% without breaking a sweat.

FAST  = 233% as the market fell. 

GLD = 156% in the bag. 

XLB = a 222% profit. 

ARNC = a fast 70%.   
And…1,421% home run on ETFC.
These were just recommendations and there's no performance guarantee here. 
But, Jay's covered call performance has been stellar. 
In 2018, he had a 100% win rate!
Jay will be releasing his research in our monthly issues, he'll be on our strategy sessions, and he'll join you and me on the LIVE call happening on June 1st. 
But that's not all.
Jay Will Send You FREE Alerts on Generating Income From Some of the Hottest Stocks on the Planet
That DON'T Pay Dividends
Jay's a master at what he does. Not only will he find us income opportunities with dividend-paying stocks…
He's also offered to send you alerts on non-dividend paying stocks.
Stocks like: 
BOX – traded it

7 times

in 2021 (6 winners, 1 loser)

SLV – traded

8 times

in 2021 (7 winners, 1 loser)

VXX (his favorite – traded

5 times

in 2021 (all 5 winners)
All great trades for someone who followed our alerts for exactly when to buy and sell.
I'm the "Income" guy. 
Jay's the "Options" guy. 
We've combined forces.
Just 1 editor is worth thousands… 
Two? Easily $5,000+ alone for the help without the trades.
But we're not asking for $5,000 today… or $3,000…
Today only, your investment to join Weekly Income Accelerator is just $955.
For an opportunity to generate $2,037 starting this month  (with a $25,000 stake)…
With the potential to grow to up to $12,344 after 24 months…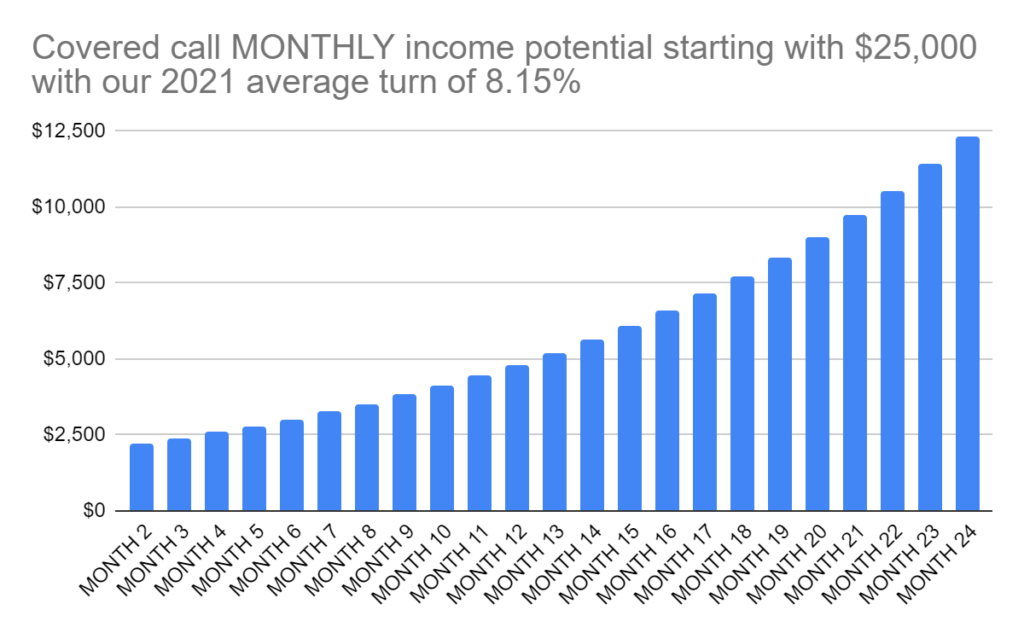 To see income like this… you must be active in the market. I'll do the heavy lifting.
Your entire subscription can be paid off in under one month.
We could be charging much more I admit. 
But I want to make sure price is not an objection to joining. 
Click the button below to become a brand-new member of Weekly Income Accelerator.
You will not be alone when you join.
Thousands have subscribed to our services, and we've received hundreds of happy
testimonials, including:
To start enjoying these benefits yourself… you need to become a member of Weekly Income Accelerator. 
Click the button below to start your membership.



*we offer compensation for readers like these who provide honest feedback
You'll be completely covered when you join. 
There's no risk on your part… because you can claim my:
60-Day Stress-Free Options Policy
Get a subscription to Weekly Income Accelerator today. 
If after a full 60 days, you're not entirely satisfied or you don't believe we can back up what I said today, call my office and get a refund. 
Honestly, I believe this is as risk-free and a no-brainer offer you will ever see. That's my humble opinion. 
Fun Bonus:
Get opportunities to book up to 136% winners in 12 months!
This is NOT the point of Weekly Income Accelerator…
However, it's a by-product. 
See, because we need to own stocks to collect covered call income… there are opportunities at big capital gains. 
Just in 2021, take a look at these returns for someone who followed our alerts exactly: 
We bought Ford (F) to trade covered calls… stock jumped 136% 
We bought Targa Resources (TRGP) … and it was up 98% from January 1-December 31st
Macy's (M) peaked as high as 92% after we started trading…
Again, this isn't the goal of the service… but it's a fun bonus that comes with the territory. 
It's the cherry on top to this service. 
Weekly Income Accelerator is one of my most popular products.
And it's perfect if you're ready to collect income now.
Because if you're already investing in dividend stocks, it only makes sense to not only invest in the best dividend plays, but also collect income on top of income. 
You might say covered calls are the biggest loophole in
the stock market today. 
That's why you're getting a 2-for-1 deal right now with two editors. 
And you aren't investing $5,000 or even $3,000 to get unrestricted access. 
… $995 for a trading service is unheard of in financial publication services. 
… $995 for an options trading service… it's unthinkable. 
With the potential to receive up to 91 trades in one friggin' year!
I wouldn't be surprised if our CEO raised the price after you finish reading this. 
I traded my own recommendations in 2021 and saw huge results!
My portfolio, after adding in $2,568, and reinvesting the covered call income… went up 83% in one year.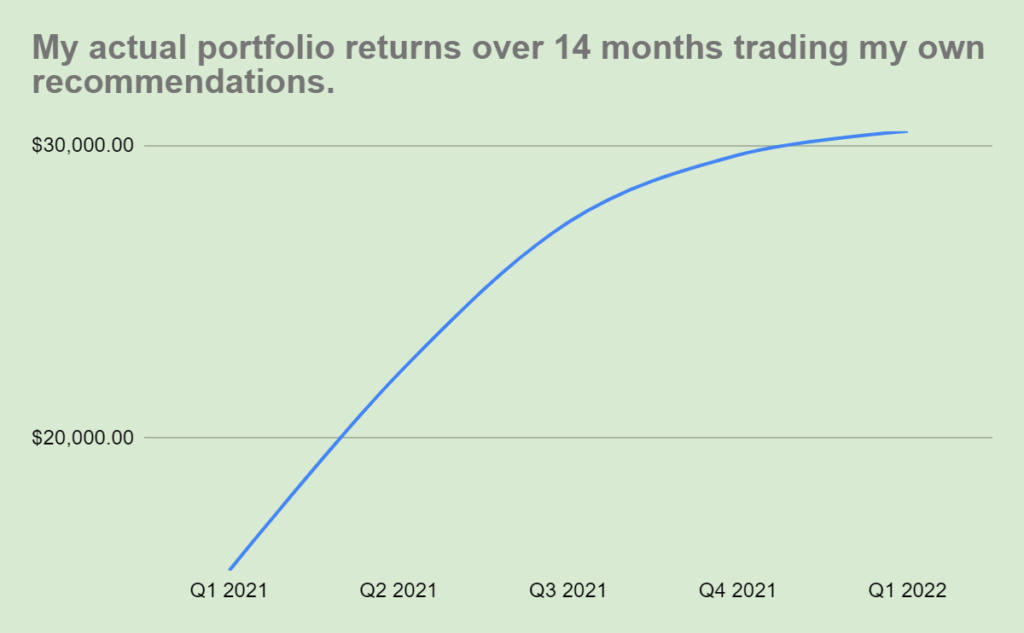 That beats the S&P by more than 3X!
Now, it's your turn.
If you're ready to take the next step in your income journey, click the button below. You'll be directed to a secure page revealing all the details of my offer today. 
There, you will be just one click away from banking more income than any dividend stocks in the world. 
Join myself (Tim Plaehn) and Jay Soloff inside Weekly Income Accelerator now. 
I'll see you inside. 
Click the button below now. On the next page you can join plus I have a FAQ so you can get your questions answer.
Land, Fly, or Die, 
Tim Plaehn