Dear Fellow Investor,
What do Mark, Byron, Harry, and thousands of others have in common?
They're all trading options on the side for a bit of extra cash.
Just a hundred bucks down.
Nothing crazy.
Maybe a few hundred if they want to "go big."
Nobody's betting the farm.
It's a great little hobby that makes the days go quicker.
Keeps your mind active.
Keeps you connected to the world.
Keeps you young and on your toes.
"Jay adds a little fun into the mix with his option trades."
– Paul
What makes it so fun?
Lightning fast returns and incredible "bang for your buck."
No wonder these retirees are flocking to options.
Take a look at these recent trades to see what I mean.
✔️ 127% on GLD in 23 days 
✔️ 148% on SQ in 28 days 
✔️ 229% on SMH in 36 days 
When you win it's like finding cash under the couch.
It's spare money you didn't have yesterday.
Which means you can spend it today without counting every penny.
Enjoy a nice dinner out on the town.
Put it towards the college tuition for your kids.
One of my readers is now zooming around in a Tesla. 
(Jake told us, "Thanks to Jay, now I drive a Tesla")
Now, I'm not promising you a brand new sports car.
However, what I can do is show you how to trade options for gains like…
233% on FAST… and potentially turn $500 into $1,665
367% on VXZ… and potentially turn $500 into $2,335
1,421% on ETFC… and potentially turn $500 into $7,605
Just $500 on each of these opportunities would have given you the chance to take home $11,605.
It's no surprise my readers are smiling.
"Net returns are $2,880." 
– Don
"I bought the E-Trade 13 Mar 45 calls just 2 days ago @.70, and sold them this morning for 11.50 – by my calculations that is a whopping 1,542% profit!" – Jill
"Your call on Square (SQ) was right on… I profited about $2,000."
– Hunter
None of these people are professional traders.
They're regular folks like you.
Some do this in their spare time just for kicks.
So why did they choose options?
Options move quickly so you could start seeing returns in only a few months or less.

Trading options can be very low risk when you follow the right method.
This isn't about gambling away your entire savings. 
That would be insane.
You're simply looking for opportunities to make extra profits while waiting for your dividend and growth portfolios to explode.
Imagine what you could do with a few hundred or even a few thousand extra dollars every week.
It's not just me who thinks options are a great way to put extra money in your pocket.
Look at the news and you'll see…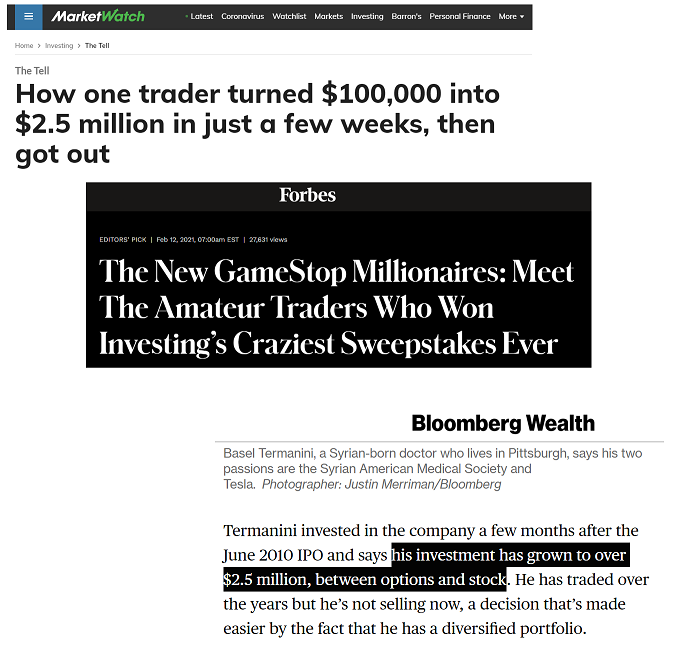 A doctor from Pennsylvania recently made over $2 million from trading options.
Another man from Texas pocketed $2.5 million in just a few weeks.
And an agency owner from California cashed out for a cool $3.8 million.
I'm not saying you'll also make returns like these.
The only reason I'm sharing this is to highlight the extraordinary potential of options most people have never considered.
To be perfectly clear — in no way am I telling you to stop your current investments such as stocks.
You're probably using some in your retirement plan already.
But since you're making your money work for you, why not make it work faster?
Have a look at what's possible with options.
✔️ 96% on QQQ in just 36 days 
✔️ 117% on SPY in only 21 days
✔️ 229% on SMH in less than 37 days
Think about what monthly cash injections like these could do for you.
Would you sleep better knowing all your bills are covered and still have extra left over to treat yourself?
Before I go on, let me address the elephant in the room.
You've probably heard options are "dangerous".
And you're partially correct.
Anything can be risky if you go about it the wrong way.
The same holds true for options.
Some people crucify them like they're the devil or worse.
These naysayers are usually chasing bad trades after bad trades…
Letting emotions cloud their decisions…
And getting in over their heads…
But it's not their fault.
Nobody has ever shown them how to properly buy and sell options before.
Going off a hunch is the easiest way to wipe out your wallet.
Options require a systematic approach.
It makes it easier to place the trades too.
(This is the key to doing as little work as possible.)
But it doesn't mean there won't be losses.
Yes, you read that right.
Some trades will end up in the red.
It's unavoidable.
Anybody who says otherwise is lying to your face.
I'm not going to sugarcoat the truth.
I've made losses in my trading career.
-5% on LRCX

-14% on NVDS

-7% on FEYE

-0.2% on WYNN
Nobody likes losing but honestly it doesn't even bother me.
That's because I also make picks which balance out the losses.
I recommended GLD and it went up 127% in only 23 days.
That's enough to cover all of the losing trades four times over.
I've also hit winners like…
✔️ 70% on ARNC
✔️ 109% on DISH
✔️ 127% on GLD
✔️ 170% on XLY
✔️ 178% on WMT
✔️ 222% on XLB
✔️ 233% on FAST
✔️ 367% on VXZ
✔️ And a 1,421% grand slam on ETFC
All of these opened and closed in less than two months.
You can see there are far more winners than losers on this list, with the average gain being 221% across these 13 trades.
In addition, my winners can be shockingly fast…
✔️ 53% gain on XRX in 30 days
✔️ 108% gain on CCJ in 45 days
✔️ 131% gain on CLDR in 45 days
Putting just a modest $500 into each of these trades could have landed you $2,960 in less than two months.
You can simply start small with whatever amount is in your brokerage account right now.
There's no need to dip into your 401(K), IRA or Social Security.
In fact, I strongly advise against doing that.
The beauty of options is they work side by side with your existing investments.
All while having the potential to produce quick profits in a short amount of time with very little money down.
But you must be careful about the "invisible forces" which can blindside you.
Understanding this is the first step to making options work in your favor.
How do I know?
Because I cut my teeth trading beside the best in the business at the largest options exchange in the world — the Chicago Board of Options Exchange (CBOE).
How I Discovered the "Options Mastery Method"
Tell me if this sounds familiar…
"Options are complicated and I don't understand them."
"It takes too much time to learn new strategies."
"I don't want to spend all day researching investments."
That's exactly how I felt the first time I stepped inside the CBOE.
I spent a lot of years as a trader at the exchange.
Got my start physically running across the floor to fill orders with a pen and paper.
Old school style.
This "raw education" has given me unique insight into the inner workings of options the public will never know.
"Why does one option hit a home run while another burns like a dumpster fire?"
"What drives the prices to rise so rapidly or drop so suddenly?"
"When is the best time to get in… and more importantly, when's the best time to get out?"
These questions have constantly plagued traders.
Many have tried to solve this mystery.
But only a handful make it out alive with the shirt on their back.
You can't just jump headfirst into options and expect to come out a winner from the get-go.
There's no such thing as "get rich quick."
I spent many long nights burning the midnight candle…
Analyzing charts…
Crunching numbers…
And constantly trying to find the "holy grail" to get a competitive edge over other traders.
That's how I made my first win with options.
But I didn't care about quick overnight gains.
The data behind the trades is much more valuable in the long run.
I'm sure you've heard this saying before…
"Information is power."
– Sam Walton, founder of Walmart
That's why I wanted key information such as…
What types of options are commonly bought?
At what price points?
How long should you wait before closing a position?
Etc.
I studied as many options as possible and wrote down every detail in a notebook.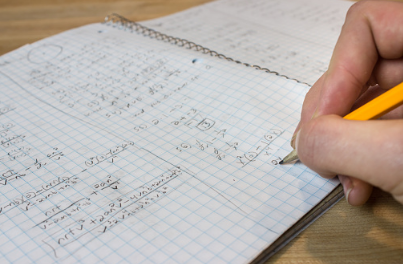 Looking back through my mountain of notes, I started "connecting the dots" and seeing the signals on how to buy and sell options…
No matter if it's a bear or bull economy…
And regardless if the market is riding a stairway to heaven or going to hell in a handbasket.
No theories, no guesswork, and no "gut feelings".
The "Options Mastery Method" was born from the records of millions of actual trades.
This is my go-to system and I'm constantly fine tuning it.
Here's what the current version looks like in real life:

Now obviously I can't share all the details here.
But you can see how everything is clearly laid out — date, ticker symbol, strike price — giving you the power to instantly know at a glance what your positions are worth.
"But why should I believe you?"
Good question.
Allow me to briefly introduce myself…
Why I'm Known as "Mr. Options"
Hi, my name's Jay Soloff.
I've been trading options for 21 years now…
Appeared as a guest speaker on the Money Show's "All-Stars of Options Trading" panel…
And count several options "power brokers" on Wall Street as my acquaintances.
Here's a picture of me on the CBOE trading floor as a kid fresh out of school.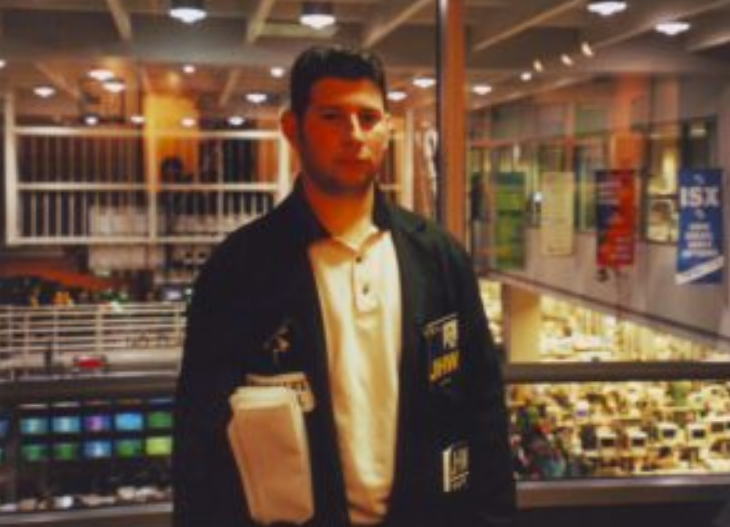 And recently at the Traders Expo in Las Vegas.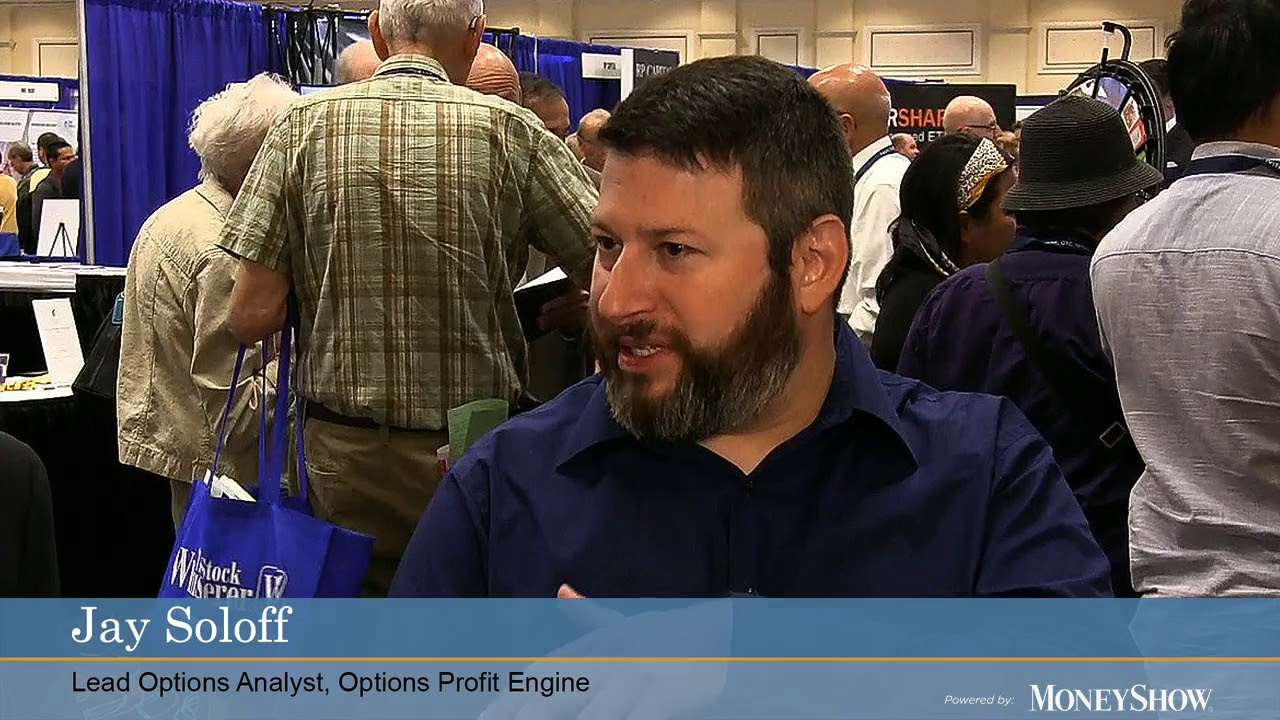 Two decades later and I'm still neck deep in the world of options.
Options are the main focus of my life.
It's why I'm known as "Mr. Options."
None of this is to brag because I don't care for any of that fame nonsense.
I'd much rather keep out of the limelight at home in Phoenix, AZ.
Here's the view from my porch.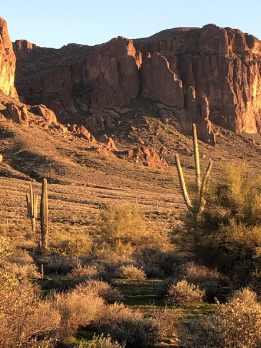 It's about the furthest you can get away from "The Street."
The peace and quiet lets me study the market uninterrupted.
I spend my days uncovering the newest trends before they break…
And share them exclusively with my private group of readers…
While main street investors relying on outdated tips from CNBC are left holding the bag time and time again.
After a lifetime of doing this, here's the best advice I can give anyone.
Trading ≠ Gambling
Personally I hate gambling.
My reasons are simple — I've got a family to take care of.
There's no way I'd ever risk their future.
I don't know about you, but at the end of the day I like to unwind.
Play with the kids.
Have dinner with my wife.
Go for a walk, read fiction novels, that kind of thing.
What can I say?
I'm a simple guy.
The last thing I want to do is stay up all night worrying about open positions.
No thanks.
I prefer to make investments with minimal levels of risk.
Practically zero in some cases.
But every so often I still make losing trades.
Here are some of my bombs:
-5% on LRCX

-14% on NVDS

-7% on FEYE

-0.2% on WYNN
However, the losses won't matter in the overall picture when you're hitting winners like…
✔️ 53% gain on XRX in 30 days
✔️ 108% gain on CCJ in 45 days
✔️ 131% gain on CLDR in 45 days
Options have the potential for incredibly quick returns.
But most people don't even know options exist.
The public has been brainwashed into thinking you can only make money from stocks.
That's one way but it's not the be-all and end-all.
Especially when my "Options Mastery Method" takes losses into account and can still come out ahead.
I recently received this message from one of my readers.
"I've won about 85% of the trades." 
– Scott
You'd be hard-pressed to do this with stocks.
Plus, they can be outright unaffordable in some cases.
The media loves to report that stock prices are going through the roof for big name companies like Amazon, Google, and Berkshire Hathaway.
This makes them sound like an attractive play until you realize it's crazy expensive to buy any of the shares.
It's unbelievable to hear but the cheapest of these three is currently trading at $3,401… 
And entry into Mr. Buffett's premium club is an outrageous $419,134 per share!
Many stocks are simply out of reach for ordinary people.
On the other hand, you can buy options for only a fraction of the cost — up to 95% less — and get control over 100 shares of the same stock.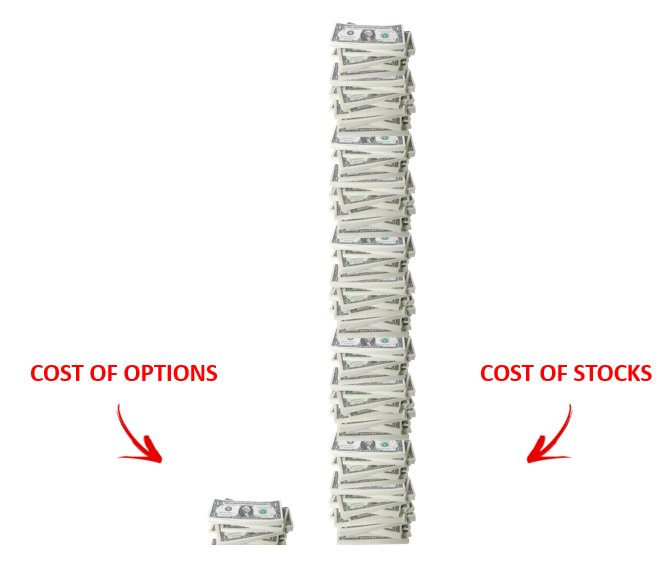 Significantly cheaper.
Way less money at risk.
And a lot more upside potential.
Take my MRVL recommendation for example.
The stock price recently rose about 20% over a 39 day window.
Meanwhile, options skyrocketed close to 136% during the same period.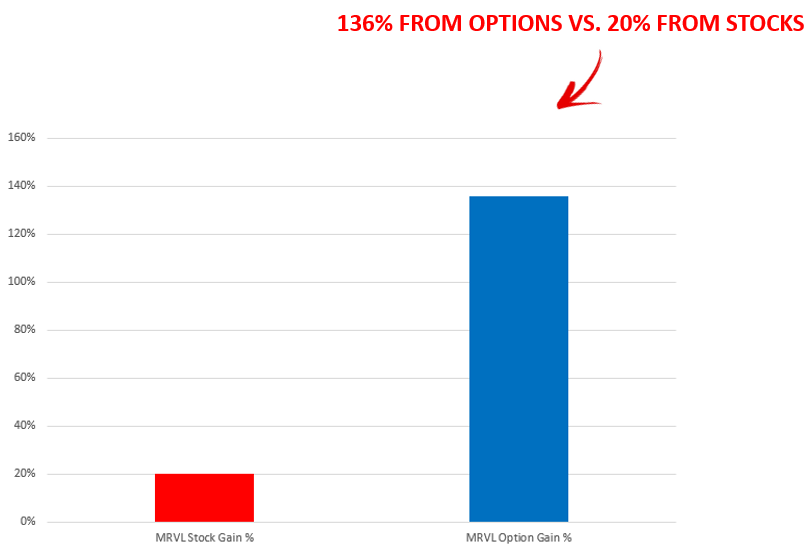 This chart shows two trades in exactly the same company — the only difference is the trading method.
$500 in shares would have handed you $598.
Not bad.
Nothing to write home about either.
Whereas options could have potentially put $1,178 in your pocket just by making one small change.
Who wouldn't love to pick up almost twice as much money?
Not all trades are created equal.
You can either follow the crowd and keep collecting chump change from stocks…
Or you can use options to supercharge your investing lineup.
Of course I'm not promising anything ridiculous like 1,000% gains overnight.
I'd much rather be straight with you.
When it comes to options, I like to use a "steady eddie" approach.
Consistency is the name of the game.
Because all it takes is a quick win today, another fast touchdown tomorrow, and soon your balance can easily start snowballing.
Look at another one of my picks on a tech company called Cloudera.
The stock climbed 31% during a recent 45-day bull run.
That sounds great until you see that options soared a staggering 131% during the same amount of time.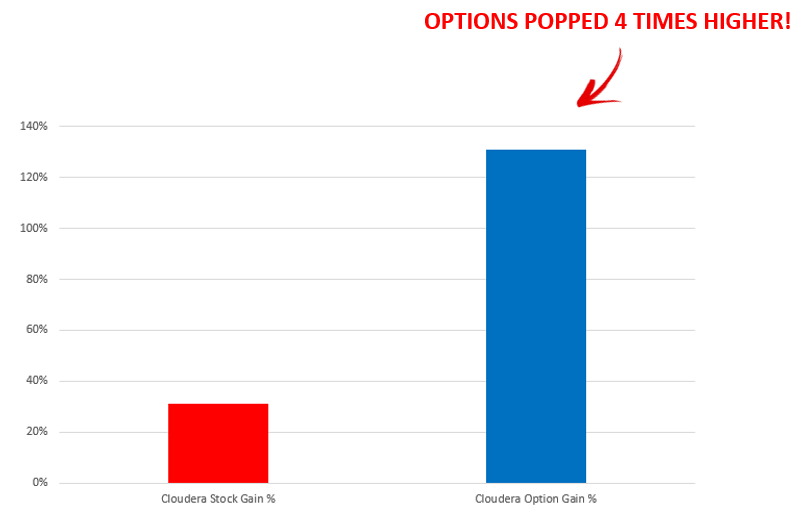 How would you like to see your trades pop 4 times higher?
There's no reason to limit yourself to the slow lane anymore.
Options can help you quickly shift into top gear.
Simply start with whatever amount you've got handy without raiding your 401(K), IRA or Social Security.
$100… $500… it doesn't matter.
This isn't like buying shares, mutual funds, or bonds which often require a large capital outlay to be worthwhile.
Oh, and forget about penny stocks.
Even though they seem more affordable, it can often take years before you see a profit.
Many are scams and can quickly turn into a total loss.
My "Options Mastery Method" is safer because I only recommend legitimate companies. 
Plus, there's usually very little wait time to see a payoff. 
I don't know anything else which even comes close to the speed of options.
Look at these recent trades.
✔️ 109% on DISH over a month
✔️ 170% on XLY over a month
✔️ 367% on VXZ over 3 months
They all exploded within a few weeks, some in only a matter of days.
Don't forget options can cost up to 95% less than buying the same stocks.
Cheaper and faster?
You can't do this with any other kind of investment.
But you can with options.
"The New Gold":
How You Can Unlock the Full Potential Of Options Today
By now everybody's heard about the infamous investing forum on Reddit called "Wall Street Bets".
Even billionaire "shark" investor Mark Cuban raves about it.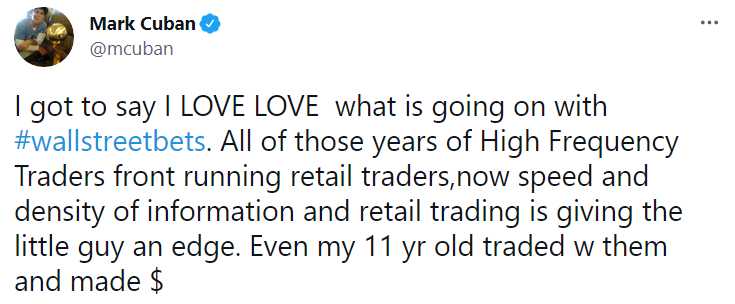 "The people who are making the push aren't who we expect them to be and so that's why I like it." 
– Mark Cuban
This is where the "GameStop Revolution" happened, turning everyday people into overnight millionaires through options.



GameStop originally began as a joke.
Nobody took it seriously.
The only people talking about it were pimply kids still living in their parent's basement.
Now the cat is well and truly out of the bag.
Everyone's on the hunt for options like it's the new gold.
This may be a revelation to some people but not me.
I've been talking about the enormous potential of options for years.
The question isn't if options can make you money…
It's how to find the options with the best chance of winning.
But you've got to be smart.
It's a savage jungle out there.
Options can change in a heartbeat and really whip those who don't know what they're doing.
One guy went in the hole for -1,833%.
You can bet he woke up sore the next day.
I've been doing this for 21 years now.
I'm not one of those "overnight gurus" who jump on the latest bandwagon just because it's the flavor of the month.
That's why I know how to spot trends like this.


Even one of the top investment banks is big on options.

Goldman Sachs' revenue last year was $45 billion.
They doubled their money using options.
But I wasn't surprised at all.
I recently recommended BB and it jumped 116% in 78 days.
That's 11% higher than what Goldman made.
But unlike the big banks, I'm accessible to you.
"Jay answering emails within 24-48 hours with great, detailed answers to my questions is huge for me."
Think you can just call up a broker on Wall Street and start trading?
Fat chance.
The big banks don't take on new clients so easily.
You need a minimum of $10 million to open an account.
Even if you've got the cash you still have to wait in line for approval.
Need to ask an urgent question on the fly about a trade?
Good luck with that.
While you're waiting on hold to elevator music, the market can suddenly shift in an instant.

By the time you read about it in the news it's already too late.
So what are ordinary people without access to "old money" connections supposed to do?
This is where I can help you.
Behind the Scenes of the "Options Mastery Method"
Trading options requires you to sift through a mind boggling amount of information, so where do you begin?
Let me give you a quick "Cliffs Notes" version to keep things simple.
I often start my research by checking the unusual options volume.
This activity tells you the difference between the current volume and the average volume for options contracts.
It's the perfect place for finding trades with hidden potential.
Here are the July 9, 2021 results for COIN, a popular cryptocurrency exchange.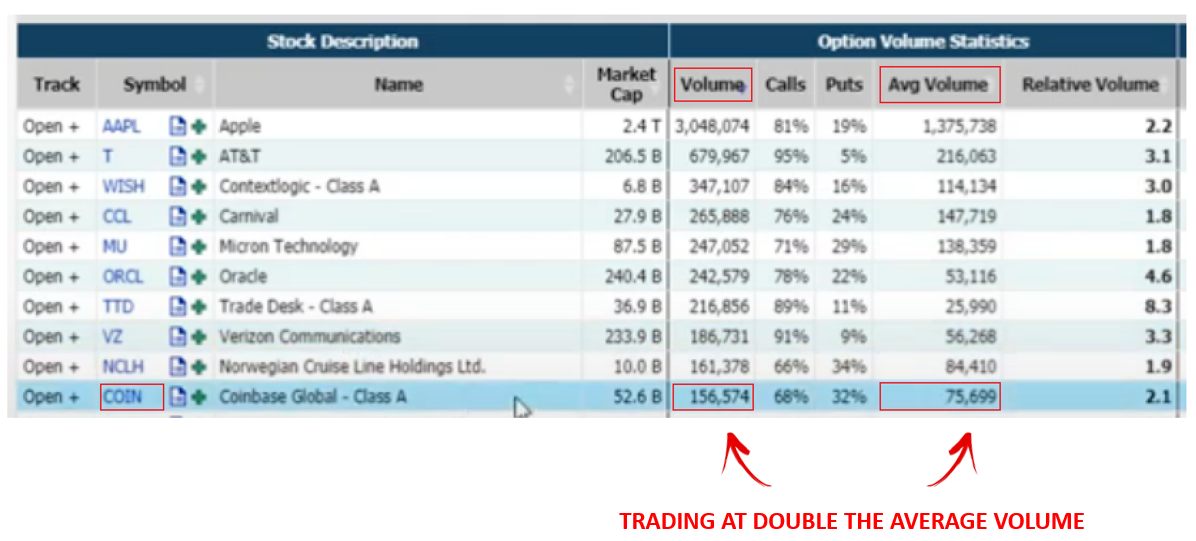 Straightaway you'll notice it trades at a high volume.
I consider anything above 50,000 to be a lot.
COIN's average volume is 75,699 so it definitely fits the bill.
Look closer and you'll see the 156,574 daily volume is double the average volume.
The 2:1 ratio of calls to puts suggests the market could be bullish on the stock.
It also has an implied volatility of 55.1, indicating the stock has potential for larger price swings during the lifetime of the option.
Another promising sign is share prices are up 7%.
But this only reveals part of the story.
It's important to remember no single piece of information will give you the full picture.
There are lots of other factors to examine too — for example, looking at the 50-day moving average might reveal the premium is too high relative to the amount of risk.
Still with me?
At the end of the day my goal is simply to determine what the potential payout graph will look like.

After compiling all the information together, in this case it looks like a short term spread where the stock will either hover around the same price or go up even further.
This provides investors with the opportunity to potentially profit from the high volatility of the option.
Naturally I also take other data into account before making a call like this.
Just to be clear, this is not a recommendation for COIN.
I'm simply using this example to show you how the "Options Mastery Method" works in a nutshell.
Could you have come to this same conclusion on your own?
Absolutely.
All it takes is time and experience.
I analyze options all day to find trades with the best chance of winning.
That's 100+ hours a month spent sifting through countless graphs, charts, and reports.
My process is so strict that sometimes only 2 trades will meet my criteria during a 30-day period of research.
The rest get discarded.
I won't risk my money on garbage.
You shouldn't either.
How would you like a flow of hand-picked options delivered to you on a silver platter…
Vetted and double checked…
And ready to go without ever needing to lift a finger?
My "Options Mastery Method" does all the heavy lifting for you.
The best part is anybody can follow this system regardless of experience.
It doesn't matter if you've haven't traded anything in your life before.
In fact, it works even better for people who've never tried options.
That's because new investors come in with an open mind, absorb information quickly, and learn how to trade the correct way from the very start.
There's no complicated technology or fiddly smartphone apps either.
If you've ever used a computer then that's all the technical know-how you'll need.
Back in the day I did it all by hand at the CBOE.
Now everything is way faster.
Like, instant speed.
Ding!
And you've got an email that shows you how to place a trade immediately.
Place a quick, little trade in your brokerage account (which I'll show you how to do), and you're done until my next buy or sell alert comes through.
But someone still needs to work behind the scenes to keep the machine running.
Luckily for you that person is me.
Sit back and sip a margarita while you wait for my notifications.
It doesn't get any easier than this.
No more messing around with mind numbing research, repetitive analysis, or any of that other boring crap.
Set it up and you're free to do whatever you want for the rest of the week.
Forget about watching the market like a hawk.
Forget about constantly scouring over charts until your eyes go blurry.
Forget about stalking every TV channel and newspaper so you never miss out on a "breaking development."
You'll never need to do any of that again.
My "Options Mastery Method" helps you earn extra money without the hassle of doing everything yourself.
You've already seen my track record of winning trades…
✔️ 127% on GLD in 23 days 
✔️ 148% on SQ in 28 days 
✔️ 229% on SMH in 36 days 
✔️ 96% on QQQ in 36 days 
✔️ 117% on SPY in 21 days
✔️ 229% on SMH in 36 days
✔️ 108% on CCJ in 45 days
✔️ 131% on CLDR in 45 days
Just $500 down on any of these trades could have set you up with $980 to $1,645 of extra cash in less than two months.
That's enough to pay bills, buy a nice gift for your partner, or just put away for a rainy day.
Options give you incredible flexibility and choice.
Simply place multiple trades if you want to ramp up your winnings.
The rapid fire gains can quickly make a real impact and potentially turn into a few thousand dollars every month.
There's only one thing standing in your way.
Unless you know how to filter out the junk, options will end up as dead weight in your portfolio.
That's because 95% of options expire worthless.
So how do you find a needle in a haystack?
You might think this sounds like "mission impossible".
And that would be true if you don't have the right strategy.
Most people have no clue what to even look for.
But I do thanks to the "Options Mastery Method."
I believe options are the fastest way to make some extra cash no matter your income level or trading experience.
Don't know where to begin?
No problem.
Because in just a few minutes you'll know everything you need to start trading options with…
The Extra Cash Masterclass for Options
This in-depth video is your step-by-step guide to trading options the correct way.
It works both for beginners and more experienced traders alike.
Here's a sneak peek of what you'll discover inside…
✔️ Where to find discounted options mistakenly caused by "clerical errors" which no-one else even knows exist… Using this little-known formula to buy "mispriced" stocks is like going on a Black Friday shopping spree before the doors are open to the public…
✔️ Unsure about the difference between a "put" and a "call"? You'll be placing your first trade like a pro before your morning coffee is even finished…
✔️ Want to know in advance if an option could make you money or not before investing? My "crystal ball indicator" gives you a glimpse into the future so you'll never be in the dark again…
✔️ Revealed: The #1 options trade for protecting your portfolio regardless of what happens to the market… and what you must do to make out like a bandit today…
✔️ Watch over my shoulder as I make a LIVE trade on Apple right before your eyes… Simply copy what I do without needing to analyze a single report…
"Jay, just wanted to thank you… Learned so much from your trades, the perfect explanations, and examples. I have executed some of your trades and also developed the tools and skills to make my own… Your educational system for learning about options is excellent."
– Rick
Usually this video costs $199 on its own, but today I want to show you how to get it for FREE.
But what good is knowing how to trade options profitably if you don't have any money to get started?
Don't worry because I've got you covered with one of my most popular reports ever…
26 Places to Locate "Extra Cash" in the Next 30 Days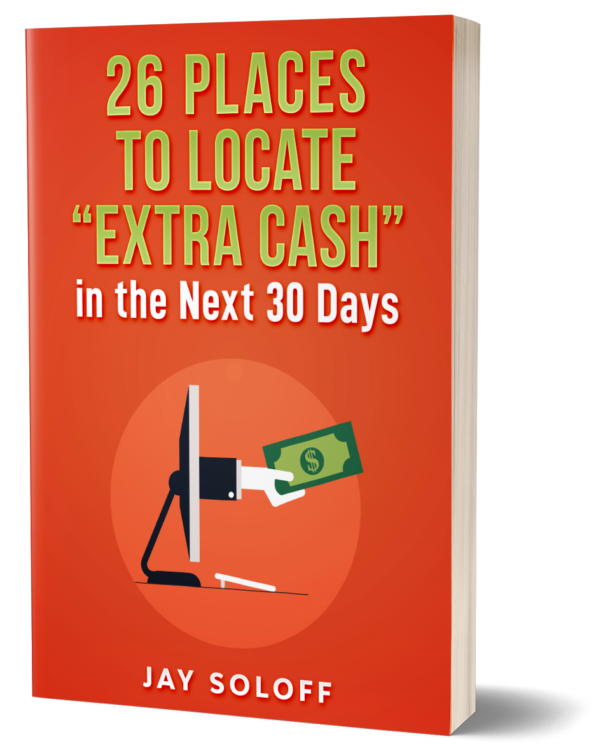 Inside are tricks of the trade I've uncovered over the last 21 years to make cash practically appear out of thin air.
You won't believe how quickly it works either…
The most overlooked place to find "hidden gold" in your own neighborhood.

(Every town in America is sleeping on this virtual goldmine.)

How to turn trash into treasure without ever leaving your couch

and

get paid for the full amount in advance…

Line your pockets while you're out and about by taking advantage of this simple thing you're already doing anyway…

The "chatterbox" technique for getting back money you spent

yesterday

with just one quick phone call

today

…

The "tip jar method" for stockpiling a war chest without making any budget calculations or looking at a single spreadsheet…

Plus 22 other methods that are even

easier

to do…
I'd be surprised if you don't find any extra cash today after reading this guide.
Even picking up a hundred bucks or so could help you start racking up gains to pay for your bills and let you enjoy more of the good life.
This report is $49 to buy as a stand alone purchase.
That's less than the cost of a dinner date for two.
But instead of splurging once and never seeing your money again…
Imagine finding extra cash lying around the house in under 24 hours…
And seeing it potentially multiply with my "Options Mastery Method" within the next few weeks.
Would you say that's a good investment for only $49?
But I've decided to do one better.
Today you can get immediate access to…
The Extra Cash Masterclass for Options video guide (valued at $199)…
And the special report 26 Places to Locate "Extra Cash" in the Next 30 Days (valued at $49)…
For free when you try out Options Floor Trader PRO.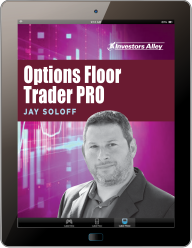 This is my members-only newsletter where I share the latest developments in select options as soon as they occur.
Your subscription gives you unlimited access to Options Floor Trader PRO for the next 12 months including…
Bi-weekly newsletters

delivering the hottest buy and sell recommendations to you based on my extensive market research (valued at $499)

Around the clock updates on positions

so you instantly know exactly how much you're making at a glance (valued at $349)…

Weekly Mailbag Videos

where I answer questions from members which gives you the chance to ask anything and get a personalized reply from me (valued at $299)…

Bonus #1:

Additional special reports including

Top Sectors to Trade This Year

,

7 Common Options Trading Mistakes Costing You Money

,

The 10-Step Options Trading Checklist Every Trader Needs,

and many more (valued at $249)…

Bonus #2:

Advanced training videos to give you a competitive advantage over other traders including

How to Trade Options Skew For an Edge

(valued at $199)…

And of course

The Extra Cash Masterclass for Options

(valued at $199) along with

26 Places to Locate "Extra Cash" in the Next 30 Days

(valued at $49)…
Plus, exclusive insights into my "Options Mastery Method" for a total value of $1,843.
Normally a full year subscription to Options Floor Trader PRO is $199.
But today it won't cost you that much.
Heck, it won't even cost you half.
I'll be completely honest.
My goal for this newsletter is simple:
To take you from beginner to Options PRO in the shortest time possible.
The only way I can do that is to provide an extraordinary service unmatched by anyone else.
I hold my own feet to the fire day in, day out.
And I'm proud to receive letters like this…
"I have used several options services, but I have found Jay's approach to be the best one I've discovered. He applies sound logic, explains why he recommends each trade and, better yet, he has compiled an excellent track record!" 
Hearing from happy readers makes everything I do worthwhile.
That's why I want to do something special today.
Instead of the retail subscription fee of $199…
I've decided to slash the price by 75%…
And offer a limited number of charter memberships in Options Floor Trader PRO for only $49.
Here's what readers are saying about the service…
"I have earned over $1,500 in trading profits on some of your option suggestions which have paid for the price of the subscription fees to your services. Thank you both for your picks and help." – Shellie
"I've won about 85% of the trades. So your service has been a great learning tool for me and my trading. I try to do about $1,400 – $1,500 each week in revenue."  – Scott
"I have made 11 positive trades and two negative trades. Positive, net returns are $2,880 after deducting commissions. Thank you for your advisory service." – Don
Trading options is a lot of fun.
It makes your heart race.
It makes time go by in a flash.
It makes you feel young again.
It's even better when someone else does all the work for you. 
Why waste even a minute staring mindlessly at a computer monitor?
Spend your time doing what you love instead.
Enjoy long walks on the beach.
Make beautiful memories with your family.
Catch up with old friends.
Live life the way you want without worrying if the market is going up, down, or sideways.
Because I'll be standing guard and watching out for the both of us…
Ready to send out an alert to you the moment an important update happens…
So you never miss a beat.
Join Options Floor Trader PRO today and…
 You're Completely Covered by My
"Double" Money Back Guarantee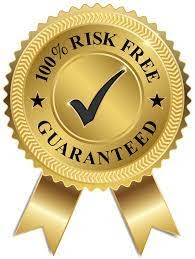 Test drive the newsletter for a full 12 months.
Try out the trades.
Go through all the bonus reports, training videos, and even ask me questions directly.
If you aren't completely satisfied for any reason at all, simply contact my US-based customer service team within the next 365 days and you'll immediately receive a full refund.
No questions asked.
You can even keep all the bonuses.
There's zero risk for you.
But I want to take it even one step further.
I'm also guaranteeing you'll 5X your investment.
Nobody else has the guts to give you a performance guarantee like this.
I put my money where my mouth is because I have a 21-year track record to prove it.
I'm 100% confident this will work for you.
If you don't get the opportunity to make back 5 times your membership fee within the next 12 months, I'll credit you with a second year of Options Floor Trader PRO for FREE as my way of saying sorry.
So to sum up my "Double" Money Back Guarantee: 
And…
No matter what happens it's a win for you.
Sound fair?
JOIN OPTIONS FLOOR TRADER PRO BELOW
Become a Charter Member for Only $199 $49
(75% Off) Today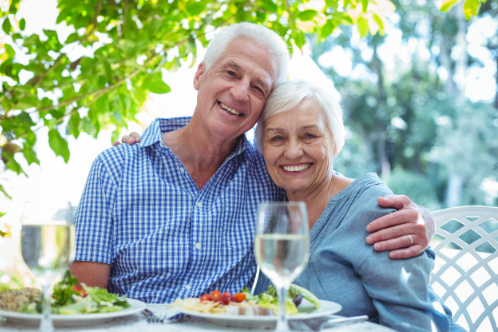 "You are the real deal. I love you, Jay!"
I'm committed to providing unparalleled customer service to my members.
Whether you want to ask questions, get clarification about a trade, or just want to chat to a real human being instead of an answering machine, I'm available for you.
But once all the charter memberships have been filled then I'll be permanently closing enrolments at the special price of $49.
The offer you're seeing right now is the lowest price I'll ever promote the newsletter. 
This isn't a "hard sell."
I hate those kinds of sleazy tactics and I'm sure you do too.
Even after today, my newsletter will always be available at the regular price of $199.
And frankly that's still a steal considering you get $1,843 of value included in your membership.
12 months of access to

Options Floor Trader PRO

Bi-weekly newsletters with the latest buy and sell recommendations

Constant updates on your positions at all times

Personalized Q+A with the

Weekly Mailbag Videos

Special reports and bonus videos including

The Extra Cash Masterclass for Options

and

26 Places to Locate "Extra Cash" in the Next 30 Days

And my 100% Satisfaction "Double" Money Back Guarantee
But there's no reason to pay full price.
You can immediately become a charter member for only $199 $49 (75% off) by signing up now.
(That's just 13 cents a day.)
I've gone through quite a bit today.
You've seen how options can be fun, fast, and potentially pay out amazing returns in just a matter of weeks.
You've seen how options are cheaper than shares and can have significantly less risk compared to gambling on the stock market.
And you've seen my track record of wins for 229%, 367%, and even 1,421% returns.
Now you have two choices.
Option #1 is to do nothing.
If you're happy with these returns like…
Cash savings accounts with 0.5% interest rate…
Fixed Term CDs netting <1%…
And government bond yields of 2%…
I completely understand and thank you for taking the time to read this far.
Option #2 is to give yourself the opportunity to earn an extra bit of spending money…
So you can take care of your bills and treat yourself every now and again…
Without constantly worrying about every last penny.
If you're still on the fence, here's one last reader story.
"I've made a LOT of money with Jay. He gives you simple, easy, no-brainer trades and I recommend anyone to follow him." 
– Paul
Don't forget you don't need to commit to anything today but giving yourself a chance.
Think of it like taking my service for a trial run.
All the pressure is on me to perform.
There's no risk at all because you're fully covered by my "Double" Money Back Guarantee for 365 days.
Sound fair?
Click the button below and you'll be taken to a secure checkout page to finalize your order.
But you must hurry as there are only a limited number of charter memberships available at the discounted price of $199 $49 (75% off).
Welcome to the Options Floor Trader PRO family.
I'll see you inside the members area soon.