Dear Reader,
Imagine if you had an ever-flowing well of money you can dip into at a moment's notice.
Think of it like you have this giant well of cash…every 11 days,  you throw down your bucket and you draw out $1000's again and again…for the rest of your life.
Count the days on the calendar, if you want. 
'11 days…time to collect more, honey. Be back in ten minutes.' 
It's fast cash you have at your fingertips whenever you need it. 
It's not a loan. 
You don't have to pay it back. 
You don't have to tell anyone where you got it.
This is cash that's yours to spend on anything.
Money that doesn't have to be just for bills or emergencies:
Well, you're about to see how there's a way to get your first fast cash payment in the next 11 days. 
Others already have:



These guys are doing exactly what I'm doing.
Open up your brokerage account on your computer… a few taps on your keyboard later…you're all set to earn potentially thousands of dollars by next week.
You don't have to change anything to earn this fast cash today.
Do the same thing like you would to buy or sell stocks…but instead of shelling out thousands to sit on stocks and pray they go up…
You'll start collecting your money on average every 11 days.
How much you take home is up to you. 
I'm already doing it with my own money.
And I learned how the hard way. You'll hear a story today about how I lost $300,000 in just one year trading. That's with my experience trading at Bloomberg, managing millions for a family office, plus multiple years high up JP Morgan as an investment banker. 
It took me years to master this strategy…many ups and downs…but now I've dialed it in for you.
For me today, the gains come fast and furious:
Made 10% in 4 days on Netflix

Another 10.5% in 5 days on Netflix

9% winner on TLT in 7 days

13% profit on Microsoft in 7 days

15% on IWM in 9 days

12% on UNH in 5 days

20% on the SPY in 10 days

12.5% in 5 days on BA, even

10.8% on FIVE in just 2 days
I took just a few minutes per week…followed the strategy…and pulled this money out of the market. 
It was there waiting for me. I didn't even need to call my broker.
I call this fast cash…11-day payouts. 
Because that's how long on average it can take for you to secure potentially thousands…if not tens of thousands of dollars…right from your computer. 
It's easy. Simple to do. And you're about to see how for free. 
And if those gains you just saw sound puny…
Let me blow this up for you…
10% in 4 days === 912% annualized gain

10.5% in 5 days === 766% annualized gain

10.8% in 2 days === a whooping 1,971% annualized gain
That's up to 60X MORE profit than the stock market returned in 2019…and that was an amazing year for stocks returning 26%. 
You aren't making any crazy bets with my 11-day trades. 
You're not buying any stocks and waiting months, even years to get paid.
11-day payouts win up to 82% of the time. That was my track record in 2019.

That's $7,260 in profits…a 100% win rate…and David did that likely starting with a small account.
It's a very exciting time to be able to trade.
Don't worry if this sounds confusing or outlandish…because I'm going to show you exactly what to do today. 
All for free but only if you keep reading.
I've been trading for over 22 years, and this is my absolute favorite strategy. 
It really feels like it's money that's lying around waiting for you to pick it up.
That's right…I compared it to a well you pull money out of…
But it's even easier than that. 
It's like you spotted a $100 bill on the sidewalk…
Except there's a whole sea of $100s…all waiting for you to scoop them up and take them home to your family. 
It's fast cash available to you.
Would you say no to that?
No other strategy in the stock market works this reliably and this quickly. 
Call me greedy…
But waiting years to post profits takes too long.
I crave something faster.
I'm talking as fast 11-days…if not sooner.
It's like creating money out of nothing. 
I can't legally say that, but you'll feel that way at least.
You'll see what I mean because, by tomorrow, you'll make your first 11-day payout trade and see exactly what I'm talking about.
Just a few clicks on your computer and you could be extracting money from the markets every 11 days.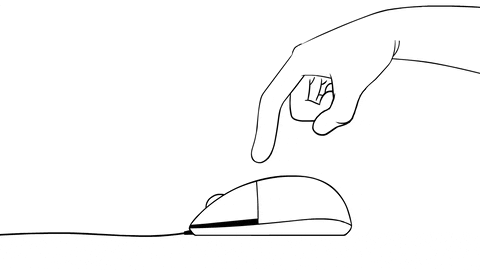 Look again at a few of my recent 11-day payout trades. 
13% profit on Microsoft in 7 days

15% on IWM in 9 days

12% on UNH in 5 days

20% on the SPY in 10 days
Notice anything interesting?
These were all less than 11 days in duration.
Meaning, you're collecting your 11-day payouts in as little as 5 days. 
Call it a 5-day payout…whatever. I like to be conservative and say '11 days' as that is likely the average for you.  
Say you start with $10,000…
…you generate 13% in 7 days…that's $1,300 in profits…you roll that into the next play…
…you generate 15% in 9 days…that's $1,695 in profits….roll it again…
…you generate 12% in 5 days…that's $1,559 in profits…keep on rollin'…
…you generate 20% in 10 days…that's $2,911 in profits…add it up. 
If all these trades came back-to-back, in just 31 days…your $10k would be up to $17,695. 
Doesn't matter if the stock market was up 10% or down 10%…you would be up over 76% on your money if you rolled the gains.
That's incredible.
Some traders are making more, like myself.
Check out the potential massive 11-day payout cash you could've enjoyed:


Think about that kind of cash hitting your account like clockwork. 
Rather than holding and praying your stocks go up 30% in 3-5 years…(and that money is trapped in the shares until you sell)…
Why not take down 8%, 10%, 12% gains in 11 days instead without buying stocks…and spend that money now? 
I mean, you could hit 30% gains in three weeks at the pace I'll show you.
…$4,560 would pay for international flights and hotels === Done in 5 days
…$3,120 would cover a ticket to the Super Bowl === Done in 5 days
…$2,400 would be a nice 5-day stay at the beach for you and your family === Done in 7 days
…$3,420 would easily pick up the tab a dozen times over at your favorite steakhouse === Done in 11 days
The wealthiest 0.1% in America have plenty of cash. 11-Day Payouts give you yours.
But, if you want to be like everyone else…
To get a quick few thousand bucks fast…maybe you:
…Dig into savings…
…Sell some stock…
…Unload your furniture to some stranger on Craigslist…
…Get a part-time job or shuttle for Uber…
It's okay to need money quickly…it's a part of life. I've been there.
Your insurance "shockingly" didn't cover your whole medical procedure…

Your mortgage company hits you with an escrow shortage…again…and your mortgage is going up every month.
Well, what if you could rest easy (like the wealthy) because you know exactly where to get money when you need it. 
All without dumping your stocks or selling your sofa out from under you.
Instead, you're about to see how you could put thousands…even tens of thousands of dollars into your bank account every 11 days. 
…
I'm being completely serious. And, yes, it's 100% legal.
How to get your first 11-Day Payout.
#1. We'll be trading a very conservative options strategy that is the backbone of the 11-day payout strategy
#2. We'll be taking advantage of what I'm calling the 'FutureX Momentum' indicator. 
Let me show you an example. 
I recommended this trade on Micron that would've handed you a 20% winner in 5 days. 
Take a look.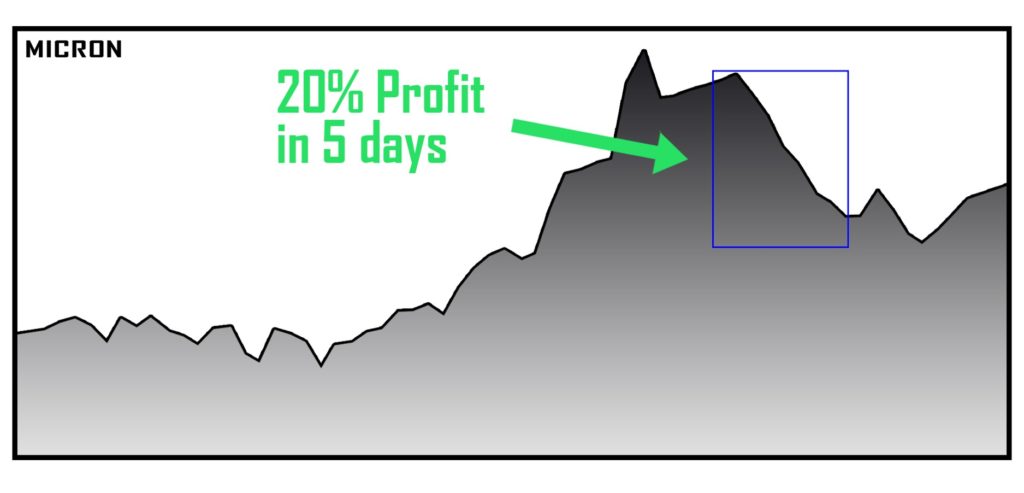 With the 11-day payout options strategy, we execute a trade where my arrow is. 
You're taking advantage as the stock changes direction — using my FutureX Momentum indicator. 
In this case, you're making 20% on your money as the stock craters.
In just 5 days…your $5,000 account is throwing off $1,000. 
And this pattern happens time and again with thousands of stocks. When it happens you make money. 
Here's another. 
15% winner on UPS in 10 days.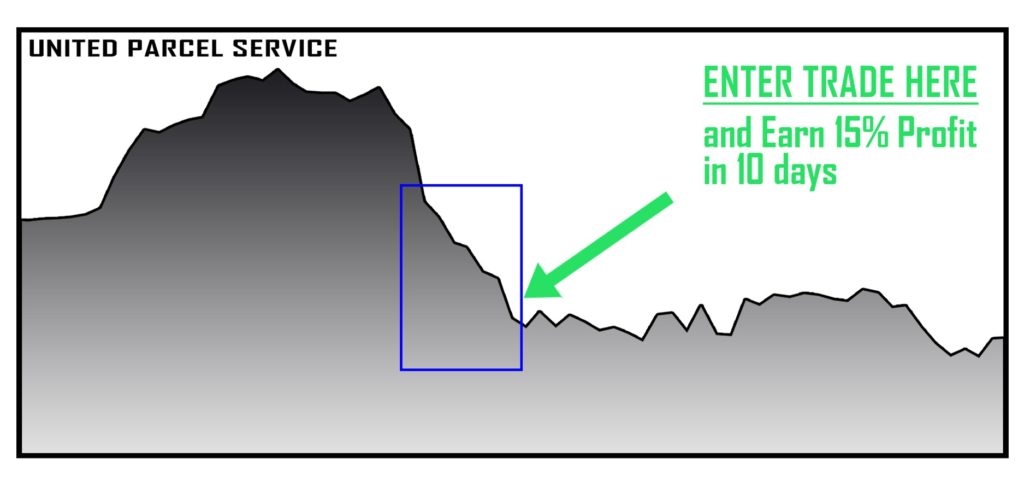 We take advantage as the stock took a deep dive and sticks a landing. 
We're making money as the stock goes sideways. You do the same exact thing as the Micron trade above. Same steps. Same everything.
Check out this trade on Tesla's stock.
14% in 4 days. That's $1,400 on a $10k trade in under a week. 
Here the stock is rebounding and we're profiting on the stock going up.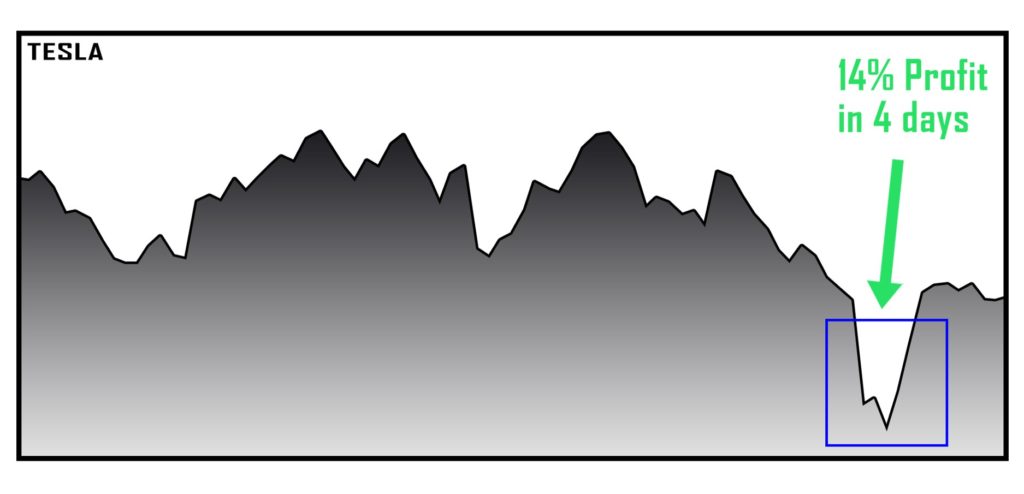 All because: 
#1. 11-Day Payouts profit whether the stock goes up, down or sideways. 
#2. My proprietary 'FutureX Momentum' indicator makes sure we're always on the right side of the trade. I'll explain more later. Following this indicator gets you into positions right when a stock starts turning a different direction. 
The potential…as I've shown you….is tens of thousands of dollars at stake. 
In these three examples, that money is out there waiting for you to pick up. If you do nothing, that money will still be there for someone else. 
All I'm showing you is how to capture that cash for yourself. 
You either want the cash or you don't, it's up to you. 
Look, let me step back a minute.
You've no doubt heard wild claims like this before from options gurus around the internet. 
They promise huge gains, a private jet, a mansion fit for a playboy.
I'm not here to make unheard-of claims or waste your time. I'm telling you, you'll make more money over the long haul with 11-day payouts than any of the crazy stuff they want you to trade. 
I truly believe that or I wouldn't have sat down to tell you all this.
If that sounds boring…if you'd rather shoot for the stars and hope you get lucky… don't waste any more of your time here.
Because I certainly can't waste any of my time. 
I'm too busy, honestly.
I live and breathe trading options. It's how I fund my entire life.
And I've been doing it for a long, long time.
My name is Serge Berger. Come discover how to start earning your own 11-Day payouts.
I've been actively trading the market every week for over 22 years. 
That includes time trading at Bloomberg and pulling trade ideas from their $24,000/year terminal…
Also time as a former investment banker for JP Morgan & Chase. With them, I'd travel the world doing 7-8 figure dollar deals in the equity market.
One time, I was offered $1,000,000 to close one trade…that's the high stakes I'd play at. 
Today, I'm a portfolio manager for a family office where I actively manage millions of dollars of other people's money. 
I'm also a trader making my living in the finance space…meaning, I'm practicing what you'll see today. None of it is theory. 
On top of all that, I've been sharing my options trading secrets for the past decade. So I'm pretty busy, which is why I don't want to waste your time as I said.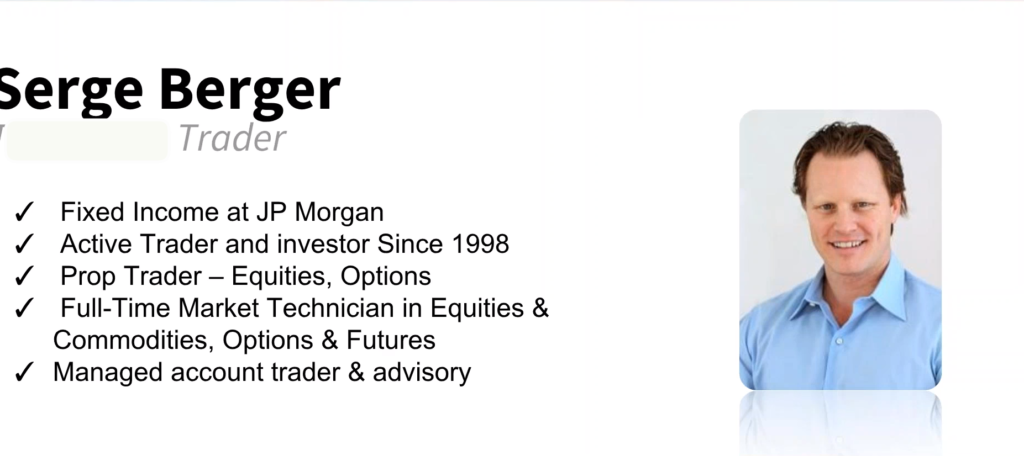 I've compiled all my strategies for collecting 11-day payouts into a free masterclass you can gain access to in a minute. 
Normally, this information goes for upwards of $2,000…but I'm going to make a deal with you. 
If you stick with me to the end and make a commitment to begin using this strategy, I'll give it to you absolutely free. 
I don't want tire-kickers who just want to read about this stuff. 
I'm looking for doers.
If you're a doer, you're invited into the free masterclass.
You'll discover a bullet-proof way to enjoy cash payouts every 11 days again and again… for the rest of your life. 
Our goal is to hit 8-10% returns in 11 days. Hence, 11-day payouts. 
Returns like: 
8.7% on TLT in 7 days in December 2019

8.25% returns on McDonald's in 2 days in November 2019

8.9% on Workday in 5 days in November 2019

8.25% on GLD in 4 days in November 2019
In just 18 days, a mere $10,000 would've returned up to $3,877 in profit if you rolled your gains. 
That's a 38.8% return in under three weeks. 
That's 46% more than what the S&P 500 returned in 365 days in 2019. 
You'll discover exactly how to do this today. 

And I'm spilling the beans for you today…because that's how I learned. 
When I was 16 years old, I'd act as caddie for a bunch of rich financial managers at the local golf club. 
Over the next two years, they planted the seeds about the power of trading the markets. They revealed tips and tricks they learned from someone before them on how to make a fortune from the markets. Now, I'm passing my knowledge to you.
After trading throughout college and at Bloomberg, I landed at a desk at JP Morgan as an investment banker. 
At one point, I had residencies in New York, London, and Zurich. I'd fly back and forth among them living the high life. 
My success there led me to publish a daily journal on the market happenings before the opening bell. It was read by over 90% of the big fund managers at JP Morgan.
That started me in the world of sharing my trading secrets as I do today. 
But I haven't completely abandoned Wall Street. 
Today, I manage millions…and I've worked hard to perfect the 11-day payout strategy.
Honestly, it's taken me years to get to this point where I'm as confident as ever that 11-day payouts can generate the cash you need in a flash. 
I won 82% of the trades I recommended in 2019…
Most traders can barely break above 50%.
I know because I used to be one of those traders. 
Let me tell you a quick story about one of the hardest years of my life. 
It is from this tragedy that I was able to come out ahead and make and trade millions for myself and my clients.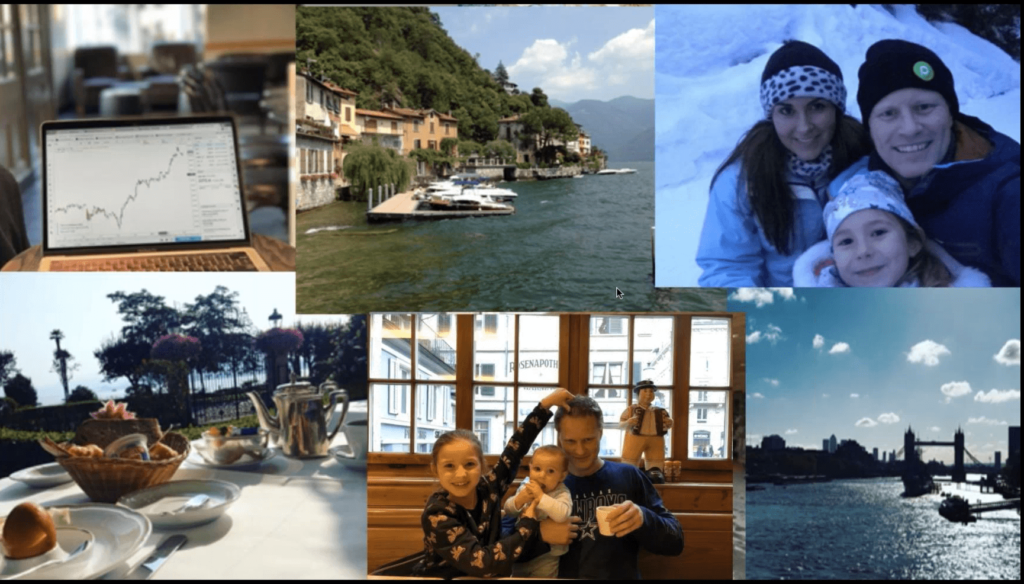 Today, I live in sunny Florida with my wife and kids. Many of my days are spent snowboarding and jet setting to our second home in Switzerland when I want. 
But it wasn't always like this. 
Let me tell you what happened…
As you can imagine, during the Great Recession between 2007-2008, being in investment banking at the largest bank in America was a precarious position to be in.
I noticed JP Morgan was dumping a lot of their risky assets and saw a big problem coming down the pipeline. 
So I jumped ship in 2008…(most of my colleagues were fired by 2009-2010). 
Well, being a part of a huge bank, making tons of money, flying internationally…you start to think you got something others don't if you know what I mean. 
I figured…heck, I made JP Morgan a ton of money investing…I could easily do this myself. 
Hindsight is 20/20 of course…
What I realize now is a bank has many safety nets so us proud bankers don't make too many wild bets with the house money. 
You may see where I'm going with this…
Once I took the leap out on my own, those fail-safe buttons no longer existed. Quickly, my trading transformed from 'follow the bank's procedure' trading into sporadic and emotionally-charged trading. 
When the dust had settled…
I lost $300,000.
It was devastating…and that's an understatement. 
My relationships suffered…my confidence was long shot at that point…I questioned every decision I ever made about trading…
Days of flying first-class international were traded in for clipping coupons and sleepless nights.
To pile on to it all, my wife and I had just gotten married and we were blessed with our baby daughter that same year. 
Many tough conversations were had during that time…I don't know how I made it through.
The only minor…minor…relief was hearing many of my colleagues went through the same implosion I had. We all came crashing down to earth realizing maybe we weren't as great of traders as we thought. 
"Have I been a fraud this whole time?" I thought.
Imagine you gave everything for over a decade on something you love…and you failed miserably…and lost a fortune to boot.
Luckily, I found the gumption to pull myself back up and start again.
I thought back to when I first learned about trading from those rich guys I caddied for. 
…and it all made sense…
There was a reason they were rich and stayed rich.
I needed to create trades that tipped the scales in my favor. 
That's when I became laser-focused on the strategy powering 11-day payouts. 
While licking my wounds, I joined a family office where, today, I manage their millions. And from there, I've perfected the 11-day payout strategy. 
A strategy you have an opportunity to get today…
A $2,000 value…free. 
Only a select few will claim it…and you could be one of them, but only if you're ready to use the strategy.
If more traders had a strategy like this 11-day payout strategy…we wouldn't have traders going bust in the markets like I did. 
Most people when they trade see their account go like this…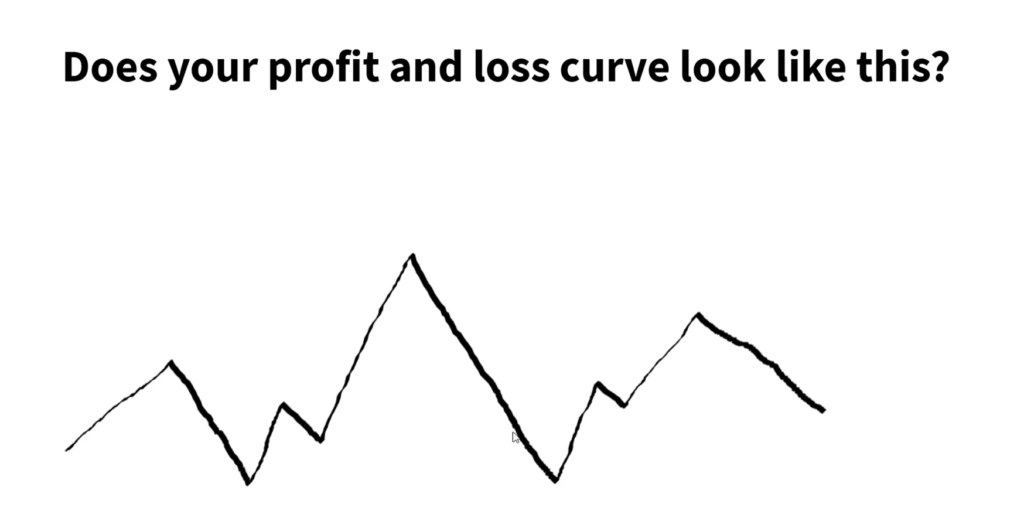 Maybe they hit a few big trades…they're on top of the world…everything is great…
…they take on more risk…
Then, BAM! 
Like a mack truck t-boning a smart car, one or two risky trades blows up their account. These aren't made up stories either. 
I lived it! My old JP Morgan buddies lived it! 
I mean, it's so easy to trade the wrong way. There are more wrong things you can do in the market than right. 
i.e… it's easier to lose your shirt trading than to make money. 

That's why maybe you've read this far because your trading in the past has resulted in your portfolio going sideways or down.
So:
…maybe you've given up trading for good
…maybe you feel you don't have time for trading
…maybe trading just doesn't make sense for you
Well, the 11-day payout strategy is easy, fast, and there's no guessing involved.
By being easy, fast, and efficient, there's more room to win. And potentially win big. 
Check out more of my winners: 
12.5% profit in 13 days on Apple

12.5% gain in 7 days on AMD

12% gain in

1 day

on Caterpillar

19% profit in 6 days on IWM

14% winner in 7 days on TIF
Imagine if you had $10,000…
That's $7,000 in pure profit in a combined 34 days with $10k in each . 
Just over a month, you'd return 70% on your money. 
What would you do with that extra $7,000 in cash from your 11-day trades? 
AGAIN, most of these trades are under 11 days…sometimes way under. Like my 12% winner in 1 day on Caterpillar. 
Most traders can't even come close to these results. I can. But, trust me, I didn't get here by luck…I've worked non-stop for the past 10 years to get to today.
But most traders never reach this point of consistent profits because their strategies aren't easy, fast, and efficient.
That's why I built this strategy that flips all these mistakes on their head. My 11-day payout strategy forces you not to guess and waste time on bad trades. 
We just find another one.
And that's what makes it so powerful to add to your monthly routine. 
The 11-day payout strategy: 
Doesn't guess at where the market is going…we use a proprietary method to determine the probabilities of its direction and play those

Wins whether stocks go up, down, or sideways

It only takes you an hour per week to execute…
Plus, once you get the hang of it, you'll be making these trades in your sleep. 
You'll have a shot at collecting: 
$3,240 on the SPY in just 5 days

$2,460 on Clorox in 3 days

Even, $3,600 on Facebook in 12 days
Thousands and thousands of dollars rolling into your account again and again. Like clockwork. 
Never be at the mercy of the markets ever again.
When you buy and hold a stock, or make a trade that lasts a couple months…
You put yourself at the mercy of the markets. 
Like when we saw an absolute bloodbath take place in February.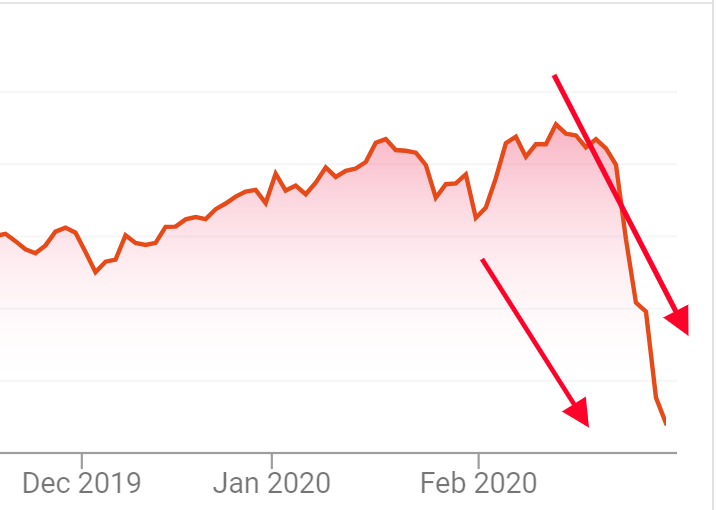 The worst week since the Great Recession. And no one saw it coming. 
Maybe you lost over 10% in your 401(k) within a week if it was tied to the broad market. You weren't alone.
With 11-day payouts, we aren't putting our hard-earned money at the feet of a fickle market. 
To prove it…while everyone was losing their minds…I was closing a trade for 121% on IWM. 
I had spotted a drop coming in the market and made a move.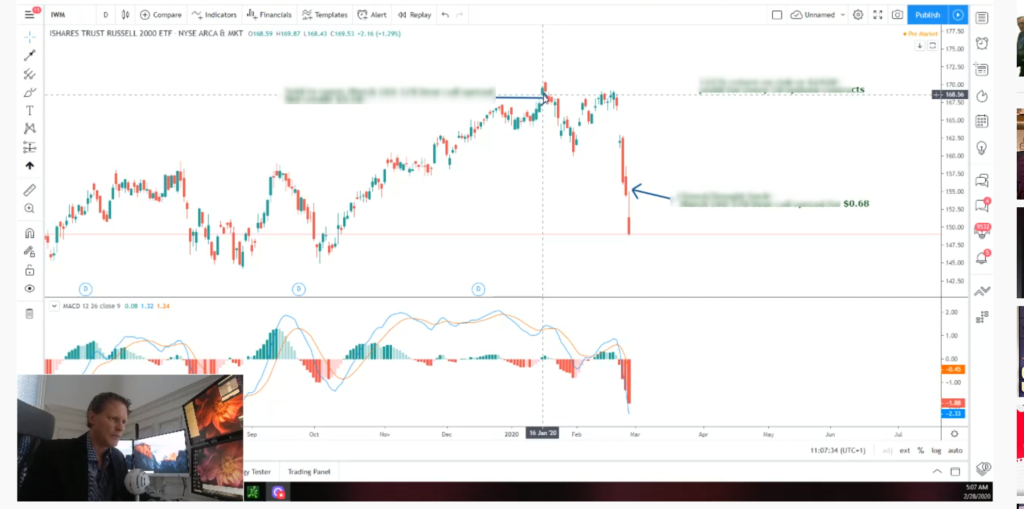 These sudden drops in the market cause traders to lose their heads. Not to mention, a trade can be going in your favor…then suddenly, February 2020 hits…the market turns on a dime and the trade goes from a 10% winner to a 30% loser in a snap. 
You're at the mercy of 'lady market' to keep your trade in the positive.
Those days are over. 
While others are making 5% one month, losing 10% the next…
With 11-day payouts…you could pull off up to 3 or more trades in that timeframe. Collecting cash no matter which way the market moves. 
The ability to turn thousands into tens of thousands…you do that when you stockpile 11-day payouts together like I have: 
You can only do this in 11 days with options. 
And there's no better way to get off of the investing rollercoaster than with the 11-Day Payout strategy. 
11-Day Payouts allow your net worth to steadily climb higher and higher. Consistency and preservation wins.
11-Day Payouts are the BEST way to receive lightning-fast CASH returns.
Waiting around five years for a blue-chip stock to go up 30% isn't in my DNA…
I only get out of bed for 30% if it is hitting my account in a few months. 
The key is to stack your gains one on top of another. 
In fact, I'll show you how you can start with a small account and turn it into a large one very fast with sharpshooter accuracy. 
That's in a moment.
First, you may have stumbled onto this page already trading options yourself. 
Maybe you're a part of our beginner options newsletter here at Investors Alley called Options Floor Trader PRO. 
The goal with my colleague, Jay Soloff's, newsletter is two-fold: 
To get your feet wet with options…so you learn more about them and start trading

Turn a small amount of extra cash around your house into thousands of dollars
That service has thrown off multiple triple-digit winners that could've taken a few hundred bucks and turned them into thousands. 
That strategy works for a small amount of capital because there's much more risk on the table. 
I'll be honest about that, and Jay will too. 
That's why PRO is awesome to bank that first couple thousand bucks. 
Then, I recommend transferring to a more conservative options strategy like 11-day payouts to turn those thousand dollars into tens of thousands of dollars. 
…meaning….
If you already have thousands at the ready…jumping into my 11-day payout strategy makes the most sense if you want to grow your cash with confidence. 
Yes, you should still use PRO to hit some home runs…
The 11-day payout strategy shows you how to turn those big winners into consistent streams of fast cash over the long haul.
You can follow this strategy with confidence for the rest of your life because the win rate is so high.
Follow my 'FutureX Momentum' indicator for consistent 11-Day Payouts.
The indicator works like this…
Think of it like Isaac Newton's Theory of Motion. 
"Every object in a state of motion will remain in the state of motion unless an external force acts upon it." 
What does that mean? 
When you drop a cup on the floor, gravity pulls the cup to the floor. And that will continue forever until another force gets in the way…in this case, the floor. 
Let's relate this to stocks. 
Stocks never go straight up. 
Here's a chart of Facebook stock.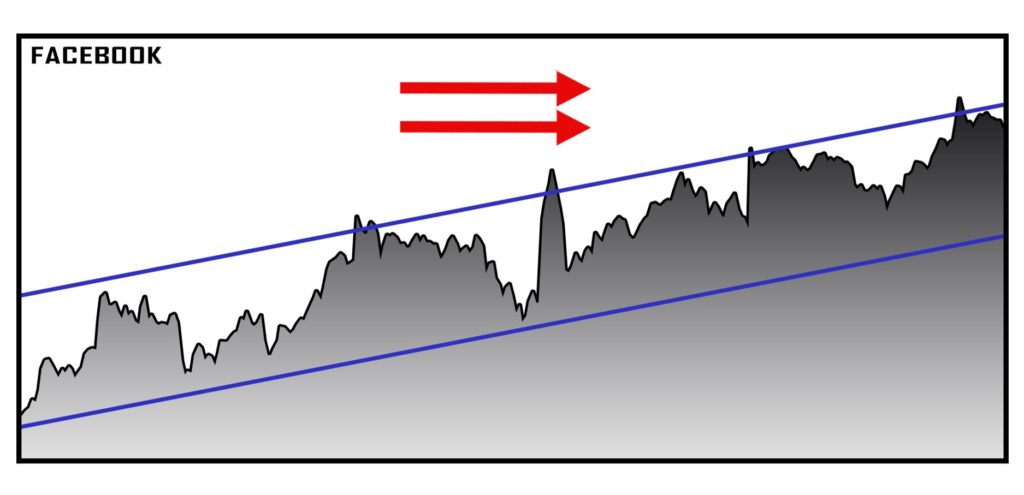 The stock's going up and down like the Rocky Mountains. 
What makes a stock go up or down? Buyers and sellers. 
When more buyers place orders, stocks go up. When more sellers run for the exit, stocks go down. 
If you're able to spot when the momentum of a stock…i.e. the buyers or sellers…is starting to shift in the other direction, you can make a lot of money.
Let's take a look at our trades from before. 
Here's Micron again with a 20% profit in 5 days.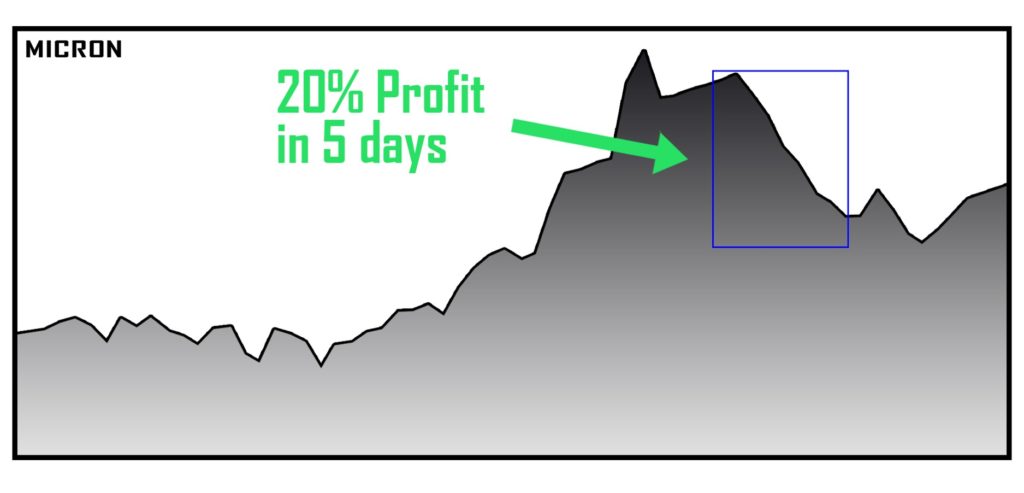 Micron spikes in a short period of time. Newton's law of motion will tell you it will go to infinity. 
Of course, it's not going to. An equal (and stronger) force will halt the stock in its tracks and push it downwards. 
In this case, the buyers have run out of steam and the sellers overrun the number of buyers. 
Here's where you make money. 
A large group of investors and traders…(millions, in fact)…will hope the stock continues its meteoric rise. 
But…you can see the stock slowing down at the top which alerts us the stock is likely taking a breather and will drop. 
We collect 11-day payouts when we bet stocks won't shoot up (or down) much higher.
If it moves a little up, we're making fast money.
If it goes sideways…we're making fast money. 
If it drops…we're making fast money. 
Micron drops and we cash out for 20%. If the stock stayed sideways, we probably would've made 6-10% instead. 
Either way, we're making money. 
Now, watch our UPS trade again. It nets 15% in a mere 10 days.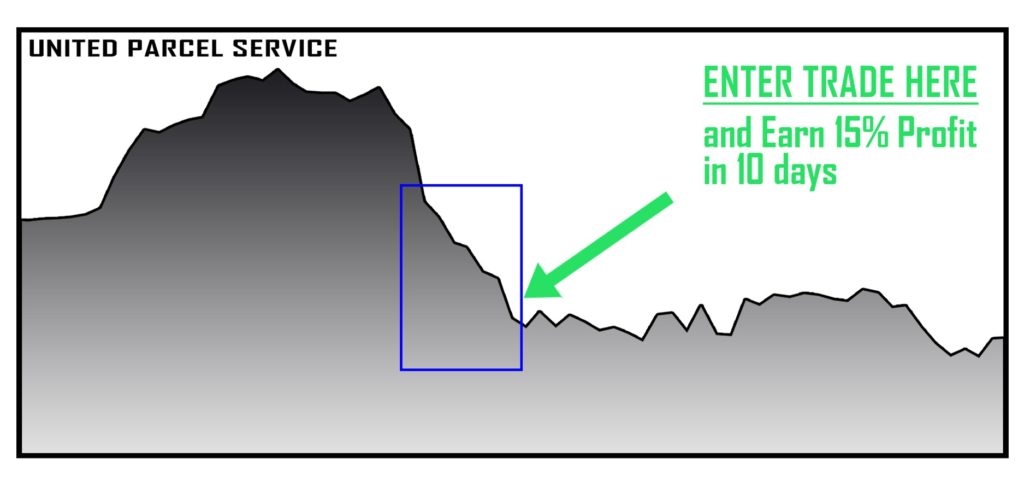 The stock is cratering fast. 
But look again…
Will the stock go to $0? Unlikely. At some point buyers step in and halt the dropping prices. 
We see it happening, we place a trade and we're all set. In this case, the 11-day payout becomes a 10-day payout. Even better. 
Again, many traders and investors will think the stock will continue dropping. There are literally millions upon millions dumped into the market betting on the stock continuing to drop. 
That's why I say it's like picking up $100 dollar bills from the sidewalk. 
Our FutureX Momentum indicator reveals the stock will likely slow down and trade sideways or rally upwards. 
Spotting the momentum being slowed allows you to profit fast. 
Take a look again at my recommendation based on Tesla's stock.
14% in 4 days.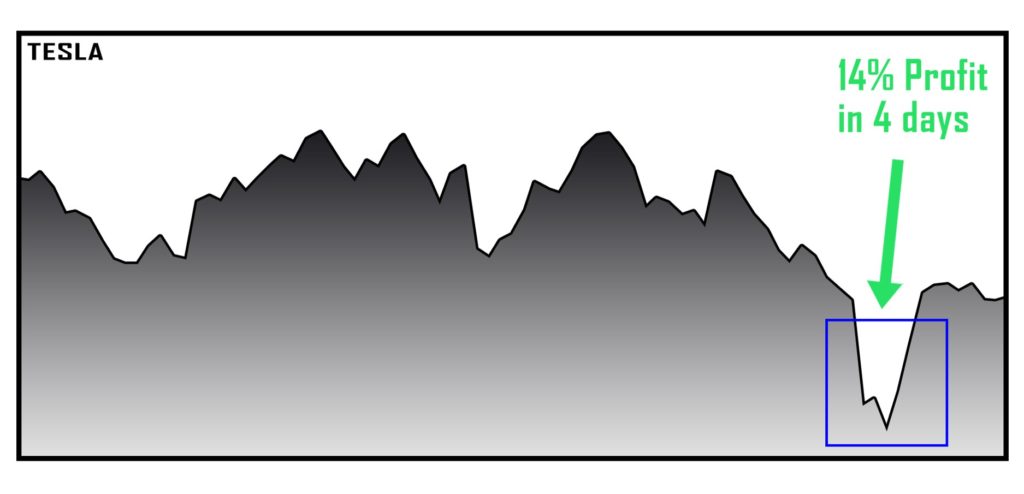 All because I knew Tesla wasn't going to drop much farther. The short sellers hoped and prayed for another downward drop. 
Even if it did drop some more…the 11-day payout strategy would have us covered.
No matter what, if you know how to spot shifting momentum…i.e. FutureX Momentum swings…in 10 minutes, you can place an 11-day payout option trade and generate $1,400 in 4 days. 
Spotting those momentum swings is the core of our 11-day payout strategy.
Now, I've only given you a glimpse at what's possible with this strategy. 
There's much, much more to understand about it all…and if you're interested in generating this kind of fast cash, you'll need to know more. 
What contracts to buy and sell…
How volatility plays into this strategy…
When to close the trade…
And much more. 
It's simply too much to put on this one page. 
That's why I want to show you everything LIVE, on-camera.
Get the entire strategy during my LIVE online event, 11-Day Payout Masterclass On March 11th @ 7:00pm eastern
This is the #1 event to attend if you're interested in bagging quick 8-10% gains in around 11 days. Meaning, by this time next week…after you implement what I show you…you could be sitting on thousands of dollars as you close out your trade. 
Inside this live masterclass, you'll discover how to execute these 11-day payout trades without buying stocks.
You'll also receive the detailed step-by-step instructions on how to set up your brokerage account to start making 11-day payout trades. 
It's really simple. Takes three minutes to do. But it's important. 
That's not all you'll learn in the masterclass.
Most important of all…you'll receive three golden rules for executing my 11-day payout strategy. 
#1. You'll discover which trades are the 'cream of the crop' to generate the highest cash payouts. I've uncovered an area of the markets that are the most abundant to make you fast cash. 
#2. You'll discover my powerful momentum indicator that almost automatically allows you to collect 2-3x more cash without any extra work. So many traders ignore this indicator when it's a money-making machine for you. 
#3. You'll discover the precise one-step process to almost guarantee you'll profit from slowing momentum. Remember, we only want to collect payouts from my 'FutureX Momentum' indicator. This process is the key to getting the cash. 
This 11-Day Payout Masterclass would cost $2,000 if I taught it to a group of people live. 
But you won't be paying anything close to $2,000 for access. 
This is my #1 strategy after 22 years of trading the markets. 
If you are ready to start trading this strategy…claim a spot in the masterclass. 
I only want people who will learn the strategy…then trade the strategy. 
This is too valuable information to waste on passive investors. 
All my work as a powerful investment banker at JP Morgan, to managing millions as a portfolio manager, to teaching thousands the past decade has culminated to this point. 
I've honed my 11-day payout strategy for years…and now I feel it's the best it's ever been and ready for you. 
You've seen the winners…and how fast the cash can come from gains like: 
Making 10% in 4 days on Netflix

Another 10.5% in 5 days on Netflix

9% winner on TLT in 7 days

13% profit on Microsoft in 7 days

15% on IWM in 9 days

12% on UNH in 5 days

20% on the SPY in 10 days

12.5% in 5 days on BA, even

10.8% on FIVE in just 2 days
And those are just to name a few. 
Inside my LIVE Masterclass, you'll be given the keys to unlocking this rapid cash. 
By this time next week, you could be pocketing up to $4,650 as one of my trades did. 
What you don't see front and center in my Masterclass is the influence of the dozens of hedge fund managers and money managers around the globe I consult with. I've helped them and they've helped me. 
Why release all of this information? 
Because for over 22 years, I've watched traders come and go. What I've found is ultimately 90% of them fail because they trade bad strategies. 
But, worst, they can't analyze how the market is moving and how to react properly (and without emotional decisions). 
When you can understand how the market is moving, you're able to spot opportunities to trade. When you can do that…you're really untouchable as a trader. Your confidence grows…and so does your bank account. 
Of course, I get you may feel that can never be you. 
I felt that same way after losing $300,000 in one year trading. It felt hopeless I'll ever be successful trading again. 
When I discovered how to tip the scales in my favor, it changed everything about how I traded options.
Now, it's your turn.
Let me tell you something. 
Anyone…and I mean anyone…can execute my 11-day payout strategy and be successful. 
In fact, in 2019, I made it my mission to prove you could start with a tiny $5,400 account and double it in a year.
And, darn it, I was as close as you could get. 
Take a look…
I started with $5,400. Made my first trade in March of 2019.
And here's what happened.

So close! 
That includes all the winners and losers. As you can guess, there were far more winners than losers. 
Now, imagine your account soaring higher and higher from there. 
Like I said, my goal was to prove anyone can execute this strategy and make money. With my 11-Day Payout Masterclass, you'll receive all the tools to start doubling your account this year. 
Again, this live masterclass is a $2,000 value.
This LIVE Masterclass will be recorded so you can play it back again and again.
However, there's a reason I'm giving you access for free. The reason being I'm not satisfied with you simply learning the 'how-to' of it all.
There's a mighty good chance you watch my Masterclass and you still have questions on what to do. 
Rather than spending time trying to implement the strategy and finding the trade opportunities…
What if I gave you the trades, so you don't have to look for them…
The Masterclass gives you the step-by-step details to start trading TODAY…however, I can also show you WHAT tickers to trade.
Let me send you up to EIGHT 11-Day Payout trades a month.
See…I'm partnering with your publisher, Investors Alley, to launch a brand-new product. 
This product will focus only on 11-day payouts…
The goal? To generate 8-10% profits every 11 days like clockwork and hand you fast cash for years to come. 
Welcome to the very first launch of  11-Day Trader. 
11-Day Trader is your go-to resource to locate the very best 11-day payout opportunities in the options markets. 
Unlike other stock newsletters, 11-Day Trader has the goal of you receiving something from me multiple times per week. 
I'm talking about trade alerts sent to you each month. 
My goal is to send you 96 11-Day Payout trades a year.
Rather than you spending hours scavenging for your own plays, I'll dig them up for you. 
That way you can spend your time collecting payouts and enjoying your spoils rather than hunched over your computer. 
Let me do the heavy lifting. 
As a member of 11-Day Trader, expect 4-8 trades sent to you every month through email. The trades only take a few minutes to execute and you're on your way. 
With each trade you'll receive detailed analysis on why this is the trade opportunity for you to collect a massive payout and the exact steps to make the trade. 
Even if you've never traded options before, the steps are simple for you to follow. 
Your free LIVE Masterclass will show you the HOW…
11-Day Trader serves up the trades to make on a silver platter. 
It's everything you need to start cashing massive payouts from the options market. But I won't stop there. 
The 11-Day Payout Masterclass gives you the first opportunity to interact with me and answer your questions. 
But, I want to hear from you every month.
I want to hear about how large your payouts are…and how fast you're collecting them. 
That's why:
You can attend a live webinar every month all about earning more from your 11-Day Payouts.
Every month, I'll go live and share all the updates on the state of the market and our 11-Day Payout strategy.
You'll always be prepared to make more from 11-Day Payouts no matter if we're in a raging bull or bloody bear market.
I'll also answer your questions about the strategy and the trades. 
Plus, I'll fill you in on what I'm on to, and the activities that trading options has afforded me and my family. 
So if you're at all interested in collecting thousands, if not tens of thousands of dollars in as little as 11 days, this is the call to join. 
Because you'll be part of a special Charter group that I will give priority access to you first for all questions and support. 
Each month, I'll be tackling more advanced strategies for finding these opportunities including use of my proprietary indicators I developed in-house. You can only see those on the monthly calls as a Charter Member of 11-Day Trader. 
This service will be fast, fun and profitable (of course). 
It's okay if you jump right in and make the first trade. 
Or…if you watch and wait for a few trades. 
If you miss a trade alert, another one won't be far behind. Just grab the next one. 
Your first trade alert could hit your inbox in the next couple hours… but no later than a few days.
Even better, start with as little or as much money as you want. 
(On the next page, I recommend a specific portfolio to start with…)
Finally, with 11-Day Trader, we'll be shooting for high percentage wins. Up to 82% actually. 
Here's everything you get so far: 
11-Day Payout LIVE Masterclass:

I will guide you to how to set up your account, the step-by-step guide to making the options trades, and my 3-step secret to being successful with it all. ($2,000 value)
4-8 Trade Alerts: That's up to 96 11-Day Payout opportunities a year.

They're easy to execute and you're out in a flash with 8-10% gains (that's our goal). If you miss one, it's okay. Trade the next one. 

Monthly videos from me giving you even more of my strategies and tools:

See all the indicators I use, other option strategies I'm testing, answers to your burning questions of 'how' to be successful trading, stories from my past and present, and more. ($1,000 value)
When I sat down with the team at Investors Alley, we planned to launch 11-Day Trader at $3,000 per year.
However, for an easy monthly option felt best to let the first users receive the highest discount. 
Still, we want more people in 11-Day Trader as we kick-off…not just those who can shell out $3,000. 

I'm here to help you because I already make a good living as a portfolio manager and trading myself. Everything else is just gravy. I've been blessed and it's a joy to help others enjoy the same life I do. 
Snowboarding all the time…
Relaxing with a cigar with no financial stresses…
Letting my kids take part in any activities or travel they wish…
That's the lifestyle I want you to enjoy too, no matter your age. 
Basically, I'm asking for your first couple trading profits as your admission ticket…every profit after that is yours to keep. 
If you try and do this on your own…it's like learning how to drive. There's a learning curve, and you'll make mistakes even though you know the 'act' of driving perfectly. That learning curve can be expensive, frustrating, and a huge time waster. 
Instead, you'll have me steering the wheel for you as your editor in 11-Day Trader.
A trading service anywhere that can take you from thousands to tens of thousands is easily worth at least $2,000. 
This is the best deal we'll ever offer.
You deserve the best price of all. Agree?
That's why, on this page only, you can claim a membership for just $197 a month…a massive discount off what others will pay in the future. 

If you generate 10% in the next 11 days…on a $10,000 account…you'll have paid off your subscription. 
In 11 days!
You do that every 11 days and you'd be up to $33,000 per year. 
A normal financial advisor would take 20% of that…or $6,600…plus multiple hidden fees on top of that. 
Not me…just $197 a month.
You're getting the strategy…you're getting the trade alerts…the monthly videos…it's everything you need to be successful.
Even if you have just $1,000 in your brokerage… two 10% winners…you'd have paid off this subscription. 
And remember, you can get up to 96 alerts per year. 
This should be a complete no-brainer for you to join. 
But…
Before you click the button at the bottom of the page to join…
I have one more thing for you. 
It's a surprise — fun — little bonus I've rarely shown readers before. 
Check it out:
The #1 stock throwing off the most 11-Day Payouts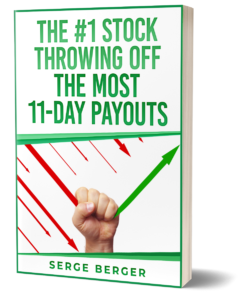 "Serge, what's your favorite stock to trade?"
Man, I hear that question all the time. And I never really had a great answer…until now.
Inside this special bonus report you'll discover: 
My absolute favorite stock to collect 11-day payouts from

The patterns I've seen with the stock time and again the past few years

How to bank a side income from this one stock alone
I believe this stock will become your best friend. 
It's my favorite because I've honestly traded it so many times I understand how it moves. When you understand how a stock moves, you can anticipate how to trade it and what strategies to trade with it. 
Inside my special report…valued at $200…you'll see my #1 stock to collect 11-day payouts from. 
Again, that's free when you join 11-Day Trader right now for $197. 
Get started right now by clicking the button below. 
When you do, you'll land on a secure checkout page with all the final details and an FAQ to answer all your questions. 
In as little as 11 days, you could be on your way to 8%, 10%, even 20% winners. You do that again and again every 11 days, and you'll be doubling and tripling your portfolio. 
In fact, watch what happens if you're able to compound all your returns over time. 
I already showed you I nearly doubled a small account with my 11-day payout trades. 
Get started right now by clicking the button below.