Your Easiest Investment Decision of The New Year
A Breakthrough Diabetes Treatment That Could
Be a Life Changer for 1 in 3 Americans
and Make Investors Millions
In just a few short weeks, a small company hardly anyone's heard of is expected to release groundbreaking news on diabetes, a disease that threatens 29.1 million Americans. That's nearly 1 in 10 of us. And it's set to rise… quickly.
Early investors stand to make up to 50% gains from this news.
In this detailed briefing, I'll share with you what to look for, how to position yourself for profits,
and the exact date all this takes place.
Dear Fellow Investor,
Do you know someone with diabetes? Do you have it?
Then you know just how miserable life can get… restricted diet, daily glucose testing (ouch!), expensive drugs, slow-healing cuts, foot pain, unsightly dark patches.
And I'll bet you'd be very interested in a new diabetes drug that's got the medical world buzzing.
In trials, it's been shown to lower dangerous glucose levels far more effectively than current drugs on the market.
It's also been shown to promote weight loss – a boon for millions of overweight diabetics.
That's a huge market in anyone's book…one the developer of this drug – a little company hardly anyone's ever heard of – has square in its sites.
Right now, big Pharma companies like Merck, Johnson & Johnson and Eli Lilly have a stranglehold on this market.
But their advantage is in jeopardy…and they know it.
That's why Sanofi signed a $1.7 billion
licensing deal with this little biotech
On Nov. 6, 2015, drug giant Sanofi partnered with this biotech to develop and commercialize its new diabetes drug.
The agreement calls for Sanofi to provide a huge payout – up to a whopping $1.7 billion.
It's already paid $300 million as part of the deal, with the rest – up to $1.4 billion – to come from possible milestones and double-digit royalties.
This money will enable our small company to fund its expanding drug pipeline for years to come.
And what a pipeline – it includes drugs for cancer, neuropathic pain, irritable bowel syndrome, glaucoma and autoimmune diseases.
I'll tell you more about these other drugs in a moment.
But first I want you to fully understand…
What sets this new diabetes drug apart from the competition
A key element of diabetes drugs is to lower glucose levels.
The most popular class of glucose-lowering drugs for diabetics is SGLT-2 inhibitors.
SGLT-2 is a protein in the kidneys that transports glucose to the blood.
And SGLT-2 inhibitors work by blocking this protein. This forces the kidneys to eliminate excess glucose through the urine.
But this little biotech's new drug goes way beyond targeting SGLT-2. It also targets SGLT-1, a protein that transports glucose to the blood from the intestinal tract.
That makes it a dual SGLT inhibitor. And while other companies are developing similar drugs, this little company has a significant head start on the field.
Positive top-line results announced in September
for this biotech's dual SGLT inhibitor
These results have shown it's far more effective than SGLT-2 inhibitors at lowering glucose levels in patients with type 1 diabetes.
This news caused the stock to rise 20% in the 5 days that followed the September announcement.
The company is expected to announce top-line results of a second Phase 3 clinical trial for type 1 diabetes.
I expect those results to be positive as well.
I also expect that news to provide investors with another nice pop in share prices.
That's a big reason I'm urging you to buy this stock now.
The results in phase 2 trials for type 2 diabetes are even more favorable
Those results came in 2015 and pave the way for the beginning of phase 3 studies that are expected to start by the end of the year (2016).
Sanofi expects the drug to pass with flying colors.
And that's why it's willing pay this little biotech up to $1.7 billion.
See, out of the 29.1 million Americans with diabetes, only 1.25 million are type 1.
That means the type 2 diabetes market is 2,328% larger than type 1.
It's this type 2 diabetes market that Sanofi has a stake in with its $1.7 billion licensing agreement.
And this market is growing because cases of type 2 diabetes have exploded in recent years, with nearly 1 in 10 Americans now suffering from the disease.
It's estimated that by 2050 if we stay on present course that 1 in 3 Americans will be diagnosed with diabetes.
That Sanofi is willing to pay $1.7 billion for a piece of this market shows how confident they are that the FDA will approve this new drug for type 2 diabetes.
Know this – Big Pharma companies like Sanofi don't place billion-dollar bets on fly-by-night biotechs. They perform their due diligence and only strike deals they're confident they're dealing with winners.
Sanofi's deal is obviously a huge vote of confidence.
And their confidence is just one more reason why you need to pick up a few shares in this little biotech now.
This company isn't a one-trick pony
It's got other exciting drugs in the pipeline.
The one closest to coming to market treats carcinoid syndrome, a rare disease caused by carcinoid tumors.
These are rare, slow-growing cancers caused by excessive serotonin production, and which originate in the neuroendocrine system.
From there they spread to the liver.
In time these tumors produce hormones that can result in carcinoid syndrome.
This is a terrible disease that can cause intense diarrhea, breathing difficulties and uncontrollable flushing of the face and upper chest. These symptoms can be so severe that it's practically impossible to lead a normal life.
This little biotech's answer?
A novel drug that inhibits an enzyme (TPH – tryptophan hydroxylase) partly responsible for producing all that excess serotonin.
Right now, the company has about $400 million in cash and investments on hand.
That total would skyrocket with this new drug, as it's estimated to generate annual income of between $400 million to $550 million.
That kind of money is why pharmaceutical powerhouse Ipsen has licensed the right to commercialize the drug in Europe and Canada.
In exchange, the biotech will get up-front and milestone payments and royalties. It's like a cash machine.
The FDA is expected to rule on this drug on Feb. 28, 2017, and virtually all analysts agree that it's a slam dunk.
You need to be in this stock no later than the day before, Feb. 27, 2017.
But I urge you to buy it right now because…
This biotech company is also a prime acquisition candidate
You can make an overnight windfall when a biotech company you own gets bought out. Gains of 50%, 60%, even 70% are common.
Sometimes you make out even better.
See, biotech and pharmaceutical companies are routinely acquired for 10 to 20 times sales (or more). When that happens, lightning fast profits are made.
That's what happened when Gilead Sciences acquired Pharmasset in November 2011 for $11 billion.
When that buyout was announced, Pharmasset shot up from $72.73 to $134.14 a share.
Result – pre-buyout Pharmasset shareholders made a fast 84.43% profit.
When Merck bought Idenix Pharmaceuticals in 2014 for $3.85 billion, the stock price was $7.23.
After the buyout, shares skyrocketed to $24.50.
That translated to a fat 238% windfall for Idenix shareholders.
Nice, huh?
That's the kind of money you can make if this innovative diabetes drug maker gets bought out.
The bottom line is I see the little biotech I've been telling you about rising 50%, even if it doesn't get bought out…and potentially much more if it does.
Why You Should Listen to Me
and Buy This Stock Today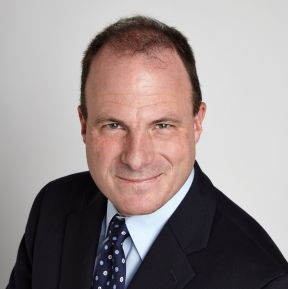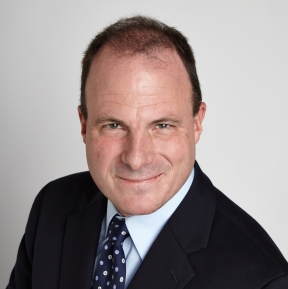 I'm Bret Jensen. For many years I was Chief Investment Strategist for Simplified Asset Management, a hedge fund based in Miami.
During that time my fund was in the top 5% of long/short hedge funds for total return in its first year, 2009 (and there were over 450 funds in this category).
I've got quite a following in the investment community. In fact, 28,000 investors follow my regular articles on Seeking Alpha, one of the most highly trafficked investor web sites on the planet.
Now I'm Editor and Chief Investment Advisor of Growth Stock Advisor.
This monthly communiqué features stocks that are poised to enjoy long-term growth. And it covers all kinds of sectors, not just biotech.
Right now in our portfolio you'll find companies involved in homebuilding… finance… real estate… hospitality… automotive… advertising… technology… health care…
So while I'm writing you today about biotech opportunities, please don't think we're limiting ourselves to that sector.
Frankly, every sector of the market is fair game for Growth Stock Advisor (I don't care where my profits come from, and I don't think you do either).
Growth Stock Advisor also contains a few stocks that could pop on quick news or buyouts, just like the little biotech buyout candidate I've been telling you about.
There's a lot more to say about Growth Stock Advisor, but before I get into that I want to reveal…
5 Biotech Buyout Candidates On Our Radar
Recently we enjoyed two nice winners on stock buyouts – 60% on Relypsa when it was acquired in July by Galencia, and 214.7% on Avanir Pharmaceuticals when it was bought out by Otsuka Pharmaceutical in December 2015.
Yes, getting on board a small-cap drug company ahead of a buyout is about the quickest money you'll ever make.
Profits routinely hit 50%, 60%, 70% and more, often overnight.
I expect that the biotech company I've shown you will deliver similar gains (whether it gets bought out or not…it's just got too much going for it).
And that company is just 1 of 5 biotech buyout candidates we have on our radar.
Every one of them is producing innovative therapies that could save millions of lives. And they're all enticing buyout candidates for reasons you'll see in a moment.
I've just introduced you to Biotech Buyout Candidate #1… our diabetes drug maker.
Here's number 2…

Biotech Buyout Candidate #2
Too Cheap By Half
Anyone who's ever had to take opiods for chronic pain is all too familiar with constipation.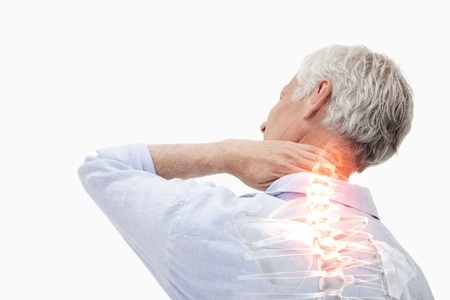 That's an unfortunate side effect of these drugs.
But thanks to Biotech Buyout Candidate #3, there's a solution that's so effective, the FDA gave it its blessing last July.
That's good news for the millions of Americans who suffer from opioid-induced constipation.
Not to mention anyone who holds stock in this innovative company.
Right now shares are going for about $6.
Most analysts covering the company believe it should be selling for much more.
And no wonder.
The FDA approval of that company's drug triggered a $50 million milestone payment from its marketing partner, and it's estimated the drug will earn the company up to $200 million.
And that's not counting a 15% – 19% royalty it will receive from all sales.
That's huge, since the company's market cap is only about $400 million.
Another plus is this company's got plenty of cash – $100 million – and no debt.
All of that is why Brean Capital has a $14 target on this company. And why Needham & Company believes it'll go to $11.
Getting it for $6 right now represents a tidy profit, doesn't it?
Analysts Are Putting Their Money
Where There Mouth Is
BlackRock Group boosted its position in the company by 58.5%
Integre Asset Management raised its stake by 118.1%.
Analytic Investors increased its holdings by 175.6%
And A.R.T. Advisors expanded its position by 241.6%
There are other promising drugs in this company's pipeline as well, including four in early and late stage development that show great promise against prostate cancer.
The bottom line is we have an undervalued stock here and a highly desirable buyout target.
It could easily double your money very fast, so you'd be smart to buy it now.
Biotech Buyout Candidate #3
On Track to Boost Revenues 700%
The biggest players in Big Pharma are practically getting into fistfights over the right to work with Biotech Buyout Candidate #4.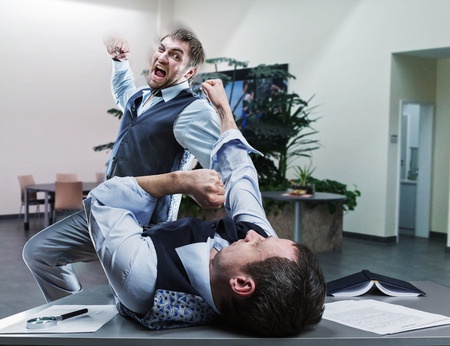 It's easy to see why.
Earlier this year, the FDA approved this company's drug for kidney cancer. It did so because that drug reduced the rate of cancer progression or death by 42% over competing drugs in Phase III trials.
That success led to a deal with Ipsen, a major European drug company that will handle all marketing for this drug in Europe and Asia.
Plus this company's got many more deals like this in the works with some of the biggest drug companies on the planet, like Sanofi, Merck, Bristol-Myers Squibb and Daiichi Sankyo.
The fact that a small cap like this could attract so many high-profile names in the industry speaks well to the merits of its underlying technology.
What's more, its cancer drug will be rebranded under another name for the treatment of thyroid cancer – and it's been approved for this purpose in Europe.
And the company retains exclusive commercial rights in the US and Canada for this drug, and is in the process of negotiating a commercial partnership in Japan.
As part of the deal, the company will receive a $200 million upfront payment, regulatory milestones of $110 million, and up to $545 million in commercial milestones.
That's $855 million…about 20% of its current market cap.
To say this impresses analysts would be an understatement.
That's why they have price targets as high as 65% higher than where the share price is right now.
And that's not taking account that it's a strong candidate for a buyout.
Here's something else – some analysts estimate that its revenues could increase 700% within the next year. It wouldn't surprise me a bit if that were to happen…and that would obviously be huge for share prices.
But as they say, that's not all. There's one more biotech buyout candidate I want to tell you about…
Biotech Buyout Candidate #4
Rendering Today's Delivery of Medicines Obsolete
Would you rather have a life-saving package delivered to you by jet or pony express?
Biotech Buyout Candidate #5 is the pharmacological equivalent of a world-class fighter jet.
And what it delivers are medicines needed to alleviate chronic pain.
Its technology gets these drugs into your system much faster and much more efficiently than current drug delivery systems.
This company has already attracted a deep-pocketed partner (Endo Pharmaceuticals) who is helping with development, marketing and distribution.
And no wonder – Stern Agee, a large investment bank, recently estimated peak sales at $500 million, and $75 million a year in royalty payments (all pure profit). That's pretty big for a company with a $300 million market cap.
If the above figures even come close to fruition, the company would be undervalued based on this one drug alone.
But it has many other products in development, including a drug that's already been approved by the FDA that reduces pain in cancer patients.
As is the case with the other Biotech Buyout Candidates I've told you about, I wouldn't be surprised if this company were bought out in the very near future.
I see this company as a potential 100% winner. Others see it rising much more.
The bottom line is that this stock represents an outstanding windfall opportunity.
Biotech Buyout Candidate #5
Making a groundbreaking new drug for hepatitis
Imagine going to your doctor for your quarterly diabetes exam. And while you're there, she checks your glucose levels.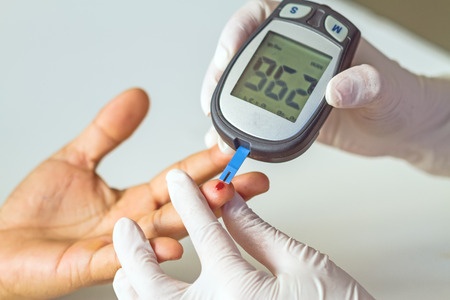 You'd think she'd make sure the equipment she was using had been properly sterilized.
But what if weren't? And what if the previous diabetic she monitored had Hepatitis B?
Chances are you'd get it too…and that's something you definitely don't want.
The Hepatitis B virus is nasty, at least 50 to 100 times more infectious than HIV. It can survive outside the body for at least week. And during that time, it can infect you if it enters your body (which can easily happen through breaks in your skin).
Once infected, you have an incurable disease that puts you at risk for cirrhosis…liver cancer…even death.
You'd think nurses and other health care workers would take this threat seriously…seriously enough to sterilize all their diabetes equipment after every use.
Sadly, sometimes they don't.
This is why the CDC is urging any diabetic between 18 and 60 – a demographic that comprises most of America's 29.1 million diabetics – to get vaccinated for Hepatitis B.
That's nearly 1 in 10 of us, which means…
1 Out of Every 10 Americans Needs
a Hepatitis B Vaccine
Unfortunately, today's Hepatitis B vaccines have a serious drawback – they require 3 doses over 6 months.
That time frame presents a problem.
See, many people don't complete the course for one reason or another.
When that happens they're not protected from Hepatitis B.
But the company I'm talking about has a vaccine in the works that only requires two doses over one month…AND in clinical trials it's been shown to be much more effective than current vaccines.
This company has many other great drugs
in the pipeline
When a biotech company has numerous therapies under development, I call these "multiple shots on goal."
This is something I look for when considering a biotech investment, as having multiple shots on goal greatly increases your odds of profiting.
That's certainly the case with the little vaccine maker I've been telling you about.
Right now it's got three different vaccines under development.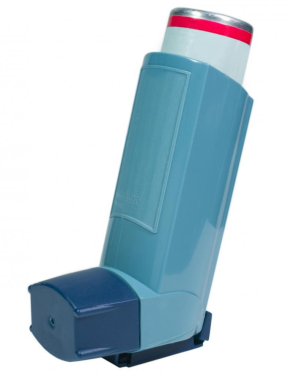 The first is the one for Hepatitis B.
The second is for asthma, a condition that's struck an estimated 24 million Americans.
That's a huge market…yet is but a fraction of the number of asthma sufferers worldwide.
The World Health Organization puts that figure at 300 million.
Analysts estimate that market could be worth $15 billion annually.
Right now the company developing this asthma vaccine is collaborating with AstraZeneca to launch it. And as we speak, it's undergoing a Phase IIa FDA safety and efficacy trial.
This could make inhalers like the one above a thing of the past for millions of Americans.
This little company also has a compound in mid-stage development that's designed to trigger a powerful immune system response to cancer.
To state the obvious, it has the potential to be insanely profitable.
So there you have it – five outstanding biotech companies with exciting lifesaving drugs in the pipeline.
And they're all potential buyout candidates that can double your money overnight (and even if they're not bought out, I expect them all to be big winners).
How can you find out about these stocks?
Well, I'm actually giving away a free report that not only lists them but gives you extensive research so you can see for yourself why I'm recommending them for your portfolio.
It's called…
5 Biotech Buyout Candidates To
Double Your Money Overnight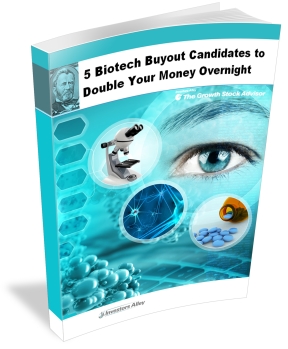 All you've got to do to get this exclusive report is say "Yes" to a risk-free trial subscription to my new advisory service, Growth Stock Advisor.
With Growth Stock Advisor you'll get firsthand, unbiased research on stocks for long-term growth, with a few fun plays sprinkled in that could double, triple, even quadruple your money fast.
And as I said, Growth Stock Advisor is about much more than just biotech stocks.
You'll be diversified with small- and large-cap companies that are spread out over a variety of sectors, including the construction, finance, hospitality, technology and automotive industries among others.
I set the portfolio up like this to ensure you don't have all your eggs in one basket.
And here's something else…
I Own Shares of Every Stock
That I Recommend In
Growth Stock Advisor
I put my money where my mouth is and buy shares of every company in Growth Stock Advisor. That's how confident I am in all my recommendations.
Right now the Growth Stock Advisor portfolio is on fire.
Here's a sampling of its current performance:
A 75% gain on an innovative cancer-fighter
A 190% gain on a health insurance technology plat
A home-builder that's skyrocketed 102%
A company specializing in infrastructure construction that's up 77%
A pharmaceutical company that's given us an 80.6% gain
An outfit that focuses on building airports, highways and airfields that's up 76.1%
Growth Stock Advisor is a drop-dead simple service that will practically put your investing on auto-pilot.
It tells you when to buy, what to pay, when to sell…
And when it is time to sell, you'll get e-mail alert that tells you when to take your profits.
Here's What You Get When You Start Today:
New reader rate so you can take advantage of this opportunity with almost nothing down. For the next 3 months enjoy 3 monthly issues, monthly updates, urgent buy and sell notices, and unbiased research for only $49. And that rate is locked in for you as long as you're a subscriber in good standing… meaning if my publisher ever raises the rate, you'll still be getting the $49 rate. Period.
My new research report, 5 Biotech Buyout Candidates That Could Double Your Money Overnight. To take full advantage of all the profit potential of this report, you need to get it now and it contains everything you need to get started.
Full access to the complete portfolio… and access to unbiased research on every recommendation we're holding. This portfolio is filled with stocks that are poised for long-term, steady growth for years to come (as well as a few that could get you lightning fast gains).
Monthly Growth Stock Advisor email updates so you're never left wondering what's going on in our sectors and in our portfolio (that way you'll be in prime position for the next profit opportunity).
Instant email alerts from me… I'm invested in the same stocks you are, so I'm always monitoring our investments. For example, should one of our investments take off, I'll follow-up with instructions on how to lock in and maximize your profits even further.
My personal email address… Should you ever have a question you can contact me directly and you'll receive a prompt reply. You can take comfort knowing that I'm only an email away if you ever need me.

You never have to feel like you're going this alone.
The monthly market briefing. As part of your membership, I'll keep you updated on what's happening at a macro level and how that affects our investments. That way you'll be a more informed investor (and don't be surprised if you start spotting profit opportunities on your own as a result).
Clear buy and sell instructions… Whenever I recommend a play, you'll know exactly what to do to collect maximum profit. No more guessing or being left in the dark wondering when to collect your profits, or whether you should add to your position.
Live customer service for any time you have a question about your subscription. You can always contact me directly for your investing questions but sometimes you need immediate answers about your subscription instead. That's why we have live, U.S.-based customer service for you during normal business hours. No complicated calling trees with Press 1 for this and 2 for that, no time zone
issues half a world away… just reliable, friendly help when you need it.
Full Money-Back Guarantee… Take the first 60 days of your subscription – that's 2 monthly issues, updates, and your special 5 Biotech Buyout Candidates That Could Double Your Money Overnight report – to decide if you want to stay on as a Growth Stock Advisor subscriber.
If you're not completely satisfied at any point during those first two months, just call or email me and you'll get a full 100% refund of your money (and you get to keep the Biotech Buyout report with my compliments). Bottom line is there's ZERO risk to you by accepting this offer.
You Get All This For Less Than Lunch For 2
Normally investment research like Growth Stock Advisor runs $299 or more for a 12-month membership. And that's a bargain when you consider the gains I've been churning out for my subscribers.
But today, I'm putting most of that cash right back in your pocket to make it the easiest investment decision you'll make all year.
For new subscribers like you I'm offering a deep discount rate of only $49 on an easy quarterly installment plan. Stated another way, that's only about $16 a month.
Subscribing this way puts you on board with the easy quarterly installment plan, so there's no long-term commitment on your part.
Once your first quarter is over, your subscription will conveniently renew automatically – you won't have to lift a finger to continue receiving monthly issues with all the new profit opportunities and weekly updates.
You're Covered No Matter What
There's no reason to hesitate before you hit the order button below.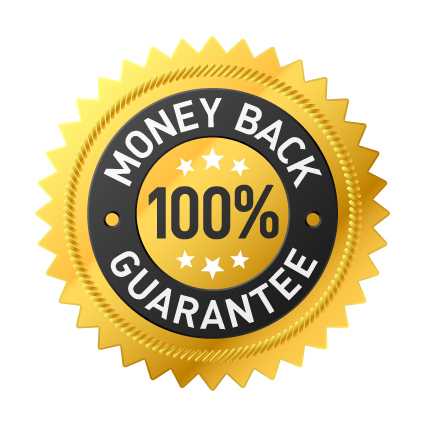 I'm giving you valuable insurance in the form of a 60-day, no-questions-asked guarantee for every penny you spend.
Take your first two full months to test-drive Growth Stock Advisor. Check it out to make sure you like what you see. Make sure it does what I say it does. Make sure it does what you need it to do.
And if at any point during your first 60 days you don't see clear and convincing evidence that I can transform your portfolio into a moneymaking machine that supercharges your retirement dreams…
Then just give us a call or shoot me an email, and I'll make sure you get every penny of your subscription refunded.
It rarely happens that a reader cancels, but I want you to know that I'm 100% committed to seeing your portfolio take off.
So may I send you your free copy of 5 Biotech Buyout Candidates That Could Double Your Money Overnight right now?
Just give me the word by clicking the order button below.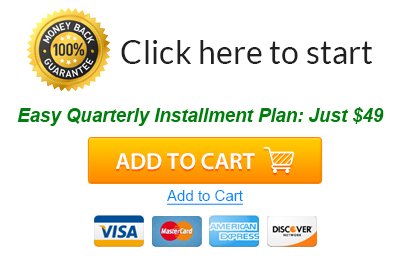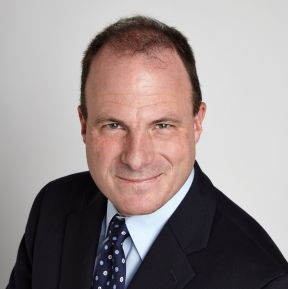 To your financial health,
Bret Jensen
Editor
Growth Stock Advisor
P.S. On December 27-28, the FDA is set to rule on the CABP antibiotic that Biotech Buyout Candidate #1 is making. As I said earlier, I expect it to be approved (as do most other analysts).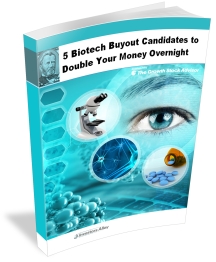 I also expect investors to bid the price of this company up before then, so you really need to get in now in order to maximize your profit potential.
And it's the same with the other companies in 5 Biotech Buyout Candidates That Could Double Your Money Overnight.
Don't get caught on the sidelines with any of these windfall profit opportunities. Give Growth Stock Advisor a risk-free test drive and get your free biotech buyout report right now.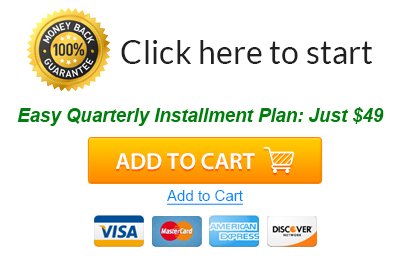 [ExitPopup exitpopupurl="http%3A//www.investorsalley.com/growth-stock-advisor-open-positions/gsalandfog16pdayexitpop" exitpopupcookiexpdays="0″ exitpopsplash="Wait%21%20Don%5C%27t%20leave%20yet.%20You%5C%27re%20probably%20wondering%20%5Cnabout%20the%20one%20thing%20that%20I%20haven%5C%27t%20addressed.%20It%20%5Cnis%20one%20of%20the%20top%20questions%20every%20newsletter%20editor%20%5Cngets%20and%20one%20that%20I%5C%27ll%20gladly%20answer.%20Just%20click%20%5Cnthat%20Stay%20on%20Page%20link%20below%20to%20find%20out." ] [/ExitPopup]