Well, that didn't take long.
We usually don't see the traditional seasonal slew of New Year market predictions until late December.
But just as he was the first to offer an indexed mutual fund to individual investors, Vanguard founder John Bogle has jumped ahead of the crowd again.
In a CNBC interview, Bogle issued five predictions for 2018. Of the two headliners, the first gives reassurance to investors… but the second snaps them back with a warning.
But you can profit regardless…
Bogle Plays "Good Cop, Bad Cop"
The Good News: Citing the innovative, entrepreneurial spirit of American companies, Bogle says the U.S. market offers more growth opportunities and safety for investors than abroad. Indeed, S&P 500 companies have significantly outperformed many of their foreign counterparts over the past decade.
The Bad News: Overall U.S. returns are set to fall. Bogle believes the market's average P/E will drop from the currently high 24 to under 20 by the end of the decade. Coupled with predictions for a drop in the average dividend yield – from a historical average of 4.4% to 2% – "such a revaluation would reduce the market's return by about two percentage points per year, resulting in an annual return of 4%," says Bogle." That's less than half the market's average return in recent decades.
Implied in Bogle's prediction here is that volatility will rise – although you wouldn't sense it from the current climate.
The Market is Complacent… Which is Why You Shouldn't Be!
The CBOE Volatility Index (VIX) – which measures complacency and fear in the market based on S&P 500 options activity for the next 30 days – is hovering around 10. That's well below its historic average of 19. In other words, with the market setting record highs, investors are riding the gravy train with unbridled optimism.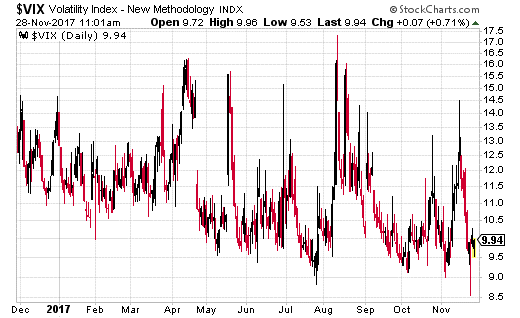 But beware.
Nick Colas, co-founder of research firm DataTrek, says to look beyond the headline VIX number. Quoted on MarketWatch, he reveals, "Overall implied volatility for the S&P 500 (looking at all options expirations, not just the next 30 days captured by the VIX) is actually higher by 6.5%."
He says strong gains and low volatility among large-cap tech stocks have skewed the data. Over the past month, volatility in nine of 11 sectors has actually risen. In addition – and affirming Bogle's point – volatility in developed markets outside the United States is also up 27%.
"Like the proverbial duck swimming in a pond, there's plenty going on below the surface," he warns.
Clearly, the last thing you need to worry about right now is volatility is affecting your investments. So these two stocks should let you rest easy…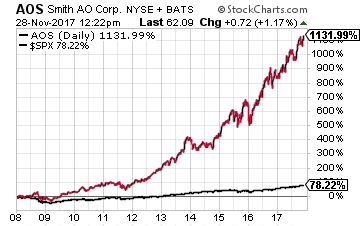 A.O. Smith Corp. (NYSE: AOS): Here's some heat for your portfolio. A.O. Smith manufactures gas and electric water heaters, boilers, and water treatment products for residences and businesses. It does this across North America, Europe, and two fast-growing markets – China and India.
When you consider the number of homes and businesses (offices, hospitals, schools, hotels, restaurants, laundries, gyms, etc.), owning the leading residential water heater brand in the United States and China and a dominant market share is a recipe for serious sales.
Indeed, in its earnings report last month, AOS revealed record results for any third quarter. The January-September period was also a record, with revenue and net income rising by 12% and 10%, respectively, compared with 2016. EPS also bounced 14% higher and the company raised full-year guidance for the third time this year.
And over the past five years, AOS has notched average annual sales growth and net income growth of 9.4% and 24%, respectively. That's produced double-digit, industry-beating margins.
Going forward, the company has huge opportunities in China and India. As the middle class rises, and people can afford better household amenities, AOS is in prime position to supply the water heating systems. In addition, its water and air improvement products are popular in countries where water and air quality are poor.
AOS believes each country represents a $1 billion market opportunity.
And as for volatility… well, I'll let the chart tell the story. The stock has massively outperformed the S&P 500 over the past decade. The company also pays a small $0.56 per share annual dividend.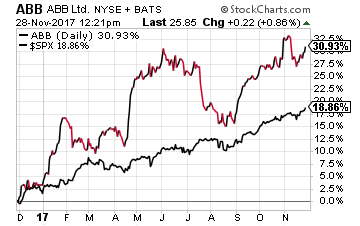 ABB Ltd. (NYSE: ABB): In case you hadn't noticed, the world is going robotic. Specifically, it's getting more automated, thanks to tremendous advances in robotics.
You might think the companies responsible for such an unstoppable trend in cutting-edge technology would be newer, flashier ones. But not necessarily.
Founded in 1883, ABB manufactures a host of robotic and automation products for transportation, infrastructure, industry, utilities, and energy (the power grid and oil and gas plants). Its full list is too long to mention, but includes robots, sensors, generators, and circuit breakers.
In addition, the company has a partnership with IBM to develop AI technology and recently bought GE Industrial Solutions, which gives it another avenue into the U.S. market and expands its position in electrification products.
ABB is a beast, raking in $33.5 billion in sales and $2.2 billion in profits over the past year. Its robotics segment is responsible for almost $9 billion of those sales – 13 times more than one of its better-known rivals, iRobot.
Make no mistake… robotics and automation are long-term growth trends that will only growth further as technology continues to advance.
Related: 3 High Growth Stocks for the Rise of Robots
In September, the company also announced plans to double its robotics production in China. And you don't need me to tell you that industrial production and manufacturing is pretty huge in China! ABB's robots and automation will only fuel that fire.
With almost $6 billion in cash and $3.5 billion in operating cash flow, ABB has more than enough room to pay a $0.76 per share annual dividend (a 3% yield). And as you can see, the stock has solidly beaten the market over the past couple of years, too.
If volatility does hit the markets, AOS and ABB will just keep on trucking, providing essential services and continuing to rack up sales and profits. And not only do they pass that on to investors in dividends, their shares outperform the market, too.
FREE Report reveals the $100 Trillion "Industrial Singularity"
A historic event the World Economic Forum predicts will create more wealth in the next 7 years than in the entire history of civilization combined.
But only small group of fast acting investors will accelerate their wealth by 3,000%.
Click here to discover how to find the $100 trillion in industry profits.