Small caps usually lead bull markets higher and bear markets lower.
Case in point: Small cap valuations have grown to their richest levels ever in 2014.
In fact, earlier this year, small cap price-to-earnings ratios rose to their highest levels in history, dating back to the 1984 creation of the Russell 2000 Index of small cap stocks. The last time small cap valuations got remotely this high was directly before the 2000 dot-com meltdown.
The following chart compares the performance of the Russell 2000 Index to the S&P 500 Index in 1998-99, right before the market crashed in 2000-2001: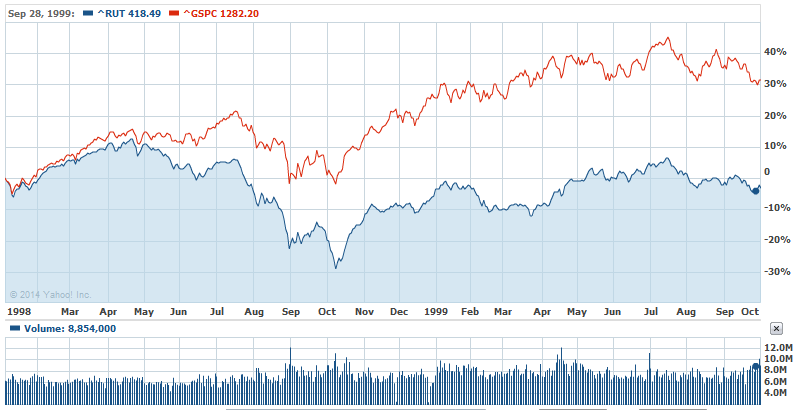 Now take a look at a year-to-date chart comparing the same two indices: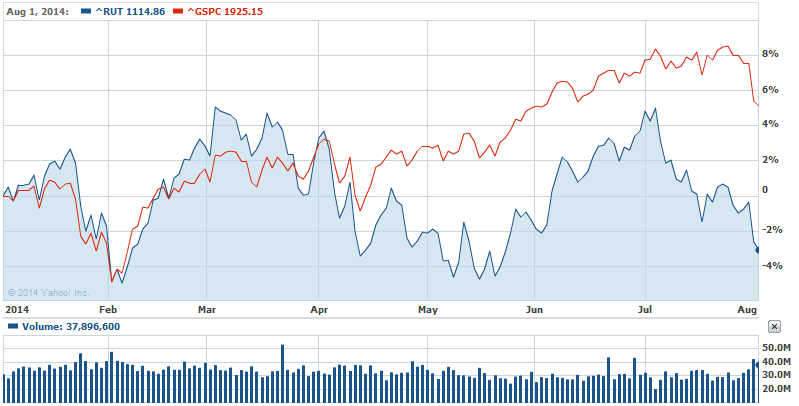 (charts courtesy Yahoo! Finance)
As you can see, the performance disparity is becoming quite larger in the last 3-4 months, with the Russell 2000 already nearing 10% correction territory off its early July high.
Fed Chairwoman Janet Yellen even warned traders that small cap valuations were "stretched" in a July 15 speech. She continued: "Valuation metrics in some sectors do appear substantially stretched – particularly those for smaller firms in the social media and biotechnology industries."
Broad Market Implications
What does this mean for the overall market? Well, small-cap stocks are generally seen as a leading indicator.
The small cap sell-off appears to be spilling over into the blue chips, as the S&P 500 lost nearly 3% last week alone.
Notice in the year-to-date chart above how the S&P's decline lagged the Russell's by nearly three weeks, providing further support for the "small caps are a leading indicator" thesis.
Junk Bond Bear Market
Janet Yellen's admonition was not limited to biotech and social-media bulls, but to high-yield "junk" bond buyers, too. With stock market valuations near all-time highs and interest rates at historic lows, the performance of high-yield bonds is following small-caps, as demonstrated by the chart of the iShares iBoxx High Yield Bond ETF (NYSE: HYG) below.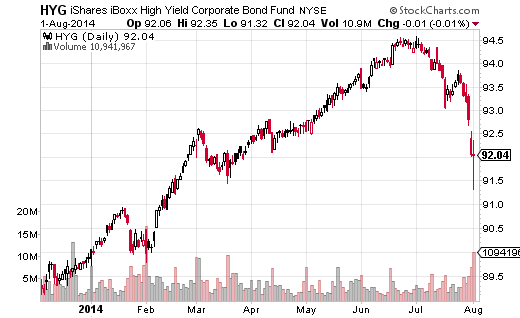 If the stock and bond markets simultaneously crash, we'll have all the makings of another financial crisis. There already appears to be a "stampede" out of high-yield bonds: Morningstar data on the high-yield bond fund category report year-to-date returns of 2.1% through July 29, whereas their benchmark index had returned 2.5% – this disparity indicates extreme selling pressure.
With small-cap stocks leading big-caps and bonds lower, investment opportunities may appear limited. Savvy traders, however, know it can be even easier to make profits in a declining market than in a bull market. Short-selling and put options can generate gains as an investment's value falls, and there are also numerous "smart beta" and "liquid alternative" products available today that were previously exclusive to high-net worth individuals. Precious metals, miner stocks, and the ETFs that invest in them are other potential investments in this difficult environment.
Our resident small cap expert, Bret Jensen is taking advantage of these recent pull-backs and loading up on quality small cap growth stocks in his Small Cap Gems service. One particularly attractive company was recently added to the portfolio and is poised to become one of the biggest players in its industry. He's targeting share price growth of at least 120%. To find out more, CLICK HERE.