It may go against your emotions, but there is strong proof from the stock market's history that now is a great time to buy stocks. Tim Plaehn shares this proof as well as two stocks he is accumulating right now.
We all know that the goal of investing is to buy low and sell high. Or, in my case buy low and collect a high-yield dividend stream for a very long time. However, it is a reality of the stock market that most investors give into fears and sell when the market is down, and follow their greed to buy when share prices are up. It actually takes those fear-driven, money-losing investors to follow their emotions and bail out of the market to allow successful investors to generate real profits from the market. The good news is that you do not need to be an expert market timer (very few investors, if any, are) to take advantage of a down period to lock in really great future returns.
I am going to use a series of charts to illustrate how you can boost your profits from the current stock market correction, or bear market if we get to that point. At the top of your mind, you must understand that the stock market has always recovered from corrections and bear markets. Over the last 40 years, there have been five serious bear markets and probably close to 20 market corrections of at least 10%. Even with all of those down periods in the market, the S&P 500 is 2000% higher than it was 40 years ago. Investors who have a strategy to buy when the market is down and everyone else is bailing out can increase their returns to several times the average. The problem is deciding when to jump on those falling share prices to actually practice the art of buying low. It is not a pleasant feeling to buy what looks like a great deal and then see share prices fall another 10% or more. My purpose here is to tell you that it doesn't really matter if you buy and the shares continue to drop, or if you get your timing right and catch them on the way back up. Let's take a look at a series of the same chart covering the S&P 500 through the last, 2008-2009 bear market.
The stock market as tracked by the S&P 500 hit a peak in October 2007. By July 2008, the index had lost 21% (that's bear market territory) and a late summer rally clawed back about 6% of that loss. In this hypothetical situation, you decided it was time to invest, and bought some shares in September 2008.
Here you are: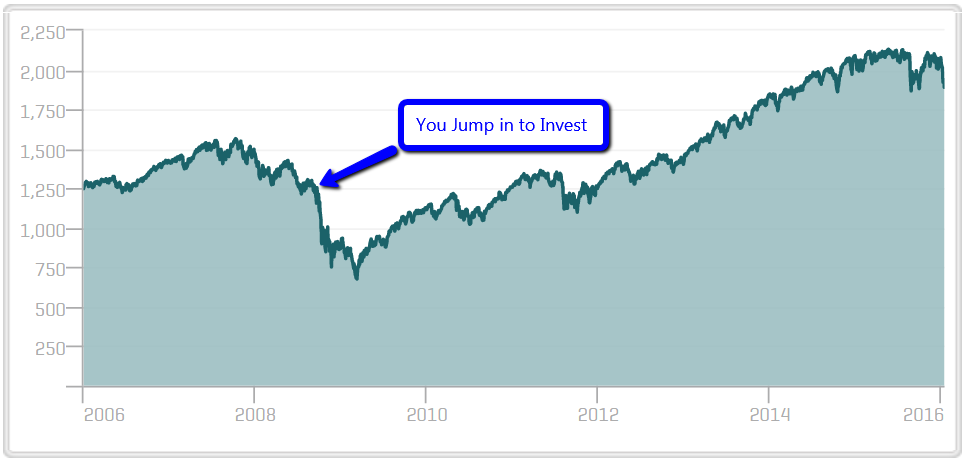 You probably remember that this particular bear market dropped by much more than 21%. Here is what happened after you made the stock market investment: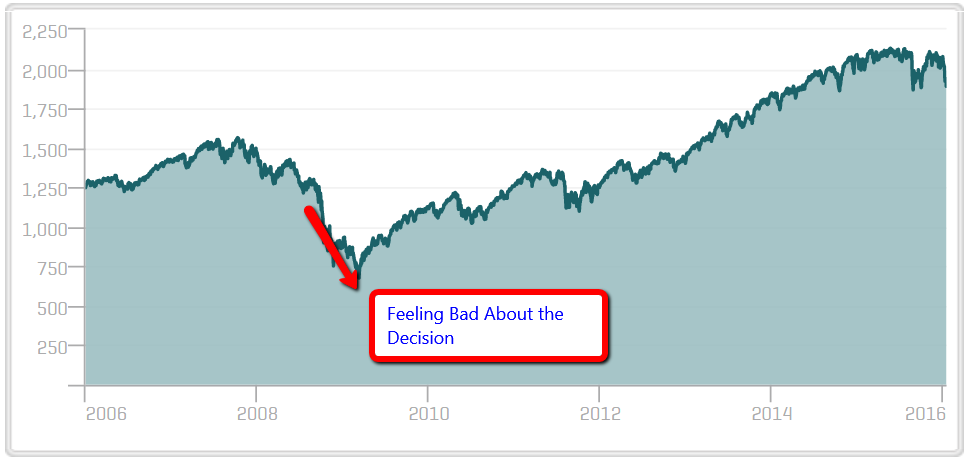 By buying when you did, and holding on, you suffered through another 40% decline in the S&P 500, with the true bottom occurring in March 2009. The 2008-2009 bear market was the worst since the 1930's, with a total decline of just over 50%.
But as history shows and goes, the market recovered.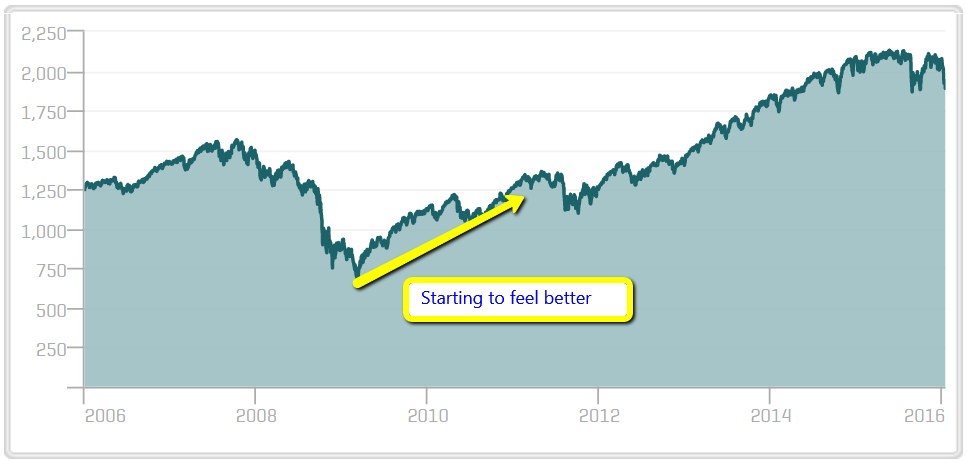 From the hypothetical investment point, you were back to break even by the end of 2010.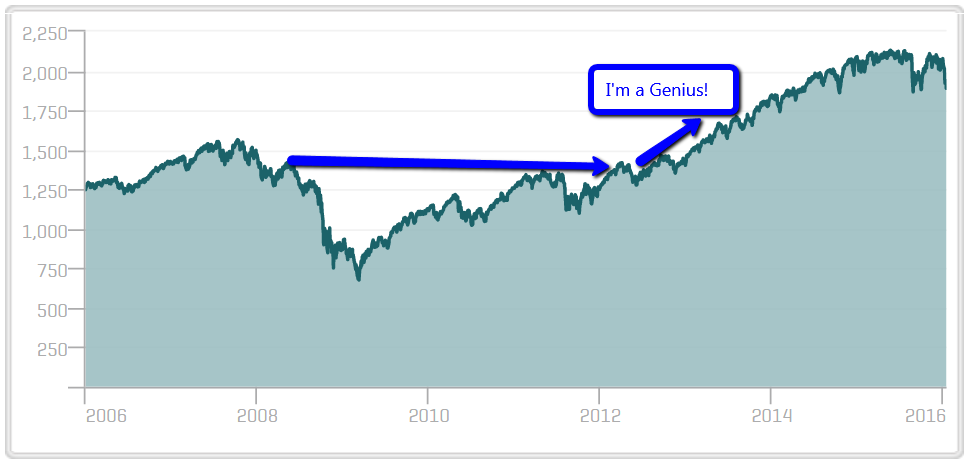 From that point, you were generating positive gains and participated in the 70% gain the market posted over the next four years of 2011 through 2015. Investors who had purchased at the 2007 peak did not get back to even until March 2013. Investors who gave into the fear and sold as the market fell lost up to half of their investments and probably did not get back into stocks until the market was stabilizing in 2014. These investors have not come close to recovering their losses.
Let's summarize these results with a few bullet points:
If you purchase at any time during the downturn, you come out ahead of investors who purchased near the previous peak, when greed was driving the market and the maximum level of buying was happening. You do much, much better than investors who bought when everyone else was buying and sold when everyone else was selling.
Dividend-focused investors can afford to get in possibly too early. In the hypothetical example, buying in September 2008 meant that the investor earned up to nine quarterly dividend payments by the time the market had gone through the bottom and recovered to the buy-in levels.
Investors who were in before the bear market/correction started should be ready and willing to buy in at lower prices averaging down and increasing their average yield.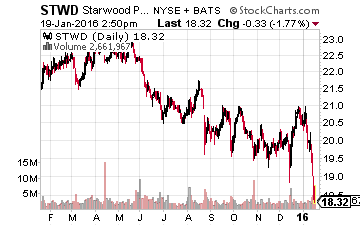 You may be asking, that sounds like a good strategy, but what shocks should I buy now? I focus on higher yield stocks, so am advising my subscribers to pick up cheap shares of those companies that I have confidence will sustain their dividends through a market or economic downturn. Starwood Property Trust, Inc. (NYSE: STWD) is a great example. This stock now yields over 10% compared to 8% on the same dividend rate a year ago. A recovery to last year's January share value gives a 30% price gain, plus those 2.5% quarterly dividends.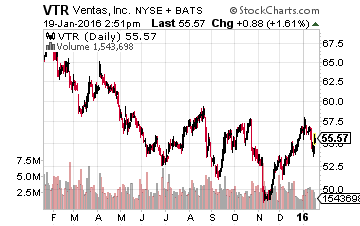 I also like to use market corrections as an opportunity to pick up blue chip dividend payers that carried yields below my investment threshold when the market was higher. Last year, I put a sell recommendation on healthcare REIT Ventas, Inc. (NYSE: VTR) last January, when the share price was $80 and yield dropped to under 4%. Now, VTR yields 5.3% and the company is poised to generate 10% annual dividend growth. I put Ventas back on my Buy list in September 2015 at $55.
New Report Reveals How to Safely Earn 16% Returns in 2016
Why settle for puny 1% yields on CDs when you can double your money in 4.5 years with a certain class of safe, dividend-paying stocks?
All you have to do is plug your portfolio into the Accelerating Dividends System.  This breakthrough investment tool works by identifying little-known stocks that consistently increase their payouts year after year…no matter what the market does.
Right now you can get access to this system for free.
Position: Long VTR and STWD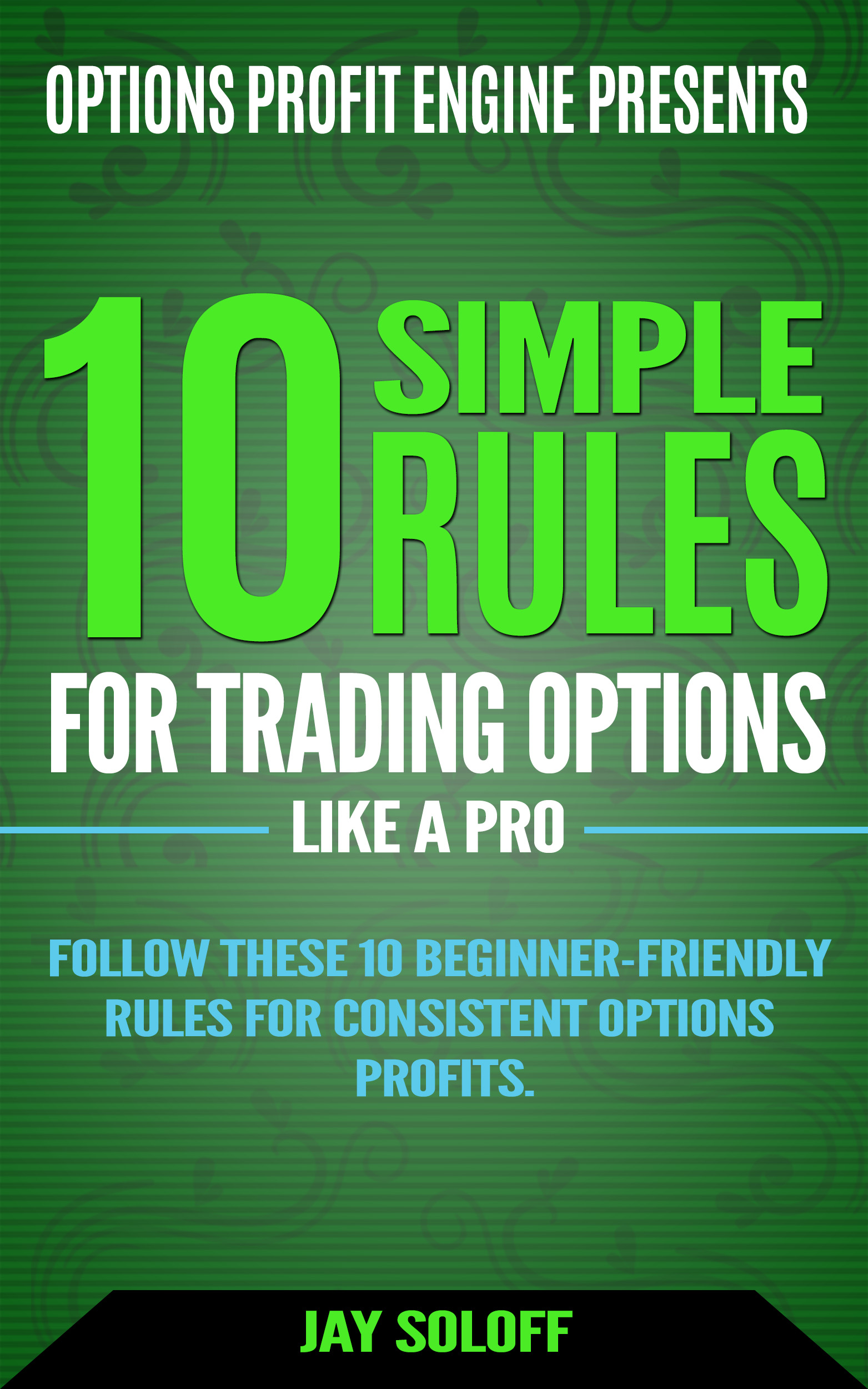 [FREE DOWNLOAD] 10 Simple Rules for Trading Options Like a Pro
Follow these 10 simple rules from 20-year professional options trading veteran, Jay Soloff and start earning a reliable extra income from options.
NO prior experience needed to master these 10 simple options trading rules. 
Enter your email below and receive access to this FREE guide...