Since the start of the year, watching the so-called experts on the financial news channels try to predict the price of oil has been amusing. Mostly because they have been comically inaccurate. This is how I remember some of the conversations.
In January, the benchmark West Texas Intermediate crude oil price hit $44 per barrel. The experts were saying "we'll see $30 oil before it again goes above $50." By mid-February, WTI was a couple of bucks above $50. At that time the experts I heard were saying something like this: "I predict oil will go back to $40 before we see it move higher to $60". You know how this goes. WTI closed above $60 on May 6th. This month crude has traded about a buck above and below the $60 mark. And just recently with my morning coffee I heard it again: "I forecast $65 oil by the end of the year, but I think we will see $50 again first". Gave me goose bumps!
Now, here are some eye-opening facts concerning the energy market that nobody seems to be talking about. Use this information, and you will get ahead of the uninformed masses when making your energy sector investment decisions.
OK, there are a few factors that could cause a temporary drop in the price of crude, and maybe one day one of these "experts" will have a forecast come true. However, the strong recovery in oil is due to the structural underpinnings of the global energy market. Those support factors should continue to force the price of crude higher. The only question is whether crude will move up at a relatively steady pace or will some market disruption cause a sudden jump in energy commodity prices?
The crude oil production oversupply is about 1.5 million barrels per day. That's 1.5 million barrels per day of excess oil. Global consumption is about 90 million barrels per day and annual demand grows by about one to 1.5 million barrels per day. The amount of excess supply that resulted in a 50% drop in crude prices is very small in relation to total consumption and natural consumption growth will suck up the excess in a year or two.
Global crude production is really two markets: North America and the rest of the world. Basically, all of the production growth over the last five years has happened in Canada and the U.S. The rest of the world's production has remained level. This chart from a recent presentation by Schlumberger CEO Paal Kibsgaard shows the difference: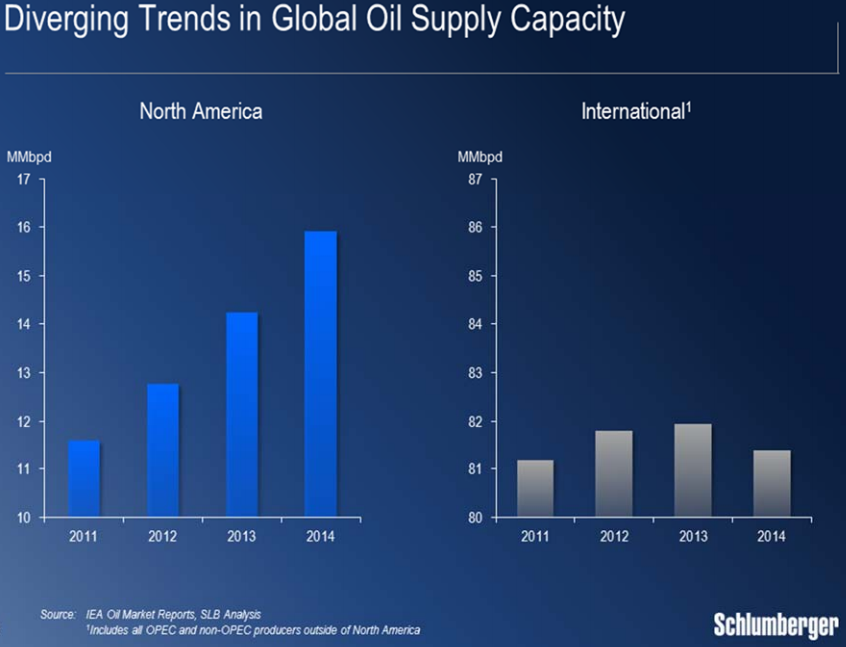 Oil produced in the U.S. cannot by law be exported. This means that the rest of the planet's supply vs. demand numbers are much tighter than the total picture indicates.
Fuels such as gasoline, diesel and jet fuel are a global market. The price you pay for a gallon of gas is driven more by the global Brent crude oil benchmark than it is by the prices of crude produced in the U.S. This is because U.S. refiners can export fuels if they can get better prices on the global markets. Currently, cheap U.S. crude and higher fuel prices creates a superior business environment for the crude oil refiners. Make sure you have one or two in your portfolio.
Finally, here is the most important factor. Overall, the energy producers outside of North America really need oil to be worth $100 or more per barrel. These producers could not increase production when Brent crude was at $100. Now with $65 Brent, national budgets are busted, drilling costs continue to climb and there is no scenario in which producers will spend enough on new production to avoid the situation where production does not soon start to decline. Sooner than most experts expect, there will start to be a global crude oil shortage. It may happen gradually, almost unnoticed until we see oil moving up through $80 a barrel, or a sudden event such as riots in Venezuela or some energy infrastructure in the Mideast gets attacked.
Your investment portfolio needs to hold energy company shares. It can be E&P companies, infrastructure MLPs or refiners. Short-term declines in the price of crude are opportunities to either accumulate shares or set up a short term trade to profit from the price recovery.
Energy companies can be found in my Dividend Hunter portfolio and used as part of the Monthly Dividend Paycheck Calendar.
The Monthly Dividend Paycheck Calendar is set up to make sure you're getting 6, 7, even 12 dividend paychecks per month from stable, reliable stocks with high yields.
The Monthly Dividend Paycheck Calendar tells you when you need to own the stock, when to expect your next payout, and how much you could make from stable, low-risk stocks paying upwards of 8%, 10%, even 17% in the case of one of them. I've done all the research and hard work; all you have to do is pick the stocks and how much you want to get paid.
The next critical date is Thursday, June 25th (that's closer than you think!), so you'll want to take action now to make sure you don't miss out. This time there's an extra $2,731 in payouts up for grabs before the end of July, but only if you're on the list before next Thursday. Click here to find out more about this unique, easy way of collecting monthly dividends.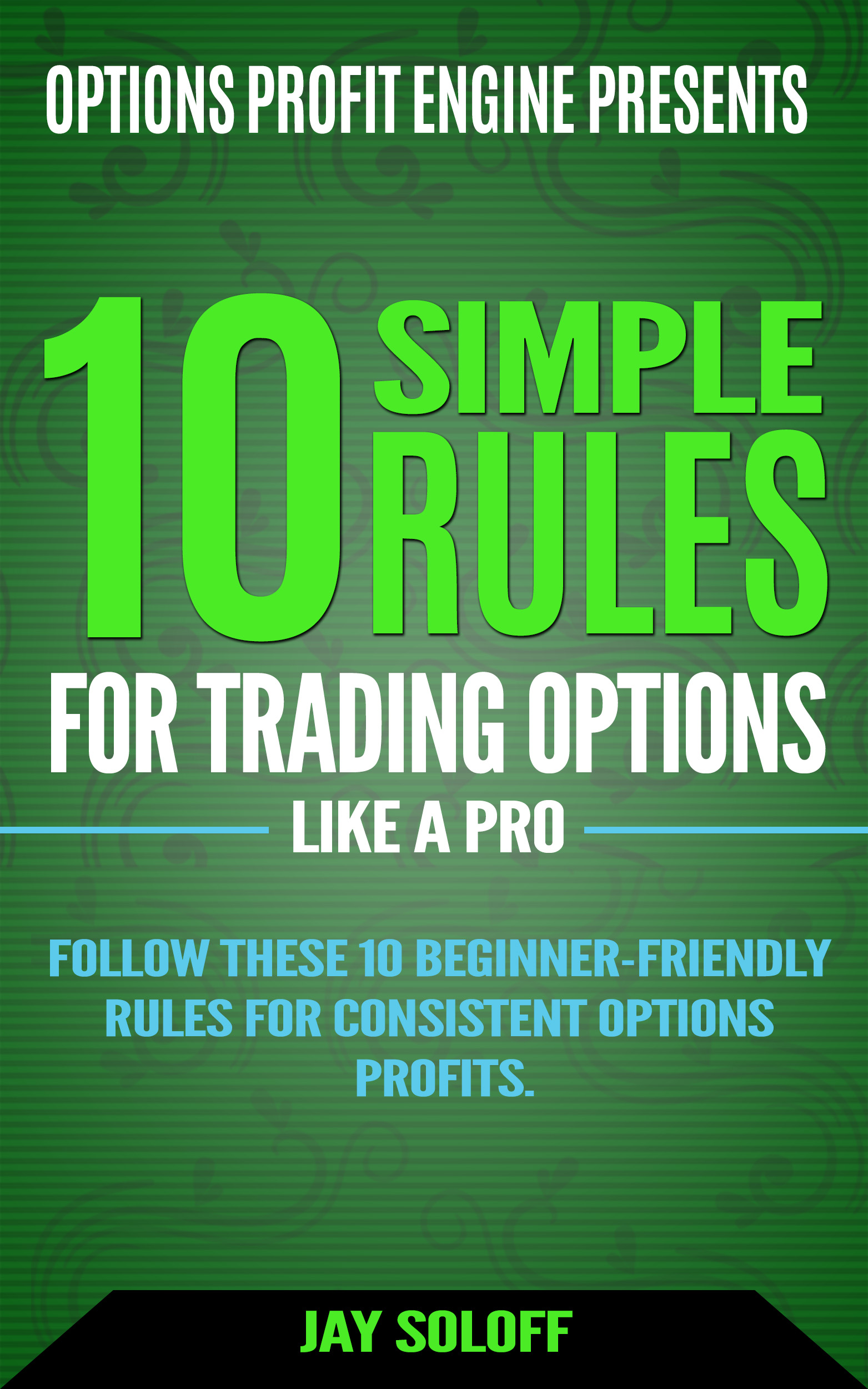 [FREE DOWNLOAD] 10 Simple Rules for Trading Options Like a Pro
Follow these 10 simple rules from 20-year professional options trading veteran, Jay Soloff and start earning a reliable extra income from options.
NO prior experience needed to master these 10 simple options trading rules. 
Enter your email below and receive access to this FREE guide...