As its free-fall has plateaued, Tim Plaehn investigates why there is still merit in this beaten down stock. It trades at an undeservingly low valuation and, although decidedly risky, Linn has the potential to return to former highs.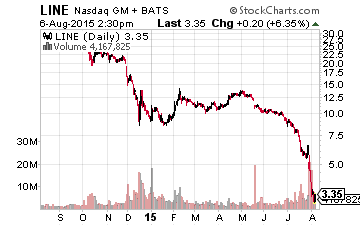 Linn Energy LLC (Nasdaq:LINE) and its parallel shares LinnCo LLC (Nasdaq:LNCO) suspended distribution payments starting in the fourth quarter, or October 2015. The move caught me entirely by surprise. The market did not react well, and the LNCO share price lost another 47% of its value over the next three trading days.
Since Linn no longer pays any distributions, it is no longer an income stock so the investment evaluation requires a different approach. At this point, I am recommending that if you own LNCO or LINN shares to continue holding.
I think that to a certain extent, the distribution suspension was a reaction to the market not putting any value on the distributions. MLPs like Linn Energy use their equity units as currency to fund growth or acquisition projects. With a 20%+ yield, equity funding was not a viable option. So, as a management team, one reason to continue to pay distributions became invalid with the units priced to yield so high.
Through the first half of 2015, Linn generated more than enough free cash flow to fund its reduced capital spending plans and pay the lowered (as of January 2015) distribution rate. The company's hedges on future production indicate that Linn could continue to pay the distributions through 2016. After the end of next year, the cash flow picture became a problem if energy prices stayed low.
By suspending the distributions, paying off some debt, and reducing production expenses, Linn should generate $500 to $700 million in free cash flow between now and the end of 2016. At the current $3.15 per unit, LINE (all LNCO shares are backed by an equal number of LINE units) has a market cap of $1.1 billion. This means that the company is trading at less than 2 times the free cash flow it should produce over the next six quarters. If Linn can find a way to continue a similar level of cash flow past the end of next year, this will, in hindsight, appear to be a stupidly low valuation on the company.
With the freed up cash flow, Linn has several options:
It could buy back units. If all of the excess cash went to buyback's, the unit could be reduced by half, which means the cash flow needed to resume the distribution would be half as much.
Pay down debt. Linn has $10 billion of debt. In Q2 the company bought in some long-term debt at a 35% discount to par. Significant debt reduction is not really a possible solution for Linn. It needs to focus on growing free cash flow to cover interest expenses. Some smaller, discounted debt buyback's will make the market feel better. Asset sales with the proceeds going to debt are another option to reduce the debt load.
Increase production rate. Lower energy prices may be here for a while. If Linn spends some freed up cash flow to drill or rehabilitate wells, the added production will produce growing revenues that are not burdened with added debt or equity issuance and interest or distribution expenses. Personally, I would like to see Linn take the $100 million per quarter that was going to pay distributions and use most of the money to develop and add crude oil or natural gas production.
At the current unit values, I see LINE and LNCO as highly undervalued. That doesn't mean they won't get cheaper. A value of two times 6 quarters worth of cash flow is very low. Even without distributions, it is conceivable that Linn could be worth double where it trades today. But keep in mind, with no distributions to support unit values, LINE and LNCO are highly speculative. Investors who bought for the income are very disappointed and have experienced a serious loss in value.
My choice at this point is to hang on to my LNCO units as a speculative play on energy prices and whether management can take the newly available cash flow and turn lemons into lemonade. The unit prices will now be highly linked to changes in the price of crude – even though Linn is mostly a natural gas producer.
I will be monitoring the company, but not write much unless I see signs of a resumption of distributions. Note: I added LNCO shares (about 1/3 more) to my personal position at $3.40. I think energy prices will recover and I am willing to wait for several years to realize some very nice gains on Linn if that happens.
Finally, with the Linn Energy crap out, it has taken a lot of my time and I am sure a lot of time and worry for investors holding LINE or LNCO. However, it is earnings season right now and other recommendations I have made in my The Dividend Hunter newsletter have been reporting outstanding results. One stock just announced its second dividend increase of the year and another announced a big increase set for early next year.
High yield / high dividend growth investments that regularly boost their dividends are an integral part of the income strategy with my newsletter, The Dividend Hunter. And there are currently several in my Monthly Paycheck Dividend Calendar, an income system used by thousands of dividend investors enjoying a steady stream of cash.
The Monthly Dividend Paycheck Calendar is set up to make sure you're a minimum of 5 and in some months 8, 9, even 12 paychecks per month from stable, reliable stocks with high yields.
And it ensures that your dividend stock income stream will be more stable and predictable as you're getting payments every month, not just once a quarter like some investors do.
The Calendar tells you when you need to own the stock, when to expect your next payout, and how much you could make from stable, low risk stocks paying upwards of 8%, 9%, even 11% in the case of one of them. I've done all the research and hard work; you just have to pick the stocks and how much you want to get paid.
The next critical date is Thursday, August 27th (it's closer than you think!), so you'll want to take before that date to make sure you don't miss out. This time we're gearing up for an extra $1,539.50 in payouts by September, but only if you're on the list before the 27th. Click here to find out more about this unique, easy way of collecting monthly dividends.