Lock in historically high dividend yields from these two safe and undervalued stocks now while they are still cheap. Market volatility may be here to stay, but these two stocks can shield your portfolio while also returning above average income.
I just got back from the Money Show conference in Las Vegas where I delivered a couple of presentations. I gave one on the state of the biotech sector and another one on where I am finding value in what I believe to be at least a slightly overbought market with no earnings growth to speak of.
I found my audience was a bit more somber than in years past; although, they seem to be maintaining their resiliency despite the challenging market of the last year and a half. This contrasted to the mood at the nearby SALT conference in the Bellagio which is an annual hedge fund confab. After years of underperforming the market and seeing an increasing out-migration of both governmental and corporate pension funds, this meeting of the financial "Masters of the Universe" was almost a wake. At least I hear it was, I think my invite might have got lost in the mail this year.
All kidding aside, it has been a rough go for both the retail and professional investor ever since the Federal Reserve drew down its last "quantitative easing" program in the fall of 2014. Since then, the market has gone basically sideways with more stocks down than up. The dollar has appreciated almost 20% since the summer of 2014, producing a major headwind for the earnings within the S&P 500 which recently posted its fourth straight decline in earnings on a year-over-year basis.
The energy sector has been a tar pit that has left many investors with deep losses since oil began its descent from over $100 a barrel nearly two years ago. Even income investors have been brutalized as they leap into what they thought were "safe" yields provided via master limited partnerships (MLPs) within the energy sector.
Small caps have significantly underperformed the overall market over this time frame as well. This is despite little exposure to the strong dollar or tepid overseas demand. They have simply been hit as sentiment on the market has decidedly gone into a "risk off" mode and as volatility in the high-yield credit markets spiked severely to start 2016. The latter has also caused most real estate investment trusts to substantially underperform the market since last summer as well, despite the yield on ten-year treasuries remaining below two percent.
Biotech has been taken out to the woodshed and treated like a rented mule since its last peak in July. That industry is suffering through it deepest and longest bear market since the financial crisis. This has happened even as biotech was one of the few sub-sectors to produce over 10% growth in earnings and revenues this quarter in S&P 500.
RELATED: How to Invest in Biotech for Maximum Gains with Minimal Risk 
In short, the current market is one that calls for continued caution and one that will likely continue to punish investors looking for "home runs" and plays well for those happy with consistent "singles" at the moment. So where should investors channel their inner Wade Boggs or Rod Carew at the moment?
One has to love the large cap healthcare and biotech space despite both sectors recent travails. As noted above, this is one of the few areas of the market actually delivering both revenue and earnings growth right now despite a very challenging global backdrop. I have given enough "shout outs" to Amgen (NASDAQ: AMGN) and AbbVie (NYSE: ABBV) in recent months on these pages so we will not cover them again. However, by now I hope these stocks hold a position on your buy on the dip "shopping lists".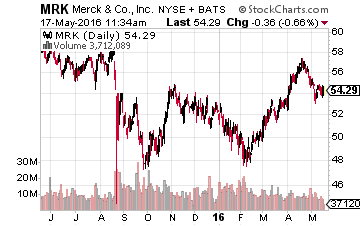 Merck (NYSE: MRK) also looks like a safe pick in current market environment. Its new hepatitis C products are gaining traction and should supplant the Viekera Pak as a solid #2 in this large, lucrative space behind market share leader Gilead Sciences (NASDAQ: GILD). The shares pay almost three and a half percent dividend yield and go for slightly less than the overall market multiple based on earnings right now.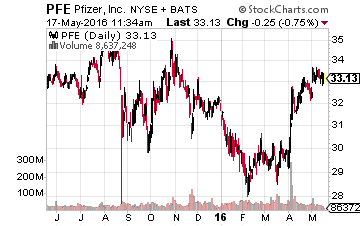 Pfizer (NYSE: PFE) looks like an even better bet as it is showing faster earnings growth than Merck and yields over 3.6%. The company is also going to use the huge declines among small and mid-cap concerns thanks to the "Yuge" bear market in the biotech space to do some bargain hunting. After its $150 billion merger to Allergan (NYSE: AGN) was derailed on the Treasury Department's third attempt, it certainly has the appetite to be a major player in the M&A space.
The company was rumored to be in the mix to purchase mid-cap oncology concern Medivation (NASDAQ: MDVN), but Monday morning announced the purchase of Anacor Pharmaceuticals (NASDAQ: ANAC) which is a dermatology concern for just over $5 billion. Pfizer paid a 50% premium for Anacor but was able to pay in cash, a testament to the strength of its balance sheet and cash flow. I doubt Pfizer is done in replenishing its pipeline and is a solid bet at 14 times forward earnings given the stability of its cash flows and high dividend yield.
If Anacor is the first of several significant M&A deals, this could be just the tonic for the biotech sector to finally rally out of this bear market; but that will be a topic for another column hopefully in the near future.
Conclusion:
While the current sentiment on biotech is indeed bearish, from a longer-term perspective the bear market has created an oversold sector within an overbought market. One, two, or three years out, investors will probably look back on the entry points that are available now and wonder why they did not allocate more funds into the space.
On June 7th, I am hosting a free live biotech investing strategy and ideas session. In it, you'll discover the step by step process of how I find attractive biotech investments while avoiding the kinds of traps that can blow up your portfolio. You'll also see firsthand what criteria I look for before I invest my money into any biotech stock and get several actionable investing ideas.
There will be a Q&A session at the end for you to pose your biotech investing related questions.
To register for this event, please click the following link. Click here to register for my free live biotech strategy and idea session. 
Quite frankly, this single buy could easily become your best-performing stock for the next decade. And, right now is one of those precious moments when an exceptional player in a lucrative industry can be had for a song.
This below-the-radar company is extremely healthy, and top-line sales and revenue are robust. The company is on pace to deliver more than $1 billion in profit this year.
Plus, their extremely generous dividend yield (currently 4%) provides a very large margin of safety for new investors.
Yet, my analysis shows that shares could be undervalued by 50% or more. I conservatively estimate their share price will DOUBLE from its current level of around $40 over the next 12 months, and now is the chance to capitalize on this explosive trend by reading my new report that goes over every reason that you should own this stock in your portfolio for years to come. Just click the link below to learn more about this opportunity.
Click here to read my newest report on my 'Top 3 Buy and Hold Forever Stocks' for 2016