The price of WTI crude has dropped from the low $60's to around $50 in just a couple of weeks. Investors are freaking out, and share prices of energy companies across the board have been hit.While the values of almost all energy stocks are falling, not all companies have business operations tied to the price of crude oil. This general sell-off in the sector offers investors who understand how the energy sector works an opportunity to pick up great companies and cheaper share prices.
One company in particular, is offering a tremendous opportunity right now with the recent sell-off. Having rejected a buyout offer over 10% higher than its current share price, you can expect any other bids to come in to be even higher than the previous. On top of this, even if a buyout does not go through, this company has plans for double-digit distribution growth through a minimum of the next half decade.
Williams Companies (NYSE:WMB) is an energy infrastructure company that is almost entirely focused on natural gas services. Williams is in play as a takeover candidate, providing a win-win situation for investors who buy WMB now. The current decline in energy prices and energy sector stock prices will be temporary, and at some point prices will recover. This is the time for large, financially secure companies to buy assets on the cheap. Then in the next upturn, those assets will pay off with greater revenues and profits.
Williams Companies is the general partner of large-cap midstream MLP, Williams Partners LP (NYSE:WPZ). The two companies own assets that operate entirely in the natural gas side of the energy world. Pipelines, processing facilities, and other assets are owned by both companies. Williams management notes that 30% of all natural gas produced in the U.S. touches its system at some point. This graphic below illustrates the range of natural gas services provided by the two Williams companies.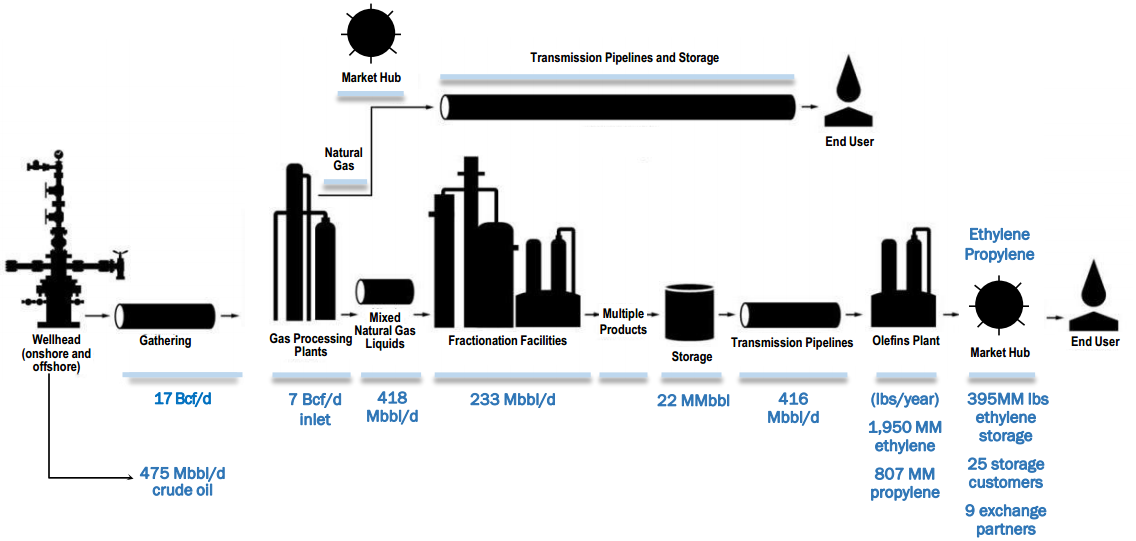 Williams has over $9 billion of planned growth capital spending to continue to expand the natural gas network. About 90% of current revenues are fee-based, providing a stable revenue stream and predictable cash flow growth. WMB and WPZ are both managed to generate growing dividend streams for investors.
Two Ways To Win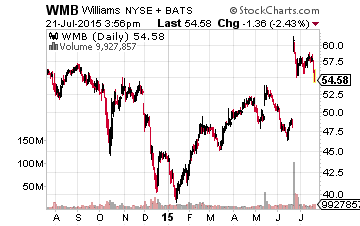 In mid-May, Williams announced an agreement that would merge the MLP, WPZ into the corporate parent, WMB. This roll up of the controlled MLP would give Williams a more efficient financial structure and would lower its costs of capital that Williams needs to raise to fund the growth. There would also be tremendous corporate income tax benefits when the MLP owned assets were brought into the corporation. If and when the merger is completed, Williams forecasts it would be able to grow dividends by 10% to 15% every year through at least 2020. Prior to the announcement, WMB was trading under $50 and jumped to above $53 on the news. With the merger complete, Williams would become a dividend growth powerhouse, fueled by growing production, processing and use of natural gas in the U.S. At the time of the announcement, a third quarter completion of the merger was expected.
Throwing a wrench into its merger plans, on June 21, Williams confirmed it had received an unsolicited bid for WMB with a $64 per share value. Energy Transfer Equity LP (NYSE:ETE) made the all-share offer contingent on Williams not going through with the WPZ merger. Williams rejected the offer but has remained open to negotiations with Energy Transfer or other potential buyers. On the news, WMB jumped to almost $61 per share. The general sell-off in the energy sector has pulled the share price down to the current $56 range. On July 17, Energy Transfer agreed to participate in some sort of private auction process run by Williams to solicit bids for the company.
I think that some company will eventually close a deal to purchase WMB. That would also give the buyer control of WPZ. With a $64 per share offer rejected, the buyout price should be $70 or higher. If no company does step up and pay a premium for WMB, the WPZ merger will go through and investors will own a large cap energy infrastructure stock with a 4% yield and high visibility for low teens annual dividend growth the next half decade minimum.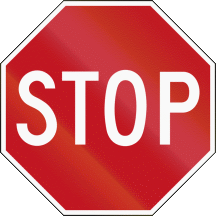 Please hold off on collecting your next dividend payment until you read THIS.
With one small change in your brokerage account you can set yourself up to collect 5x... 10x... even 25x more dividend income down the line...
Take a look at the difference this makes in your potential income: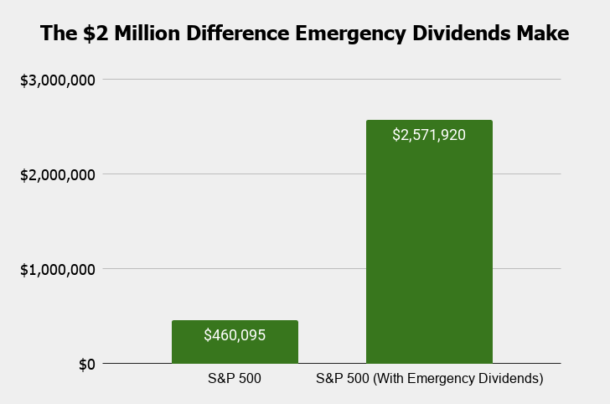 And all it takes is one change in your brokerage account...
But you have to hurry - Big Government recently put tight restrictions on advertising this secret...
And with coronavirus ravaging the market this could be your last chance...
That's why I'm issuing this urgent alert.
Click here now to read all the urgent details.
If you're at or near retirement age, you can't afford to wait.