With long-term growth trends that still have years to mature, now is a great time to buy these two tech stocks that will put share price growth and cash dividends into your brokerage account. Plus, our newly elected President has made promises that will greatly boost the long-term value of these companies.
Now that the U.S. Presidential election is over (finally!), let me borrow an old phrase from Shakespeare and Sherlock Holmes,
"The game is afoot.".
On Wall Street, that means finding the sector or sectors that will likely benefit under the new President. That entails looking for a sector that is liked by politicians or, at least, a sector that has not been in the direct line of their political rhetoric.
For me, that has to be the technology sector. It has not been accused of price gouging like the pharma sector. And it is not despised by some like tobacco or fossil fuels.
A final factor is that the politicians are actually in agreement on something that will benefit the larger technology companies.
Political Agreement
During the campaign, one item that both Presidential candidates agreed on is the need to work out some sort of arrangement so that at least some of the estimated $2.5 trillion in stranded corporation cash overseas is brought back home.
As Edward Kleinbard, the former chief of staff of the Congressional Joint Committee on Taxation, told the New York Times, "Everyone agrees that something is going to be done about this."
Companies are not currently repatriating money earned overseas because the U.S. currently has the world's highest corporate tax rate, 35%.
A deal to bring the money back to the U.S. actually makes sense. It is better to gain some tax revenues from a repatriation than never getting a dime of it.
The other benefit is, of course, that money will then be re-invested here in our country. This could be a substantial stimulus to the economy. According to the forecaster, Capital Economics, the total of monies stashed overseas is equivalent to nearly 14% of the yearly U.S. GDP.
If nothing is done, that pile of overseas loot will only continue to grow and grow. The amount of stranded cash overseas jumped 20% just in the past two years.
Tech Companies' Riches
Much of this overseas loot is held by technology companies.
In May, Moody's Investors Services released a report that showed the top 10 companies sitting on the most cash overseas.
The list included: Apple (Nasdaq: AAPL), Microsoft (Nasdaq: MSFT), Alphabet (Nasdaq: GOOG), Cisco Systems (Nasdaq: CSCO), Oracle (Nasdaq: ORCL), Pfizer (NYSE: PFE), Johnson & Johnson (NYSE: JNJ), Amgen (Nasdaq: AMGN), Intel (Nasdaq: INTC) and Qualcomm (Nasdaq: QCOM).
As you can see, seven of the top 10 are technology firms. And two of those are among my favorite tech stocks.
Qualcomm's Bargain Deal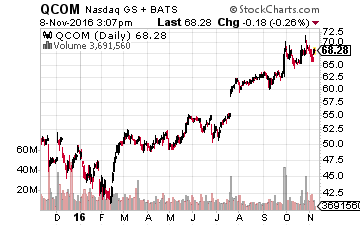 The first company, Qualcomm, has moved up on my list because of a recent deal it announced. It is spending some of that overseas cash to purchase NXP Semiconductors (Nasdaq: NXP) in a $47 billion deal.
Qualcomm is the dominating player in chips for mobile devices. But with growth in the smartphone market stagnating, investors became worried that its growth era was over.
With the NXP deal, in one bold stroke, Qualcomm has positioned itself to become the dominant force in chips for the automotive market. NXP is a leading maker of microcontrollers that handle the newly sophisticated automotive systems. Its position in that sector was boosted by its $11 billion acquisition of Freescale in 2015.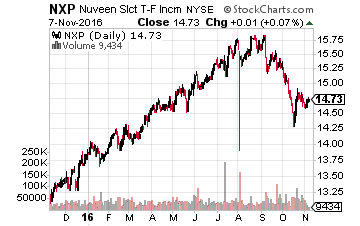 According to the research firm, IHS Markit, the automobile chip market is poised to become a $44.7 billion market by 2022. It was only a $29.4 billion market in 2015. That 6% annualized growth rate is well ahead of the overall semiconductor industry's estimated growth rate of 2%.
NXP is not only the leading provider of chips for that market but its chips are also used in a number of industrial applications and devices. Its security technology is used for mobile payments, similar to Apple Pay.
So Qualcomm is getting growth in the deal and it paid a relative bargain price for NXP, only 4.8 times next year's revenues. QCOM yields right over 3%.
Nadella's Vision for Microsoft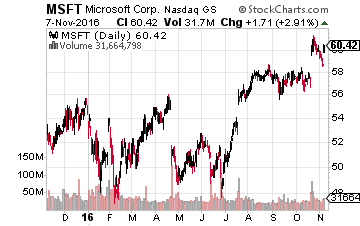 The second company, Microsoft, has undergone quite a transformation since Satya Nadella became CEO in February 2014.
The former head of the company's cloud business, Azure, has pushed Microsoft strongly toward the cloud and those results are paying off.
In its latest quarterly results, Microsoft reported sales of the Azure service more than doubled. Revenue growth soared by 116%, up substantially from the previous quarter's already heady 102% growth. The company also reported a 7% rise in the profit margin in its commercial cloud business. Microsoft yields right under 3%.
Nadella's head isn't just in the cloud, so to speak. He is also pushing Microsoft hard into other areas.
One is artificial intelligence, which Nadella believes will become a cornerstone in bringing more customers to its cloud services. Another area is augmented reality, with its Windows Holographic effort which includes the HoloLens. This involves mixed reality, where users can still see the real world but with computer-generated 3D objects displayed in front of them.
While both stocks in this article offer solid opportunities for long-term capital gains boosted by their healthy dividends, they are not the best stocks to own if you're looking for a large cash income stream that you can count on every month. It doesn't matter if you're already in retirement or still years away, you can use my Monthly Dividend Paycheck Calendar system to generate an average of $4,066 every month throughout 2017 by investing in the market's most stable high-yield stocks.
For a livable cash income stream, you need to invest in stocks that won't cut their dividends, pay a high current yield (preferably above 4.5%), and have the potential for dividend growth. All 20 high-yield stocks currently available through my Monthly Dividend Paycheck Calendar system will generate a high monthly income stream for you that you can trust will not vanish overnight.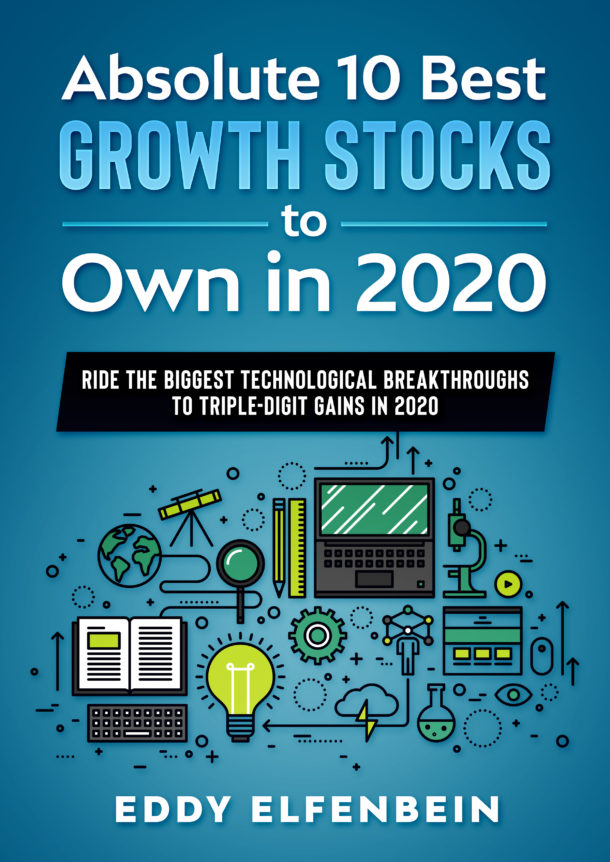 [NEW REPORT] Absolute 10 Best Growth Stocks to Own in 2020
Get the best 10 stocks to ride the 2020 tech explosion. 
One could be the most valuable stock of the next decade. 
Normally, I charge $20 for this report…
But, today...you can claim a copy absolutely free.
One stock alone has a chance at 167% profits in the next 12 months (or sooner). 
Enter your email below to claim a free copy while they last.