President Trump is at it again… on June 13, he again blamed OPEC for the rising price of oil. In a tweet he said, "Oil prices are too high, OPEC is at it again. Not good!". This follows a similar tweet on April 20 when President Trump said "oil prices are artificially Very High" due to the supply curbs by OPEC and its allies.
Trump's tweet comes ahead of a meeting next week of oil ministers from OPEC and Russia who are under pressure from the U.S. to raise output by at least one million barrels of oil a day, after more than a year of enacting production cuts.
So is OPEC to blame? Yes and no. There are other factors at play here such as a robust global economy that has driven up demand for oil. For example, if you look at just China and India, they have imported 962,000 barrels per day more in the first five months of 2018 than in the same period last year.
But the real problem is on the supply side, with President's Trump's imposition of new sanctions on Iran exacerbating an already bad situation. Let me explain…
Oil Supply Constraints
I found it interesting that well-known hedge fund manager Pierre Andurand responded to President Trump's tweet saying an oil price spike is coming because the number of countries with excess production capacity are few. "OPEC has the lowest spare capacity ever right now. There is going to be a real issue. Prices will be above $150 in less than 2 years. Eventually higher prices will bring more supply. But right now [there is] too little supply coming over the next few years despite US supply growth," he tweeted.
Andurand is someone to listen to in the oil market… he has returned to his investors a cumulative 560% since 2008. But is he just talking his 'book'? Last year, he began accumulating positions betting on a return to $100 a barrel oil.
Related: Big Oil Bets Big on Big Data to Increase Revenues and Cut Costs
Unfortunately, for us consumers of oil Andurand is largely correct…
First, supply and demand right now in the oil market are roughly in balance at about 100 million barrels a day. BUT the so-called shock absorbers that would cushion any interruption in supply or spike in demand are at dangerously low levels.
Commercial stocks in the world's major economies currently stand at 2.8 billion barrels, composed of crude (1.1 billion barrels), other liquids (300 million barrels) and refined products (1.4 billion barrels). The level of these inventories is already 27 million barrels below the five-year average, according to the International Energy Agency.
Then you must consider that the vast majority of inventories are held for operational reasons to ensure the uninterrupted flow of oil from wellhead to final customers. Global oil consumption has increased by more than 6 million barrels per day over the past five years, so other things being equal, the oil industry will want to hold more inventories for operational reasons. That leaves only a small percentage, generally less than 15%, actually available to act as a shock absorber.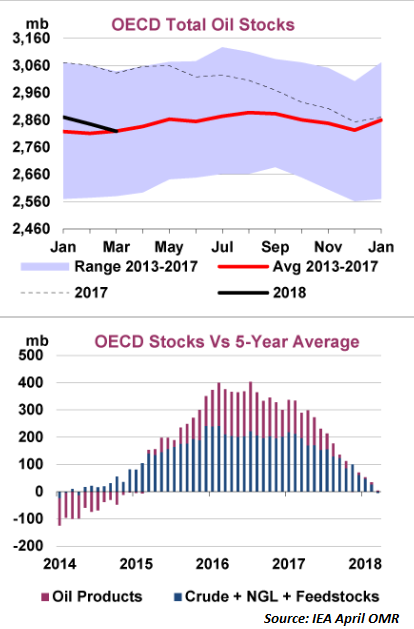 For the last four decades, the oil industry's second line of defense has been the existence of significant volumes of spare production capacity. But today, nearly all spare production capacity is held by Saudi Arabia, with smaller volumes held by Russia, Kuwait and the United Arab Emirates. The other oil producers have no spare capacity.
Add it up and OPEC's spare capacity currently amounts to less than 2 million barrels per day, according to the U.S. Energy Information Administration. That is not good when you consider that in its latest oil market update, the International Energy Agency (IEA) said that it is possible that exports from Venezuela and Iran could decline by as much as 1.5 million barrels per day or about 30% of their current output by the end of 2019. Iran sanctions may take nearly a million barrels a day off the market and with the sorry state of Venezuela, oil production there may totally collapse.
To compensate for that lost output, Saudi Arabia and the others could boost production by somewhat over 1 million barrels per day, according to the IEA. But if that happens, OPEC spare capacity will be reduced to less than 1 million barrels per day – the lowest level since 2004!
And even though US production from its shale fields is on the rise, keep in mind that most U.S. refineries cannot handle that type of light sweet crude and run on the heavier crude such as from Saudi Arabia. And pipeline constraints mean much of that shale oil cannot reach the marketplace.
Oil Price Rise Investments
So how can you profit from this, or at least, make enough money to offset what will surely be rising gasoline prices?
Keep in mind that many oil producers are generating more free cash at current prices than they did at $100 per barrel before the market crashed four years ago. This is because of deep cost cuts during the downturn, with average operating expenses per barrel down by a third and development costs halved thanks to cost-cutting since 2014. That means most oil majors can now cover dividends and capital expenditure at prices around $50 per barrel, meaning that, at anything above that level, they are very profitable.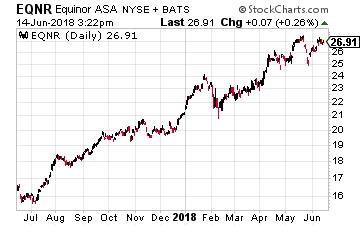 Of the larger oil companies, my favorite is Norway's Equinor ASA (NYSE: EQNR), which recently changed its name from Statoil to emphasize its long-term move pivot away from oil and toward alternative energy.
But for now, the company is enjoying the benefits of higher oil prices it is earning (earnings per share were up 24% in 2017) from its rich North Sea oil holdings, including the massive Johan Sverdrup oil field. It's stock up an impressive 26% year-to-date.
More Reading: Buy This Commodity Set to Become More Precious Than Oil
In its latest earnings report, the company lifted its adjusted net earnings to $1.47 billion, from $1.11 billion in the same period last year. Analysts had, on average, expected $1.61 billion. Cash flow from operations increased by 20% to $7.1 billion.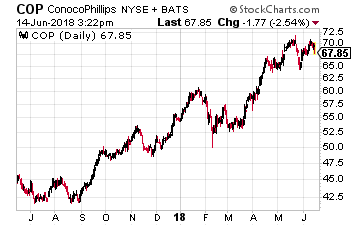 Here in the U.S. I like ConocoPhillips (NYSE: COP), which is also up 26% year-to-date. This should continue as the company expects compound annual growth rate (CAGR) of production through 2022 of 22%. Not surprising when you consider that the bulk of the acreage it holds in the Eagle Ford shake and Bakken shale are rich in oil. Another plus is that on February 1, ConocoPhillips entered into a deal with Anadarko Petroleum to buy a 22% stake in the Western North Slope of Alaska. The company will also acquire the stake of Anadarko in the Alpine pipeline. Once the deal concludes, ConocoPhillips' cash flow will rise from incremental production increases.
But for every winner, there is a loser. And the biggest loser, if oil prices continue to rise, is the airline industry. Overall, the International Air Transport Association says it expects net income of $33.8 billion for global airlines this year, down 12% from its December forecast.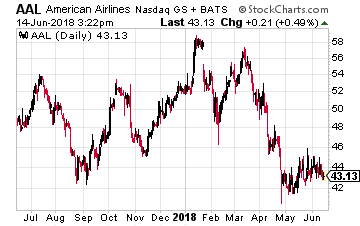 Jet fuel represents a third of airlines' expenses and industry executives predict costs will be passed on to consumers via higher fares. If I had to pick one loser among the airlines, it would be American Airlines (Nasdaq: AAL), which has added fuel costs to its other problems (overcapacity, etc.)
American lowered its profit outlook for 2018 due to an expected $2.3 billion rise in fuel costs this year. It unfortunately had listened to the short-term Wall Street focus… why waste money hedging – everyone 'knows' oil is headed lower, raise your profits by not hedging. Its stock is down 22% over the past three months.
Look for even more winners and losers if the oil price continues its ascent.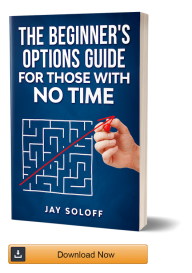 If not, here's your chance to save it to your computer while it's still free. That way you will never have to pay for it again in the future.
This guide will get you placing winning trades without you needing to spend hundreds of hours studying.
In fact, you can place your first trade today after reading my "Beginner's Guide" to trading options.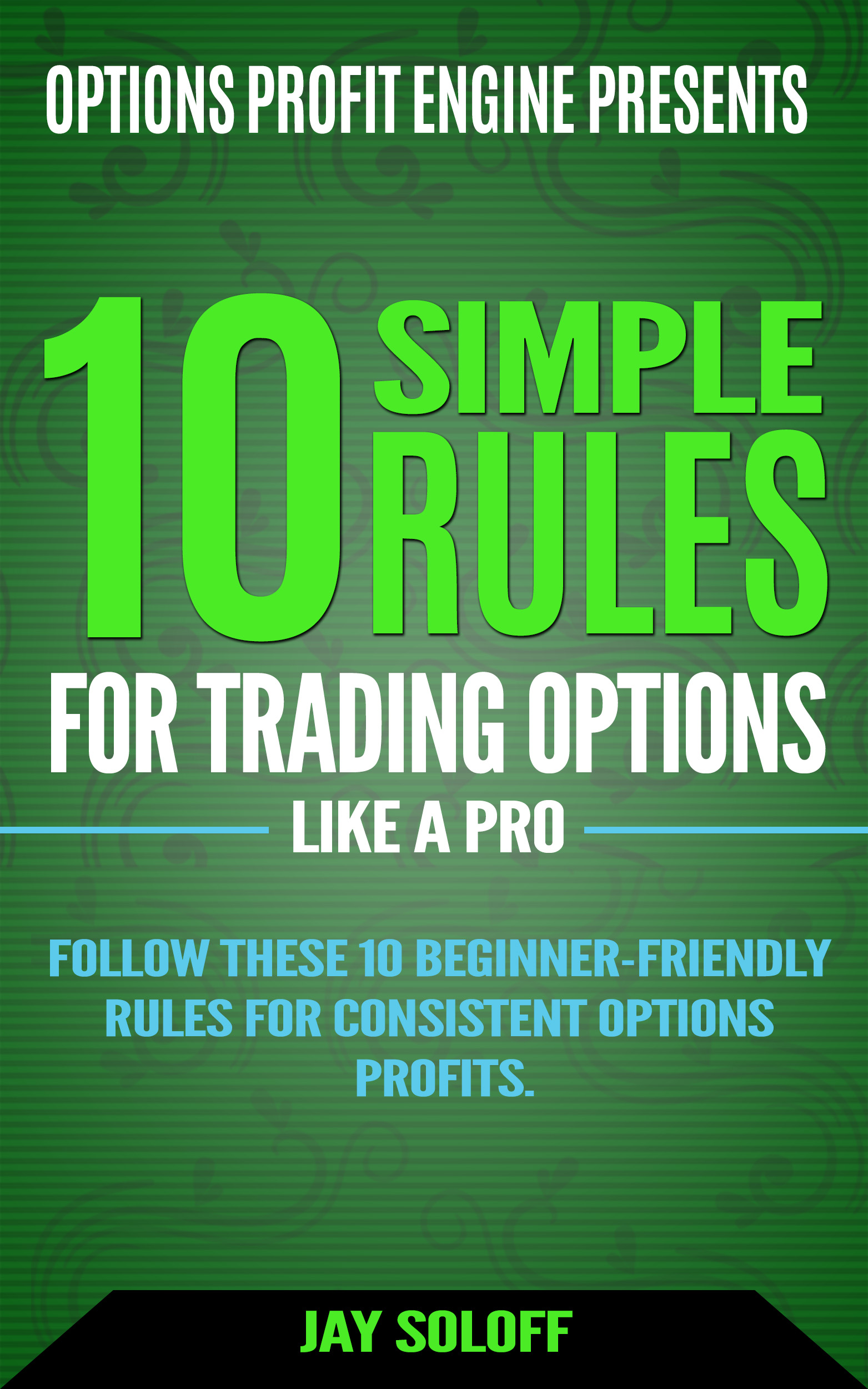 [FREE DOWNLOAD] 10 Simple Rules for Trading Options Like a Pro
Follow these 10 simple rules from 20-year professional options trading veteran, Jay Soloff and start earning a reliable extra income from options.
NO prior experience needed to master these 10 simple options trading rules. 
Enter your email below and receive access to this FREE guide...