The election is just over three months away, and now is the time to prepare your portfolio. If Donald Trump wins the election, his unconventional primary campaign will likely carry over to his presidential policies. With that in mind, here are three stocks to own.
The Republican National Convention was last week, making it official – Donald Trump is the 2016 Republican Presidential candidate, putting him one step closer to the White House.
The Democratic National Convention kicks off this week and we're now just a short three months away from the Presidential election.
The fact that Trump has made it this far has surprised many people, but now's not the time to start underestimating him.
Trump could also gain some serious steam as we head into August. Since 1928, the U.S. stock market has correctly signaled who will win the Presidential election 19 out of 22 times. The criteria being, when the market is up in months before the election, the sitting party generally wins. With the stock market already at new highs, the odds of a pullback over the next few months is likely, which should further boosts Trump's odds.
Trump recently released more details on his platform and his plan for the U.S. this week, which has repercussions, both good and bad, for companies like gold miners, biotechs and defense contractors. Also, the Trump platform now calls for a reinstatement of the Glass-Steagall Act, which could force a breakup of the "too big to fail" banks.
SEE ALSO: 5 Stocks That Get Paid Every Time You Use the Internet
Then there's Trump's unconventional views on foreign trade, which could be a headwind for exporters and companies doing a lot of business overseas. But he is sympathetic toward for-profit universities and oil companies.
As you see, there are a number of ways to play the Trump Presidency, with cement makers and major construction companies included, as Trump pushes for a U.S.-Mexico wall to divide the two countries.
However, some things are more realistic than others. With that in mind, here are the top three stocks to buy for a Trump Presidency:
Trump Presidential Stock No. 1: Barrick Gold (NYSE: ABX)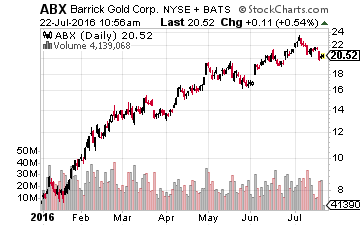 Trump is a lover of gold, something I talked about in 2015 when I revealed Donald Trump's personal portfolio. But the gold bull thesis goes beyond that. If Trump does get elected, a key play is uncertainty – gold is a great bet on market uncertainty, as well as fear.
Already, gold has seen a nice rebound with uncertainty related to historically low interest rates and the Brexit. Then there's the idea of going back to a gold standard, which is alluded to in the newly released Republican platform.
The obvious play in gold is in the biggest and best miners. Barrick Gold is the biggest name in the space and has managed to cut its mining costs well below its peers. In terms of downside protection, Barrick would be cash flow positive even if gold prices were to fall back down to $1,000 an ounce.
So gold is a two-fold thesis. One is the potential for a return to the gold standard and two is a hedge against the uncertainty of Trump, more Brexit fallout, and continually low rates.
Trump Presidential Stock No. 2: General Dynamics (NYSE: GD)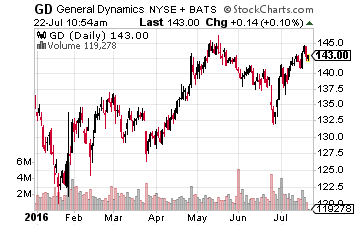 Defense will be key if Trump wins the Oval Office. This play is rather obvious. Trump is brash and bold with his words and we should expect more of the same, plus some bold actions. These potentially bold actions make defense contractor stocks quite interesting these days.
But it's not just Trump's bold temper, but also the fact that he's already vowed to build up the military and weapons systems. The cheapest of the major defense companies is General Dynamic, trading at less than 15 times earnings. Trump has said he's going to build a much stronger military; that starts with the warships, tanks, and fighter jets that General Dynamics make. Also, General  Dynamics has a communications and tech division that makes up 30% of sales.
Trump Presidential Stock No. 3: Fluor (NYSE: FLR)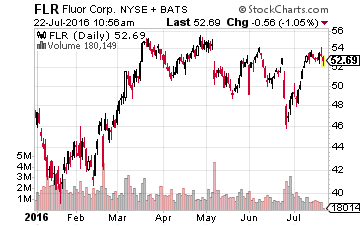 Infrastructure could be a great, underrated way to play the Trump Presidency. This goes beyond the plan to build a massive border wall; one of Trump's key theses for when he gets in office is to rebuild the country's infrastructure.
One of the best plays on the heavy construction market is Fluor. Trump is talking about rebuilding airports, roads, bridges, the whole gambit. Flour has exposure to all these, as its business model covers engineering, procurement, and construction. And it has a strong backlog of work – worth $45 billion. They also have exposure to the oil and gas industry, which if Trump opens up drilling on Federal lands, will be yet another positive for Fluor.
Assuming Trump does get elected, there will be a lot of uncertainty in the markets. However, one thing is clear, that the there are a handful of stocks we've found that will do well if Trump does become president — or if he doesn't.
Trump Presidential Stock Bonus Pick
While the three stocks profiled above will do exceptionally well if Trump becomes president, placing your money into stocks that will do well no matter who is elected in November (or any election for that matter) is a strategy that will pay off much better in the long-run.  My colleague, Tim Plaehn, has dedicated his career to hunting down this type of stock and has found a select group of stocks that will consistently give you above-average returns no matter what happens in the market.
By only recommending the most stable companies out of this group and focusing on the ones that regularly increase their dividends, his strategy has shown time and again that it can produce superior results, no matter if the market moves up or down in the shorter term. The combination of a high yield and regular dividend growth is what gives this strategy its consistent and powerful returns.
Right now, he is recommending over 20 of these stocks to choose from in his Monthly Paycheck Dividend Calendar, an income system used by thousands of dividend investors enjoying a steady stream of cash.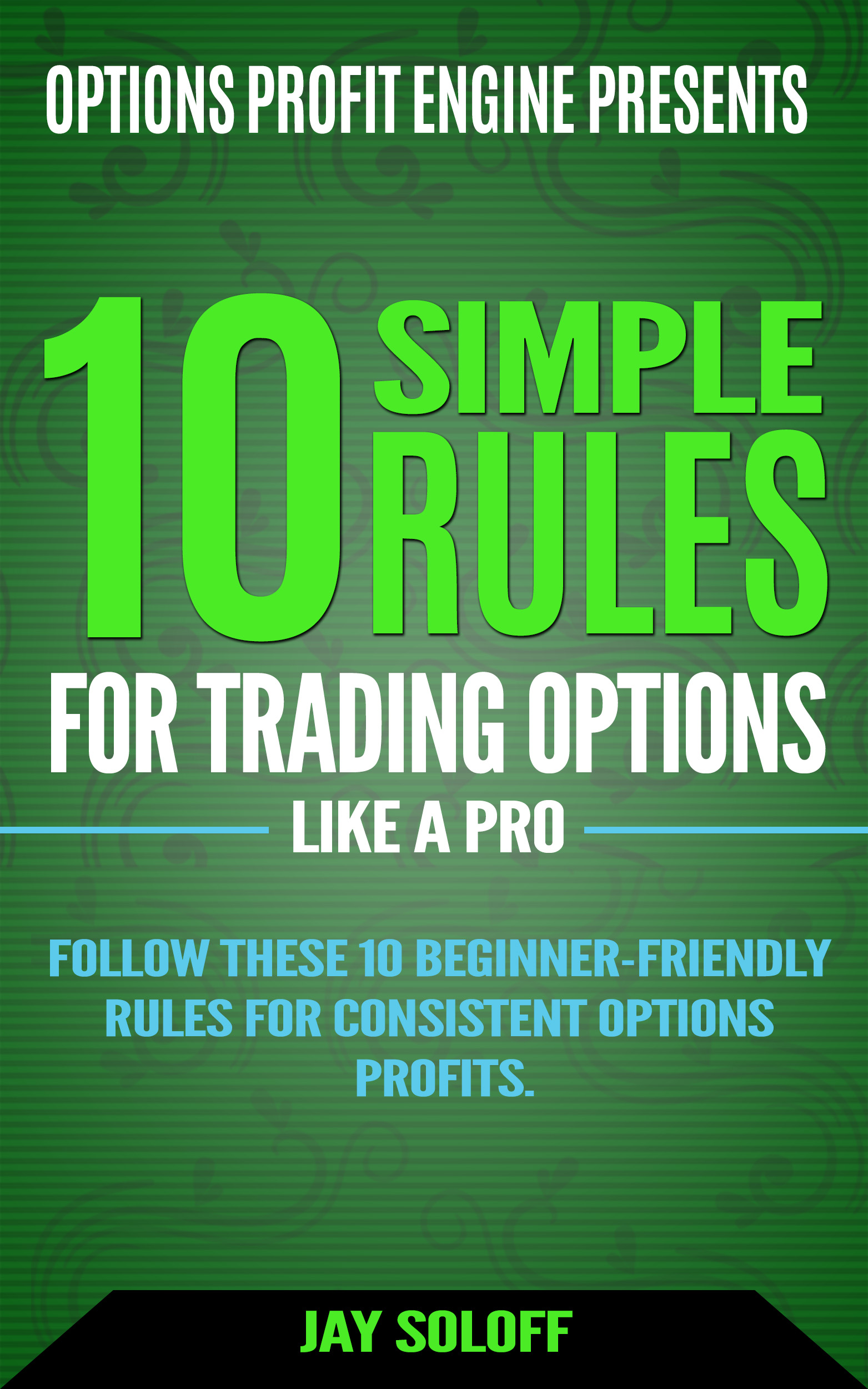 [FREE DOWNLOAD] 10 Simple Rules for Trading Options Like a Pro
Follow these 10 simple rules from 20-year professional options trading veteran, Jay Soloff and start earning a reliable extra income from options.
NO prior experience needed to master these 10 simple options trading rules. 
Enter your email below and receive access to this FREE guide...