President Trump's election ushered in a record-setting bull market that has gripped the investing world since Novermber. But, where can investors find growth with the market setting all-time highs? Here are three stocks that can get even more gains out of the Trump Bump. 
One consistent theme coming from President Trump is the pledge for a trillion dollar U.S. infrastructure plan.
The money is very much needed. As I've discussed in previous articles, the American Society of Civil Engineers estimates an infrastructure funding gap in the United States of $1.4 trillion through 2025.
Yet, in the Administration's recently submitted budget to Congress, there was only $200 billion earmarked for infrastructure over a 10-year period.
So what gives?
The Saudis and Infrastructure
The answer lies in the President's recently completed trip to Saudi Arabia. He apparently plans to get much of the trillion dollars needed for infrastructure from other sources, including from overseas.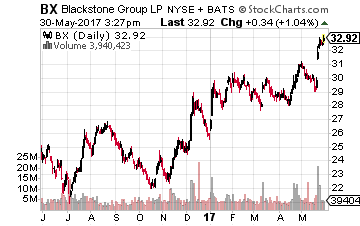 While the President was in Saudi Arabia, the Saudi Public Investment Fund – its sovereign wealth fund – said it would invest $20 billion into a new $40 billion infrastructure fund focused on the U.S. that is being set up by the Blackstone Group L.P. (NYSE: BX).
This infrastructure fund should have spending power of about $100 billion once debt is added in.
The Saudis' $20 billion investment is about 25% larger than the biggest infrastructure fund ever raised – a $15.8 billion fund completed earlier this year by Global Infrastructure Partners.
This Blackstone-Saudi deal though is hardly the only funds being raised to invest into U.S. infrastructure.
U.S. Infrastructure Funds
Wall Street is moving heavily into the sector.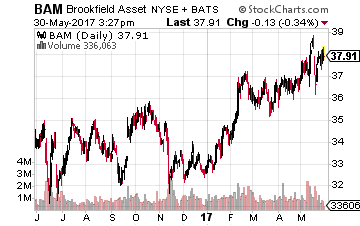 Other companies besides Blackstone investing into the sector are BlackRock (NYSE: BLK) and the Carlyle Group L.P. (Nasdaq: CG). And don't forget the infrastructure experts north of the border – Brookfield Asset Management (NYSE: BAM).
Last year, $56 billion was raised from investors to put into infrastructure. This year, already another $29 billion was committed in the first quarter.
It's easy to see the attraction of such funds… the median annualized return of funds launched after 2004 after fees has been 14.4%. This data comes from Preqin, the alternative assets industry premier source of information.
I believe these newly-formed infrastructure funds will have lots to invest into, even excluding energy assets like pipelines.
The White House is looking at the Australian formula for infrastructure investment. In Australia, public assets are sold (airports, ports, etc.) and the proceeds are re-invested back into new projects. It is called the "asset recycling" incentive model.
The head of National Economic Council and Goldman Sachs (NYSE: GS) alum Gary Cohn said, "We like this Australian idea a lot."
Three Likely Infrastructure Beneficiaries
If plans along the lines of Australia do come to pass in the United States, funds will become available for new infrastructure projects.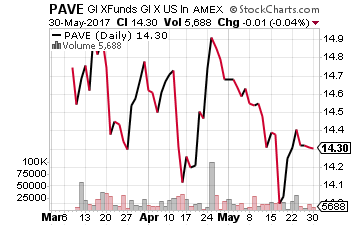 That will benefit a wide variety of companies related to infrastructure. That makes an ETF just launched in March an interesting play. It is the Global X U.S. Infrastructure Development ETF (BATS: PAVE).
The fund's portfolio consists of 88 stocks, with the top holding being the professional instrumentation and industrial technologies company Fortive (NYSE: FTV).
For those of you unfamiliar with this industrial conglomerate, it is a spinoff from Danaher (NYSE: DHR). It owns a number of industrial businesses including well-known names such as electronic instrumentation firm Fluke, auto tools company Matco and the gasoline dispenser and payment systems maker for gas stations – Gilbarco.
Another infrastructure stock I like is Tetra Tech (Nasdaq: TTEK).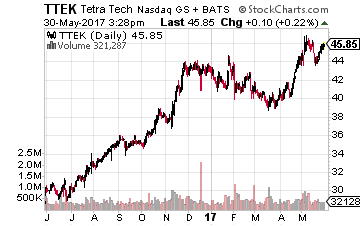 The company is a provider of consulting and engineering services. Its segments include water, environment and infrastructure, resource management and energy, and remediation and construction management.
Tetra Tech has now beaten Wall Street earnings estimates two quarters in a row and net revenues year-on-year were up nearly 7% in the last reporting period. The order backlog also rose 18% year-on-year.
The main boost for Tetra Tech (revenues up 21%) is coming from the water, environment and infrastructure sectors thanks to development projects from all three levels of government – federal, state and local (mainly in water projects).
With the Trump Administration leaning towards adopting an infrastructure plan at least somewhat along the lines of the successful Australian model, companies like Tetra Tek and others should prosper.
3 Stocks That Could Go to 2,524%!
Don't risk your money on IPOs, risky tech startups… or the next Pets.com, Snapchat, Groupon, Webvan hyped by the financial media as the next big thing… all of them black holes for investors' hard earned money. Instead, bank on these 3 high-growth tech stocks that offer a high likelihood of outperformance in the near-term, and a chance of TRIPLING – even quadrupling – before the end of the year!
Click here for names and details.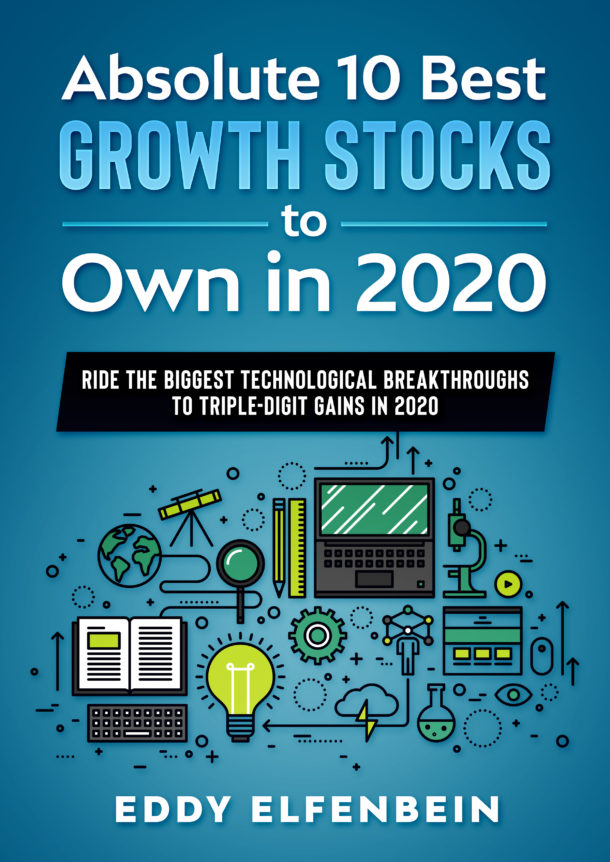 [NEW REPORT] Absolute 10 Best Growth Stocks to Own in 2020
Get the best 10 stocks to ride the 2020 tech explosion. 
One could be the most valuable stock of the next decade. 
Normally, I charge $20 for this report…
But, today...you can claim a copy absolutely free.
One stock alone has a chance at 167% profits in the next 12 months (or sooner). 
Enter your email below to claim a free copy while they last.