Apple (NASDAQ: AAPL) is such a popular and profitable company, it will even thrive in the event of a nuclear apocalypse – at least according to investors. Okay, not really. But, the first nuclear threat (albeit a small one) we've had since the Cold War apparently hasn't dampened buyers' enthusiasm for AAPL shares.
The retail/tech powerhouse – and of course, the largest public company in the world – was still trading higher the day after North Korea's saber rattling, while most other tech stocks were heading lower. In fact, AAPL continues to set record-highs, and is up roughly 7% since last week's earnings release.
Speaking of earnings, the iPhone maker continues to impress. Investors were especially pleased to see the company's revenues diversify away from iPhone sales. While iPhone, the flagship product, did sell more than expected, the iPad saw an increase in sales for the first time in years. The Apple Watch and AirPods (wireless headphone devices) are also gaining traction.
At a market cap of $825 billion, Apple may very well be the first company to join the trillion dollar club. To put that in perspective, only 15 countries in the entire world currently have a GDP over a trillion. Apple is less like a company and more like a force of nature.
That being said, investors are fickle. The company will need to keep putting up impressive numbers for the stock to keep climbing. And, any major macro event (such as nuclear missiles being lobbed at Guam) could certainly derail the march to a trillion.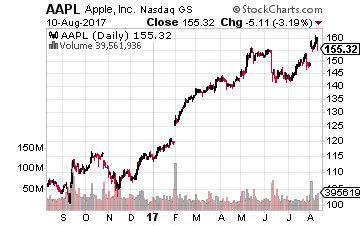 At least one big options trader believes Apple isn't going to be giving back its stock gains in the near future. The trader is using credit spreads (in this case, short put vertical spreads) to bet the stock won't fall below $155 by August 18th. The trade was placed with the share price just under $160.
Here are the specifics…
The trade consisted of the 148-155 puts expiring on August 18th. The 155 puts were sold and the 148 were purchased for protection. The amount collected in premium was $0.55, thus this is considered a credit spread. You'll also here it referred to as a short put spread, a bull put spread, or some other variation of those.
The trader, who executed the spread 1,000 times, will earn a maximum profit of $55,000 if AAPL closes at $155 or above by August expiration. The breakeven point is at $154.45. So, the trader has a roughly 4% cushion before he or she has to worry about a loss, and just a week and half to wait until the position expires.
Sounds like an easy $55k, right? Truthfully it probably will be. However, this isn't the sort of trade I'd be comfortable doing 1,000 times. You see, max loss (below $148) is a whopping $645,000. While the trader has probability on his or her side, that's simply not a risk I'd want to take.
One way you could lower the risk is by doing a narrower spread between the strikes. For example, the 150-155 spread would reduce risk by $200,000 – however it would also reduce the credit received by around $0.20. Is the tradeoff worthwhile?
A more preferable risk/return scenario could be had, in my opinion, by moving down and out. That is, moving farther down the options chain (away from the current stock price) and choosing a longer time horizon until expiration.
The September 1st expiration adds two weeks to the trade, but you can move your short strike down to the 152.50 strike, and subsequently trade the 147-152.50 put credit spread for around $0.50. Given how slow August tends to be historically, that's a tradeoff I'd be willing to make – a longer timeframe versus more downside cushion. As always, traders should adjust according to their own level of risk tolerance.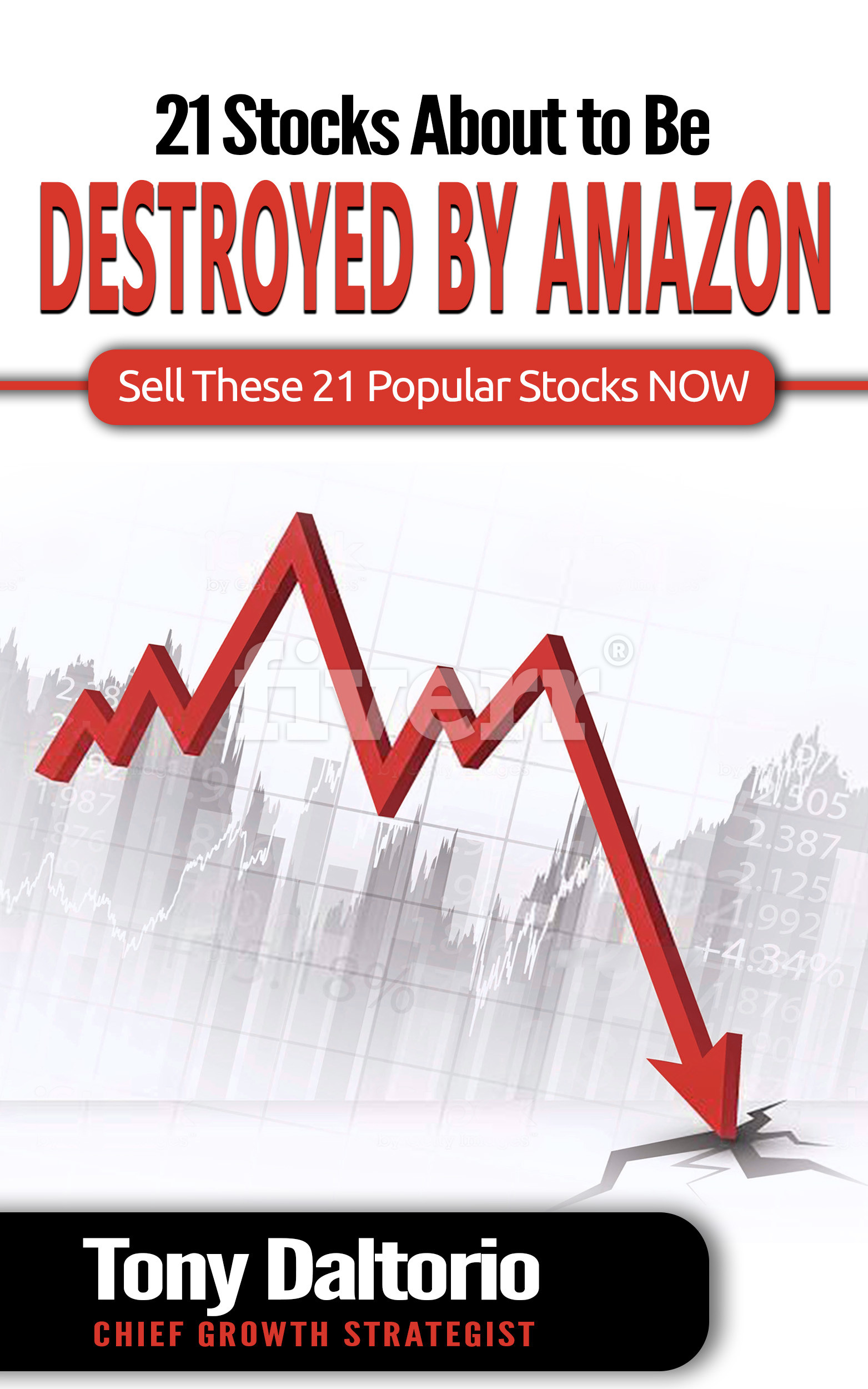 [NEW REPORT] 21 Stocks About to Be Destroyed By Amazon
Grab your exclusive copy of this new research report that shares Growth Stock Advisor editor Tony Daltorio's "21 Stocks About to Be Destroyed By Amazon". 
You won't believe some of the genius business moves Amazon is making to take over countless other businesses in healthcare, banking, payment processing, electronics, groceries, and more. 
Sell these 21 popular stocks now before Amazon puts them out of business.