Although only a handful of investors can afford to invest in hedge funds, all retail investors can learn from them. The hedge fund industry has some of the smartest and most successful investors.
Goldman Sachs puts out a quarterly list of the most owned stocks by hedge funds. This list covers over 775 hedge funds. Investors that want to compare their portfolios to the greats should start with this list.
Top 5 Stocks That Hedge Funds Own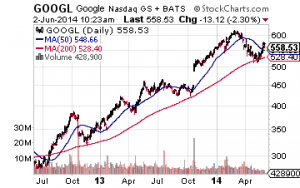 No. 1 Stock Hedge Funds Own: One of the world's leading search engines took over the top spot last quarter, Google (NASDAQ: GOOGL). The stock had 158 hedge funds owning it at the end of the first quarter. It is still one of the best innovators in the market, from driverless cars to Google Glass.
Google also has Android Wear, which is its Android mobile operating system for wearable devices. Its purchase of Nest Labs earlier this year is one of its biggest steps to gain a larger presence in the "Internet of Things" market. Nest is the maker of smart thermostats.
Investors should remember that advertising still makes up over 90% of Google's revenues. Ad revenues were up 16.5% year-over-year during the first quarter. The big opportunity is for Google to place ads on thermostats, glasses, watches and even appliances. Marketing companies would jump at the opportunity to get their ads in the "connected home."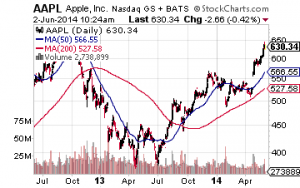 No. 2 Stock Hedge Funds Own: The tech giant, Apple (NASDAQ: AAPL), lost its top spot to Google last quarter. Apple was the number one owned stock at the end of 2013. It lost the top spot to Google, with 155 hedge funds owning Apple at the end of the first quarter.
Wall Street as a whole is bullish on the stock, with 53 out of 55 analysts following the stock having a "buy" or "hold" rating. However, it remains one of the cheapest stocks around. Apple trades at a price-to-earnings ratio of 15, while the S&P 500 as a whole trades at 19.2. Its P/E to growth (PEG) ratio is a mere 1.0. It also offers a 2.1% dividend yield.
Apple's latest move to break its reliance on iPhone sales (which generates over half its revenues) is its purchase of Dr. Dre's Beats for $3 billion. The Beats headphones are high-margin products, much like Apple's suite of other products. Meanwhile, Beats Music will give Apple a presence in streaming music. Apple's iTunes store is the world's largest seller of music. Yet, streaming services are outpacing the sale of music. Thus, the move to buy Beats makes strategic sense.
While many investors are enamored with the Beats acquisition, the bigger story should be the launch of the iPhone 6, and other product "refreshes" that will come later this year. Apple could also launch a "phablet," which would be a phone that is the size of a small tablet.
Billionaire Carl Icahn has been one of the more vocal Apple shareholders. He was initially pushing Apple to boost its stock buyback program by $50 billion. He backed off in February, but still increased his shares owned by nearly 60% during the first quarter.
Then, in April, Apple announced that it was increasing its share buyback plan to $90 billion, from the previous $60 billion. It also boosted its quarterly dividend payment by 8%. The tech giant certainly has the cash to spend. Its cash and short-term investments at the end of its fiscal second quarter were $170 a share, which covers just over 25% of its market cap.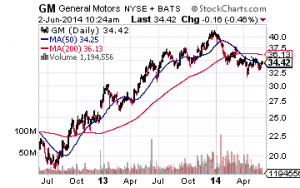 No. 3 Stock Hedge Funds Own: The leading U.S. automaker, General Motors (NYSE: GM), had 153 hedge funds owning the stock at the end of the first quarter. Shares are down 15% year to date on the continued rise of vehicle recalls. It started with ignition-switch recalls and the company is now recalling cars with any slight issues. While the recalls are a headwind, the near-term pressure could well be a buying opportunity.
The real fear is that the recalls could affect GM's brand image and lead to market share declines. Even still, its market share in the North American auto market was a robust 16.5% at the end of the first quarter. Sales in April were actually up 7% year over year.
GM is also focusing on emerging markets to drive growth, including China and Brazil. It is increasing its dealerships in Indonesia and Thailand, and adding to its production capacity in China with new plants. One of its key opportunities is in the luxury segment in China. One of its new plants in China will focus on production of Cadillac cars. GM believes it can grab 10% of the China luxury car market by the end of 2020.
Back in January, GM reinstated its dividend, making the first time since 2008 that it paid a dividend. Its dividend yield is now an impressive 3.6%. After the pullback, GM now trades the cheapest of the major auto manufacturers. Its price-to-earnings ratio is 7.2 based on next year's earnings estimates. It has become one of the best income and growth stories in the market.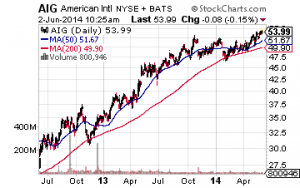 No. 4 Stock Hedge Funds Own: This stock is one of the latest results of the airline industry consolidation. American Airlines and U.S. Airways completed their merger at the end of 2013, forming American Airlines Group (NASDAQ: AAL). At the end of last quarter, there were 146 hedge funds owning the stock. The other interesting thing is that roughly 26% of its market cap is owned by hedge funds. That means a number of hedge funds have the stock as one of their top holdings.
Shares of American Airlines are up over 60% since the merger, but it trades the cheapest of all the major airlines. Its price-to-earnings ratio is a mere 7 based on next year's earnings estimates. The investing consensus has long been that airlines are dead money. That could be set to change.
The large amount of competition has kept industry margins low for a number of years. Companies would constantly undercut each other in an effort to sell tickets. With only a select number of airlines left, companies can now focus on matching supply with demand.
The key for the merger is that it will lead to impressive cost savings. The newly merged company believes it can save upwards of $1 billion. The largest cost saver will be the reduction of flights with the same route. Wall Street analysts are excited about the company's prospects, with the expected earnings growth rate over the next five years coming in at 40% annually.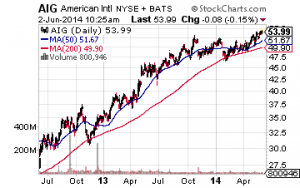 No. 5 Stock Hedge Funds Own: The final stock is one that is no stranger to news coverage. Investors have been slow to forgive American International Group (NYSE: AIG) for its role in the financial crisis and ultimate government bailout 2008.
AIG has paid back its debt to the U.S. government and divested its non-core businesses. Hedge funds have come around to the stock, with 145 owning shares of the property & casualty insurer as of the end of the first quarter. The rest of Wall Street also appears to be getting more bullish on the stock; none of the 21 analysts following the stock has a "sell" rating.
AIG remains one of the top sellers of workers compensation, liability and property insurance. AIG is also growing its presence overseas. Almost 35% of revenues are generated outside the U.S.
Its price-to-earnings multiple is 9.3 and price-to-book is 0.76, which makes it one of the cheapest property & casualty companies in the industry. The industry trades at an average price-to-book ratio of 1.9.
AIG plans on boosting return on equity to 10% by 2016. Compare that to the current 8.0% to 8.5%. The key AIG to boosting its return on equity is improving its combined ratio. This involves increasing the spread between what the company pays out in claims, versus what it receives from premiums. Ultimately, this will boost profitability and improve its return on equity. As AIG boosts its profitability, its valuation should begin to trade more in line with its peers.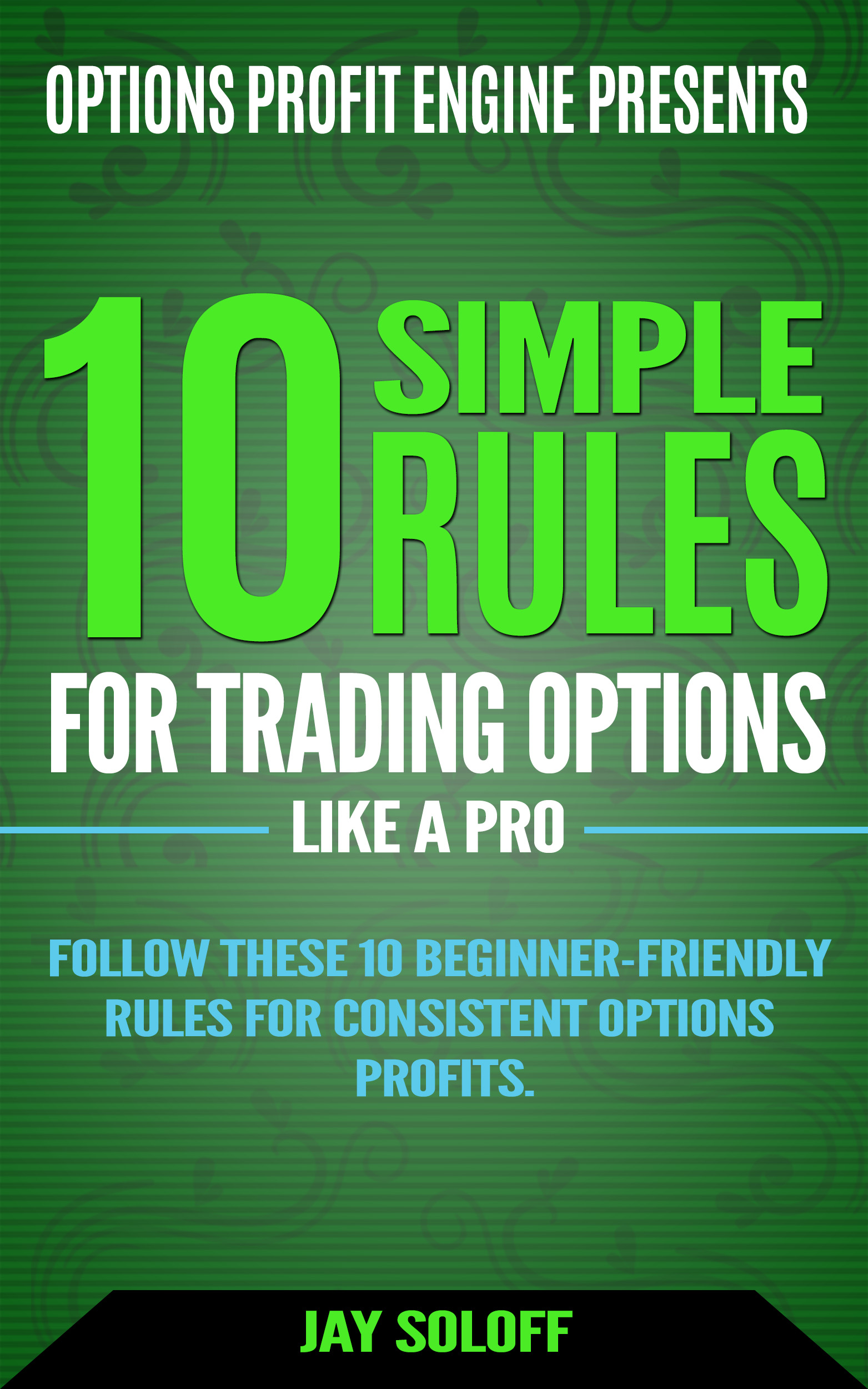 [FREE DOWNLOAD] 10 Simple Rules for Trading Options Like a Pro
Follow these 10 simple rules from 20-year professional options trading veteran, Jay Soloff and start earning a reliable extra income from options.
NO prior experience needed to master these 10 simple options trading rules. 
Enter your email below and receive access to this FREE guide...