This earnings season is shaping up to be one of the worst in years. So far we have seen multiple stocks fall over 20% on bad earnings, and these five stocks are no different. Avoid these value traps at all costs.
Earnings overreactions are real.
Back in January, we talked about profiting from earnings overreactions. Most notably, scooping up solid companies for cheap after earnings related selloffs. Since then, Microsoft (NASDAQ: MSFT) has been the best performer on the list, up over 15%.
Then, just a few weeks ago, we turned the conversation to the fact that first quarter earnings were shaping up to be tough; specifically, we looked at avoiding companies with international exposure, while also having steady business models that could weather a market pullback. At the time we highlighted Dollar General (NYSE: DG), CVS (NYSE: CVS) and a handful of others.
Well, we're deep into earnings season and things are shaping up to be a lot worse than many had expected. Social media has been taking a pounding. Over the last week we've already seen Twitter (NASDAQ: TWTR), LinkedIn (NASDAQ: LNKD) and Yelp (NASDAQ: YELP) all tumble 20% post earnings.
But in truth, it goes beyond social media. As of last week, after some 200 companies in the S&P 500 had reported, about 47% had missed sales estimates. Assuming that stays relatively the same for the rest of the market, it will be the lowest percentage of companies beating on the top line since the first quarter of 2013.
It gets worse. So far, for the first quarter of 2015, the average earnings growth has been a 2.8% decline. This would be the largest decline since the third quarter of 2009 if it stays around that level.
Adding to the market uneasiness is the valuation. The forward price-to-earnings ratio for the S&P 500 is still above 17, which is a nice premium to the 10-year average of 14. So things should remain rocky as we continue to roll through earnings season this week.
No. 1 Stock To Avoid This Earnings Season: Coupons.com (NYSE: COUP)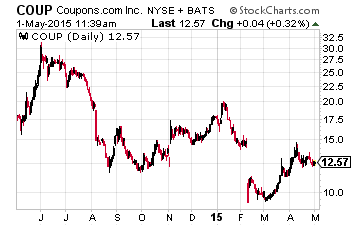 First up is Coupons.com, which will be posting earnings on May 5th. Now, shares are already down 30% year-to-date, but Coupons.com still trades at a high valuation and isn't generating any earnings.
Coupons.com has missed earnings for the last two quarters, with its February report coming in well below expectations, leading to a 25% selloff in the stock. But the quarter before that, shares soared 33%. So the market is still trying to figure out this coupon company.
Printing off coupons just isn't a business that's working anymore given the shift is toward digitally storing coupons on your smartphone. However, the Coupons.com mobile app has been struggling and hasn't gained any material traction.
The entire industry is overpriced, but Coupons.com is the biggest culprit. Its top competitor, RetailMeNot (NASDAQ: SALE), trades at 3x sales, while Coupons.com is at 4.3x.
RetailMeNot is another stock that could also burn shareholders, yet again, when it reports earnings on May 5th. Over the last three quarters, the stock has fallen an average of 20% on the day following earnings.
No. 2 Stock To Avoid This Earnings Season: Fossil Group (NASDAQ: FOSL)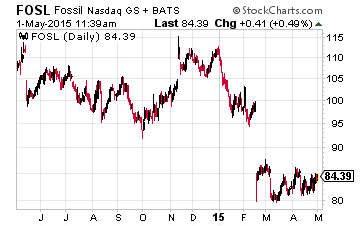 Shares of this watchmaker have tumbled 25% year-to-date, which is going to lure a lot of investors in with its "cheap" valuation, trading at less than 12x earnings. But don't be fooled.
Last quarter, Fossil only slightly missed earnings, but shares were off more than 15% the following day. This came after the company offered a bleak outlook for 2015. Its products aren't resonating with customers and foot traffic in its stores is still falling. The biggest news that could put a damper on their earnings report is the launch of the Apple Watch, which will only further pressure margins and sales.
And just as we mentioned a couple weeks ago, currency headwinds are real and with Fossil being an international player, it will continue to see pressure from currency transactions in 2015.
Fossil will post earnings on May 5th.
No. 3 Stock To Avoid This Earnings Season: Tripadvisor (NASDAQ: TRIP)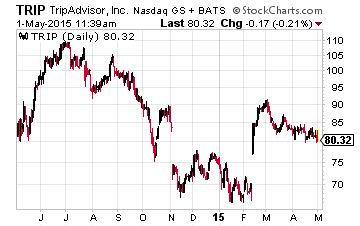 Trading at 9x sales, it's the most expensive player in the online travel space. It's actually missed earnings in each of the last three quarters; however, shares were still up 22% following the latest quarter announcement in February.
There are a few things that could easily make this quarter the complete opposite. Its two major customers include Expedia (NASDQ: EXPE) and Priceline (NASDAQ: PCLN), which account for nearly 50% of its revenues. But the big headwind for Tripadvisor is that these two large customers have been building their own meaningful scale of user reviews.
They have also been making acquisitions in the metasearch marketplace, which could have already started impacting Tripadvisor. Meanwhile, it's been increasing operating expenses in an effort to expand into new markets and boosting advertising spend. Ill timing, as it comes amidst a lot of uncertainty in the space.
Beyond that, the likes of Google (NASDAQ: GOOGL) have been showing an interest in the travel space and the company's big foray into China will be met with intense competition from large local players like Baidu (NASDAQ: BIDU). It's already operating at a loss in China, with any additional pricing pressures only further driving down sales.
Tripadvisor will earnings on May 6th.
No. 4 Stock To Avoid This Earnings Season: Zynga (NASDAQ: ZNGA)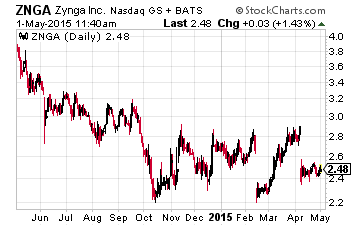 Zynga is still generating no earnings and trading at 3x sales. It's posted negative earnings in each of the last 11 quarters and the stock is down 40% over the last twelve months. However, things could get even worse.
Zynga is expected to post a two cent a share loss on May 7th. For the same quarter last year, the loss was just a cent. This comes as Zynga continues to see declines in engagement metrics. They decided not to offer 2015 guidance, but noted they will be releasing 6 to 10 games during the year; a number that's below what many were expecting heading into the year.
It still hasn't figured out how to turn content sales into a sustainable business model. Advertising revenues remain a large part of total revenues, which won't be around forever as Zynga's user numbers decline. And after announcing that founder Mark Pincus is retaking the helm, this quarter will likely be a flush quarter, where they try and get all the bad news for the year out into the market.
No. 5 Stock To Avoid This Earnings Season: Cyberark Software (NASDAQ: CYBR)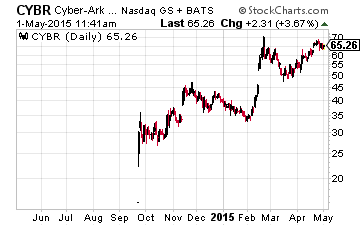 Shares are up close to 60% year-to-date, but are now trading at nearly 19x sales and over 330x earnings. Following the last two earnings calls shares have spiked 15% and 27%, respectively. The exuberance of the cybersecurity market could finally be cooling off.
We haven't seen major breaches of late, which is taking the focus from cybersecurity companies, but valuations remain outsized compared with the rest of the market. The lack of cyberattacks is also a negative for Cyberark, where, unlike other players that look to prevent potential attacks, Cyberark offers a reactive product that is used after a breach.
It will take some explosive growth this quarter to justify its valuation. But sometimes, even growth and better than expected guidance just isn't enough.
Shares of another high flyer in the space, FireEye (NASDAQ: FEYE) were actually down last week even after beating earnings. This came as the company grew billings by 50% in the quarter and also raised full-year earnings and revenues guidance to above consensus. It's tough to really move the needle when you're trading at 15x sales with no earnings.
Cyberark will have similar issues and will likely see a more aggressive move to the downside than FireEye, given its more frothy valuation and recent irrational exuberance in the stock price. Shares of Cyberark are up nearly 80% over the last six months, compared to FireEye's 20%.
Cyberark releases earnings May 7th.
All in all, there's plenty of ways to play earnings, but when it comes to the five stocks above, simply staying on the sidelines might be the smartest play.
But, you won't ever make any money if you just sit on the sideline. You invest in the stock market to grow richer. And you can do just that with Bret Jensen's strategy of focusing on investments with broken sentiment, not broken businesses.
"The Turnaround Stock Report" avoids the value traps and cult stocks like the stocks in this article and uses a unique strategy revealed Here to consistently return double and triple digit gains. There's no risk to you, as each subscription comes with a 60-day full money-back guarantee. CLICK HERE to start earning more.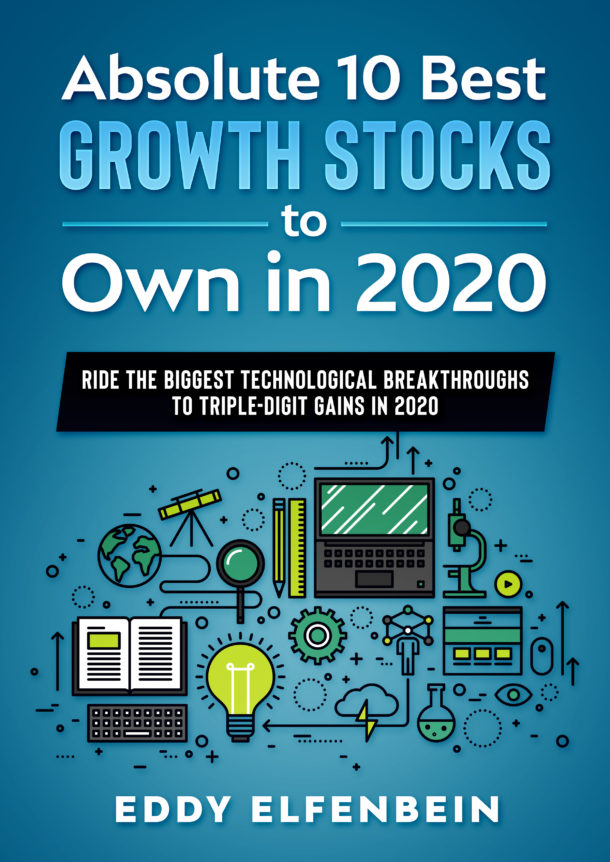 [NEW REPORT] Absolute 10 Best Growth Stocks to Own in 2020
Get the best 10 stocks to ride the 2020 tech explosion. 
One could be the most valuable stock of the next decade. 
Normally, I charge $20 for this report…
But, today...you can claim a copy absolutely free.
One stock alone has a chance at 167% profits in the next 12 months (or sooner). 
Enter your email below to claim a free copy while they last.