Tax inversions are fueling the latest merger and acquisition craze.
The euphoria surrounding tax inversions is that it allows U.S. based companies to get a lower tax rate. The U.S. corporate tax rate can be as high as 40%, which is nearly double the global average.
Inversions allow U.S.-based companies to relocate via acquisitions that put at least 20% of its shares in foreign hands.
And with this, companies are almost racing to buy up foreign companies. The reasoning for the craze is twofold. One is that there are a limited number of companies available and these opportunities are dwindling.
Two, is the fact that the U.S. government is threatening to put a stop to tax inversions, which is exacerbating the need to invert as soon as possible.
For companies that decide not to partake in the inversion frenzy, they run the risk of missing out on millions of dollars in tax savings.
And sure, the acquirer will see the tax benefits over time, but to immediately profit, why not buy up the companies that are likely to be acquired?
What's more is that the pharma companies domiciled outside the U.S. are attracting outsized buyout premiums.
AbbVie is the most recent, agreeing to buy U.K.-based Shire for $55 billion. Shire got a near 50% premium to its average share price for the 20 days prior to the acquisition offer. AstraZeneca was offered a similar premium by Pfizer (AstraZeneca ultimately rejected the offer, but its shares are still up 25% year to date).
These types of premiums are well above the 33% median takeover premium for pharma and biotech companies for the last half decade.
Here are the top 3 ways to profit from the tax inversion craze:
No. 1 Way To Profit From The Tax Inversion Craze: Actavis (NYSE: ACT)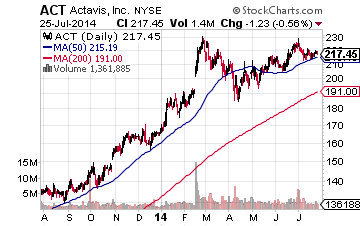 Actavis is no stranger to tax inversion, where it bought Ireland-based Warner Chilcott in October 2013 to get a lower tax rate. This turned Actavis into an Ireland-based company and that's part of the reason the pharma company could be an attractive takeover target.
Ireland is one of the most interesting countries for companies looking to invert, where the country has a corporate tax rate that's only 12.5%. Hence, the reason medical device maker Medtronic bought up Ireland-based Covidien earlier this year.
Actavis is the third largest player in the global generic drug market, making over 250 generics. It bills itself as a producer of niche and complex drugs.
The growth story for Actavis includes its exposure to generics, which should become more and more popular as the focus turns to cost-effective healthcare. But Actavis also completed its Forest Labs acquisition earlier this year for $25 billion, which gives the company a presence in the brand-name drug market.
One of the market's most respected investors, activist Dan Loeb, has a big bet on Actavis. He has over 7% of his Third Point hedge fund invested in the pharma company (as of the end of March), making it his largest equity holding.
No. 2 Way To Profit From The Tax Inversion Craze: Teva Pharmaceutical Industries (NYSE: TEVA)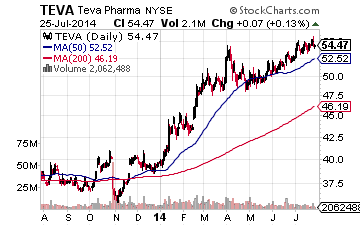 Although Israel's corporate tax rate is a bit higher than Ireland's, Teva would be well worth the opportunity cost. The big selling point for Teva is its position as the number one generics company in the world.
In 2013, its drugs accounted for 1-in-every-6 prescriptions in the U.S. It has over 400 generic drug products, including antibiotics, fertility treatments, anti-cancers and anti-inflammatories. One of the biggest opportunities for Teva is tapping emerging markets. Penetration in these markets remains low, but growth opportunities appear robust.
Like Actavis, Teva should benefit from the push toward lower cost drugs. Both of these generic-focused pharma companies would be intriguing acquisitions for major U.S. pharma companies that need to protect against patent expirations, such as Merck and Eli Lilly. Also, like with Actavis, hedge funds appear to be betting on overseas pharma companies. Famed investor George Soros has Teva Pharma as his largest equity holding as of the end of March.
Teva is also attractive from a valuation standpoint, where it trades at an enterprise value-to-earnings before interest taxes depreciation and amortization (EV/EBITDA) multiple of just 8.8x. Meanwhile, Actavis trades at an EV/EBITDA multiple of 14.5x and Shire's multiple is now over 20x following the AbbVie acquisition offer.
No. 3 Way To Profit From The Tax Inversion Craze: Jazz Pharmaceuticals (NASDAQ: JAZZ)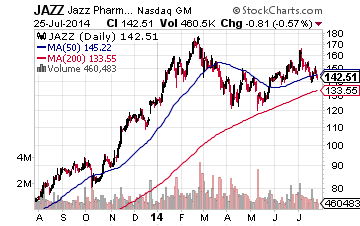 Jazz Pharma is another Ireland-based company. Its market cap is a mere $9 billion, which could be a double-edged sword. It is small enough to be an acquisition for many of the U.S.'s top pharma companies, but given its size, it might not qualify for a tax inversion given the 20% foreign ownership rule. But it's still the perfect candidate for a bolt-on acquisition, meaning it could be an attractive target irrespective of the tax inversion potential.
Unlike Actavis and Teva, Jazz Pharma is not a major player in the generic drug market. Rather, it's a specialty biopharmaceutical company. It focuses on drugs for unmet medical needs, with its key products treating narcolepsy, cancer and pain.
Jazz's lead product used to treat narcolepsy is Xyrem. Narcolepsy market is very large and untapped market. About 150,000 people in the U.S. are impacted by the disorder, but less than half have been diagnosed. Thus, Jazz is leveraging an expanded sales force to educate physicians about the disease.
Jazz Pharma is already profitable, and one of the most profitable in the industry at that. It's also expected to grow earnings at a robust 20% annually over the next half decade. Couple that with its P/E ratio of 14 (based on next year's earnings estimates) and Jazz is easily a growth at a reasonable price opportunity.
Taxes are also a constant consideration for dividend investors because of the different treatment they receive. Our in-house dividend and income expert, Tim Plaehn, has recently launched a new service that takes advantage of certain tax loopholes in how a certain class of dividend stocks are structured. Click Here to find out how Tim's service can help you start paring down your tax bill on investments today.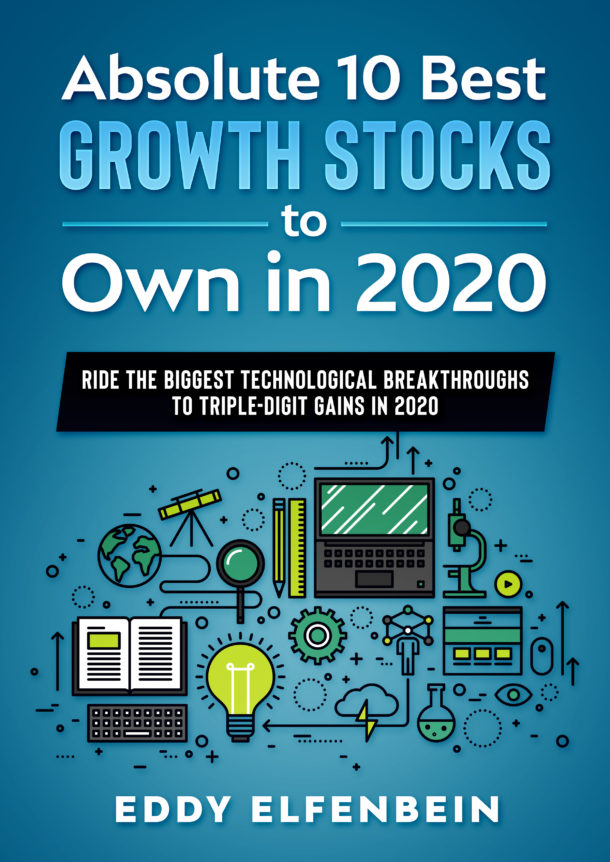 [NEW REPORT] Absolute 10 Best Growth Stocks to Own in 2020
Get the best 10 stocks to ride the 2020 tech explosion. 
One could be the most valuable stock of the next decade. 
Normally, I charge $20 for this report…
But, today...you can claim a copy absolutely free.
One stock alone has a chance at 167% profits in the next 12 months (or sooner). 
Enter your email below to claim a free copy while they last.