Retail stocks have been on a bumpy ride thus far in 2014. The SPDR S&P Retail Index (NYSE: XRT) tracks the retail industry. The ETF opened 2014 at $87.24 and closed Monday, June 16 at $86.29 – down 1%. But those small losses mask massive volatility: XRT has fallen to as low as $76.78 and surged to as high as $87.39 – a 13.8% move it made in just over a month, between February 5 and March 7. The retail index ETF pierced its 50-day moving average (blue line in chart below) in early June and looks to be building a base in the $86 range.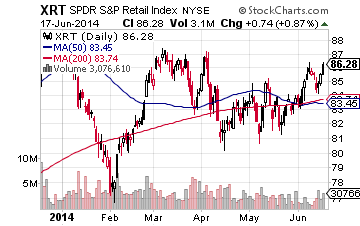 XRT is made up of a number of component stocks, including Dillards (NYSE: DDS), Big Lots (NYSE: BIG), and Office Depot (NYSE: ODP). By buying shares of XRT, you benefit from the instant diversification that ETF's provide – but you also reduce your potential returns by playing it safe. The retail sector looks like it might really take off in the second half of 2014, as the economy continues to improve and the Federal Reserve maintains a dovish monetary policy – why not try to identify the best names from the sector? These three stocks should outperform the broad market and the XRT ETF over the next six months.
Go Long CONN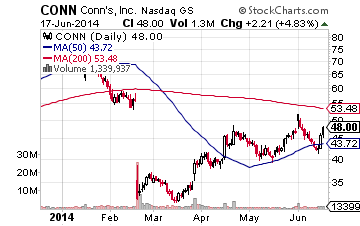 Conn's, Inc. (Nasdaq: CONN)operates seventy brick-and-mortar stores in Arizona, Louisiana, New Mexico, Oklahoma, and Texas, selling consumer electronics, home appliances, and lawn-and-garden equipment. Its earnings per share (EPS) have been growing at an average annual pace of 51% over the past three quarters. The company will next report earnings in September, and estimates have been revised up to +48%, year over year. Conn's beat last quarter's estimates by nearly 10%, and the firm has expanded its bottom line for three straight years at an average pace of more than 40% per year. Best Buy might provide the best buys for the most consumers, but Conn's stock is a better buy for investors.
The chart to the right Conn's six-month performance. As you can see, there was a massive selloff in late February, and shares still haven't fully recovered. Conn's gained more than 61% between February 20 and June 2, but has pulled back by 11% since – even counting a +7.61% day on Monday! The stock looks to be building a base atop its 50-day moving average (blue line) and doesn't appear to have much resistance until it approaches the $50 level. Conn's share price could return to the $65 range by year's end.
A Potential Acquisition Target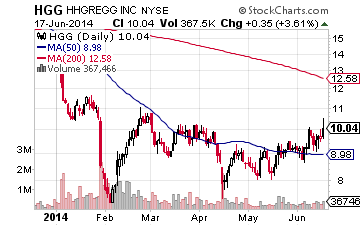 Like Conn's, Hhgregg Inc (NYSE: HGG) may not be a household name, but it too is one of Best Buy's competitors. Hhgregg sells consumer electronics and home appliances via 228 retail locations in twenty U.S. states. The firm's market cap is just $275 million – compared to $1.66 billion for Conn's and $10 billion for Best Buy – but this small stock has plenty of room to grow.
Unlike Conn's, Hhgregg's sales and earnings have been sliding over the past several quarters. Still, at its current valuation, Hhgregg looks attractive: Its price-to-book ratio of 0.9 means that Hhgregg is trading at a discount to its net-asset value – the firm could go bankrupt, pay all of its creditors, and still have enough left over to pay shareholders $1.11 for every $1 worth of shares they owned. In fact, Hhgregg is so cheap that it very well could be an acquisition target for another retailer sometime later this year.
As you can see from the chart above, Hhgregg has been on a bull run since bottoming out in mid-April. Earlier this month, it pierced its 50-day moving average (blue line), which it appears to be using to form a base. Hhgregg could be trading in the $12-15 range by the end of 2014.
A Different Kind of Retailer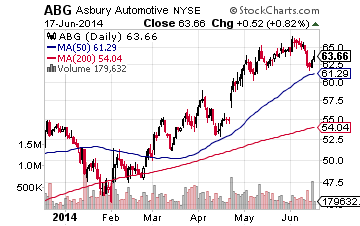 Asbury Automotive (NYSE: ABG) is another S&P 500 retail index component. Unlike Conn's and Hhgregg, which are alternatives to Best Buy and other big-box stores, Asbury Automotive is an automobile retailer, operating eighty dealerships in ten states. Asbury sells new vehicles, used vehicles, and parts; and it offers financing and maintenance service. In 2013, the firm earned $109 million on sales of $5.34 billion.
Asbury's EPS have been growing at an average pace of 27% over the past three quarters, and the stock's chart looks good, too. Shares of Asbury pulled back to their 50-day moving average (blue line), creating a perfect buying opportunity! A share price of $73 should be achievable before the calendar turns.
All of these retailers are what's called "bricks and mortar", meaning they have physical storefronts. Some retailers own their spaces, some do not. And those that don't own often rent on properties owned by high-yield Real Estate Investment Trusts (REITs). Tim Plaehn, our dividend and income expert, has recently put together detailed research on some of the top REITs to consider for your portfolio. Check out his new video on REITs, his service, and the how to protect yourself from the dangers threatening your income portfolio. Click here.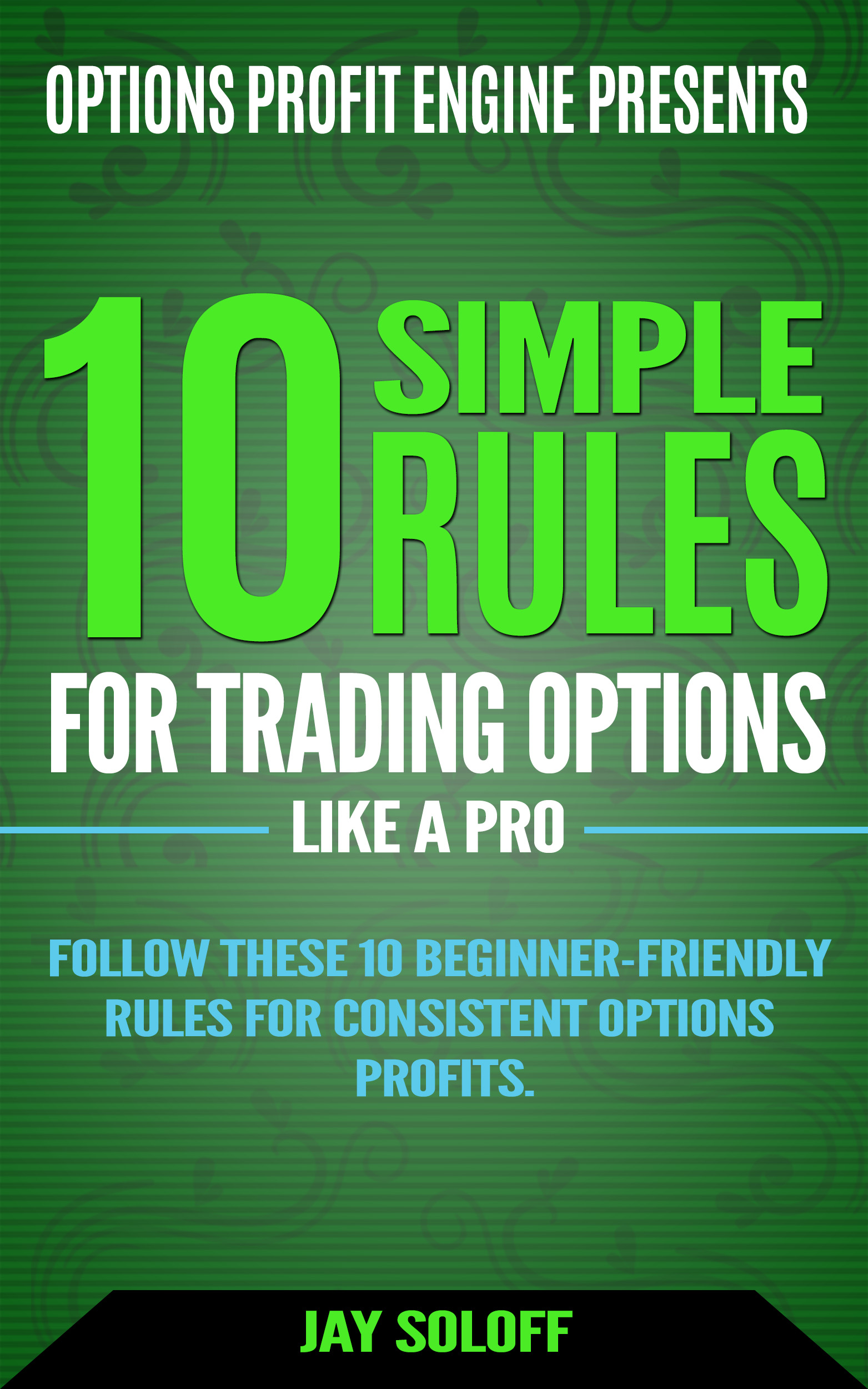 [FREE DOWNLOAD] 10 Simple Rules for Trading Options Like a Pro
Follow these 10 simple rules from 20-year professional options trading veteran, Jay Soloff and start earning a reliable extra income from options.
NO prior experience needed to master these 10 simple options trading rules. 
Enter your email below and receive access to this FREE guide...