In the $470 billion restaurant industry, three names stick out among the crowd because of their high potential to reward investors. The three stocks shared today are the top choices in this growing sector to buy right now.
Investing in the fast food industry in 2016 has been tough, especially if your food of choice was burgers.
According to Euromonitor International, burger sales soared by 14% in the U.S. from 2010 through 2015. Sales hit a remarkable $103 billion in 2015.
But 2016 has been a completely different story. Burger sales are now in decline.
This is a result of the entire fast food industry being under assault from two sides.
The Eat-at-Home Trend
First, many consumers are opting to eat at home in order to save money.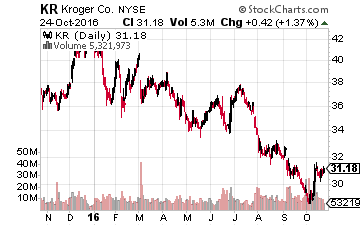 The Bureau of Labor Statistics reports that, over the past year, overall food costs from grocery stores declined 2.2%. The decline was led by a nearly 9% drop for ground beef. That's why grocers like Kroger (NYSE: KR) have also struggled this year.
During the same time frame, the cost of food bought out of the house rose 2.57%. In other words, it became much cheaper to just prepare your burgers at home.
Earlier this year, Wendy's (Nasdaq: WEN) CEO Todd Penegor said in an earnings conference call, "the most notable reason [for the sales slowdown] appears to be the continued gap between cost of eating at home and the cost of dining out, which is now at its widest point since the recession."
That trend is bad enough, but there is also a second front in this food fight.
The Fast Casual Craze
Many Americans now demand more freshly-prepared, healthier foods when they dine out. This has led to rapid growth in "fast-casual" restaurants.
This type of restaurant still represents a small slice of the nearly $470 billion restaurant industry. But their sales are growing much faster than their competitors.
Research firm Technomic says that cumulative sales at these restaurants grew at a rate of 11.6% annually in 2015. That is down just a touch from 2014's 13.5% pace and well above the overall industry's growth rate of only 1.5% in 2015.
So what does all of this mean from an investing viewpoint? Fast food or fast-casual?
Actually, there are specific stocks you can buy in both sectors. Here are three of my favorites in the restaurant industry.
#1 – Domino's Pizza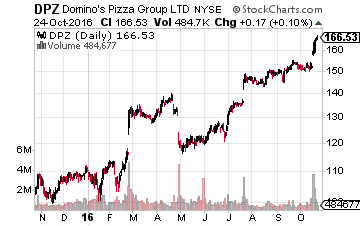 My first choice is Domino's Pizza (NYSE: DPZ), the world's second biggest pizza chain.
Domino's is in a sweet spot. Pizza consumption is trending at its highest level in four years, despite the miseries in the general fast food sector.
The real differentiator for the company though is its tech savviness.
For the first time in its history, Domino's is bringing in more sales via smartphones, smartwatches, virtual assistants and other digital channels than through the traditional walk-in or phone-in orders.
According to Bank of America Merrill Lynch analysts, 55% of the company's sales were digital in its latest quarter. That compares to just 20% for the industry as a whole.
This no doubt had a lot to do with Domino's latest stellar earnings report and the 13% rise in sales in the last quarter. That sales gain stands in stark contrast to the restaurant industry as a whole, which has shown five consecutive months of sales decline. Domino's currently yields 0.92% and has increased its dividend by 89% since December of 2013. If Dominos sticks to its recent track record of annual dividend increases, shareholders should see a solid increase when the March 2017 dividend is declared.
#2 – Jack in the Box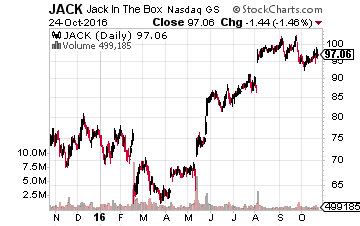 My second choice is Jack in the Box (Nasdaq: JACK).
The reason is its fast-casual Qdoba Mexican Eats restaurants, which have greatly benefited from the food scare problems at rival, Chipotle Mexican Grill (NYSE: CMG).
But even before the food scare, Jack in the Box was a better bet than CMG.
Even a year ago, Qdoba was growing faster than Chipotle. And Jack's stock was more reasonably valued and paid a dividend, unlike Chipotle.
Now, thanks to its rapid growth, Jack in the Box raised its dividend payout by 50% last year. The stock currently yields 1.28%.
And according to a Harris poll conducted in June, Qdoba is now the second most popular Mexican restaurant chain nationwide. Chipotle came in fourth in that survey.
I suspect Jack's Qdoba restaurants will continue eating Chipotle's lunch.
#3 – McDonald's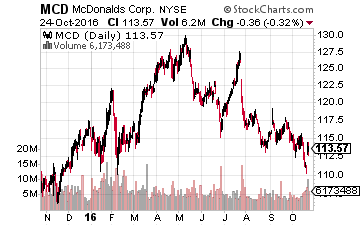 My third choice is one that Wall Street hates right now – McDonald's (NYSE: MCD). And it's not because of the all-day breakfast or other menu innovations.
It's because McDonald's is not really a burger chain.
It's a real estate company that happens to sell burgers and other food items. Its first CEO Harry Sonneborn once said, "The only reason we sell 15 cents hamburgers is because they are the greatest provider of revenue from which our tenants can pay us rent."
Founder Ray Kroc had a wonderful business model. MCD franchises out many of its restaurants. But it owns the land where the franchises sit. The franchisees are given no choice in the matter. And the franchisees are also responsible for the taxes and insurance on the properties.
On occasion, McDonald's rents the real estate from another landlord giving them 5% of that particular restaurant's sales. But it charges the franchisees 10%. And there's a monthly franchise fee on top of that. A true real estate happy meal.
That control over franchisees allowed founder Ray Kroc to build his empire. It's the menu that Kroc believed would be most profitable for his company over the long-term and he was right.
This model should continue to serve McDonald's and its shareholders well into the future as it has in the past. McDonald's has been a dividend growth monster over its long history. But more recently, over the last 13 years, McDonald's has increased its dividend by an average of 15.25% and currently yields 3.32%.
If you're craving for a profitable portfolio, all three of these restaurant stocks deserve consideration, but none of them hold a candle to one of my favorite stocks in the market right now that yields a safe 13% and has the potential for strong dividend growth because of its large amount of free cash flow. I just wrote a detailed article on this stock that you can see by clicking the link below.
SEE ALSO: Buy This Safe 13% Yield Stock at a Discount
High-yield stocks that won't cut their dividends, pay a high current yield, and have the potential for dividend growth are an integral part of the income strategy for my newsletter, The Dividend Hunter. Featuring the most stable high-yield dividend payers, my portfolio of 20 high-yield stocks currently available through my Monthly Dividend Paycheck Calendar is a system for generating a high monthly income stream from the market's most stable high-yield stocks.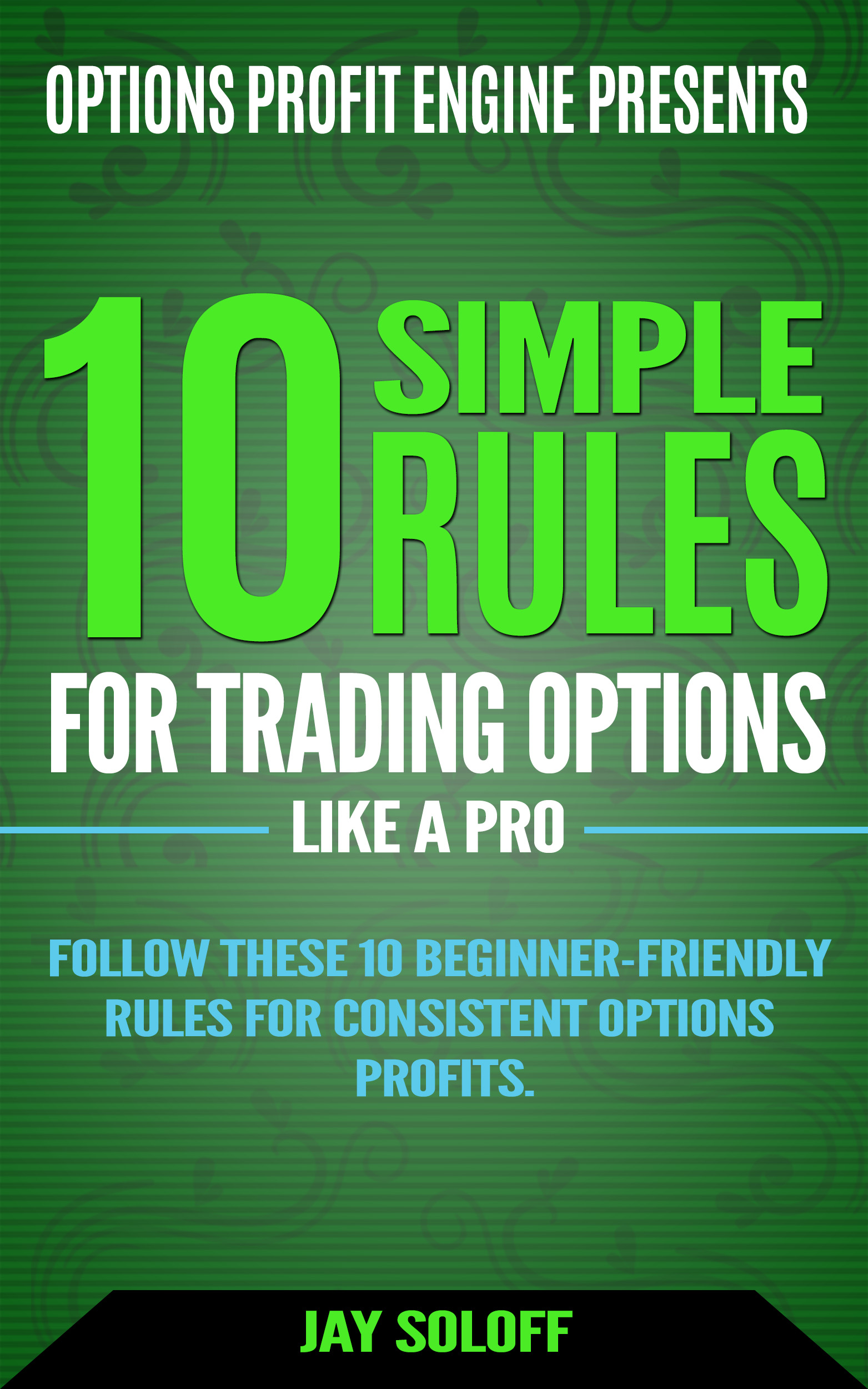 [FREE DOWNLOAD] 10 Simple Rules for Trading Options Like a Pro
Follow these 10 simple rules from 20-year professional options trading veteran, Jay Soloff and start earning a reliable extra income from options.
NO prior experience needed to master these 10 simple options trading rules. 
Enter your email below and receive access to this FREE guide...