With the Trump trade euphoria beginning to fade, you may have a tougher time making money in the market over the next six months in just any stocks. But, by owning stocks in any of these three sectors that have strong growth trends in place, you will maximize your chances for better returns. 
Despite enthusiasm still for the market as a whole, the Trump trade euphoria has begun to fade.
That means making money going forward in the stock market will be tougher than it has been since the election of Donald Trump as President.
Especially in the light of the fact that short positions on U.S. Treasuries are at all-time highs.
Usually what follows when Wall Street is all on one side of the trade is a mean-to-the-reversion movement in the opposite direction. Such a bond rally may spark some movement from stocks back into bonds.
Investors, therefore, should focus on sectors and companies that have the clearest path to growth.
Growth Sector #1 – Technology
The first such sector that comes to mind is technology.
As a whole, earnings from the tech sector in the latest reporting period have been very good.
Strong growth has helped the entire technology sector. But it is interesting to note that growth in market capitalization in recent years has been concentrated at the top.
The stock prices of the "big five" tech titans – Apple (Nasdaq: AAPL), Alphabet (Nasdaq: GOOG), Microsoft (Nasdaq: MSFT), Amazon (Nasdaq: AMZN) and Facebook (Nasdaq: FB) – are still very near all-time highs.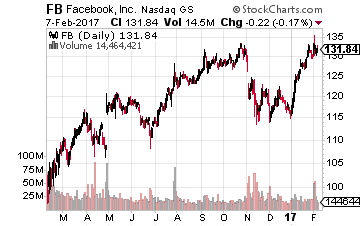 These giants now account for 70% of the stock market value of the top 20 U.S. technology companies. That is up from roughly 50% just five years ago.
In other words, you can't ignore these guys.
Especially since Microsoft, Facebook and Apple all came through recently with stellar earnings.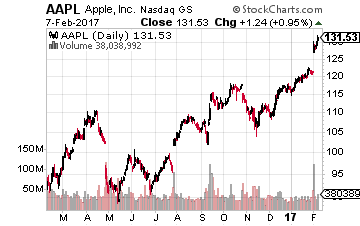 Take a look briefly at Facebook and Apple.
When Facebook came to market five years ago, it generated about about $5 per each of its one billion users. That jumped to $16 per head last year and user numbers have doubled since the IPO. In the U.S., the growth is even more remarkable with revenue per user up from $11 to $62 in five years.
The social media giant has certainly turned itself into an advertising juggernaut.
Apple has shown signs of renewed growth.
Last year, the company made about $35 per user in service revenues with 600-800 million active users of its devices. By 2020, Apple forecast that revenue number will double to $70 per head. That would translate into services accounting for a third of Apple's gross profit.
Growth Sector #2 – Heavy Construction
The heavy construction industry is not usually considered a growth sector. But with Trump's large infrastructure plans, it should turn to be one, especially since most Democrats also favor increased infrastructure spending.
Here are a couple of my favorites in the sector.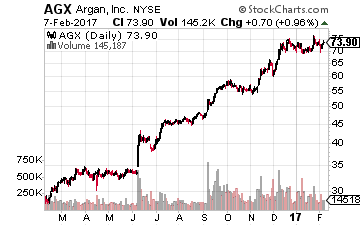 At the top of the list is Argan (NYSE: AGX). First off, I like the fact that there is no leverage on its balance sheet. Next, it's a perfect niche for future growth.
The company provides engineering, construction and management services primarily to the power generation and renewable energy services. Its Gemma Power Systems subsidiary is a leader in the replacement of old coal-fired power plants with new natural gas-powered plants.
This megatrend is likely to go on for many years, to the benefit of Argan.
SEE ALSO: The One Construction Company to Own for Trump's $1 Trillion Infrastructure Boom
Another company with a strong balance sheet worth consideration is Emcor Group (NYSE: EME). It is a leading specialty construction, building, and industrial services, provider.
Emcor is the leading U.S. provider of building services. This involves the upkeep and upgrading of all sorts of buildings nationwide. Its expertise in electrical systems and other energy-related items will allow Emcor to benefit from the growing trend toward retrofitting, energy-saving building projects.
Growth Sector #3 – U.S. Smallcaps
The final growth category is a broad one – U.S.-focused small-caps.
If President Trump follows through on his anti-trade rhetoric, U.S.-focused small-cap stocks would be least affected since most of their revenue is generated domestically.
Even more importantly for small-cap firms would be the lowering of the corporate tax by Trump from the current 35%. Unlike their larger brethren, small companies actually do pay close to that full 35% tax rate. Morgan Stanley and other firms suggest the cut in corporate tax could add 30% to profits of the average small-cap firm.
Small-cap profits will also get a boost from any rollback on regulations that cost American industry an estimated $2 trillion annually. Proportionately, smaller firms pay more to comply with regulations than do larger companies.
Then there is the valuation case.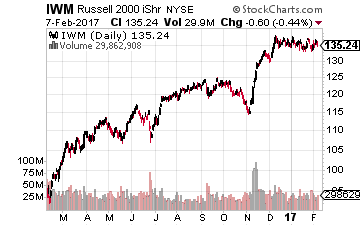 Small-caps have traditionally traded at a premium to large capitalization companies, with a range from 1 to 2.5 times. Looking at the unweighted Russell 2000 index, it is trading at about 1.1 times the valuation of the S&P 500 index.
So we have bargain prices by historical standards.
But unless you're willing lots of time in researching individual companies, the best route to go is with small-cap ETFs.
The three most liquid of these funds are: the iShares Russell 2000 Index ETF (NYSE: IWM), the iShares Core S&P Small-Cap 600 Index ETF (NYSE: IJR) and the Vanguard Small-Cap Index Fund (NYSE: VB).
Each of the three ETFs is pegged to a different index. IWM is, of course, based on the Russell 2000 index. VB is pegged to the CRSP Small-cap index, which consists of 1,419 companies. And IJR is based on the S&P 600 Small-cap index.
Any of these choices should do well as the Trump starts not lifting all "boats".
Urgent Live Strategy Session: THIS WEDNESDAY
Join me on Wednesday, February 8th for a live one hour long stock investing and strategy session that will show you where you can find attractive growth stocks… even when the market is at all time highs.
With the market trading at such a high price, you are rightly worried if you are overpaying for stocks, but on Wednesday night I'll show you where I'm finding the best deals on growing stock in the market right now.
I'll share my step by step method for finding growth stocks just like the ones I've recently delivered to my readers… like 78%, 88%, 95%, 226%… even 331% in just six months.
I'm also giving out the names and tickers of my best actionable growth stocks you'll want to pick up for your portfolio.

Then at the end of the live discussion we'll have a live Question & Answer session where you can ask me anything you want and get a prompt response.