Here's where you can find the best dividends to be had in 2017. These three areas of the market still offer some of the best yields around and will put more cash in your pocket than any blue chip stock. With clear paths to profit in these three sectors, now is the time to buy.
The options are rather limitless for finding dividends these days and investors are amidst a yield ripe market.
Bonds and Treasuries remain as a couple of the safest places to find yields. One key is that Treasuries are still yielding just a couple percent — barely enough to cover inflation. Yet, rates remain near historical lows.
Another catalyst for dividend investors in 2017 might be President Donald Trump. In truth, Trump could be a positive for all equities. However, Trump's aggressive infrastructure spending and foreign policy could mean higher inflation, which will make stocks more appealing than Treasuries.
Now, junk bonds had a stellar year in 2016, the best in recent memory. However, by historical standards, the yields on junk bonds are still relatively low. Digging deeper, investors might be able to do better by focusing on niche parts of the market.
The European stocks lagged its U.S. counterparts last year, but this market could be a great place to find dividends for 2017. Some of the best dividends across the sea are the European blue chips, which offer generous yields and cheap valuations after a down year in 2016. Nestle (OTCMKTS: NSRGY) shares fell 4% in 2016 but now offers a 2.7% dividend yield.
Now, of course, there are a few U.S. blue chip dividends like Coca-Cola (NYSE: KO) and Pfizer (NYSE: PFE), which offer nearly 4% dividend yields and appear worthwhile, but for studious investors, there's more to be had. That is, we've dug deep to find the top three places for investors to find yield in 2017:
Top Dividend For 2017 No. 1: Master Limited Partnerships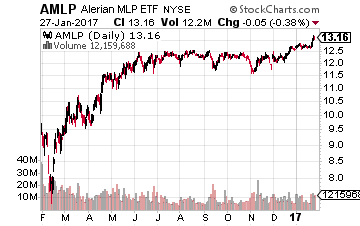 The Master Limited Partnerships (MLPs) were crushed in 2015, only to rebound a bit last year. However, MLPs still underperformed the S&P 500 in 2016 — with the Alerian MLP (NYSE: AMLP) index returning half of what the S&P 500 did last year. The Alerian MLP is offering a hefty 7.7% distribution yield, which is far superior to what you'll find in any U.S. or European blue chip dividend payer.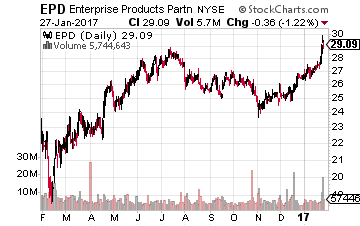 Many MLPs still trade at a deep discount to where they were just a couple years ago. Investors haven't fully re-considered MLPs given the fallout in oil prices. But, it appears that oil has found a bottom and MLPs are navigating this 'new' oil environment. One of the best opportunities in MLPs is Enterprise Products Partners (NYSE: EPD), Enterprise Products offers a 5.5% dividend yield. It has one of the strongest pipelines in the industry and is only growing that with new projects.
Top Dividend For 2017 No. 2: Utilities
Utilities were one of the few bright spots for dividends in 2016. However, the industry has had a pullback since the summer. While bonds aren't all that attractive for yield seekers — utilities, which are bond-like, will prove to be better investments in 2017. Utilities still have the opportunity to grow earnings. Of which, those earnings have low volatility and support steady dividends.
SEE ALSO: The One Stock You Want to Own to Cash in on Trump's $1 Trillion Infrastructure Boom
In the utilities industry, Duke Energy (NYSE: DUK) is one of the best plays around. It offers a 4.4% dividend yield. Rather, for investors looking for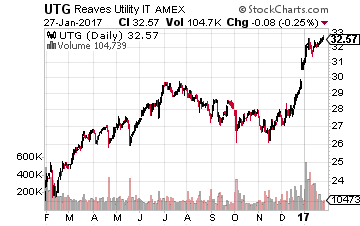 a diverse play on this industry check out Reaves Utility Income (NYSE: UTG). Some of the top holdings include NextEra Energy (NYSE: NEE) and DTE Energy (NYSE: DTE). The fund offers a 5.9% dividend yield.
Top Dividend For 2017 No. 3: Real Estate Investment Trusts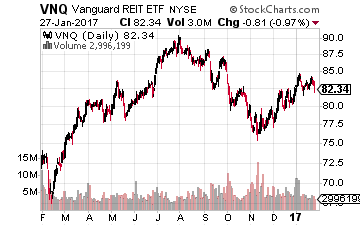 Real Estate Investment Trusts (REITs), like MLPs, were under-performers in 2016. The most diversified bet on the industry is Vanguard REIT (NYSE: VNQ), and it offers a hefty 6.1% dividend yield. The beauty of a REITs is that they control one of the few resources that is finite. There is no making any more of it. Companies tend to pay their rent regardless of their bottom line.
One of the best opportunities for REITs heading into 2017, looks to be mall REITs. That's right, the retail has hit the sector hard. Investors have 'given up' on anything mall related. However, the high-end malls are still doing well.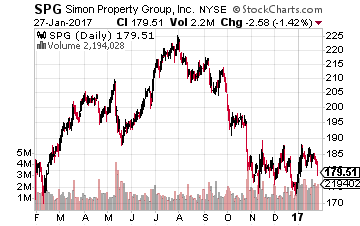 That means Simon Property Group (NYSE: SPG) is still well-positioned to perform nicely this year. Simon Property Group fell 9% last year and offers up a 3.6% dividend yield. It holds prime properties and hasn't been feeling the pressure from e-commerce players like Amazon (NASDAQ: AMZN).
In the end, yield is in high demand. However, it's not the typical places – such as blue chips –where investors will find the best opportunities for 2017. It's the MLPs, utilities, and REITs where you'll find worthwhile dividend investments for the coming year.
I've been educating investors for over two years now that they don't have to fear investing in high-yield stock. With the right kind of research and enough time, you can absolutely invest safely into stocks that yield up to 14% (We even have a stock in the portfolio that yields 18%)!
In my Dividend Hunter newsletter, I recommend the market's strongest, most stable high-yield dividend payers, and there are 20 high-yield stocks currently available through my Monthly Dividend Paycheck Calendar, a system for generating a recurring monthly income stream from the market's most stable high-yield stocks.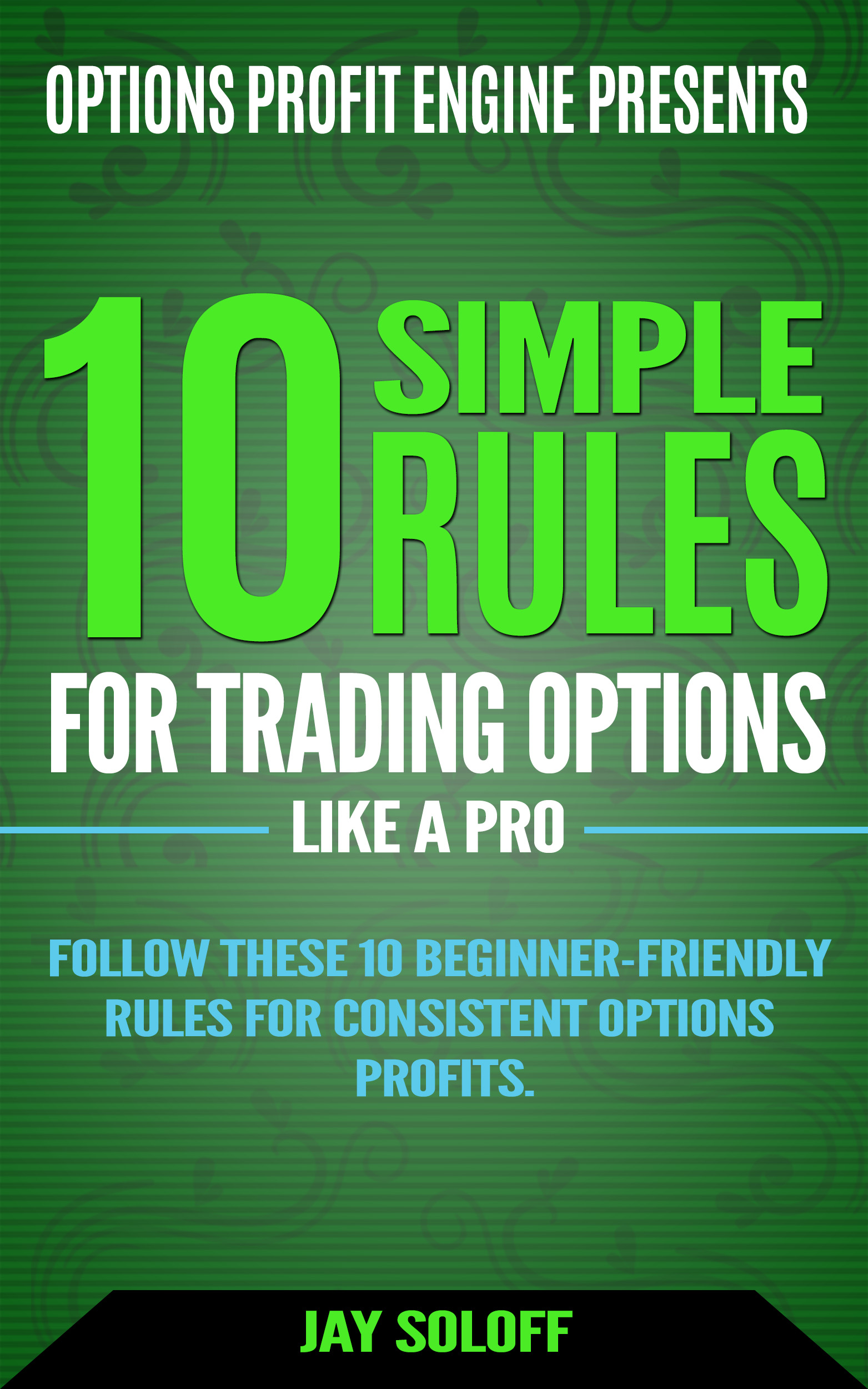 [FREE DOWNLOAD] 10 Simple Rules for Trading Options Like a Pro
Follow these 10 simple rules from 20-year professional options trading veteran, Jay Soloff and start earning a reliable extra income from options.
NO prior experience needed to master these 10 simple options trading rules. 
Enter your email below and receive access to this FREE guide...