Microsoft may have started a feeding frenzy for tech buyouts in the social media space. This could be the catalyst we've been waiting for to finally see some big name buyouts. Here are the top three to watch for this summer.
Microsoft (NASDAQ: MSFT) has inked the sixth largest tech deal ever, agreeing to pay a whopping $26 billion for LinkedIn (NASDAQ: LNKD)
Tech companies flush with cash and many large companies, like Microsoft, are finding internal growth hard to come by. Thus, more should start looking to juice growth with acquisitions.
The 50% premium Microsoft offered for LinkedIn signals there is indeed value in the social media space. This puts a number of social media companies in play and the mega purchase might finally be the catalyst that convinces other tech companies that it is time to open up their wallets to buy some growth.
As well, Microsoft raised a bunch of debt to fund the deal, despite having over $100 billion in cash. That's because they're looking to take advantage of historically low interest rates. However, with the threat of higher rates looming, there is a sense of urgency that cheap debt won't be around forever.
The bigger thing is that the LinkedIn buyout certainly adds validation to the social media space. It just goes to show you that a large user base is valuable. With that in mind, we'll cover three social media companies with loyal followings in need of deep pocketed acquirers to help take them to the next level:
Social Media Buyout Stock No. 1: Twitter (NASDAQ: TWTR)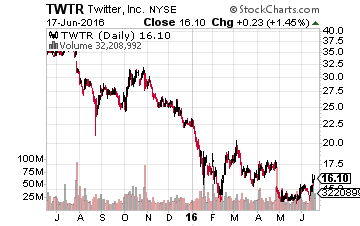 Twitter shares have been hammered time and time again over the last couple years as figuring out a monetization strategy has been elusive. The stock is down 30% this year and off more than 60% from its IPO.
Still, Twitter has managed to amass over 300 million users, compared to LinkedIn's 430 million. But Twitter has half the market cap of LinkedIn. And right now, there's a lot working against Twitter remaining a standalone company. It has a CEO, Jack Dorsey, that splits his time between two public companies – the other being Square (NYSE: SQ) – and the company has seen a lot of turnover among its executives of late.
It's a tech stock in turmoil, which is ultimately creating a great buyout opportunity for a larger company. A company that has deeper pockets to help Twitter figure out the best way to attract advertisers to the platform.
The likely buyers for Twitter are Google (NASDAQ: GOOG) and Facebook (NYSE: FB), or even a media company like Comcast (NASDAQ: CMCSA) that needs to boost its digital presence. For Google, it could be its chance to better compete with Facebook in social. Recall that Google's own attempt with Google Plus was a failure.
Twitter shares have soared more than 10% this month on the renewed prospect of a buyout. Ultimately, Twitter should take this as a sign that shareholders have more faith in the company in the hands of a larger company than in the hands of Jack Dorsey.
SEE ALSO: 5 Stocks to Buy Since the Fed Didn't Raise Rates
Social Media Buyout Stock No. 2: Pandora (NYSE: P)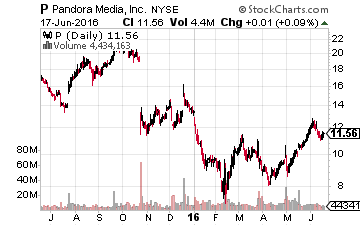 Pandora is perhaps the most likely name on our social media buyout watch list that won't make it through the summer. The company is valued at $2.7 billion and has over 80 million active users.
It would be a relatively cheap way for a buyer to gain a relatively large and targeted user base quickly. Plus, the other added benefit to Pandora is that it's an advertising machine. Over 80% of its revenues are from advertising, so it has a business model built on advertising sales and relationships: something that an acquirer could use to cross-sell its own products.
One big catalyst is that Pandora has an activist investor helping push for a buyout. Corvex Management, ran by former Carl Icahn right-hand man Keith Meister, has a near 10% stake in the company. In a letter to the company last month, Meister said "We believe there is likely to be significant strategic interest in the company at a substantial premium to the company's recent stock price," while also noting that handset makers and media companies could be interested buyers.
Amazon (NASDAQ: AMZN), despite starting its own music service, could be the dark horse acquirer for Pandora. It would be a quick and easy way to jumpstart its service, especially as Google and Apple already have a leg up – both made acquisitions in the space over the last couple years – Google purchasing Songza and Apple buying Beats.
Social Media Buyout Stock No. 3: Yelp (NASDAQ: YELP)
Y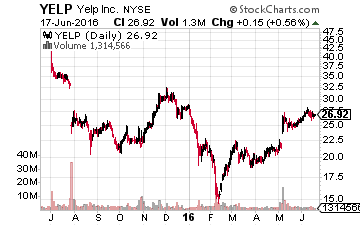 elp is another beaten down social media stock, now trading at a $2 billion market cap after seeing its stock fall over 75% from its 2014 peak.
However, Yelp is one of the premier review (primarily restaurants) sites with nearly 150 million monthly visitors. There's inherent value in being able to buy a large user base that's interested in a product – food – that will always be in high demand.
Now, Yelp, like Pandora, is an advertising machine. It gets over 80% of its revenues from ads. These types of businesses would be ideal for a company that would like to boost its advertising base. Facebook and Google are two names that come to mind, as they continue to look for new ways to boost their already large presence in the ad market. Or, we could see another major review or destination site, such as TripAdvisor (NASDAQ: TRIP) or Expedia (NASDAQ: EXPE), make a move.
In the end, the problem with buyout rumors is that they rarely come to fruition. It's rather foolish to buy a stock solely based on buyout speculation; however, social media isn't dead. There are stocks out there that have a business model that just needs a little turnaround luck. The ones with the luck handicapped in their favor, like a Yelp or Pandora, are the ones worth a closer look.
But, if you know what to look for in small and growing companies, finding potential buyout targets can become a lot more lucrative. And with M&A purchases on the rise again as large multinational companies attempt to purchase growth. now is a great time to add these types of stocks to your portfolio.
Small Cap Gems analyst Bret Jensen has identified his top 3 takeover stocks for 2016. With a knack for finding companies on the verge of buyouts – and massive returns for regular investors – Bret's just released a new report on 3 prime takeover candidates with potential returns of 76%, 100%, even 183%. With the market taking a pause now just may be the time to pick up a few shares. Click here for details on these stocks.