Last week was a seriously mixed bag for energy sector fundamentals. The WTI crude oil benchmark tumbled to $56 a barrel, after trading above $70 a few weeks ago. Over the same period natural gas went from $3.00 MMBtu to $4.60.
In recent days, the share values of renewable energy Yieldco stock have also been pulled lower. It seems the market is linking these companies to the plight of California power company Pacific Gas and Electric (NYSE: PGE).
Yieldcos are companies that own renewable power production assets such as wind farms, solar energy facilities, and hydropower production assets. The companies acquire energy producing assets and sell the power to utilities and other end users on long term contracts. They operate as pass-through entities, paying out most of the free cash flow as dividends to investors.
The better Yieldcos look to acquire assets that allow them to grow the dividends. Most have a sponsor company that is either a developer of power production facilities or provides additional financial support for the Yieldco's growth goals.
Buy These 3 High Yield Clean Energy Stocks While They're Still Cheap
The prospects of these companies have not changed in the last few days or weeks. Renewables are the growth area of energy production. The Yieldco companies have pipelines of assets in development that allow them to stay on their forecast growth trajectories. If you are an income stock focused investor, now is a good reason to buy low and yield high in the Yieldco group.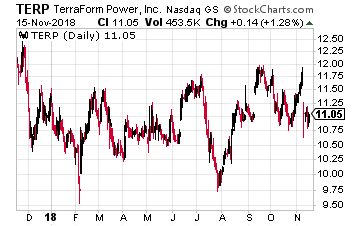 TerraForm Power (Nasdaq: TERP) is a $2.3 billion market cap which owns wind and solar power production assets. The company has gone through significant transformation over the last year. In October 2017 Brookfield Asset Management took over sponsorship of TERP and became a 51% shareholder in the Yieldco.
In February 2018, TerraForm made an offer to acquire 100% of Saeta which owned and operated 1,028 megawatts of rate-regulated and contracted solar and wind assets, located primarily in Spain. The $1.2 billion purchase closed in June 2018.
TerraForm's financial results show the company was coming up short of covering the $0.19 per share dividend for the first two quarters of 2018, building up to 1.15 times coverage. Management has stated a goal of 5% to 8% annual dividend growth going forward, while paying out 80% to 85% of cash available for distributions.
Current yield is 7.0%.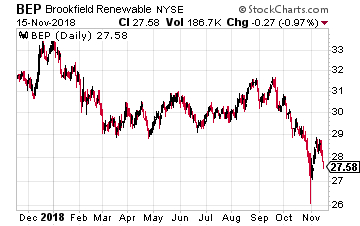 Brookfield Renewable Partners (NYSE: BEP) was operating like a Yieldco long before the term was invented. The company owns 260 hydro power plants, which account for 76% of production. 35% of production is done outside of North America. Also, 90% of power production is purchased on long-term contracts.
BEP owns the 51% of TERP acquired by Brookfield Asset Management. Brookfield Renewable Partners has been publicly traded since 2001 and is the only Yieldco to have an investment grade credit rating.
The company pays out about 70% of CAFD as dividends and has been growing the dividend since 2011. Management guides for 5% to 8% annual dividend growth. Unlike the other Yieldcos discussed here, BEP is a Schedule K-1 reporting company for tax purposes.
The shares currently yield 7.0%.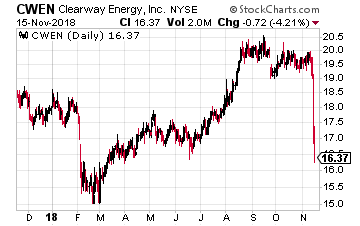 Clearway Energy (NYSE: CWEN) is another Yieldco that recently went through a change of sponsorship. Clearway was started by utility company NRG Energy (NYSE: NRG).
In the Spring of 2018 the sponsor interests in what was then called NRG Yield Inc. was transferred to Global Infrastructure Partners. CWEN retained the right of first offer on the renewable energy projects in the NRG pipeline.
These projects plus the ability to make outside acquisitions will allow Clearway to be a growth focused Yieldco. The company forecasts 5% to 8% annual distribution growth.
CWEN currently yields 7.8%.