There a number of growth trends that investors like you can profit from. Many of these macro trend opportunities actually lie outside the world of technology.
The prime example of that fact is the 'humanization' of pets. Long gone are the days when most pets were kept outside. Now pets are inside our homes and are becoming an integral part of our families.
That change has turned pet care into a multi-billion dollar global business.
Pet Care Is Big Business
According to Euromonitor International – the world's leading independent provider of strategic market research – sales for all pet products and services in 2016 totaled $103.5 billion globally in 2016. That was the first time ever pet care sales surpassed $100 billion!
That was a 4.7% increase over 2015. It's a rate, Euromonitor points out, that stands apart from other consumer packaged good industries.
Importantly for the sector, pet ownership is becoming the aspiration of the middle class globally. More on this emerging market trend in a moment.
At the moment though, the largest pet care market is still North America. Of the 125 million U.S. households, over 100 million have pets. Many of those are dogs and cats, with an estimated 200 million canines and felines living in American homes.
Approximately $62.8 billion a year is spent by Americans on pets, according to the American Pet Products Association. This number has doubled over the past decade and accounts for half the money spent worldwide on pet products and services. To put that into perspective, that amount is larger than the GDP of well over 100 countries.
The Emerging Pet Care Market
Coming up fast though is the number of pets in the emerging economies and the amount of money spent on them.
Euromonitor says that, since 2003, the number of pet dogs in emerging market countries has jumped 51% to about 243 million. That swamped the growth in the developed world, where the number of pet dogs only rose 5% to 137 million.
A similar trend is evident in ownership of pet cats. The developing world saw a rise of 49% to 126 million cats, while the number of pet cats in the developed world only rose 5% to 155 million.
The reason is obvious. The rise of a middle class having disposable income – particularly in Asia – has been significant.
Since 2012, annual spending in the Asia Pacific region, excluding Japan, has soared 68% to $6.5 billion. China alone accounted for $1.3 billion of this amount. Yet, the growth potential there is incredible since only 5.6% of Chinese households own a dog and just 1.5% own a cat.
Other emerging parts of the world are also joining in on this pet trend. Latin America, Eastern Europe, the Middle East and Africa have all experienced rises of 20% to 30% in their spending on pets. Mexico, Brazil and Russia have all seen gains in spending in excess of $500 million.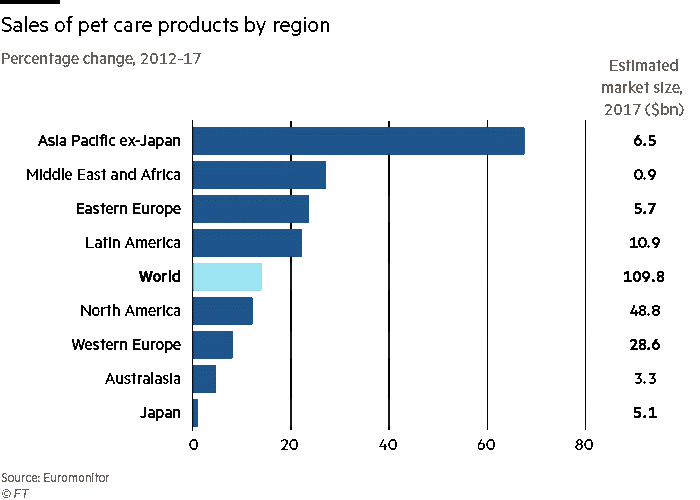 Pets Health
Needless to say, pet care represents a major global investment opportunity. I will show you three stocks that give you exposure to the global pet care market.
Two of the three are in the pet health sector. Here's why that is such a profitable niche. You see, about $30 billion or almost half of the annual spending on pets in North America goes toward veterinary services and medicines to care for our furry friends.
This segment of the pet care market should enjoy a high single-digit compound annual growth rate in the years ahead. I base that on data from the Bureau of Economic Analysis. It showed that, from 1980 to 2015, the compound annual growth rate for pets and related services was 6.5%. And the CAGR for veterinary and related services was 8.9%. Keep in mind too that the U.S. economy went through four recessions during that time period.
Pet Care Company #1 – Idexx Laboratories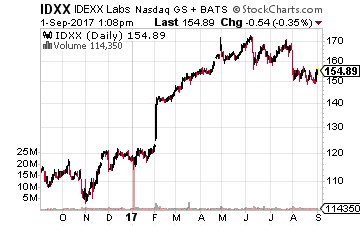 The first company on my list is Idexx Laboratories (Nasdaq: IDXX), which is in the animal health sector. More specifically, it is the leader in the $3.3 billion global companion animal diagnostic and veterinary software market. In 2016, it got 39% of its revenues from overseas.
The company develops, manufactures and markets a large product line of easy-to-use proprietary in-clinic and mobile analyzers along with hand-held test kits. All of these drive the recurring use of consumable products, consulting/diagnostic services and accompanying accessories and maintenance contracts while providing real-time, accurate point-of-care test results and office efficiencies for veterinary practices worldwide. The result for Idexx is one that is to be envied – 72% of its companion animal group's diagnostics segment revenues are recurring.
Its stock has been a good performer, rising 30% year-to-date and 38% over the past year.
Pet Care Company #2 – Zoetis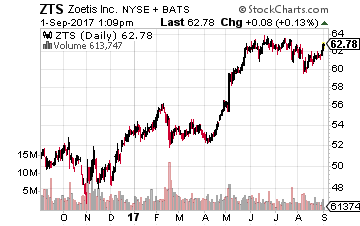 The second company to consider is Zoetis (NYSE: ZTS), the world leader in providing drugs for pets. The six-decade old company was spunoff by Pfizer (NYSE: PFE) in 2013.
Zoetis, over the past four years, has grown its sales faster than the overall animal health market. The reason is that Zoetis continues to maintain leading positions in many markets and products. It is number two worldwide in meds for companion animals and is among the leaders in anti-infectives, in medicated food additives, in vaccines, and in parasiticides.
Zoetis says companion animal products will be the "main contributor" to growth in the coming quarters. That is thanks largely to very robust demand for its canine dermatology brands Apoquel and Cytopoint as well as for its parasiticide Simparica. The company says revenues from the dermatology segment alone will rise to $400 million to $500 million annually over the next two to three years.
Apoquel is being used to replace steroid-based meds by veterinarians to treat allergies and atopic itch. Cytopoint offers dogs with atopic dermatitus 4 to 8 weeks of relief with one single in-office injection. It is a monoclonal antibody or mAB therapy. It is the first such therapy approved by the FDA and the European Union.
The stock is up nearly 16% year-to-date and has risen 22% over the past 52 weeks.
Pet Care Company #3 – Trupanion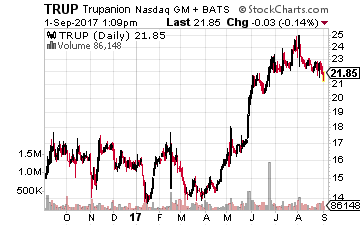 Third on my list is a company called Trupanion (Nasdaq: TRUP), which operates as a direct-to-consumer monthly subscription service provider of medical insurance for dogs and cats in the United States, Canada and Puerto Rico. It is the second largest pet insurer in North America.
It remains the only pet medical insurance provider that pays veterinarians and veterinary hospitals immediately. Its direct billing business model eliminates the need for pet owners to fork over money upfront in order to have their pet treated by a veterinarian.
The company has over 383,000 pets enrolled in its insurance plans. And as you can imagine, the monthly retention rate is high – at 98.58%. No surprise then that Trupanion has experienced revenue growth of 25%+ for 38 quarters in a row and counting.
The stock is up more than 43% year-to-date and over 48% the past year.
All of these companies should do well as the humanization of pet care trend rolls on.
Build Your Wealth 3,000% FASTER
New Free Report reveals the biggest technological leap in history…
An event that will create more wealth over the next 7 years than in the entire history of civilization combined…
Putting over $100 trillion in instant investor profits up for grabs…
Click here to read "The Industrial Singularity" now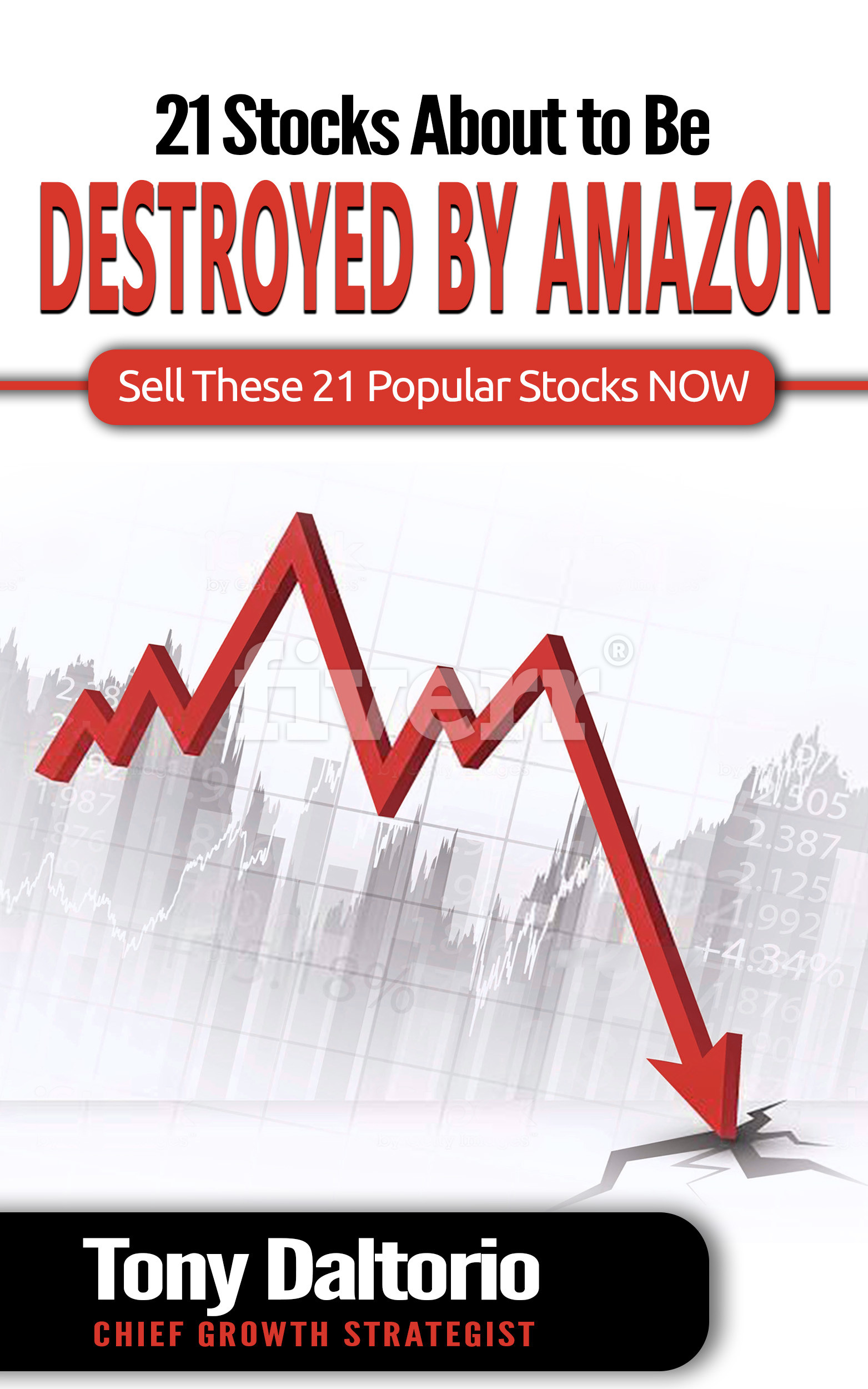 [NEW REPORT] 21 Stocks About to Be Destroyed By Amazon
Grab your exclusive copy of this new research report that shares Growth Stock Advisor editor Tony Daltorio's "21 Stocks About to Be Destroyed By Amazon". 
You won't believe some of the genius business moves Amazon is making to take over countless other businesses in healthcare, banking, payment processing, electronics, groceries, and more. 
Sell these 21 popular stocks now before Amazon puts them out of business.