Start investing in dividend stocks that will give you a pay raise every year and put more money in your pocket. With their money invested into a certain asset class that will appreciate as the global population increases, these three stocks have decades of growth ahead to keep paying you a bigger dividend. 
An ideal investment is one that provides steady income while offering growth through exposure to a megatrend. And here is that megatrend. . . . .
Estimates are that, by 2050, there will be more than nine billion people on our planet. The current population is a bit above seven billion people.
Those extra mouths to feed will pressure agriculture to provide more food. That in turns means farmland will become even more crucial to that effort.
What better way to profit from the growing demand for food than by owning prime U.S. farmland through farmland REITs that offer both income and the potential for growth?
Big Money's Land Grab
Farmland is not often thought of as a place to put your money. But don't tell that to the "smart" money.
In 2015, 17 agricultural or farmland funds were set up, raising nearly $4 billion. Quite a contrast to 2009 when only five such funds were set up, raising a mere $500 million.
That's just the tip of the iceberg. It is believed that asset managers, pension plans, and sovereign wealth funds have invested about $45 billion into farmland globally. The U.S.-based asset manager TIAA is the largest private farmland investor. It has amassed more than 1.6 million acres across the United States, Brazil, Australia and eastern Europe.
These money managers are aware of the estimates that say – thanks to population growth – grain demand will rise 45.5% by 2050. In contrast, only a 4.3% increase in global farmland is expected.
In addition to the positive long-term macro picture, these major institutions were likely drawn to investing in farmland by its returns. A prime measure here in the U.S. – the NCREIF Farmland Index routinely racked up gains of more than 10% annually.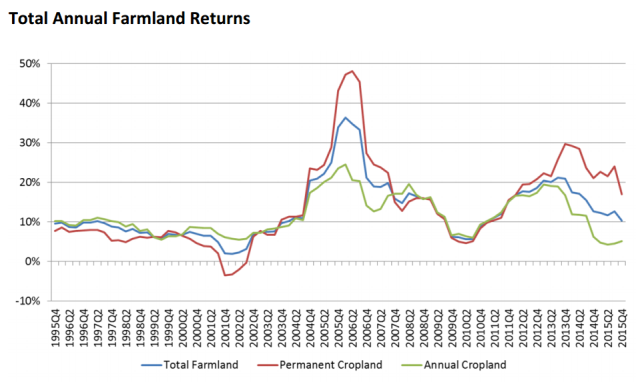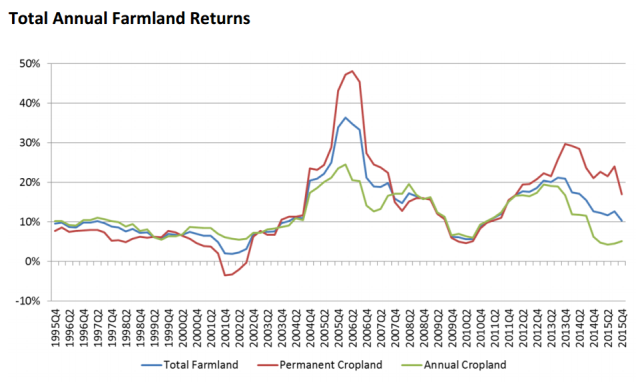 Farmland Becoming a Bargain
Those annual gains, however, have disappeared recently thanks to low crop prices.
U.S. farmland values this year dropped for only the second time since the major farm crisis in the 1980s led to a series of foreclosures. The U.S. Department of Agriculture reports that farmland values in the lower 48 dropped by $10 an acre to $3,010, the first such drop since 2009.
That, of course, has not deterred institutions and the uber-wealthy from snapping up farmland. The research arm of the media firm Institutional Investor says more than $2 billion annually of institutional investment has gone into U.S. farmland each of the past couple years.
The drop in farmland acreage prices should hopefully finally pique the interest of individual investors, who have largely sat out the rush into farmland.
After all, what better place to invest in farmland than the United States, the world's biggest exporter of agricultural commodities? U.S. agriculture also has distinct advantages over other countries when it comes to property rights, productivity, and infrastructure.
And there's plenty of farmland out there. The U.S. farm real estate market is estimated to be worth $2.4 trillion.
Farmland REITs
The easiest way for individual investors to play the need for more food and therefore farmland is through one of the three publicly-traded farmland REITs.
The three, from the oldest to the most recent, are: Gladstone Land (NASDAQ: LAND) – IPO in 2013, Farmland Partners (NYSE: FPI) – IPO in 2014, and American Farmland (NYSE: AFCO) – IPO in 2015.
These are equity REITs that have a simple business model. They lease the land to the farmers and collect rents from the farmers. FPI, for example, rents its land on a triple-net basis. That means tenants must pay nearly all property-related expenses including taxes, insurance, maintenance, water usage, and costs.
SEE ALSO: Sell These 5 Stocks on the Verge of Bankruptcy
The three REITs are different in their approaches as to what type of farmland to buy and own.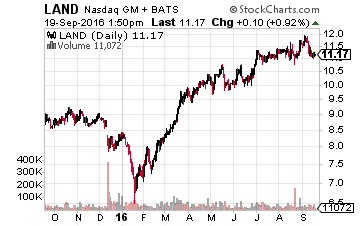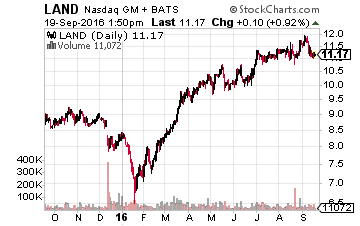 Gladstone Land (NASDAQ: LAND) (4.5% yield) began with fruit, vegetable and berry operations mainly in California and Florida. It has since expanded to Arizona, Oregon, Colorado, and Michigan. But unlike its peers, it is externally managed. That results in higher fees for the company and, to be honest, management does not seem to be earning their feed.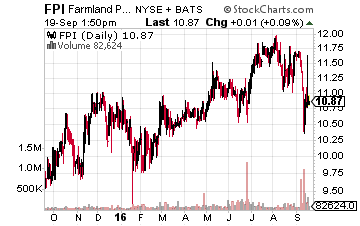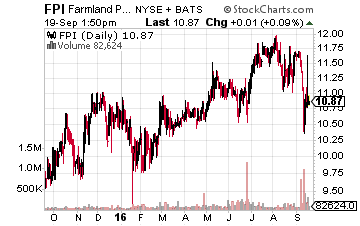 Farmland Partners (NYSE: FPI) (4.7% yield) focuses on crops such as corn, wheat, soybeans, rice and cotton. Its geographic spread is wide with farmland in Arkansas, Colorado, Florida, Georgia, Illinois, Kansas, Louisiana, Michigan, Mississippi, Nebraska, North Carolina, South Carolina, Texas, and Virginia.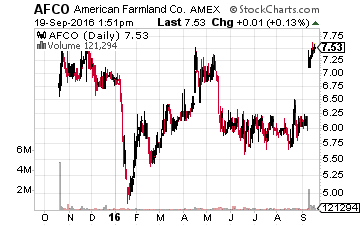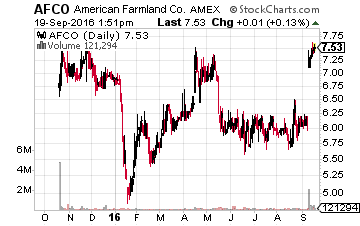 American Farmland's (NYSE: AFCO)(3.32% yield) acreage is in California, Florida, Illinois and Arkansas. Its farmland is mainly devoted to permanent crops including grapes, nuts, citrus and vegetables.
All three REITs are small-caps with market caps of $109 million, $157 million and $154 million respectively. But that is about to change with the proposed merger between Farmland Partners and American Farmland. FPI is offering 0.7417 shares of its stock for every share of AFCO stock.
The New Farmland Partners
The added scale – creating a firm worth about $400 million market cap – should make the combined company a substantially more effective way to invest in farmland long-term.
The new firm's farmland assets will total more than $850 million and span over 133,000 acres across 16 states. Its farmland portfolio looks much more balanced too, with about 74% row crop farmland and 26% permanent and specialty crop farmland on which 25+ major crops will be growing.
The deal is a good one for FPI as its pro forma 2016 revenues will jump to $42 million from $26 million. The merger is also expected to be accretive for Farmland Partners. And it strengthens the balance sheet – net debt to enterprise value drops to 40% from 44%. That will help assure future dividend payments. Perhaps FPI will even increase the current annualized rate of 51 cents a share.
It also likely means a continuation of the company's aggressive purchases of more farmland. After this deal closes, FPI will have completed more than $500 million in farmland acquisitions over the past 12 months.
Final Thought
This deal makes Farmland Partners an interesting buy. But remember it is a long-term play. As Paul Polman, CEO of the company, told the Wall Street Journal, "Farmland is the tortoise in a tortoise and hare race."
So just be patient, collect your dividends, and remember the words Mark Twain is believed to have said, "Buy land. They're not making it anymore."
Finding safe, high-yield stocks has become a specialty focus of mine over the years, and I pore through hundreds of financial reports every quarter in order to find the best yields in the market to share with my subscribers of The Dividend Hunter. It has turned into a bigger success than I could have ever imagined as I have found out that investors need income more than ever. Banks don't pay squat anymore and many retirement accounts need the high current income that I can offer.
Just recently I released a video report on one of my favorite high-yield stocks in the entire market. It's one of the most consistent dividend-growers that I know of and regularly pays out two special dividends every summer and winter. And the best part? It yields right around 7%.
If you're looking to add what I think might be the best income stock available to purchase in the market right now you must watch this video report.
Click here to find out about the best income stock to buy in the entire market.