Founded in 1892, General Electric (NYSE: GE) is one of the world's biggest companies – and one of the original 12 companies in the Dow Jones.
Its reach is enormous, with businesses including:
Transportation: GE supplies freight and passenger trains, diesel engines and motors, rail parts and services, and mining equipment, among other things.
Aviation: GE has a long and storied aviation history. It was the first company to manufacture jet engines for planes and also supplies turboprops, parts, and engineering and maintenance services.
Power & Energy: The company provides products, services, and technologies used in both traditional and renewable energy production and power generation. This includes gas and steam engines, generators, wind turbines, and equipment for the hydroelectric power industry.
Healthcare: GE provides medical technologies used in diagnostic imaging, gene therapy, and new drug discovery, as well as other manufacturing, software, and analytics solutions for the pharmaceutical industry.
Lighting: GE is a leader in energy-efficient LED technology. You may well have GE bulbs in your home right now. (Of course, GE also makes a host of home appliances that you might have, too).
GE Capital: For all of GE's businesses above, GE Capital is there to help finance R&D and get projects completed.
This is all good stuff, especially if you love diversification. And these businesses have racked up $121.2 billion in sales and $18 billion in gross profit over the past 12 months.
But that doesn't mean you should invest in the company…
Shareholders Riding GE to the Basement
While the gross profit was enormous, net profit collapsed by 165%, resulting in a loss of almost $6 billion, as GE was forced to write-off losses.
For such a large, well-established, diversified company, the -4.7% profit margin and $135.6 billion debt is pretty shocking.
And the company's poor fundamentals are reflected in the share price performance.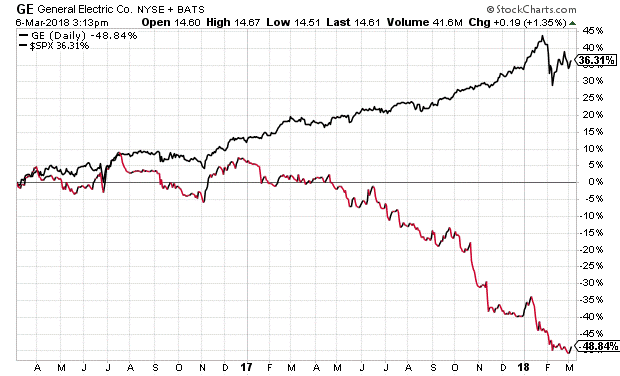 (GE has destroyed nearly 50% of shareholder value in the past two years while funds dumped into an S&P 500-based fund would have generated returns in excess of 36%.)
Last week, the stock dipped below $14 – its lowest level since 2010. No wonder the return-on-equity is a limp -7%.
It could get worse, too.
Looking ahead, CFO Jamie Miller said recently, "I think you should expect we're probably more at the lower end of that [guidance] range." Analysts project full-year EPS of $0.96 – below GE's guidance of $1.01 to $1.07.
This comes after a bland fourth quarter and an SEC probe into how the company reports revenue from its long-term service agreements.
Doomed by Diversification?
Is GE great… or greedy?
The firm is massive, but is it spread too thin? Some diversification is important and reduces risk. But too much means you can lose focus.
Writing in Forbes, Jon Markman argues, "Financial engineering took precedence over R&D. The company stopped innovating. It's a hodge-podge of aviation, power, oil/gas, medical, and digital services. Except for the latter, none of the core divisions are growing particularly fast."
GE's Digital business taps into the Industrial Internet of Things (i.e. greater use of robotics, automation, sensors, etc.) – a market that Accenture estimates will be worth $166 billion by 2020. Will it transform GE's fortunes – and share price? Probably not.
Some investors believe GE would maximize shareholder value better if it were broken into separate businesses.
As it is, however, while GE is a massive company – and massively productive – its stock unfortunately doesn't match the productivity – and hasn't for a very long time. There's little sign that will change significantly anytime soon.
[NEW REPORT] Absolute 10 Best Tech Stocks to Own in 2018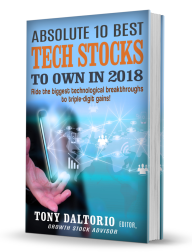 Grab your exclusive copy of this new research report that shares Growth Stock Advisor editor Tony Daltorio's "10 Best Tech Stocks" to own in 2018 and beyond.
With exposure to red-hot sectors such as lasers, photonics, robotics, advanced microchips, cybersecurity, and more, you can future-proof your portfolio while also gaining exclusive access to some of the biggest growth opportunities of the next decade.
Click here now for your copy.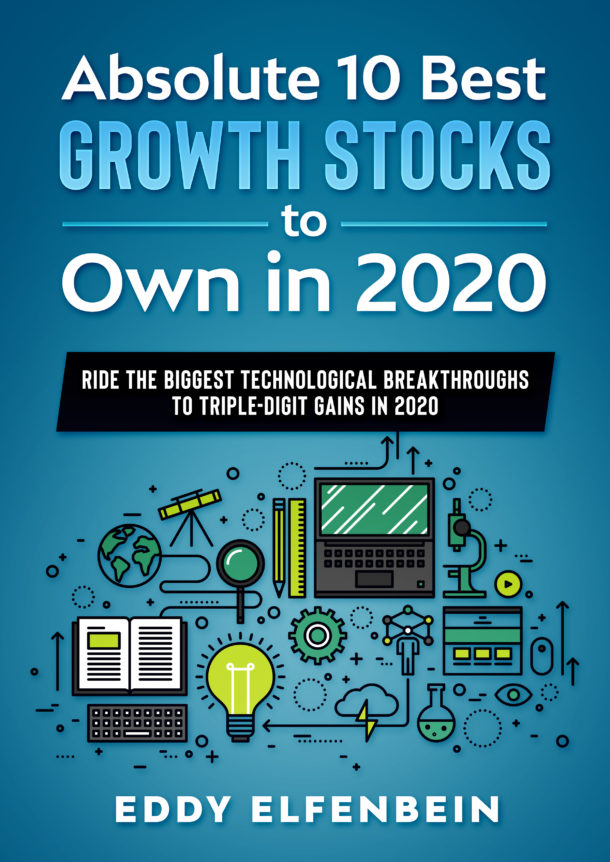 [NEW REPORT] Absolute 10 Best Growth Stocks to Own in 2020
Get the best 10 stocks to ride the 2020 tech explosion. 
One could be the most valuable stock of the next decade. 
Normally, I charge $20 for this report…
But, today...you can claim a copy absolutely free.
One stock alone has a chance at 167% profits in the next 12 months (or sooner). 
Enter your email below to claim a free copy while they last.