With a recent April 2015 IPO, this new high-yield dividend stock is making an exciting entrance into the market. With a 10% yield and an enthusiastic management team with visions of high growth, is this stock too good to be true, or is it just blowing hot air?
If you are an income investor, you will probably soon run across a new, 10% yield REIT, Communications Sales & Leasing Inc. (NASDAQ:CSAL). While CSAL has a good story, this company needs some seasoning before income focused investors decide to jump in. Don't drink the Kool-Aid, wait for the meat.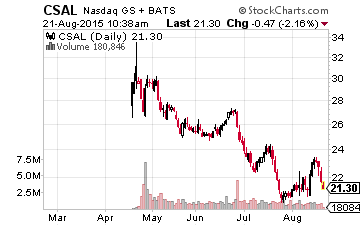 CSAL has started a brand new category of REIT. The company owns fiber optic and copper wire telecom infrastructure assets which are used by telecom service providers. CSAL leases out its owned assets on long-term (15 years plus) triple net leases. The company launched with an April 2015 IPO as a spin-off from Windstream Holdings, Inc. (NASDAQ:WIN). With a planned $2.40 annual/$0.60 quarterly dividend, the new REIT was priced at $30 to yield 8%. The shares now trade at $22.80, pushing the current yield up to 10%.
The investment analysis of CSAL has two parts: What the company is, and what it says it will be.
Currently, CSAL (with a $3.5 billion market cap) has a single customer, Windstream Holdings, which the market values at $680 million. This is the biggest risk to CSAL: All of its eggs are in one basket, and the basket consists of a single small-cap telecom company.
The lease with Windstream will not generate enough cash flow in 2015 to cover the planned dividend payments. In its second quarter earnings report, CSAL provided 2015 cash flow guidance of funds from operations –FFO– between $1.71 and $1.73 common share and AFFO between $1.73 and $1.75 share. In REIT analysis, AFFO is the cash available to pay dividends. The company declared a $0.60 dividend for the second quarter and will pay two more for the rest of 2015, bringing the total payout to $1.80 for the year. The realized FFO per share is below the dividend rate primarily because the company's second quarter results came from less than a full quarter due to the late April IPO date. A little prudence on management's part would have had the company pay a pro-rated dividend for the second quarter. No reason was given for a full payout from shortened quarterly results.
The "real" story behind CSAL's investment potential is the management team's story about growth prospects in the telecom industry. The company wants to buy similar telecom assets and put them on long-term leases back to the telecom companies that use the lines, and possibly wireless assets. In a recent presentation, CSAL included this table to show the very large potential for the company to add assets: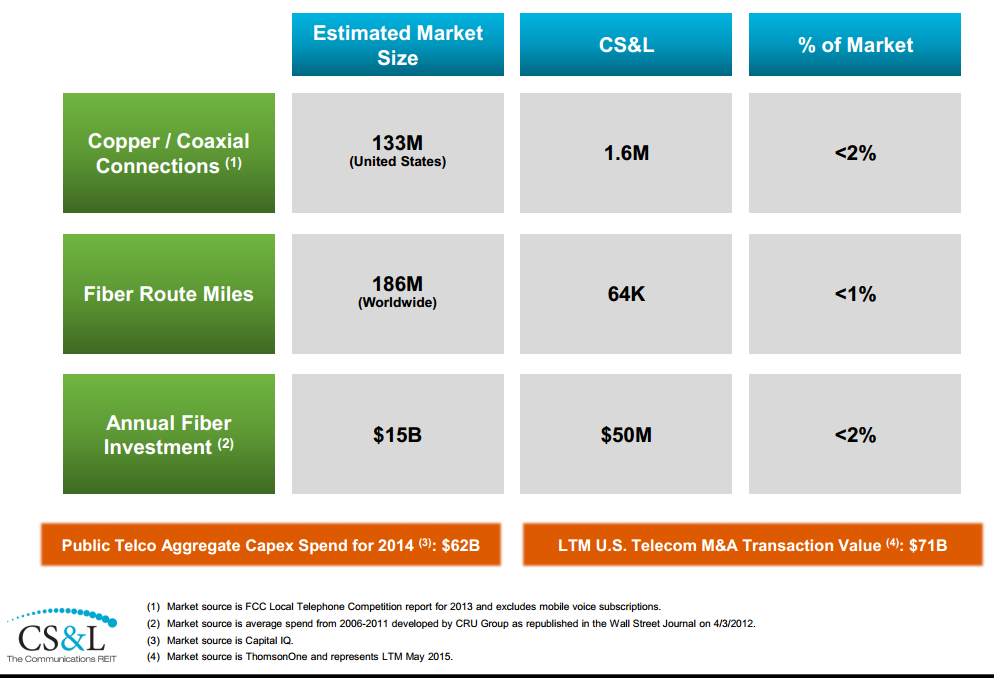 During the second quarter earnings conference call, CEO Kenny Gunderman spent a lot of time talking about how many deals the company had in its pipeline and all of the potential future growth. As well as the myriad potential acquisitions in the telecom space.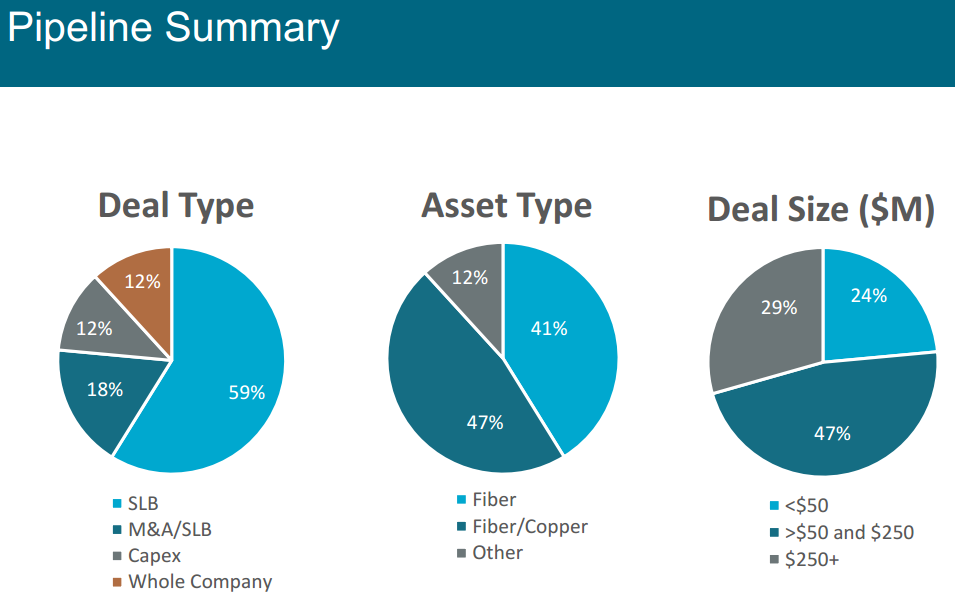 To me, it sounded like Gunderman and the management team was trying too hard to sell CSAL's growth prospects. In general, I prefer management teams that make the great deals and then make the announcement, giving good news on done deals. With only one current client, I need to see a couple of things happen before I make CSAL a Dividend Hunter recommendation –and I would love too. Great high-yield stocks are hard to find! First the company has to announce some signed and closed deals that significantly reduce the company's dependence on Windstream. One-quarter to one-third of total revenue away from Windstream would be a good target. Next, I need to see that the company can buy at prices that will allow accretive FFO growth without a high level of added debt leverage. Let's see that AFFO per share start to grow. Finally, I want to see quarterly FFO amounts that provide a cushion on the current dividend rate, not the current cash shortfall.
There is potential for both growing dividends and a growing share price (as the market brings down the yield) from CSAL. However, there is the risk that the company will not be able to grow cash flow at a rate that will allow dividend growth. CSAL is a "show me" stock and I will be watching to see if the management team can actually meet its high, shared growth expectations.
High yield / high dividend growth investments that regularly boost their dividends are an integral part of the income strategy with my newsletter, The Dividend Hunter. And there are currently several in my Monthly Paycheck Dividend Calendar, an income system used by thousands of dividend investors enjoying a steady stream of cash.
The Monthly Dividend Paycheck Calendar is set up to make sure you're a minimum of 5 and in some months 8, 9, even 12 paychecks per month from stable, reliable stocks with high yields.
And it ensures that your dividend stock income stream will be more stable and predictable as you're getting payments every month, not just once a quarter like some investors do.
The Calendar tells you when you need to own the stock, when to expect your next payout, and how much you could make from stable, low risk stocks paying upwards of 8%, 9%, even 11% in the case of one of them. I've done all the research and hard work; you just have to pick the stocks and how much you want to get paid.
The next critical date is Friday, September 4th (it's closer than you think!), so you'll want to take before that date to make sure you don't miss out. This time we're gearing up for an extra $4,239 in payouts by October, but only if you're on the list before the 4th. Click here to find out more about this unique, easy way of collecting monthly dividends.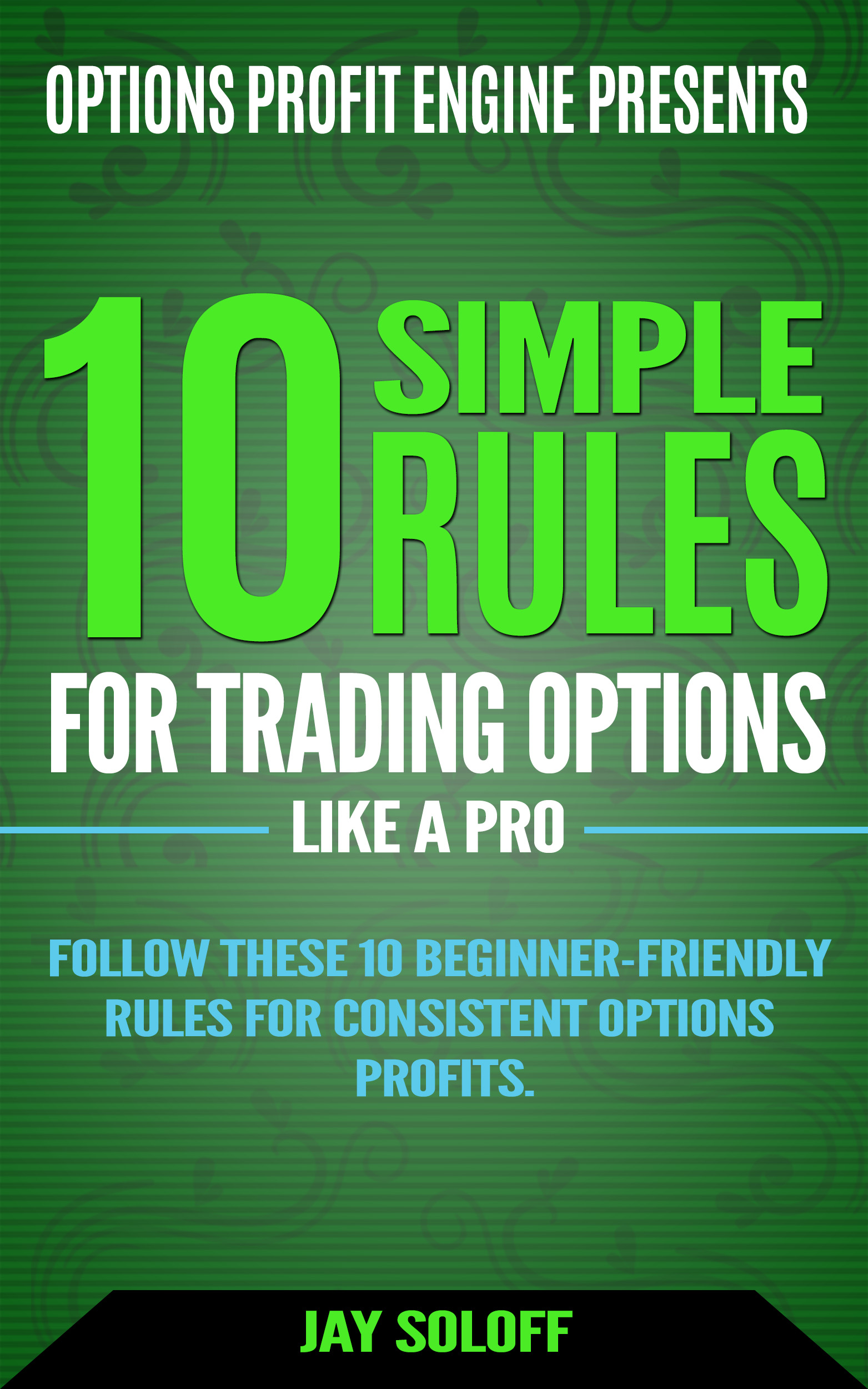 [FREE DOWNLOAD] 10 Simple Rules for Trading Options Like a Pro
Follow these 10 simple rules from 20-year professional options trading veteran, Jay Soloff and start earning a reliable extra income from options.
NO prior experience needed to master these 10 simple options trading rules. 
Enter your email below and receive access to this FREE guide...