In the IPO world, new biotech or consumer tech stocks get all the attention. The financial news keeps close track of how much a new tech IPO climbs the first few days after a public market launch. This makes great news bites, but it is hard for individual investors to participate. IPOs in the high-yield stock world get little or no attention. I make a point of finding and tracking new dividend stocks, and then recommending them to my subscribers when my analysis confirms attractive total return potential. One such stock has returned 50% since I made the first recommendation last Fall. The 2018 second quarter earnings show that the positive run still has plenty of room to grow.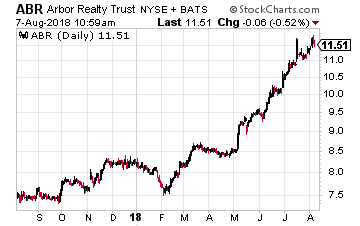 With a transformative acquisition in 2016, Arbor Realty Trust Inc. (NYSE: ABR) became a "new" company as far as investment potential. In July 2016 the REIT acquired privately held Arbor Commercial Mortgage, LLC. The acquisition diversified the company's revenue stream, primarily by bringing in a larger commercial mortgage servicing portfolio. When well managed a portfolio of mortgage servicing assets can generate tremendous returns.
One of my long time recommendations, New Residential Investments (NYSE: NRZ) has generated a 100% plus total return over the last four years by focusing on residential mortgage servicing rights.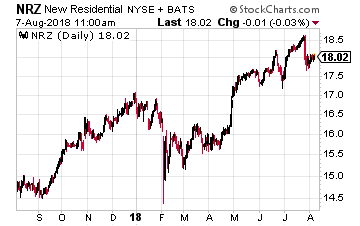 After the transaction, Arbor management noted that the move "Transitioned the REIT from a mono line dependent entity into a fully integrated franchise with a significant agency origination business with high barriers to entry providing a natural limitation on competition."
Related: Is This the Best High-Yield Stock?
The investment returns from ABR since mid-2016 have been spectacular. The quarterly dividend has grown 56% from $0.16 per share to the current $0.25 per share. The share price has appreciated by a comparable 60%. I first recommended this REIT to my Dividend Hunter subscribers in October 2017, and we caught most of the gains with the stock generating a 51% total return since that time.
However, don't worry that if you don't yet own ABR you have missed the party. The recent 2018 second quarter earnings report shows that the Arbor growth story will continue. You may not earn 50% per year, but total annual returns in the 20% range are likely. Here are the catalysts for continued above average returns.
The current yield is 8.5%. This is above the peer group, which means for the yield to be in line with those peers, the share price must move higher.
The ABR market cap just surpassed $1 billion. That is a level which will draw more institutional investor interests.
The company grew its balance sheet by 18% in the first half of 2018, well ahead of expectations. This is a company that is generating strong growth across all its business lines.
A recent litigation win means the company will likely pay a bonus dividend near the end of 2018.
Stock stories like Arbor Realty are not found in the mainstream financial news outlets. You also can't find them using a stock screener. To find these types of opportunities for my subscribers I follow hundreds of stocks that the mainstream ignores.
Pay Your Bills for LIFE with These Dividend Stocks: FREE Online Workshop
Get your hands on my most comprehensive, step-by-step dividend plan yet in this free online video workshop. In just a few minutes, you will have a 36-month road map that could generate $4,804 (or more!) per month for life. It's the perfect supplement to Social Security and works even if the stock market tanks. Nearly 7,000 retirement investors have already followed the recommendations I've laid out.
Click here for complete details to start your plan today
.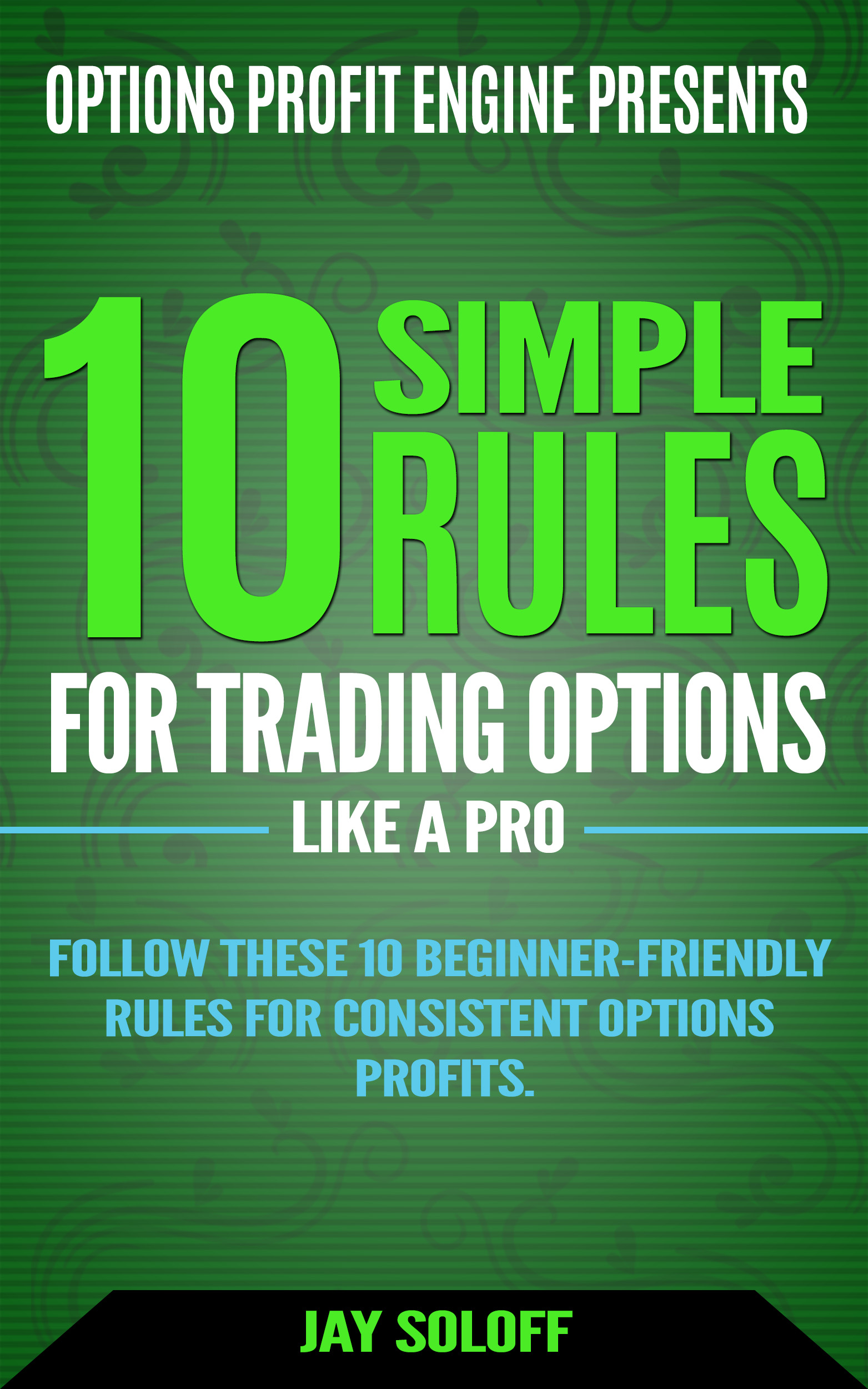 [FREE DOWNLOAD] 10 Simple Rules for Trading Options Like a Pro
Follow these 10 simple rules from 20-year professional options trading veteran, Jay Soloff and start earning a reliable extra income from options.
NO prior experience needed to master these 10 simple options trading rules. 
Enter your email below and receive access to this FREE guide...