The recent market drop has set up three exciting buys for investors looking to book 30% or higher gains by December. With a combined 9 quarters of earnings beats in just the last year, you can invest with the confidence that these companies will do it again. 
The recent market downturn and volatility have hurt stocks of all sizes and industries.  With so many stocks off of their year highs, to the untrained eye it appears as if a multitude of bargains abound.  However, investors that engage in bottom-fishing may instead find a minefield.  I pored through hundreds of stocks to find high-growth, low-valuation companies that appear primed to exceed Wall Street expectations in order to identify candidates that offer major upside and limited downside during the current tumultuous trading period. As the volatility subsides, and as we enter the third quarter earnings season, there are 3 stocks in particular that we believe are set to move dramatically higher over the next 3-4 months.
Monster Worldwide, Inc. (NYSE:MWW)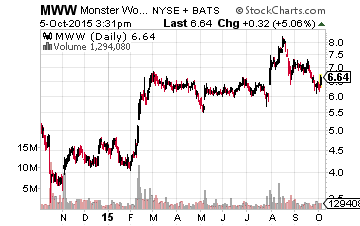 A pioneer in the online job marketplace, MWW is in the midst of a major growth spurt. Given current economic trends, I believe that the company is about to catch lightning in a bottle. Operating in more than 40 countries, MWW offers some of the broadest, most sophisticated job seeking, career management, and recruitment capabilities in its space.
The underlying business catalyst here is the trend toward outsourcing staffing services. This has just begun to make its mark on the company's financials. For 2Q15, the company soundly beat Wall Street EPS estimates and Wall Street profit margin expectations, prompting analysts to raise their EPS estimates for this year and next year. Wall Street now projects $0.43 in EPS this year as compared with $0.28 last year. For 2016, EPS is slated to jump by over 50% to $0.66. Yet, at current levels, MWW trades for 15x this year's projected EPS and 10x next year's EPS estimate, despite growing earnings at a 50% average clip!
The underlying stock price catalyst is management's consistent ability to exceed analyst's expectations. The company has surprised on the upside four straight quarters and investors could expect history to repeat itself when 3Q15 results are released in the next few weeks. I would not be surprised to see MWW jump by 50% in the next 3-4 months if the torrid earnings growth continues.
Travelport Worldwide Limited (NASDAQ:TVPT)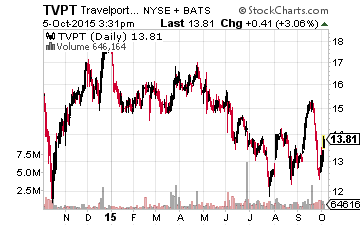 Unlike Monster, Travelport Worldwide is not a household name for most investors. However, the stock is gaining investor interest due to its strong fundamental performance and low valuation. In my view, another quarterly outperformance for Q3 takes the stock to a new level. TVPT is a Travel Commerce Platform providing distribution, technology, and payment solutions for the global travel and tourism industry. With a presence in over 170 countries and 2014 revenue of over $2.1 billion, TVPT connects the world's leading travel providers with online and offline travel buyers in a proprietary business-to-business (B2B) travel marketplace.
It should be noted that TVPT crushed Wall Street's 2Q15 EPS estimates by 45%, or $0.09. Judging by the contribution of a recent acquisition which gives the company a presence in the fast-growing mobile travel commerce space I believe that history can repeat itself in 3Q15. A year ago, TVPT exceeded Wall Street estimates by a whopping 76% and current estimates suggest EPS of $0.17 versus a loss of $0.03 in 3Q14.
At current levels, TVPT trades less than 1x 2015 projected revenue and roughly 16x and 11x 2015 and 2016 estimated EPS respectively, despite its 30%+ EPS growth rate. Plus, TVPT offers a 2+ percent annual dividend. These shares appear primed to approach their 52-week high of $18.49, which reflects a 30%+ gain from its recent close.
Dave and Buster's Entertainment (NASDAQ:PLAY)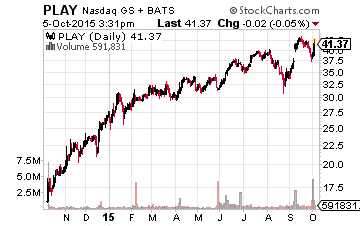 Much like MWW, PLAY has soundly beaten Wall Street EPS forecasts four straight quarters. Founded in 1982 Dave & Buster's Entertainment, Inc., is the owner and operator of 77 venues in North America that combine dining and entertainment and offer customers the opportunity to "Eat Drink Play and Watch," all in one location. Dave & Buster's offers a full selection of alcoholic and non-alcoholic beverages, a complete menu of appetizers and entrees, and an extensive assortment of entertainment attractions centered on playing games and watching live sports and other televised events.
Just last week, the company completed a secondary offering of stock by selling shareholders (not the company) stock priced at virtually no discount to its closing price and has risen higher ever since. In most cases, share prices decline following a secondary offering of this kind due to the additional shares computed in the public float. Clearly, the lack of a drop in share price after this secondary offering by PLAY indicates that there is tremendous support for its business model.
Wall Street predicts a 17% rise in revenue this year to $875M, up from $747M last year and EPS of $1.32 versus $0.76 a year ago. With a very successful secondary offering behind it and the propensity to exceed financial expectations this small cap growth darling appears poised to reach new highs in the coming months.
With the market looking to emerge from recent volatility investors are loading up on stocks with the maximum potential for massive gains. Bret Jensen has 3 picks for quick double digit gains or higher in the coming months and reveals them in his new report (click here). Bret comes off delivering a huge 464% winner to his readers and has 3 more ready to pop. Click here for his timely new briefing.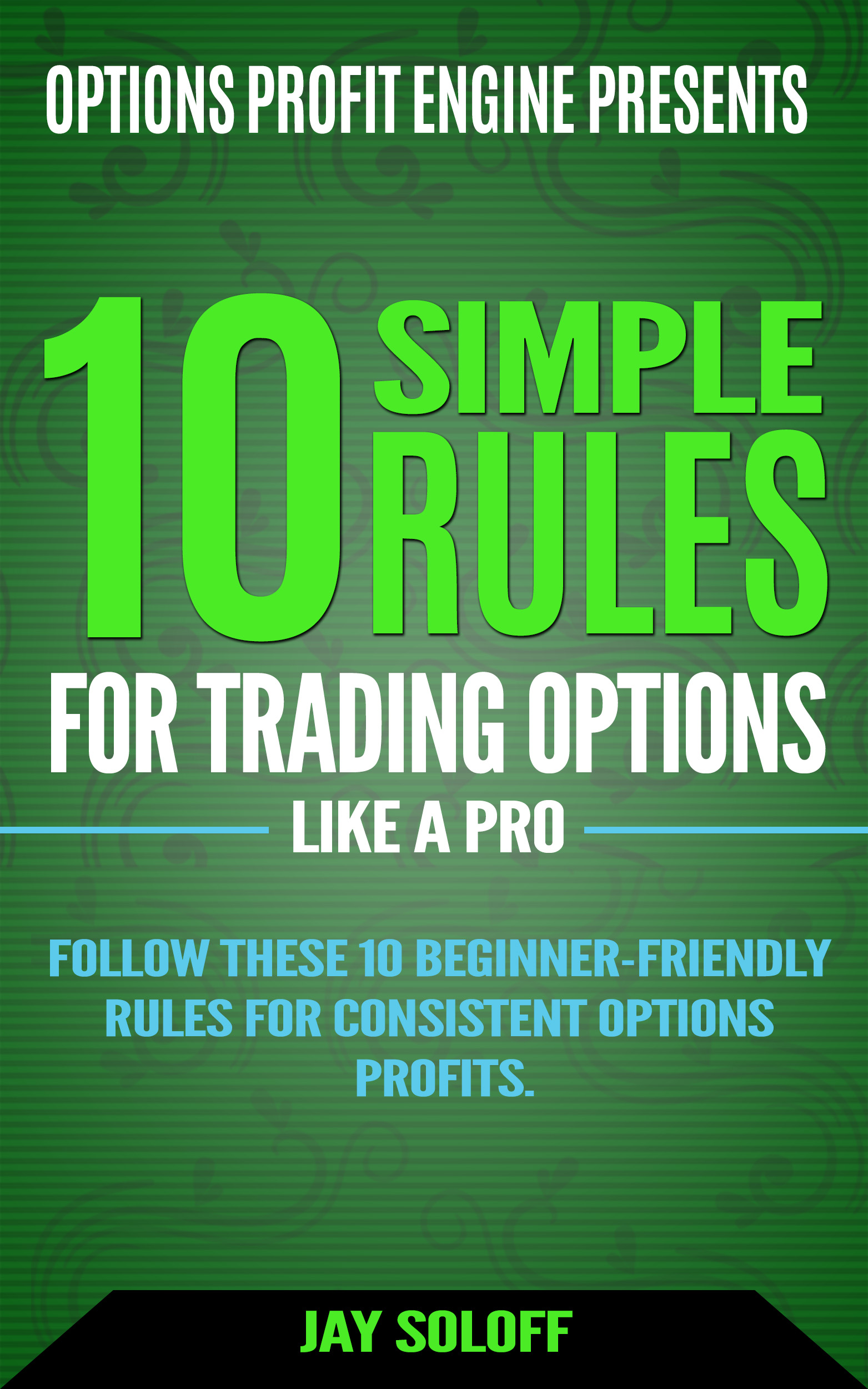 [FREE DOWNLOAD] 10 Simple Rules for Trading Options Like a Pro
Follow these 10 simple rules from 20-year professional options trading veteran, Jay Soloff and start earning a reliable extra income from options.
NO prior experience needed to master these 10 simple options trading rules. 
Enter your email below and receive access to this FREE guide...