Stock market valuations have gotten so far out-of-hand that the Federal Reserve has been chided by fellow international bankers at the BIS (Bank of International Settlements) and the IMF (International Monetary Fund), which aren't exactly known as paragons of financial restraint. Now even Fed Chairwoman Janet Yellen has expressed concern: "Valuation metrics in some sectors do appear substantially stretched," she said in the Fed's July 15 Monetary Policy Report.
Yellen went on to compare the current market environment to those of the mid-90's and mid-2000's, which of course, ended very badly. The VIX Volatility Index, which measures "implied volatility," has been at historic lows, and Yellen appears worried that this "improved market sentiment" threatens to morph into "irrational exuberance," to borrow another Fed Chair's phraseology.
Thus far, investors haven't exactly heeded her words – and now those valuations are even more "stretched" than they were when Ms. Yellen first offered her commentary. The Fed doesn't have a crystal ball, but it does have the power to move the markets – both up and down. When the stock market does embark on its much-needed correction, some stocks will suffer more than others, and these are likely to include Vulcan Materials, Netflix, and Herbalife.
Don't Get Pinched by This Vulcan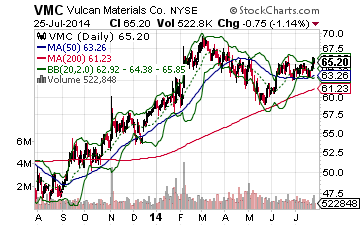 Vulcan Materials Company (NYSE: VMC) is America's largest producer of crushed stone, sand, and gravel. The firm also produces cement, asphalt, and concrete; and it does most of its business in warm-weather states like California, Florida, Georgia, Texas, and Virginia.
The firm's earnings have been growing nicely this year, but its stock-market valuation is out of whack: Vulcan's price-to-earnings (P/E) ratio currently stands at 63.7, a 52% premium to the already generous industry average of 41.7. Vulcan's price-to-sales ratio of 3.1 is nearly triple the industry average of 1.2, and its price-to-cash flow ratio of 23.9 is nearly double the industry's average of 12.7 – a 25% haircut for Vulcan would still leave it overvalued relative to its peers.
A look at Vulcan's one-year stock chart reveals that its shares are currently coming down after hitting resistance at their top Bollinger band (green line). Vulcan's premium valuation depends on an economic recovery in the U.S. that is yet to fully materialize. When the stock market starts its swoon, investors will be quick to dump their shares of Vulcan Materials.
Red is the New Black for This Stock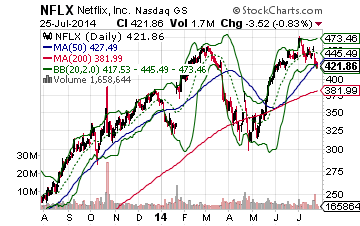 Netflix (Nasdaq: NFLX) reported earnings that were slightly worse than expected last week, and investors didn't like the company's announcement that it planned on foisting a $1 per month price hike on its subscribers. Netflix shares are already down 9.6% from their July 2 high, and they could easily lose another 25%, which would still leave the stock with a $315 share price – which is where it was valued as recently as May.
A look at Netflix's one-year chart above shows the stock in a very bearish trend, riding its steeply descending bottom Bollinger band (green line) lower, and having recently fallen beneath its 50-day moving average line (blue), which will now act like resistance. I could easily see Netflix continuing this trend until it meets its 200-day moving average (red line), but there's also the risk of legislative shock, should an unfavorable net-neutrality ruling be handed down, thereby vastly increasing Netflix's operating costs. Netflix was a stock priced for perfection, and it has fallen short.
Herbalife Behind Bars?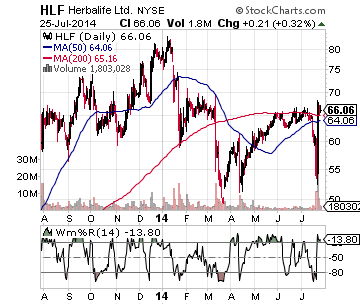 Hedge fund investor William Ackman has levied the serious claim against multi-level marketer Herbalife (NYSE: HLF), that the business is nothing more than a "criminal enterprise." Mr. Ackman has made a $1 billion short bet against Herbalife, which may have appeared to blow up in his face when the stock surged by 25% in a single day last week, but former Herbalife investor and multi-level marketing attorney Miguel Munoz was cited in the Wall Street Journal as saying Ackman's presentation convinced him to sell his shares and that the government might shut the company down.
If Ackman and Munoz are right, Herbalife stands to lose a lot more than 25%, but even if not, the stock's recent surge is a good indicator that it's overbought, overvalued, and due for a correction. As can be seen in the chart below, Herbalife closed July 25 at -13.8% Williams R, indicating unsustainable money flow. Ackman, for what it's worth, has alleged that Herbalife manipulates its stock price by buying shares to blunt the impact of bad news.
If you're feeling skittish about the market you're not alone. And you're right to harbor some concern. A lot of investors have put money into stocks they would probably have avoided if they weren't watching record highs seemingly every other day. This is particularly true for dividend stock investors.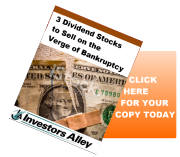 My colleague and our resident dividend stock expert, Tim Plaehn, has recently released his new report,"3 Dividend Stocks to Sell on the Verge of Bankruptcy". In this timely, in-depth report you'll discover not only three quite popular high-yield stocks that could take out investors, but also my practiced method of ferreting out such stocks and how to apply that to your current portfolio or any stocks you're considering adding.
If you've got money in dividend stock you can't to pass this up. Click here to get your hands on a copy.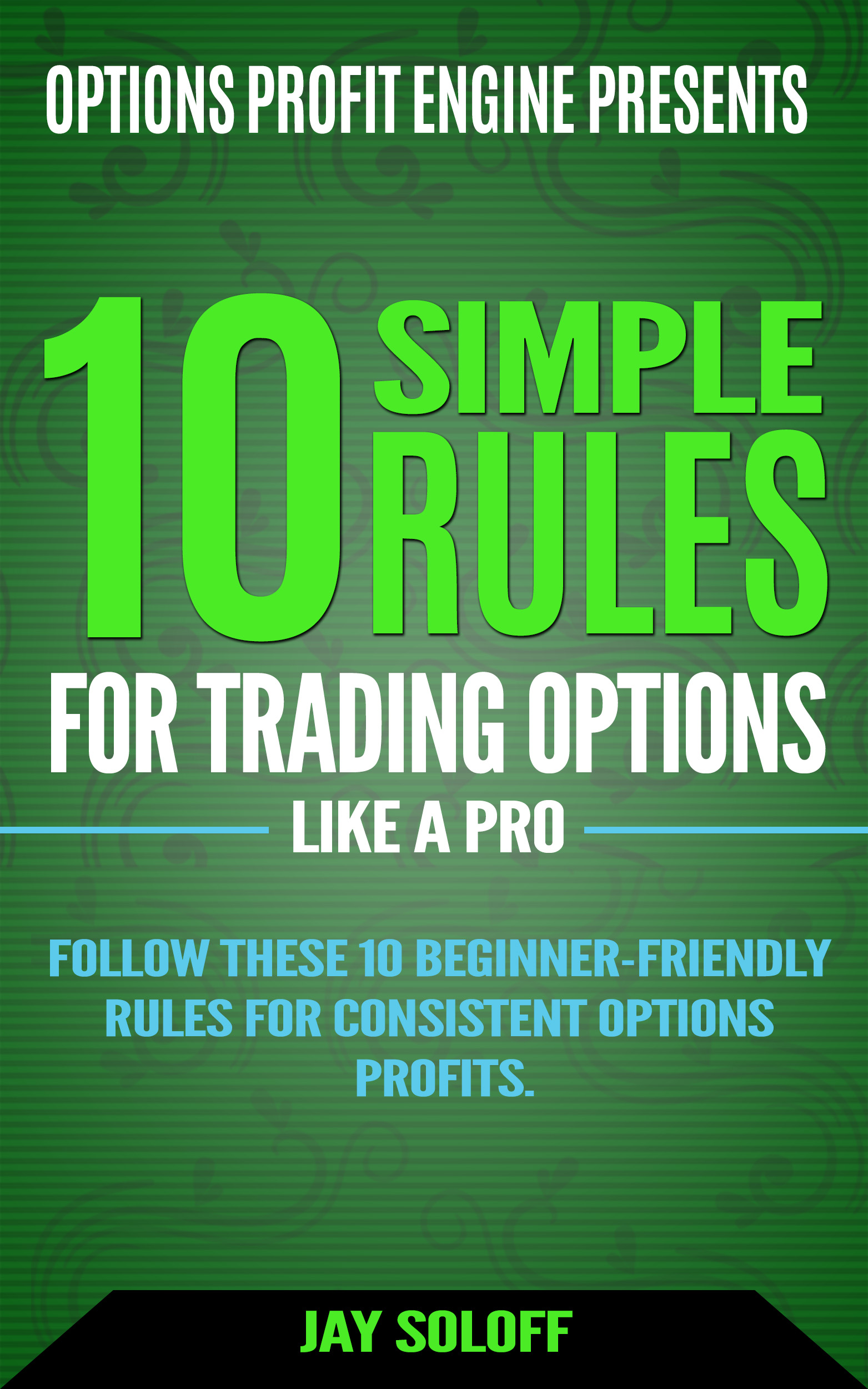 [FREE DOWNLOAD] 10 Simple Rules for Trading Options Like a Pro
Follow these 10 simple rules from 20-year professional options trading veteran, Jay Soloff and start earning a reliable extra income from options.
NO prior experience needed to master these 10 simple options trading rules. 
Enter your email below and receive access to this FREE guide...