The world of medicine is quickly moving from the pages of a science fiction novel to reality. Imagine a time when a person's cells are "re-engineered" to recognize and attack cancer, so that conventional therapies are not needed.
Well, that time is upon us. Immunotherapy – therapies that use and strengthen the power of a patient's immune system to attack cancers – has emerged in what many are calling the "fourth pillar" of cancer treatment joining surgery, radiation therapy and chemotherapy.
The immunotherapy that is closest to actually helping cancer patients is called Car T-cell therapy. After literally decades of painstaking research, the field has reached a tipping point, with several companies producing very promising results recently.
If you are unfamiliar with the term CAR-T, it stands for chimeric antigen receptor cell therapy. But before I reveal to you those companies that have had outstanding trial results, let me fill you in on what exactly CAR-T therapy is, which some doctors describe as a "living drug".
What is CAR-T?
Here in general is how the Car-T process works:
Millions of a patient's white blood cells are extracted through a process called apheresis. These cells are then sent on to a lab where scientists isolate T-cells from the white blood cells. T-cells are often called the 'workhorses' of the immune system because of their crucial role in orchestrating a response from our immune systems, killing cells infected by pathogens.
The next step, using a 'disarmed' virus, involves genetically modifying these T-cells to produce chimeric antigen receptors on their surface. This process once took a six-week period, but the times for cell modification have now been greatly reduced.
These chimeric antigen receptors allow the T-cells to recognize and attach to a specific protein, or antigen, found on cancer cells. Additionally, scientists believe modified T-cells have the ability to reactivate other immune system elements that have been suppressed by the cancer. They 'talk' to other cells of the immune system using chemicals known as cytokines.
Once these modified T-cells have been produced in the laboratory, they are 'expanded' by scientists to number in the hundreds of millions.
After receiving the chimeric antigen receptor CAR T-cells back from the lab, doctors infuse them back into the patient's body. But not before one final round of chemotherapy, called lymphodepleting, which eradicates out the existing T-cells. This allows the re-engineered cells more room to multiply themselves and (hopefully) attack the cancer.
Now let me tell you about some of the companies that have had recent successful trials for Car-T therapies that were reported at the focus of the biotech world this week – the annual meeting of the American Society of Hematology in Atlanta.
Related: 3 Stocks for Double Digit Gains from Personalized Medicine
Car-T Therapy Company #1 – Gilead Sciences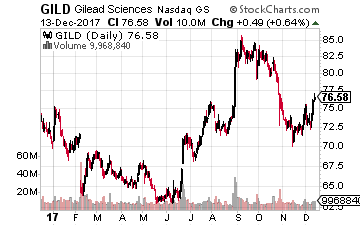 The first company I want to tell you about is Gilead Sciences (Nasdaq: GILD), which revealed results of a trial that took place at the University of Texas on December 10. The trial was conducted by what is now a subsidiary of Gilead – Kite Pharma – that was acquired in August for $11.9 billion.
Gilead's product, Yescarta, was given an okay by the FDA in October. The trial results showed that after a median period of 15.4 months, 59% of patients with non-Hodgkin lymphoma were still alive, while 42% were in remission and 40% exhibited absolutely no trace of cancer. That is quite a contrast to existing therapies, where the median survival time for people at stage of this disease is only six months!
This is a key point because most of the doubters of Car-T therapies expressed reservations about the longevity of the effects of the treatment. But apparently, the modified T-cells do remain in a patient's system, guarding against recurrence of the cancer.
Gilead sees the long-term promise of these types of therapies and bought a second Car-T company, Cell Design Labs, recently for $567 million. Going big into Car-T therapies should, over the long term, boost the company's stock which is up only 6% year-to-date.
Car-T Therapy Company #2 – Bluebird Bio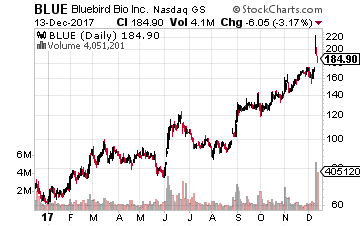 The second company, which revealed spectacular trial results at the Atlanta conference, is Bluebird Bio (Nasdaq: BLUE). The stock soared about 30% on December 11 and is now up about 225% year-to-date!
A novel therapy from Bluebird Bio and Celgene (Nasdaq: CELG) was given to 18 multiple myeloma patients that were nearing death (four months expected left to live) from a very aggressive form of the cancer. A single infusion of bb2121 at the highest dose generated an 86% overall response rate and all but one of the patients saw a clinical benefit. After nine months, 56% of the patients were in remission – an improvement from May when only 27% of the patients were in remission (again those beneficial long-term effects).
The results are important because, despite advances in drug therapy improving survival from three years to 8-10 years, multiple myeloma is still largely incurable.
This apparently successful Bluebird therapy targeted the BCMA protein that is found on myeloma and plasma cells. Targeting that particular protein is a path also taken by other companies involved with Car-T therapies – Novartis AG (NYSE: NVS) and GlaxoSmithKline PLC (NYSE: GSK).
Car-T Therapy Company #3 – Novartis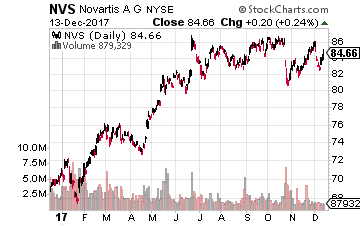 That brings me to the third Car-T company with promising results presented in Atlanta, Novartis, and its Kymriah therapy, which was given the go-ahead by the FDA in August. The stock of this pharma giant is up over 15% year-to-date.
New analysis of trial data for Kymriah presented at the conference showed that the drug sustained complete responses in adults with a difficult to treat form of blood cancer – diffuse large B-cell lymphoma (DLBCL).
The overall response rate among patients was 53%, with 40% achieving a complete response and 14% a partial response. At six months, 30% of patients were in complete response, with a 74% rate relapse-free rate after the onset of response. Again, very promising longer-term results.
The Good and the Bad
Will these life-saving therapies become commonplace, benefiting these companies and, most importantly, the patients?
There are two obstacles as I see it. The first one includes the side effects from these therapies.
In the attempt to kill cancer cells, the treatment effectively sends the immune system into overdrive. That jacked-up immune response can often cause something called cytokine-release syndrome. The cells that the engineered T-cells target release a group of proteins known as cytokines, triggering a massive inflammatory response. This can be too much for the body to handle, and can cause life-threatening side effects like severely high fevers, dangerously low blood pressure or even a temporary inflammation in the brain.
Luckily, both the drug companies and the doctors are making improvements along this line… the actual side effects are less severe than in the original trials and the doctors are getting better at managing the side effects in patients.
The bigger obstacle may be the cost, thanks to the still very complicated process to engineer a patient's T-cells. The cost is possibly the highest ever seen in the drug industry. For example, Gilead charges $373,000 for Yescarta, while Novartis put a price tag of $475,000 on Kymriah, although it says it will offer refunds if the treatment does not work.
Prices though should drop as Car-T therapies become more common. That makes a company like Bluebird Bio worth a look by you on any pullback as a long-term investment.
Don't Miss Profits That Will Be Bigger Than Apple, Facebook, Google, and Even Bitcoin…  Combined
New FREE Report reveals the $100 Trillion "Industrial Singularity" – a historic event the World Economic Forum predicts will create more wealth in the next 7 years than in the entire history of civilization combined.
But only small group of fast acting investors will accelerate their wealth by 3,000%.
Click here to discover how to find the $100 trillion in industry profits.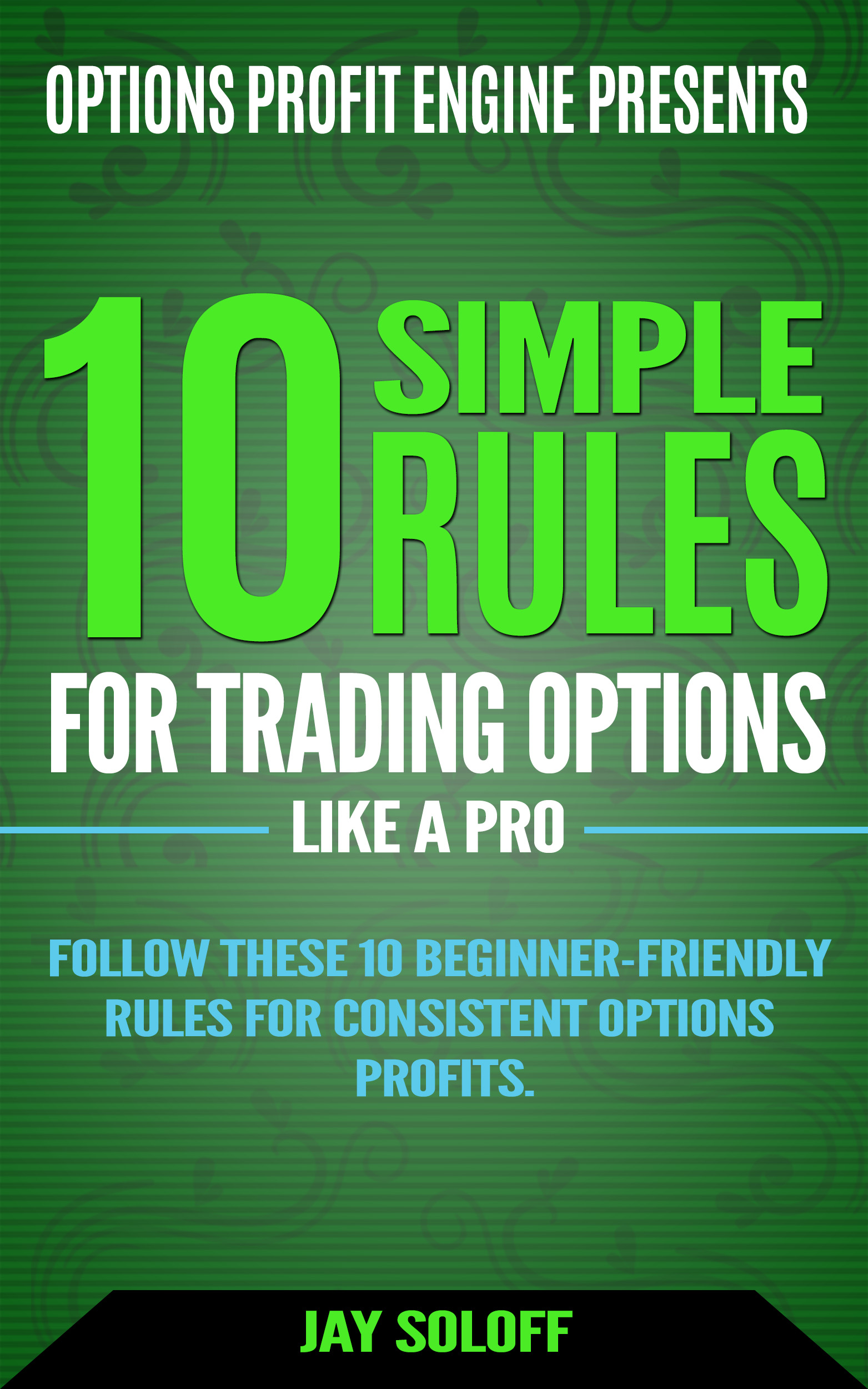 [FREE DOWNLOAD] 10 Simple Rules for Trading Options Like a Pro
Follow these 10 simple rules from 20-year professional options trading veteran, Jay Soloff and start earning a reliable extra income from options.
NO prior experience needed to master these 10 simple options trading rules. 
Enter your email below and receive access to this FREE guide...