Now that the Fed has increased interest rates for the first time in a decade, investing strategies must be changed to reflect a higher rate environment. Find out which stocks stand to be the biggest winners and losers.
The Fed finally did it; the near decade of no interest rate hikes is over.
My colleague, Tim Plaehn, laid out six strong buys for the fed hike last week, which offered some insight into a particular industry — a grossly overlooked industry — that will outperform as the Fed ramps up rate hikes.
But beyond that, there are some broader implications that will have a far-reaching impact on your portfolio in ways you likely haven't even considered.
This comes not just from the fact that the Fed has hiked rates, but also because the Fed has laid out an aggressive target for getting rates from close to 0% to above 4% by 2018. It is time to take a hard look at the implications of a sharp (or even steady) rise in rates over the next few years. Here is a look at the top 3 ways to play the Fed hike:
No. 1 Way To Play The Fed Hike: Strong Dollar
The strong dollar has been a great play for the last few years. This trend should continue as the Fed plans to jack rates up even higher going forward. The key that the market is overlooking is yes, the dollar's bull market has historically ended when rates rise, but not before the peak, which is still a few years off. And, Europe's need to continue monetary easing next year is a dollar strength positive.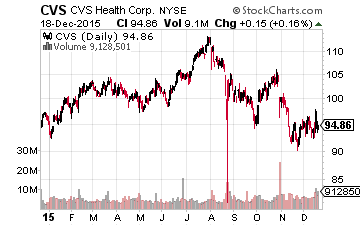 The best dollar strength plays are those that operate almost exclusively in the U.S. This is usually small-cap stocks, but can also include large cap names in the healthcare and utility industry. CVS Health Corp (NYSE: CVS) is a key name when it comes to playing the U.S. It's one of the largest pharmacy benefit managers and one of the top pharmacy retailers. The combo gives CVS some massive negotiation power with regards to drug pricing. Helping push CVS higher going forward will be the rise of drug-related spending thanks to the Baby Boomers and Obamacare, which has boosted insurance coverage among the uninsured.
Now, another U.S. centric (dollar strength) industry is homebuilding. This part of the market has seen a selloff of late on the worry that higher rates will be bad news for homebuilding and mortgage originations. However, this could be a buying opportunity. Mortgage rates have an indirect relationships with short-term rates.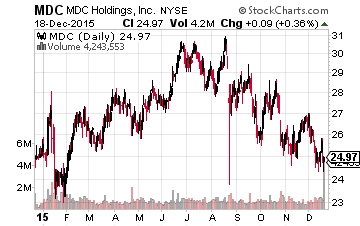 The double whammy play here (both small-cap U.S. focused and homebuilding) is MDC Holdings (NYSE: MDC). It's offering one of the highest dividends in the homebuilding space, yielding 4%, and it also has a fairly liquid balance sheet that will allow it to boost its inventory. As well, its backlog stands at $1.2 billion (versus its $1.2 billion market cap).
No. 2 Way To Play The Fed Hike: Financials 
Financials are interesting, but the "higher rates are good for banks" story might be over told. Rather, take a look at the insurance companies. In particular, the life insurance companies make money from premiums, which they invest in government securities. Higher rates mean higher yields on these government securities. As well, low rates increase the costs of the hedging that life insurers do.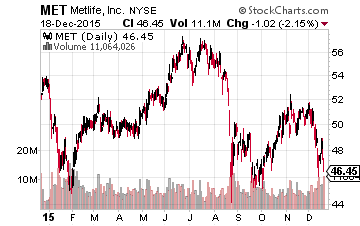 The best bet on life insurers is Metlife (NYSE: MET). Shares of Metlife are trading at just 75% of book value and less than 8 times next year's earnings estimates — putting it as one of the cheapest companies in the life insurance industry. It's also paying out a 3.1% dividend yield.
Helping juice the benefits of higher rates is Metlife's focus on retail life insurance products. It has been pushing simpler life insurance products like whole life policies and term-life, which has helped its retail life business grow four times as fast as the rest of the company of late.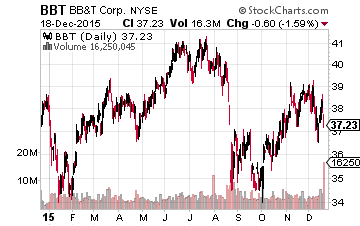 Now, if you're dead set on investing in banks, go with an under-owned regional bank. These guys generate most of their income from loans and deposits, which will be the biggest benefactor of higher rates. The best big here is BB&T (NYSE: BBT), which still trades at a reasonable 1.2 times book value, has a near double digit return on equity and pays a 2.9% dividend yield. It's worth noting that BB&T is one of the most conservative underwriters of loans around — not having posted a single quarterly loss during the financial crisis.
No. 3 Way To Play The Fed Hike: Shorts
We rarely talk about shorting stocks, as it takes a particular group of investors to be able to make money doing it. We're going to stick to the idea that shorting isn't for the long-term oriented investor, and rather, take the approach of simply avoiding some of the areas that will be negatively impacted by higher rates.
First, there's stocks with floating rate debt. As rates rise, they'll see their interest payments get jacked up. One particular industry with a lot of floating rate debt is industrials, where about 10% of debt in the industrial industry being floating rate.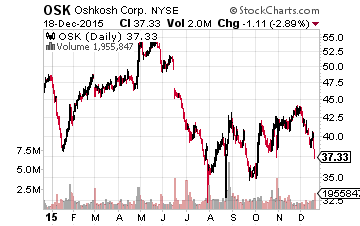 For example, a name to avoid here is Oshkosh (NYSE: OSK). About 40% of its debt is floating rate and it's all due within the next five years. Meanwhile, Oshkosh has some headwinds when it comes to its business. The government is increasing the competitiveness for defense contracts and could force a re-bid of two of Oshkosh's current contracts.
That doesn't mean all industrials should be sold, the key is to take a closer look at their cost structure.
Second, emerging markets will see outflows as investors flock to the U.S. now that rates are on the move higher. This will be further exacerbated by the fact that the U.S. is now growing much faster than most emerging markets.
Third – various commodities will face pressure given the stronger dollar. First up is gold, and we've been gold bears for well over a year. We're still bearish. Higher rates and an improving economy make it hard for gold (which doesn't pay a yield) to compete as an asset class.
The other key commodity that will see weakness in the interim is oil. This is two-fold, one is that higher rates may jack up the interest payments for many oil companies already struggling to pay debts. Then there is the fact that a stronger dollar (where oil is denominated in dollars) will make oil even more expensive for foreign buyers and push demand down.
In the end, many investors are underestimating the impact that the Fed hike will have on their portfolios. And more importantly, the impact of the ramp up that the Fed is planning for rates. The keys are to buy select financials and insurers and stick to U.S.-focused stocks. Meanwhile, avoid certain commodities, the floating rate debt trap, and emerging markets.
Another great option for your portfolio is finding companies that regularly increase their dividends. This is the strategy that my colleague Tim Plaehn uses to produce superior results, no matter if the market moves up or down in the shorter term. The combination of a high yield and consistent dividend growth is what has given him some of the most consistent gains out of any strategy that he has tried.
And, there are currently over twenty of stocks with high yields and consistent dividend growth to choose from in his Monthly Paycheck Dividend Calendar, an income system used by thousands of dividend investors enjoying a steady stream of cash.
The Monthly Dividend Paycheck Calendar is set up to make sure you receive a minimum of 5 paychecks per month and in some months 8, 9, even 12 paychecks per month from stable, reliable stocks with high yields. If you join my calendar by Tuesday, December 22nd you will have the opportunity to claim an extra $3,806.50 in dividend payouts by January.
The Calendar tells you when you need to own the stock when to expect your next payout, and how much you can make from stable, low-risk stocks paying upwards of 12%, 13%, even 15% in the case of one of them. I've done all the research and hard work; you just have to pick the stocks and how much you want to get paid.
The next critical date is Tuesday, December 22nd (it's closer than you think!), so you'll want to take before that date to make sure you don't miss out. This time, we're gearing up for an extra $3,806.50 in payouts by January, but only if you're on the list before the 22nd. Click here to find out more about this unique, easy way of collecting monthly dividends.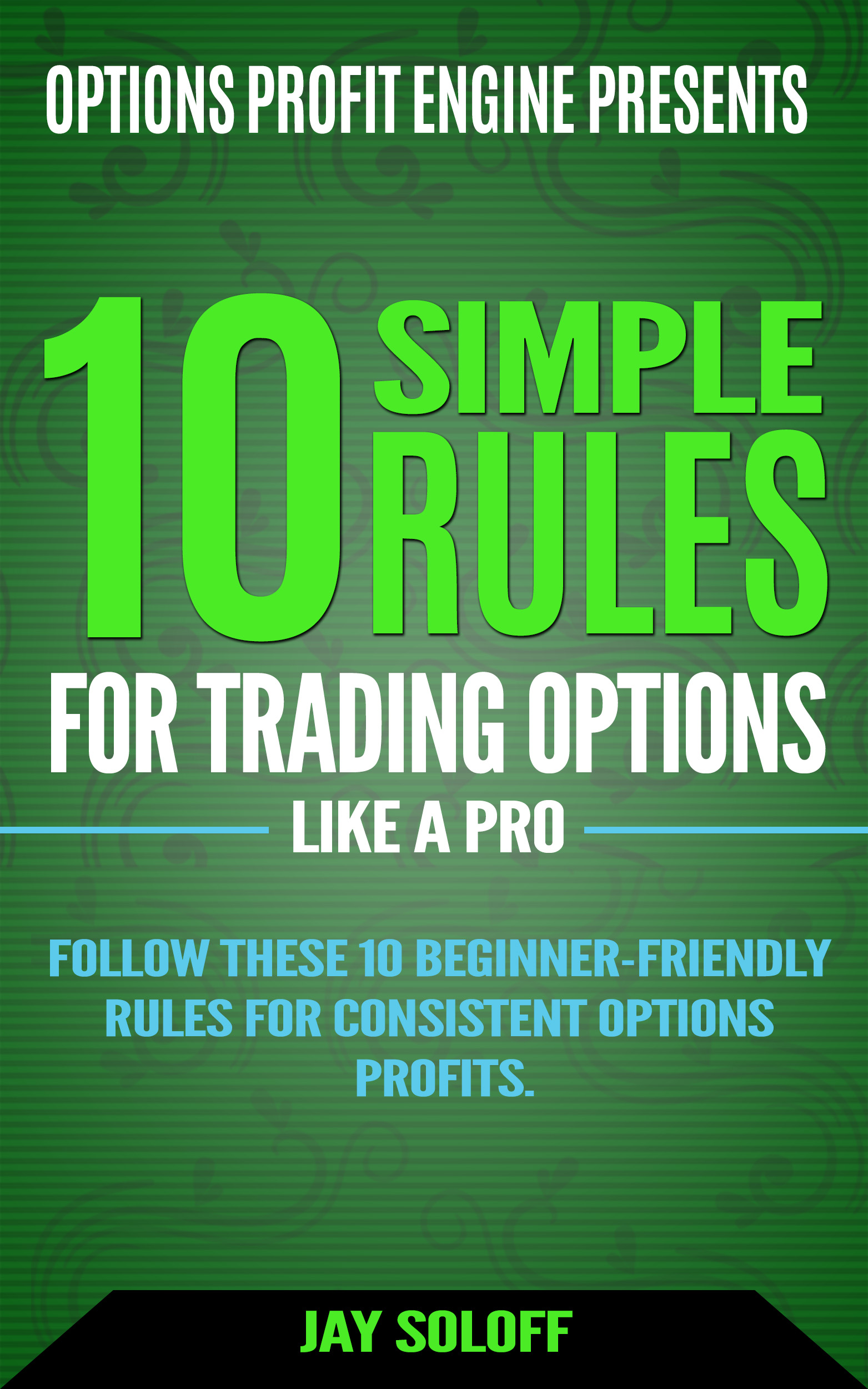 [FREE DOWNLOAD] 10 Simple Rules for Trading Options Like a Pro
Follow these 10 simple rules from 20-year professional options trading veteran, Jay Soloff and start earning a reliable extra income from options.
NO prior experience needed to master these 10 simple options trading rules. 
Enter your email below and receive access to this FREE guide...