While there's no way to predict the next market crash, preparing your portfolio to last a lifetime means owning stocks that will thrive no matter what the market does. Here are three dividend stocks that have survived bear markets and will power your returns for decades to come.
I am being hit daily with "such and such expert has predicted a stock market crash" and what is my opinion? My answer is that I don't have the ability to accurately predict market crashes and these so called "experts" probably do not either. There is a more sinister reason for these "experts" to try to scare the crap out of the investing public.
For the majority of investors, the fear of losing money is much stronger than the desire to earn profits. One thing to remember is that the stock market will experience those times – called bear markets and corrections – when stock prices across the board drop by significant amounts. So to a certain extent, a concern about losing money in the market if your timing is wrong is justified, however, the reality is that the stock market has always recovered from market drops and eventually gone on to set new highs. Yet, fear remains a driving force behind the actions of individual investors.
The so-called experts that predict market crashes do so because selling practices that feed on fear generally work better than sales strategies based on showing investors how to achieve success. In general, in the sales world, it's much easier to scare someone into taking an action rather than appealing to a desire to succeed. That's why car manufacturers like to focus more on the number of airbags in a car rather than performance and efficiency features.
The "stock market will crash" gurus feed on one of our biggest fears and have the certainty that another big market correction or bear market will happen sometime in the future. If a sales promotion about a market crash runs continuously, eventually the prediction will be right and the "expert" can say "I predicted the last market crash, and the next one is coming soon!" It's like the saying about even a broken clock being right at least twice a day. Of course, he has predicted tens if not hundreds of stock market crashes that failed to materialize and investors lost out on real opportunities to create wealth.
This sales tactic is designed to get you to buy something. It might be the expert's advisory service or it might be one of the precious metals companies. But let's think a bit about owning stocks (I like to focus on dividend paying stocks) and the alternatives. The first point is that it is very hard to actually predict a big market decline. There have only been four true bear markets in the last 35 years. Two were in the 1980's and we went through two in the first decade of the 2000's. I have been involved with stocks through all four, and I will tell you that really big market declines came mostly as a surprise to Wall Street experts and individual investors. After the big declines, share values recovered each time within a few years. If you own dividend paying stocks, most companies continued to pay dividends right through the market declines. Their businesses were still operating, still making profits and share owners still received regular dividend payments.
As an alternative to the market where can you invest? Many of the crash predictors recommend buying gold. They do so because the selling of gold generates very nice commissions or bid/ask spreads for the seller. Gold doesn't pay dividends, and it actually costs you money to own gold. This is not the type of investment that can actually make you money unless your timing is very good or very lucky.
You might have noticed that the gold sellers always say now is the time to buy and never come out with a time to sell. Government bonds and bank certificates of deposit used to be a safe place to put your money and earn a decent rate of interest. That world no longer exists. The 10-year Treasury bond yields 1.5% and you have to search the whole country to find 2% on a five-year CD. Those yields mean a half million dollar nest egg will only generate $10,000 a year of income. That's probably not enough income to fund your retirement.
While it's actually harder work to convince potential investors that they can succeed in the stock market, I try to show that owning a portfolio of quality, higher-yielding dividend paying stocks will produce a decent income from your savings and it is not necessary to lose a large portion of your capital the next time the market "crashes."
As a dividend-income-focused investor, you know that if you hold through the market decline, you will continue to earn your dividend income stream every month and every quarter. A nice benefit of a dividend-focused approach is that when share prices fall, yields go up and if we stay focused on our dividend yield return, it gets easier to buy shares when everyone else is selling and losing their shirts.
Here are three stocks that illustrate the long-term results from investing in quality companies that pay an attractive current yield and grow those dividends over time. Remember that the U.S. stock market has gone through two tough bear markets in the last 20 years. For comparison, the SPDR S&P 500 ETF (NYSE:SPY) has returned 8% average per year to investors. SPY yields 2.0%.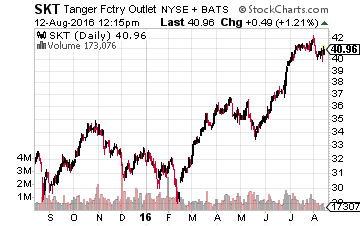 Tanger Factory Outlet Centers Inc. (NYSE: SKT) is a shopping center real estate investment trust (REIT) that has increased its dividend every year since it went public in 1993. Over the last 20 years, investors have earned an average annual total return of 16.7%, more than double the return of the broader stock market averages.
Public Storage (NYSE: PSA) is a large cap self-storage REIT that has been publicly traded since 1980. PSA has increased its dividend by an average of 8% per year for the last 25 years, and over the last 20 the stock has generated a 16.7% average annual total return.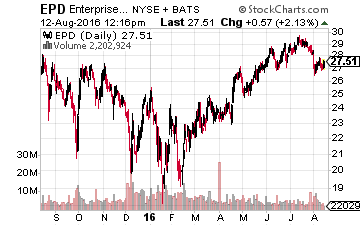 Enterprise Products Partners L.P. (NYSE: EPD) is an energy services infrastructure company that went public in July 1998. Enterprise has increased its dividend 57 times since that IPO 18 years ago and investors have enjoyed another over 16% average annual total return.
So the next time you receive an email from someone claiming the next market crash is just around the corner remember that you're looking for solutions to grow your money in the market, not scary stories.
One tool my readers use to grow their money is the Monthly Dividend Paycheck Calendar. We've been using it for a few years now to deliver a steady stream of monthly income for investors. And unlike what the scare mongers out there offer, my Monthly Dividend Paycheck Calendar offers you a real solution whether you're just looking for extra income or trying to make up for lost time.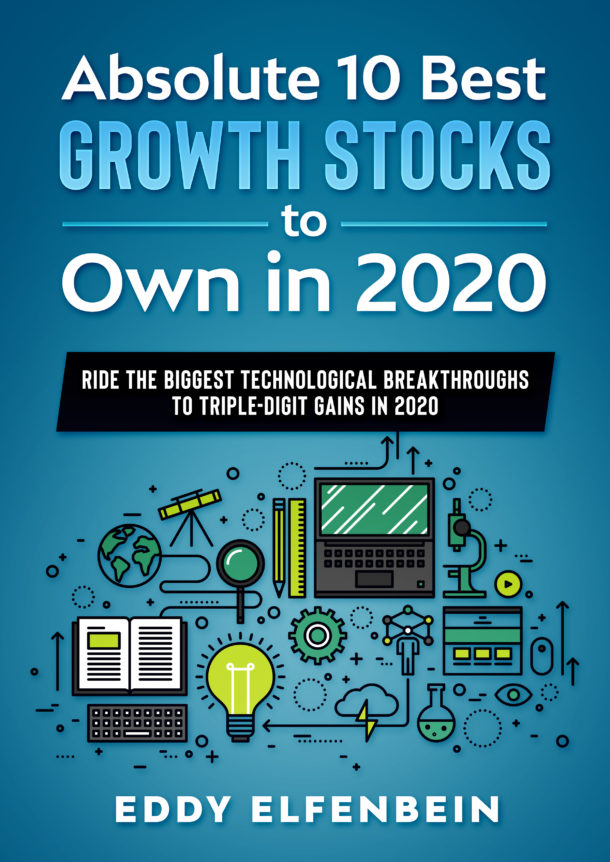 [NEW REPORT] Absolute 10 Best Growth Stocks to Own in 2020
Get the best 10 stocks to ride the 2020 tech explosion. 
One could be the most valuable stock of the next decade. 
Normally, I charge $20 for this report…
But, today...you can claim a copy absolutely free.
One stock alone has a chance at 167% profits in the next 12 months (or sooner). 
Enter your email below to claim a free copy while they last.